Symfuhny Warzone Sensitivity & Keyboard Settings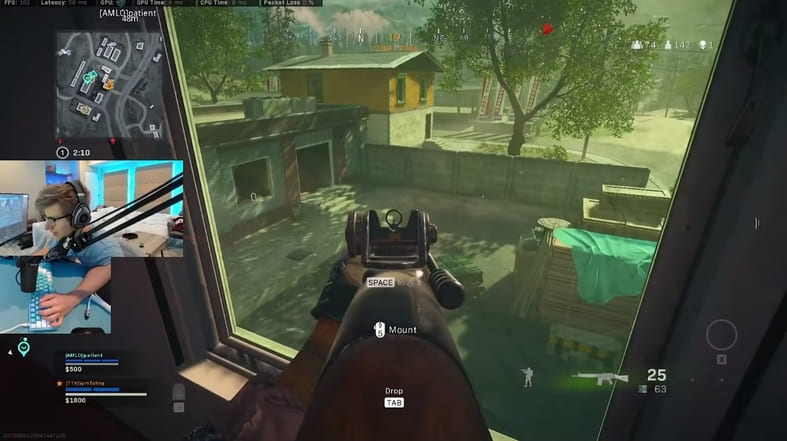 Image credit: Twitch / Symfuhny
To keep DiamondLobby free to read, this post may contain affiliate links. Learn more
Mason Lanier, better known as Symfuhny, is a 1999-born American full-time Twitch streamer and YouTube content creator. While he started streaming H1Z1, it wasn't until he started streaming Fortnite that he really began to take off in popularity.
Today, Symfuhny actively streams Warzone and participates in Warzone tournaments. He is renowned for being a pretty great player, even going as far as inspiring people like yourself who want to find out the Symfuhny Warzone sens and keyboard settings in order to implement them into your progression as a player.
Due to high demand, we decided to explore all the Symfuhny settings so that you can copy them and try to emulate his success.
After that, we'll take a look at his headset, monitor, mouse, keyboard, and other gaming peripherals that he actively uses.
| | |
| --- | --- |
| Setting Name | Symfuhny Settings |
| Use | E |
| Jump/Stand/Mantle | Space Bar |
| Crouch/Slide | C |
| Prone | Z |
| Change Stance/Slide | Not Bound |
| Sprint/Tactical Sprint/Steady Aim | Left Shift |
| Reload | R |
| Weapon Mount | Mouse Button 5 |
| Alternate Fire | Right Ctrl |
| Melee/Finishing Move | Mouse Button 4 |
| Use Lethal Equipment | G |
| Use Tactical Equipment | Q |
| Use Field Upgrade | X |
| Use Armor Plate | 4 |
| | |
| --- | --- |
| Setting Name | Symfuhny Mouse Settings |
| DPI | 800 |
| Polling Rate | 1000Hz |
| Mouse Sensitivity | 3.50 |
| Vertical Sensitivity Multiplier | 1.00 |
| ADS Mouse Sensitivity | Relative |
| ADS Sens. Multiplier (Low Zoom) | 0.66 |
| ADS Sens. Multiplier (High Zoom) | 0.60 |
| ADS Sens. Transition Timing | Instant |
| Monitor Distance Coefficient | 1.33 |
| Invert Mouse Look | Disabled |
| Mouse Acceleration | 0.00 |
| Mouse Filtering | 0.00 |
| Mouse Smoothing | Disabled |
One thing to note from above is Symfuhny's sens, which is at 3.50. This sensitivity is relatively low as compared to other Warzone creators and pro players that we have covered in the likes of DrDisRespect who plays with a mouse sens of 5.25, but this is offset by his higher DPI.
What Keyboard Does Symfuhny Use?
Symfuhny's currently uses a custom Symfuhny x Matrix 65% gaming keyboard. At the time of writing this, you can get it for around $125.
What Mouse Does Symfuhny Use?
As for Symfuhny's mouse, he uses the Zaunkoenig M2K. This mouse is a top-tier eSports-suited gaming mouse, which currently goes on for just under $340.
As for Symfuhny's mouse pad, it comes from Matrix thanks to his collaboration with the brand. It can be found on their website under Mason's collection and goes for around $25. The pad itself is an extended mouse pad, leaving you with plenty of space, which is especially useful if you play with low mouse sens like Symfuhny.
What Monitor Does Symfuhny Use?
When it comes to Symfuhny's monitor, he doesn't mess around. At the moment, Mason uses the 24.5″ BenQ ZOWIE XL2546K gaming monitor. It sports a refresh rate of 240 Hz. Combining that with a response time of just 1ms, you have yourself a performance-ready monitor that can provide you with everything you need to become a better player.
One cool feature of this monitor is the side shields, which are great if you play in a room with a lot of light. If you game a lot, you know how difficult it can be, especially if the sun is shining directly at your monitor's screen. This is when those come in very handy.
What Headset Does Symfuhny Use?
To maximize his in-game hearing abilities and get all enemy positional cues, Symfuhny currently makes use of the wired Sennheiser HD 660S.
What Microphone Does Symfuhny Use?
Like Tommey, Scump, and many other creators and pro players, Symfuhny has also gone for the Shure SM7B, which he uses to speak to his teammates and ensure a supreme output of audio to his live audience.
To keep his Shure SM7B, Symfuhny uses the RODE PSA 1. It is compact, can rotate in 360-degrees, and has a maximum reach of 32.5″ horizontally and 33″ vertiaclly, making it one of the most versatile microphone stands on the market.
Final Thoughts
Symfuhny's settings have definitely helped him out to reach the level that he is at today. If you decide to implement the Symfuhny Warzone settings, you may or may not become a better Warzone player. Just because a particular set of keybindings work for one player, that isn't necessarily going to be the case across the board.
One sure way of becoming a better player though is by watching plenty of high-level Warzone players and upgrading your current setup where possible, and finding the sens and settings that work best for you.