Can My PC Run Elden Ring?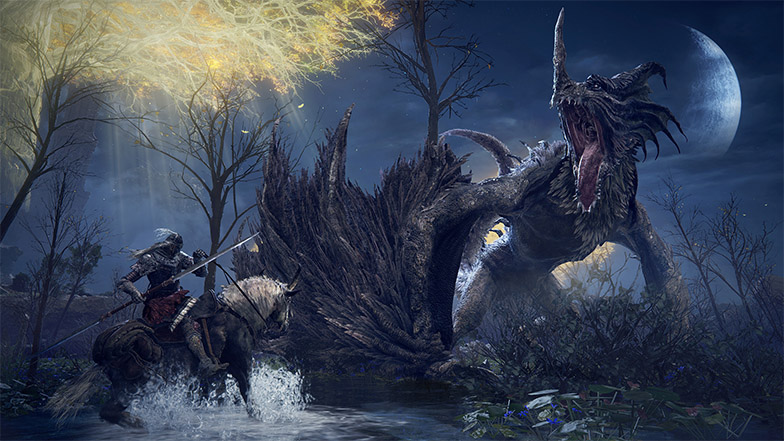 Image credit: FromSoftware, Inc., BANDAI NAMCO Entertainment
From the genius that created the likes of Dark Souls comes an open-world game that is brilliant, an experience that is incredible and breathless.
Even in the trailers, it's pretty obvious that Elden Ring is a game with such a high ceiling that's manifested in its gameplay and its graphics. Elden Ring is just a game that you can play for hours and hours and still find yourself in constant awe of its open-world marvel.
As gamers, we only need to be in awe of the game and, sometimes, the price tag that comes along with it. Being in awe in front of your monitor that is showing odd lines, hearing your card and processor make weird sounds – that's really more awful than "awe".
Before you pay for the game and download it, checking the requirements is a must. It would let you know if the game would cost you more money, or if you're basically good to go. It could also give you an idea of how to prepare.
You don't have to look any further. In this article, we've compiled the actual minimum requirements so that you can run Elden Ring on your PC or laptop. We also have a bit of commentary about the recommended requirements and what you can do to adjust.
Minimum Requirements
CPU: Intel Core i5-8400, AMD Ryzen 3 3300X
GPU: Nvidia GeForce GTX 1060 with 3 GB VRAM, AMD Radeon RX 580 with 4 GB VRAM
RAM: 12 GB RAM
Storage: At least 60 GB of available space
Operating System: Windows 10, 64-Bit
CPU
Though Intel i5s are a norm nowadays, we can't deny that an i5-8400 or a Ryzen 3 3300X can still be pretty steep for some people. In general, though, we highly recommend that your processor be something along these lines because it will be great for your gaming and office needs.
On the other hand, if you're looking for a premium gaming experience, the developers are recommending at least an Intel Core i7-8700K or an AMD Ryzen 3 3300X.
Surprisingly, these chips aren't even the epitome of the CPUs in the market. They can be somewhat expensive, but they will also definitely last you for a while and will also let you play a lot of esports and triple A games without necessarily breaking every digit in your bank.
Expect Elden Ring to be quite heavy on the CPU use since it's an open world role playing game that will surely have lots of units, NPCs, and multiple action sequences.
GPU
Apart from its gameplay, Elden Ring's graphics have also become a center of attention. I mean, we're not going to deny, they're pretty rad.
Graphics-wise, your PC will need to have at least an Nvidia GeForce GTX 1060 or an AMD Radeon RX 580. The 1060 outperforms the RX 580, but only by a few points, especially on markers like overclocking score and real world speed.
However, these two won't give you ultra high quality settings unless you're willing to play with 10 fps. Instead, you have to get your hands on something like an Nvidia GeForce GTX 1070 or an AMD Radeon RX Vega 56. Both should have 8 GB of VRAM.
Based on the reviews of Elden Ring on public gaming forums, we actually think you need something higher than the recommended graphics card, especially for those who want to max out their settings. Something like the RTX 2000 or 3000 line would really put you in a safe place.
RAM
You read that right. The minimum RAM requirement is 12 GB.
It doesn't really come as a shock since open world role playing games have often been notorious for taking up a lot of a computer's resources. There are so many maps, textures, non-playing characters, missions, and randomly generated units that exist in the game.
Here's even more of a shocker – 16 GB is the recommended requirement especially if you want to play the game at its utmost best.
The good news is that RAM is one of the cheapest parts of a PC. You could easily get a 12 GB for $30 or a 16 GB for $50-$60.
Storage
The game is expected to be at least 60 GB big but be prepared to have enough storage space for a few gigabytes more. You wouldn't want Elden Ring to be the last game you can download, would you?
The good news is that Elden Ring is rather finite. While it has co-op and multiplayer, the game does have an ending.
A 512 GB HDD would be a good place to start. It usually costs $50 and you'd still be able to house a lot of your games.
Operating System
Your PC must at least be a Windows 10, 64-Bit. There are almost no 32-Bit users on Steam nowadays anyway, but it would still be prudent to check.
Shockingly, Elden Ring can also run on Windows 11. Personally, we haven't tried this operating system yet. Technology is definitely going in that direction, so it's your choice if you want to risk possible bugs or not.
Summary
Running Elden Ring on your laptop or PC unsurprisingly takes a bit of a resource unless you're already starting out with a $2000 gaming PC. It's a pretty solid-looking game after all.
You need a good CPU, an averagely acceptable GPU, and lots of RAM. These can't go without the other if you're trying to run this game properly.
It's a completely different tale if you're looking to have everything maxed out on the settings. Make sure you have a really good PC to avoid playing in under 20 framerate per second.