Image credit: Electronic Arts
In FIFA 22, we move closer and closer to the real thing when it comes to simulating football. In comparison to FIFA 21, there are a lot of new mechanics and systems; from exploring career mode to leveling up in volta football mode.
If you are thinking of buying this on Steam, you have to hold your horses and check if your PC can run FIFA 22.
It could be an absolute disaster if your system won't even get to run the game smoothly, and you might have been better off playing it on a console.
Thankfully, we're here to save you from bad decisions.
We've gathered not only the system requirements that are explicitly recommended by EA, we also have our own recommendations about what you should do if you're strapped for cash. We also have some recommendations about brands as well as the best variety.
FIFA 22 Minimum System Requirements
CPU: Intel Core i3-6100 3.7 GHz, AMD Athlon X4 880K 4 GHz
GPU: Nvidia GeForce GTX 660, AMD Radeon HD 7850, 2 GB VRAM
RAM: 8 GB RAM
Operating System: Windows 10 64-Bit
Storage: 50 GB available space
CPU
In sports simulation games like FIFA 22, a lot of real-time calculations happen and multiple units move at the same time. These things are not graphics card dependent, but rather, it largely relies on the CPU.
EA recommends at least an Intel Core i3-6100 3.7 GHz or an AMD Athlon X4 880K 4 GHz. The recommended CPU, on the other hand, are either an Intel i5-3550 3.4 GHz or an AMD FX 8150 3.66 GHz.
Despite being an 8 core chip and having more threads than the i5-3550, the AMD FX 8150 3.66 GHz actually fares a bit worse than the i5 based on CPU benchmark comparisons. However, the i5-3550 is significantly more expensive with an $80 difference between the two.
For the price point of $250-$330, it would be better to go with an Intel Core i5-11600K which you can buy for $260. It has 6 cores, 12 threads, and is a fantastic chip for gaming especially for CPU intensive games like FIFA 22.
GPU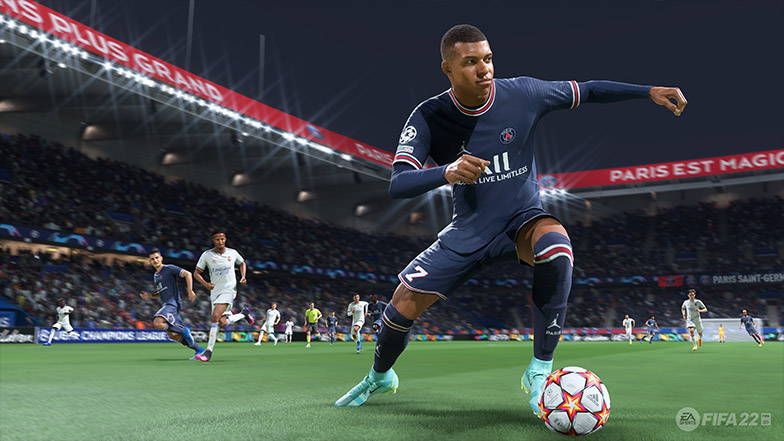 FIFA 22 undoubtedly has some pretty visually appealing graphics but it's honestly not far off from its predecessors. What we're saying is that you don't need a powerful GPU to run FIFA 22 on your PC but it sure wouldn't hurt to have a decent one.
The minimum requirements from EA are either an Nvidia GeForce GTX 660 or an AMD Radeon HD 7850, both with 2 GB VRAM. They're both the same price points but Nvidia GeForce GTX 660 performs slightly better in almost all benchmarks.
The recommendations, on the other hand, are either an Nvidia GeForce GTX 670 or an AMD Radeon R9 270X. Despite not being far apart in terms of specifications, the 670 is a whole lot more expensive than the 660. Compare that to the price difference of AMD Radeon R9 270X with the Radeon HD 7850, then there is a clear winner when it comes to price and performance especially if you're only choosing among these four GPUs.
At only $199, the AMD Radeon R9 270X is definitely a steal.
RAM
To run FIFA 22 well, the minimum requirement, as well as the recommended requirement for the RAM, is only 8 GB.
On average, 8 GB RAMs usually cost between $30 to $45. These are usually DDR4s with a speed of 2400 MHz to 2666 MHz.
Objectively speaking, RAM comes pretty cheaply especially in comparison to other PC parts. When you do want something bigger though, the price is always double. The good news is that it will most likely be below $100.
For this reason, we recommend getting a 16 GB RAM. You can get one for as low as $60 while the popular brands like Crucial and Corsair are usually worth $70-$80.
Investing in a RAM is not only worthwhile, it will also greatly help in your gameplay of FIFA 22 which can take up a lot of RAM space due to the number of its in-game units and data.
Operating System
FIFA 22 requires only Windows 10 64-Bit.
There are still a lot of PC users out there who are using Windows 7 and for a good reason. Windows 7 has long been dubbed as one of the best operating systems ever. A lot of it has something to do with the user interface and the general stability of Windows 7.
However, just because it's a well-designed OS, it doesn't automatically mean it can run all the applications in the world. Add in the fact that Microsoft has completely stopped supporting Windows 7.
Besides, Windows 10 is also a fantastic OS. Do you know what they say about Microsoft always creating the best systems alternately? Windows 8 was, for a lack of a better term, a complete flop. Windows 10 was released after a flop so… Well, you get the idea.
Upgrade your Windows 7 or 8 for free especially if you have the licensed version.
Storage
The FIFA franchise, along with other sports simulation games, has always been notorious for their big file sizes regardless of what platform you're playing in; whether you're using your PlayStation or a PC.
The game is around 50 GB big, and this doesn't include updates.
We recommend getting a hard disk drive that is at least 500 GB. The great thing about HDDs is that they're pretty affordable. You can get a 1.5 TB Seagate Barracuda HDD for around $35.
As for an SSD, if you ever do decide to get one and we highly recommend that you do, buy a 500 GB SSD like the Crucial MX500 or the WD My Passport 512 GB which are being retailed for $60 and $95 respectively. If the game is installed in your SSD, it will load faster which is why we recommend that you get one.
It doesn't hurt to have a lot of memory either especially if you love playing games.
Summary
FIFA fans will definitely be happy with the fact that FIFA 22 is pretty friendly in terms of system requirements. If you're running FIFA 21 in your current setup, you also don't need much upgrading though if you do have to upgrade, upgrade your CPU above all else.