Can My PC Run Forza Horizon 5?
Image credit: Xbox Game Studios
Racing games are probably one of the most popular genres of all time. There are some really popular titles that have stayed in the hearts and minds of gamers and are almost synonymous with the genre.
The Forza Horizon franchise slowly crept up in the scene and is now a recognizable title among racing game enthusiasts. What makes Forza Horizon infinitely interesting in comparison to its competitors is its open world concept, and the choice to go full arcade if you want. When you think about it, it's almost like an RPG except you're in a car.
Oftentimes, open world games need some pretty steep hardware in order for them to properly run. This is because open world games have virtually limitless units that can pop-up in the game. Is it the same for Forza Horizon 5? Most importantly, can your PC run Forza Horizon 5?
This article will give you a rundown of the minimum system requirements for your PC to run Forza Horizon 5. We also included the recommended hardware if ever you prefer to play the game in maximum graphics. In addition to that, we've also listed some good brands, alternatives, and comparisons for you to consider especially if you have a specific budget in mind.
Forza Horizon 5 Minimum System Requirements
CPU: Intel Core i5-4460, AMD Ryzen 3 1200
GPU: Nvidia GeForce GTX 970, AMD RX 470
RAM: 8 GB
Storage: At least 110 GB of space available
Operating System: Windows 10 64-Bit 15063 version or higher (2017)
Network: Broadband internet connection
CPU
To run Forza Horizon 5 on your PC or your laptop, the minimum CPU required is an Intel Core i5-4460 or an AMD Ryzen 3 1200. Both processors retail between $110 to $120.
When it comes to overall speed and value, the i5-4460 wins by a considerable amount. On the other hand, the Ryzen 3 1200 is better for overclocking though we wouldn't exactly recommend that you do that. Also, the AMD Ryzen 3 1200 is more comparable to Intel's i3 7320.
Overall, the best option out of the two is the Intel Core i5-4460.
If you want to play the game in medium to high settings, you ought to get an Intel Core i5-8400 or an AMD 5 1500X as recommended by the game developers themselves. These two are still in the realm of affordability. The i5-8400 is the better chip between the two but it is also more expensive.
Getting a good CPU is important for racing games especially since they literally bank on the speed of units.
GPU
At the very least, you ought to have an Nvidia GeForce GTX 970 or an AMD RX 470. The GTX 970 is better by a mile but the price difference is not easy to stomach. The GTX 970 is more expensive one and for that kind of price, you're honestly better off buying something else.
The developer's GPU recommendation is either an Nvidia GeForce GTX 1070 or an AMD RX 590. Again, the difference in price between the two brands is night and day; and performance-wise, the 1070 is better by a significant amount but it is also quite expensive.
RAM
While the minimum requirement is only 8 GB, the developer recommends at least 16 GB if you don't want to face any issues while playing Forza Horizon 5 on your PC or laptop.
An 8 GB is perfectly acceptable, but 16 GB will take you places. Besides, 16 GB is quite cheap and the price difference between 16 and 8 is almost negligible.
Open world games really benefit a lot from bigger RAM and you're not even going to shell out a lot for a RAM that is literally double the size.
Some top rated 16 GB RAMs include the Corsair Vengeance LPX DDR4 3200 C16 for $68, the G.Skill Ripjaws V DDR4 3200 C16 for $69, and the HyperX Fury DDR4 2133 C14 2666 for $85.
Storage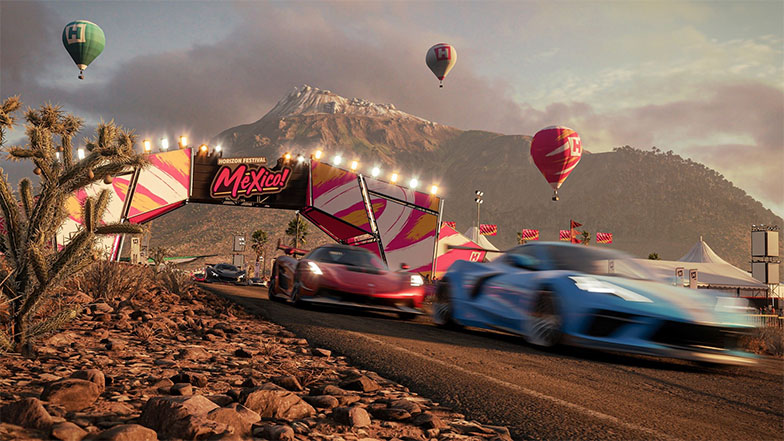 Being an open world racing, Forza Horizon 5 is understandably a big game at around 110 GB.
You also have to assess what kind of gamer you are and how much memory you will use for other games and personal things like documents, applications, movies, and the like.
If you're a heavy gamer who likes to buy every possible available game during Steam sale, then you definitely need both an HDD and an SSD. Though you only technically need one, having both gives you a lot of freedom, speed, and of course, space.
At the very least, get a 1 TB HDD and a 500 GB SSD. Some good hard disk drives include the Seagate Barracuda, the WD Blue 1 TB, and the WD Velociraptor.
For the solid-state drives, some really good 500 GB SSDs include the Samsung 970 Evo Plus, the Adata XPG SX8200, and the Crucial MX500.
Operating System
The game requires a Windows 10 64-Bit 15063 version or higher which is basically any update after 2017.
Unless you're not updating your OS, it's quite unlikely that you have a Windows that's not version 15063.
If you do happen to be one of the very few who hold off their Windows update for as long as possible, then worry not because manually updating is quite easy. You only have to search for the "Windows Update Settings" on the search bar. Once it opens, you will automatically see if your Windows is up to date or not. You can also click on the "check for updates" button which is located at the very top.
Summary
As an open world racing game located in sunny Mexico, running Forza Horizon 5 on your PC or laptop requires a bit more than your average specs. If you're operating on a tight budget, it would be better to set your eyes on a good CPU and some additional storage. Upgrades can come later.