The 10 Best Games Set in Japan
Image credit: Sega
Japan is known for its rich culture, amazing landmarks, beautiful sceneries, and technological advancements. It's home to unique shows and books like anime and manga and has even developed some of the best video games in the world.
Japan has had a huge influence on the gaming industry and has helped guide the world into the age of video games we know today.
Giant companies like Nintendo and Sony are Japanese-owned. It only makes sense that developers will try to showcase the beauty of Japan through their games, and other development studios follow suit.
If you've been wanting to visit the country or simply want to get a glimpse of its beauty and aesthetics, these games are the ones for you.
Here are the 10 best games set in Japan that you can play today.
Ghost of Tsushima
Ghost of Tsushima is a 2020 action-adventure game that features samurais in an open-world setting. As you may know, Japan is famous for its samurais. What better way to start off the list than with some of the most recognizable warriors in history.
The game is played from the third-person perspective and offers a unique combat style that allows you to use different approaches. Ghost of Tsushima also does a fantastic job highlighting Japan's beauty through its visuals and excellent art direction.
Ghost of Tsushima's main plot focuses on the Mongol invasion of Japan. It's a real-life event that happened on the island of Tsushima. However, the other elements and story arcs within the game are pure fiction and aren't historically accurate.
You play as Jin Sakai, who is the head and final member of Clan Sakai. The story takes you on an open-world adventure around Tsushima Island as you try to recruit a team to help you defeat the Mongols.
It features various combat stances that can help you out in battle. You can also use stealth as your main ally when trying to invade enemy camps and take them out one-by-one. As the enemies get stronger, you can unlock new weapons, get new armor, and learn new combat techniques to help you in battle.
Overall, Ghost of Tsushima is one of the few amazing samurai games set in Japan that allows you to learn about its history. Ghost of Tsushima is available on PlayStation.
Sekiro: Shadows Die Twice
If you're a fan of the Dark Souls series of games, then you're going to love games like Sekiro: Shadows Die Twice. Sekiro: Shadows Die Twice came from the same developers as the famously hard games Elden Ring, Dark Souls, and Bloodborne.
In Sekiro, you play as a shinobi warrior known as Wolf and attempt to exact revenge on a samurai clan who attacked you. The game is set during the Sengoku era in a fictionalized Japan, sometime around the late 1500s.
Its gameplay elements are a mixture of stealth, exploration, and combat, allowing you to enjoy the game in various ways. Much like the Dark Souls games, Sekiro also puts a heavy emphasis on boss battles and a crazy high difficulty level.
Sekiro: Shadows Die Twice is a fun game that includes upgrading your gear, planning out your skill tree, and properly timing your attacks. It allows you to explore the world of Sekiro through thrilling grappling hooks, wall jumps, and other ninja-like movements. It offers a unique balance between exploration and combat, leaving you wanting more. If you're up for a challenge, it is definitely one of the hardest games set in Japan that you can play.
Sekiro: Shadows Die Twice was released in 2019 as an action-adventure game for PC, PlayStation, and Xbox. It also won the Game of The Year Award in 2019, beating out other excellent games like Control, Super Smash Bros. Ultimate, and The Outer Worlds.
Yakuza: Like a Dragon
The Yakuza series of games are all games set in Japan. They usually just feature various time periods or places within the country. A "Yakuza" are members of organized crime syndicates in Japan. Think of them as gangsters or thugs within Mafias or mobs.
The Yakuza games give you a glimpse into their lives and allow you to play as a modern-day gangster in Japan. There are already numerous games under the Yakuza series, but Yakuza: Like a Dragon is one of their newest games set in Japan.
Yakuza: Like A Dragon introduces a new protagonist named Ichiban Kasuga. Ichiban was imprisoned for 18 years after he was betrayed by his former boss. Now, he is on a journey to become a "hero" and find out why he and his companions were betrayed. This is something entirely different from the previous Yakuza games that focused on a character named Kazuma Kiryu instead.
Aside from the characters and story, Yakuza: Like A Dragon also has a revamped battle system. The previous Yakuza games were all beat 'em up type games in real-time. This time around, the game features a turn-based RPG system. However, they've put a unique spin on the turn-based system where characters may use surrounding items in the environment. This adds an extra element to the game's battle mechanics and combat system.
Yakuza: Like A Dragon features various Japanese Districts like Isezakichō, Kabukicho, Tokyo, and Dōtonbori. The game is available on PC, PlayStation, and Xbox.
Persona 5 Strikers
Like Yakuza, Persona is a whole series of games set in Japan. Persona features a hack and slash gameplay mechanic that allows you to roam around Japan while killing various enemies. The whole Persona series of games follows a group of high school students throughout different places in modern Japan.
Persona 5 Strikers primarily follows Joker and the Phantom Thieves of Hearts as they reunite for a summer vacation gone wrong. Your goal is to find more about the mysterious events occurring around you through the help of your different Personas.
The game has a real-time action combat system matched with a turn-based Persona-battling system. It also involves various elements of RPG games and a hack and slash mechanic.
Joker is the primary character you can control when exploring the real world. In battle, you can form an active party with up to four members, with Joker always being a part of the team. Persona 5 Strikers also includes exploring various dungeons where you can use stealth to go through or simply brute force your way out.
You also need to solve occasional puzzles to progress in certain parts of the game. Most battles are player-initiated and start when you encounter an enemy. You can also choose to launch a surprise attack on your enemies to gain an extra advantage.
NEO: The World Ends With You
Next up, we have NEO: The World Ends With You. It's a sequel to a fantastic gem from the Nintendo DS with the same name. It features an anime-like art style that looks beautiful on the newer platforms it was released on.
NEO: The World Ends With You is a 3D game that allows you to explore one of Tokyo's busiest wards, Shibuya. Although it isn't an open-world game, you can still take a great look at what Shibuya has to offer through the game.
You play as Rindo Kanade as you and your friends team up to form a team called "Wicked Twisters." Your team gets unexpectedly drawn into a competition called the "Reapers' Game," where you and other teams battle for their survival.
Gameplay-wise, you can control multiple characters during combat and attack enemies with various psych abilities that you can gain from items called "pins." You can equip one pin per character and create different combo attacks using the different pin abilities on different characters. These allow for unique combinations, especially because the game has over 300 pins to choose from.
NEO: The World Ends With You is available on PC, PlayStation, and the Nintendo Switch.
Okami
Ōkami is another old but gold game. It was originally released in 2006 for the PlayStation 2 and in 2008 for the Wii, making it over 16 years old. However, ports and HD versions of the game are available for PC, PlayStation, and Xbox, so you don't have to find that old PS2 just to enjoy the game.
Unfortunately, the game didn't receive much sales when it was released. But, reviewers and players had high praise for the game and even received IGN's Game of the Year Award back in 2006. The HD versions and ports also received similar reviews, indicating that the game aged like fine wine.
You play as Amaterasu. She is a Celestial Bush god that takes a wolf-like form with red tattoos and white fur. This character is based on a real Japanese mythology celestial sun goddess of the same name.
Ōkami has a unique art style with its watercolor-like visuals in a cel-shaded environment. This gives the game a very different art style from other games on this list. Its look helps add an additional layer of beauty to classical Japan.
The gameplay is a mixture of action, platformers, and challenging puzzles. As Amaterasu, you can fight enemies using a combination of weapons, fighting techniques, and Brush methods.
Tokyo Mirage Sessions #FE Encore
Tokyo Mirage Sessions #FE Encore is definitely a mouthful. The original game was released for the Wii U in 2015 but received a second chance when it was relaunched for the Nintendo Switch in 2020.
You play as Itsuki and his friends, who are members of a talent agency in Japan. The main conflict starts when they encounter hostile creatures from another world called "Mirages." The protagonists team up with friendly Mirages heavily inspired by various Fire Emblem games.
It features a JRPG game that focuses on Japan's famous idol culture. It combines various elements from Shin Megami Tensei and Fire Emblem, creating a unique and fun RPG game filled with light-hearted elements.
Since it's centered around Japan's idol culture, there is plenty of acting, dancing, and singing embedded within the game. However, it also has traditional JPG elements like a fast-paced combat system, fun characters, and fantastic storytelling.
Tokyo Jungle
Tokyo Jungle takes place in a futuristic version of Tokyo, where the city is deserted and has changed into a barren wildlife wasteland. It offers a great mix of action and combat while maintaining great survival mechanics matched with a terrifying abandoned effect.
Unfortunately, Tokyo Jungle was released over 10 years ago and is only available on the PlayStation 3 and PS Vita. However, if you do get your hands on a copy of the game and an appropriate platform, it's definitely worth playing it because of its bizarre and wacky nature.
There are two modes you can play. Story mode involves going through various missions between different animals that can help you uncover the truth of humanity's sudden disappearance from the earth. You can also play in survival mode, where you take control of an animal and fight for survival against other animals roaming the streets of Tokyo.
The game offers over 50 breeds of animals and 80 types within the game. There are plenty of animals to choose from to fend for yourself. You can also start building a pack of animals, which is more effective for the weaker and smaller types, or go at it alone if you think you are strong enough.
Tokyo Jungle is crazy and fun at the same time. It's also filled with violence, many plots, and missions, and is overall well-designed. It has an addicting survival aspect to it that you would never expect from a game like this.
Katamari Damacy REROLL
Next up, we have a goofy and exciting game set in Japan that will surely help you have a good time. Katamari Damacy REROLL is a remake of the original game with the same name released for the PlayStation 2 back in 2004. This is an HD version of that game and was made available on the Nintendo Switch, PlayStation, Xbox, and PC.
Katamari Damacy REROLL had upgraded visuals, better controls, and better music, all while retaining the original game's quirkiness and uniqueness. The story starts when a drunk god called the "King of All Cosmos" accidentally destroys the universe's stars, moon, and other celestial bodies.
To fix his mistake, he asks his son to go to earth with a "Katamari," which is a magical ball that allows anything smaller than it to stick to it and grow. The Prince has to collect enough materials to allow for the King of All Cosmos to rebuild everything he has destroyed.
The gameplay is straightforward. All you have to do is roll the Katamari and grow it according to the King's needs. That's it. It's a very chill and relaxing game that allows you to simply enjoy your free time.
Katamari Damacy REROLL is a game set in Japan that embodies the fun side of Japan's crazy game shows and weird but satisfying video games.
Densha de Go!! Hashirou Yamanote Sen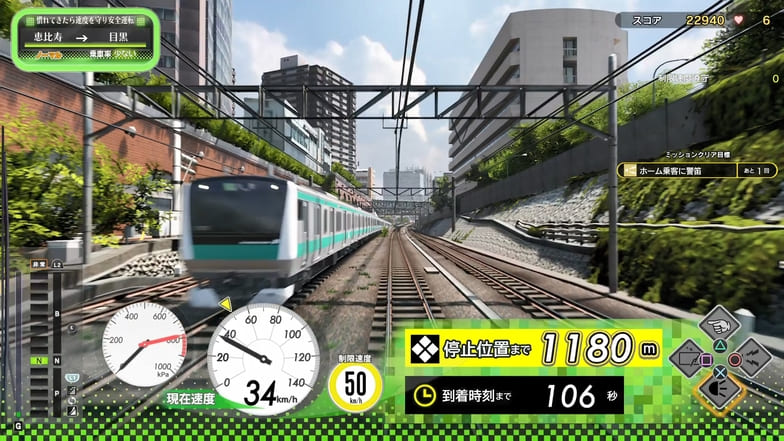 The final game on our list is Densha de Go!! Hashirou Yamanote Sen. The term "Densha de Go!" means "Go By Train!" It's simply a Japanese train simulation game first released in 1996, with a new sequel released in 2020.
We all know that the Japanese people love their trains. Simulation games have grown in popularity over the years. What better way to enjoy the beautiful sceneries than to drive a train in Japan?
The objective of Densha de Go!! Hashirou Yamanote Sen is simple. You just have to drive the train and arrive at the stations on time. We all know that the Japanese are very punctual people; you don't want to make them late!
Densha de Go!! Hashirou Yamanote Sen is a game set in Japan that also features actual train routes that are used in the country. It also features realistic train models and realistic controls, making the game very immersive.
It's one of the best train simulator games available on the Nintendo Switch and on PlayStation. It also supports PSVR support for an additional layer of immersion on specific missions.