Why Does Rust Keep Crashing?
Image credit: Facepunch Studios
Rust is the type of game that seems all too familiar, yet it's unique in almost every single way. It's a survival game that is the best of all worlds. Plus, the visuals are fantastic too.
For all Rust's wonderful features, it isn't without faults. The fact that you're reading this article means you faced an issue recently and it's probably Rust's constantly crashing issues.
There are a lot of possibilities for why crashes happen but the most important thing that you ought to know is that there is always a solution. Don't worry, you'll be back to playing in no time.
In this article, we have outlined some of the most reported issues by the players themselves and some solutions that they or the developers were able to come up with.
Does Your PC Meet Rust's Minimum System Requirements?
CPU: Intel Core i7-3770, AMD FX-9590
GPU: Nvidia GeForce GTX 670, AMD R9 280
RAM: 10 GB RAM
Storage: At least 20 GB of available space
Operating System: Windows 8.1 64-Bit
In one simple look, it's pretty obvious the Rust requires better than average system requirements. This is quite expected since Rust banks in its open-world environment where players must thrive. It's really akin to Minecraft except with better graphics.
Based on how the game is, we do think there's no possible compromise if you have a PC setup that is lesser than the recommendations. If you're looking to upgrade though, we propose that you prioritize the CPU and RAM first. Games like Rust are incredibly CPU intensive and RAM dependent.
Do You Have RAM Issues?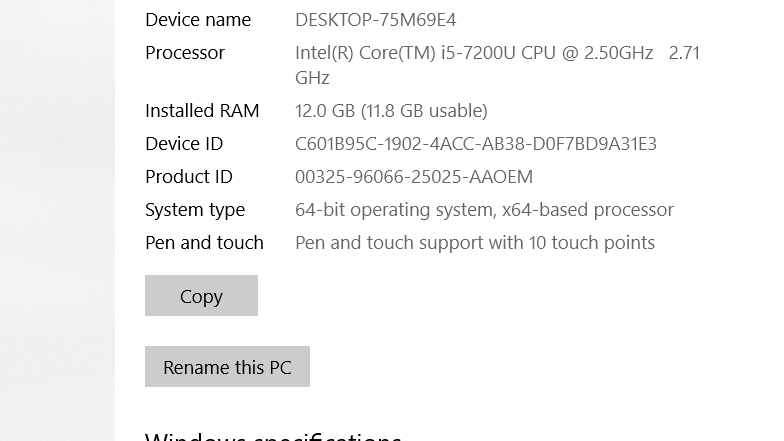 RAM is already an incredibly vital part of a PC, and more so when it comes to a game like Rust.
You can check if your RAM was installed properly through the Windows Control Panel. Look for "System" and click on that. You will immediately see your PC's specifications and if the installed RAM is the RAM size that you bought. If it's displaying half of what it originally should be, then one of your RAM sticks isn't properly installed or it's broken.
Incorrectly installed or bad RAM can lead to a lot of PC issues and one of the most obvious is that apps won't load or they will always experience crashes.
To fix RAM issues, you have to first determine if your installation is just wrong or if your RAM is already faulty and needs replacement. First, you can run the Windows Memory Diagnostic app and it will automatically determine if there's an issue. The second way is by manually removing your memory sticks. If only one of them works, then you obviously need a replacement.
Another possible RAM issue is the over usage of RAM while playing the game. Resetting the CMOS could fix this but it would have to be done manually and you'd have to open your casing. You will also get a complete BIOS reset if you do this.
After doing all these troubleshooting methods, we highly recommend that you allocate more RAM to Rust prior to playing in order to fully optimize the game's usage of RAM.
Are You Using Third Party Firmware on Your Headphones?
Did you know that almost 70% of crashing-related issues, whether they are games or random office applications, are actually caused by third-party applications? It could be something as connected to the game as graphics card drivers, to something that you wouldn't think could affect the game like wireless network interfaces.
One player posted on a discussion board that he found out the most unlikely reasons for Rust crashing – his headphones. If you're using a USB or wireless headphone that has its own firmware, then you might want to try out this possible solution.
Sounds are quite important in Rust, so instead of using headphones, change it to the default speaker of your laptop or PC. You also have to update the driver or firmware of your headphones before attempting to use them again in-game.
Did You Try Verifying the Game Files?
This solution is pretty standard especially if the game is played through a platform like Steam or Epic Games.
Actually, we believe there are specific instances when it would be prudent to verify the game files. One of these instances is when a patch or event was recently released.
There are times when the game files aren't properly downloaded or integrated and this could cause some Rust to crash after startup.
To verify your game files, go to your Steam library and look for Rust. When you right click on the game, a pop-up menu will appear. Click on Properties. In the Properties window, navigate the Local Files tab on the left. There should be a button below "Backup game files…" that says "Verify integrity of game files…". Click on that button and wait for Steam to do its magic.
Are You Running the Game in the Highest Possible Settings?
Here is one absolute truth about Rust: it is a game that uses a lot of CPU.
If your CPU is only the bare minimum that could run the game, then you shouldn't crank your graphics settings to the highest possible one. You have to remember that graphics don't just depend on your GPU but your processor as well.
Apart from that, there is absolutely no advantage to having Rust on high graphic settings. It won't necessarily give you an edge over your enemies, but it will definitely have its disadvantages like lower framerates or, in this case, Rust crashing.
Lower your game settings, restart the game and Steam, and see if this works for you.
Are There Possibly Conflicting Software That Clashes with the Game?
We can't know for sure, but a hard reset of your laptop or PC would be a good solution.
A hard reset, otherwise known as factory reset, will turn your PC or laptop to what it originally was when you first bought it. It is actually a quick process that will help turn your slate clean.
If you don't have much files, you can immediately proceed to your Settings. Click on "Update & Security" which is on the bottom part of the window. On the left menu, you will find the "Recovery" option. Click on the "Get Started" button under "Reset this PC". You have the option to backup your files but, if you can, opt to remove everything. Doing a hard reset while maintaining the same data externally might still bring back issues.