19 Fantastic Combat Games Like Monster Hunter World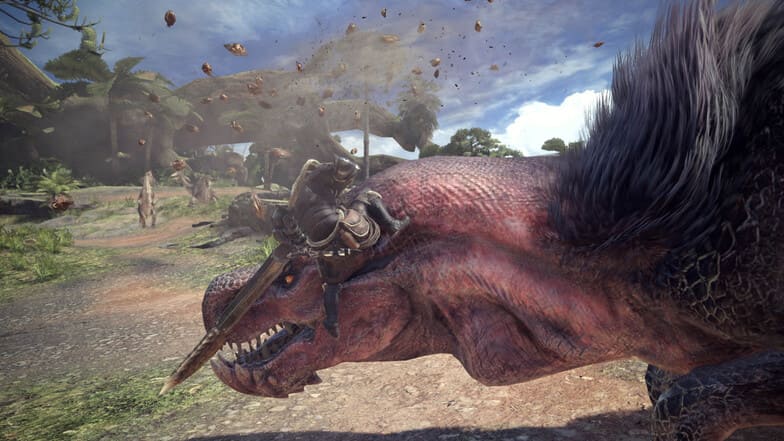 Image credit: Capcom
Monster Hunter World is one of the best games in the entire franchise. It implements combat and fighting mechanics well while still giving the monsters in the game a ton of character and unique moves.
The various weapons in the game work well alone or in a team, giving you the flexibility to use your preferred playstyle. One of the best things about Monster Hunter World is playing co-op and defeating the huge bosses through teamwork.
There's nothing as satisfying as seeing the towering monster you've spent the last few minutes fighting to breathe its last breath. Especially after planning your strategy, crafting essential items, and studying the creature's every move.
These extensive features and excellent gameplay easily makes Monster Hunter World one of the best fantasy games on Steam and consoles.
Finding a game like Monster Hunter World is definitely a tough task. However, we've managed to find 19 solid Monster Hunter World alternatives that can have you feeling the MHW craze all over again.
19. Horizon Forbidden West
Horizon Forbidden West is an ARPG set in a post-apocalyptic version of Western US where mechanical creatures have taken over. Although these creatures aren't as massive as the ones in Monster Hunter World, they're still formidable opponents and shouldn't be taken lightly.
Defeating a Tideripper or a Slaughterspine is very reminiscent of fighting against the different monsters in MHW. Horizon Forbidden West also features a massive map, much larger than the one its predecessor had.
Horizon Forbidden West also introduced new mechanics to the series, like underwater exploration, better methods of traveling, freeform climbing, and new tools, among many others.
You can spend your time fighting the different hostile machines, riding on mechanical mounts while exploring the map, or progressing through the story in the game. Luckily, Horizon Forbidden West features an open world, so the choice is yours.
18. The Elder Scrolls V: Skyrim
The Elder Scrolls V: Skyrim is one of those classic games that's hard to let go of. It was initially released in November 2011, but a ton of people still play the game like it was just released yesterday.
Skyrim features a diverse open world filled with weapons, magic, various races, factions, clashing cities, and dragons. It's for sure one of the best medieval fantasy games like Monster Hunter World.
There are a ton of things to do in Skyrim. You can uncover the secrets of each faction, explore the various side quests and stories, or even settle down and get married. Of course, you can also level up your skills, fight various enemies and dragons, and explore dungeons and caves.
If you've played the game before, I highly recommend using mods for a new Skyrim playthrough to help make the game feel new again.
17. The Witcher 3
In The Witcher 3, you play as Geralt of Rivia, a mercenary monster slayer known as "Witcher." From that alone, I'm sure you can probably already see why The Witcher 3 is a game like Monster Hunter World.
The Witcher 3 is set on The Continent where Humans, Dwarves, Elves, Vampires, and other creatures co-exist. As a Witcher, you have access to basic magical signs, knowledge about crafting potions and items, a crossbow, and two swords.
Geralt's on a quest to find his adopted daughter. This takes him on a journey all around The Continent, where he also accepts various monster-slaying jobs. It's set in an open-world environment where you're free to enjoy everything that makes The Witcher 3 great.
The Witcher 3 is cited as one of the best video games ever made and is definitely worth playing.
16. Sekiro: Shadows Die Twice
If you've loved the difficulty level of Monster Hunter World, then you're going to enjoy Sekiro: Shadows Die Twice. You play as a Shinobi called "Wolf" in his attempt to exact revenge on the people who attacked and took his lord.
There are no monsters in Sekiro: Shadows Die Twice, but it still has intense and amazing combat scenes mixed with stealth mechanics. It also heavily emphasizes boss fights, just like Monster Hunter World.
Sekiro also has great exploration elements thanks to the grappling hook that allows you to use unique places or simply travel faster.
Sekiro: Shadows Die Twice is an excellent game like Monster Hunter World for you if you're a huge fan of Japanese culture. It's one of the best games set in Japan and allows you to experience the ways of a Shinobi warrior.
15. The Surge 2
The Surge 2 is an ARPG set in a dystopian future where living and environmental conditions are atrocious, leading humanity toward the brink of extinction. The game takes place in an advanced metropolis bordered by a giant wall called "Jericho City."
You can play as a male or female since the main protagonist doesn't get named within the game. The Surge 2 features various weapons to attack different mechanically-empowered enemies.
One of the best aspects of Monster Hunter World is the ability to target the monsters' weak spots and collect materials from them. This allowed players to use unique strategies to defeat monsters.
The Surge 2 offers a similar gaming experience. Your opponents' limbs can be targeted and removed. They also drop various weapons, enhancements, and tech that you can use.
14. Dark Souls III
The Dark Souls franchise is known for its insane difficulty level and intense boss fights. It's one of the best games like Monster Hunter World if you're looking for a more formidable challenge.
Dark Souls III is an action RPG with a third-person POV. It allows you to choose from various weapons from 24 different categories. There are also different "special moves" in the game that stems from weapons or magic that you can use in battle.
Another great aspect of Dark Souls III is that you can play co-op with your friends. Boss fights are tough on your own, but with some friends and the right strategy, it makes it a little bit easier.
13. Toukiden 2
Next up, we have Toukiden 2. The Toukiden franchise shares a lot of elements with Monster Hunter. If you were a huge fan of the Monster Hunter series, I'm sure you'll also fall in love with Toukiden.
The basic elements of Toukiden 2 involve you gearing up and preparing what else you need before facing a massive creature using a flurry of different attacks and combos. Sounds just like Monster Hunter World, right?
In Toukiden 2, you'll be playing as a mysterious Slayer who had just awakened from a long slumber. The Awakening causes rifts in space and time, unleashing numerous creatures called "Oni" into the world.
Your job as a Slayer is to protect humanity and kill these Onis to free the souls of fallen heroes.
12. God Of War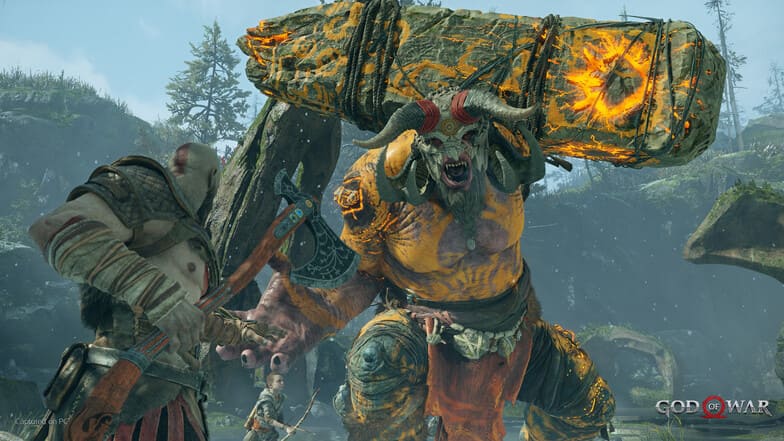 The God of War series is a staple PlayStation game. That's why it became an instant hit when it was released on PC. It's so popular that fans who've finished it are already looking for new games like God of War.
One thing that MHW gives you after every monster hunt is that satisfying feeling of accomplishment. It makes you feel unstoppable; it makes you feel like a god.
God of War is centered around Kratos and him going around different locations slaughtering various gods and mythological creatures. All of this is done in an attempt to fulfill his wife's dying wish.
Unlike previous entries in the series, most of Kratos and Atreus' encounters are based on Norse mythological gods and creatures.
11. Nioh 2
Like Monster Hunter World, Nioh 2 also puts you against gigantic creatures that you have to defeat with various weapons. But, instead of fighting monsters, you'll be challenging yokai instead. A yokai is a supernatural monster, spirit, or demon from Japanese folklore.
In Nioh 2, you can create and customize your own character. You can then get a variety of weapons, skills, and special abilities by progressing through the game. When defeating hostile yokai, sometimes they drop a "Soul Core" that you can use to unlock powerful yokai abilities.
One of the most beautiful things in the Nioh games is the designs of the various monsters and creatures you fight against. Most of them are based on actual yokai from Japanese folklore. They have stunning yet scary designs, adding an extra level of thrill to Nioh 2.
10. Devil May Cry 5
Like most games on our list, Devil May Cry 5 features you taking down various creatures and monsters. In this case, you're going against demons using a unique combat system, various weapons, and powerful demonic abilities.
Devil May Cry 5 follows a trio as its main protagonists. You'll go up against the Demon King Urizen as you attempt to stop him from destroying the world.
Monster Hunter World had a slow combat system that required precise and well-planned movements to succeed. However, Devil May Cry 5 is the complete opposite. It has a fast-paced and stylish gameplay that focuses more on keeping the combo chain alive than precise tactics.
If you think that MHW's gameplay is a bit too slow but still want to go up against monsters, then you should try out Devil May Cry 5.
9. Attack on Titan 2 – A.O.T.2
Attack on Titan is one of the most popular anime series in the entire world. It follows Eren Yeager and his vow to rid the world of massive man-eating humanoids called "Titans."
The game of the same name takes a lot of inspiration from the series and tackles the first 50 chapters of the manga. You can create your own character and interact with the different personalities from the franchise.
You can probably already guess that you get to attack the Titans within the game from the name itself. It's a hack-and-slash game that allows you to use grappling hooks and swing from the various environments in the game to reach the Titans with your weapons.
It's a fun and unique game like Monster Hunter World and is enjoyable even if you aren't following the series.
8. Scarlet Nexus
Scarlet Nexus is an ARPG where you can control Yuito Sumeragi (male) or Kasane Randall (female). Both are members of the Other Suppression Force, whose main objective is to defend New Himuka from mindless mutants called "Others."
The two protagonists have similar skill sets and weapons, so the choice is primarily due to preference. You'll mainly be fighting the Others in close-range using a sword. However, both Kasane and Yuito possess psychokinetic powers allowing them to launch objects at enemies.
Scarlet Nexus offers fast-paced gameplay with a third-person POV. It has a unique combat system, mainly because of the psychokinesis abilities present in the game. This allows players to pull off insane combos incorporating weapons and skill usage to defeat the Others.
7. Code Vein
Code Vein is another anime-styled game like Monster Hunter World. It features open-world gameplay set on a post-apocalyptic dystopian planet. You can also play multiplayer co-op with a few friends.
The game is inspired by the Dark Souls series with graphics and animation inspired by God Eater 3. Code Vein is primarily a dungeon crawler game with hack n slash mechanics.
You wake up in a world that has fallen to an event called the "Great Collapse." Due to this event, monsters began emerging around the world and attacking humans.
You play as a Revenant who risks it all to start a journey to the depths of hell and learn more about your past. You're equipped with different weapons and abilities alongside the Gifts system that allows you to temporarily gain buffs or use specific items and equipment.
6. Tales of Arise
Tales of Arise is another game developed by Bandai Namco with action role-playing gameplay elements and an anime-inspired art style. It's the seventeenth main game in the Tales series and features new additions while retaining the core elements that Tales games are known for.
It features a real-time combat system called "Linear Motion Battle System," which the Tales game made popular. This LMBS allows you to set three ground and three aerial artes, with up to twelve at once. Artes are basically skills, spells, or attacks within Tales of Arise.
Planning what artes you will use in battle and chaining them allows you to create unique combos. The artes system is quite similar to Monster Hunter World's weapon system, where each button is assigned to a specific attack. However, Tales of Arise features a ton of artes split between ground, aerial, spell, support, special, and DLC.
5. Remnant: From The Ashes
Do you like the boss fights in MHW and shooters? Well, Remnant: From the Ashes is the perfect game for you. It's a third-person shooter game where you go against otherworldly creatures. It's the best game like Monster Hunter World, where your main weapons are guns.
Remnant: From the Ashes takes place in a post-apocalyptic earth overrun by interdimensional creatures called the "Root." You're one of the last survivors in the world, forced to put an end to the Root and attack the epicenter of the invasion.
The game features mechanics from games like Dark Souls, Monster Hunter, and some shooter games. You can wield two ranged weapons and a melee weapon.
There are various guns in the game, like shotguns, machine guns, pistols, rifles, and snipers, among many others. You can also equip attachment mods to gain extra abilities or buffs.
4. Dragon's Dogma: Dark Arisen
Next up, we have a game from the developers of Monster Hunter World themselves, Dragon's Dogma: Dark Arisen. What better game to include on the list than one created by Capcom themselves?
Dragon's Dogma: Dark Arisen is an enhanced and remastered version of the original Dragon's Dogma game released for consoles in 2013. It's a hack-and-slash RPG game where you complete quests requiring you to fight monsters in real-time.
There are various classes in the game called "Vocations." These vocations allow you to change gameplay and skills according to the one you choose.
Dragon's Dogma also has a party system that is often compared to games like Monster Hunter World. However, the only difference is that your party members are controlled by AI instead. These NPCs are very helpful in combat, and I wish I had their help while playing MHW.
3. Elden Ring
The monsters in MHW can be quite a challenge. However, once you've gotten used to the game, studied their movements, or crafted better equipment, you should eventually be able to take them down. If these fights start to bore you, look no further than Elden Ring.
Elden Ring is one of the best games of 2022, thanks to its gameplay, narrative, exploration, and difficulty. It's highly praised by critics and gamers alike.
It has a similar gameplay experience to the Dark Souls series but with many new additions. Elden Ring is set in a free-roaming interactive open world. You can also use various weapons, learn magic spells, ride mounts, and craft items in Elden Ring.
Elden Ring presents a tough challenge for those looking to torture themselves with brutal enemies. Jokes aside, Elden Ring is one of the best games like Monster Hunter World if you think the bosses in MHW are way too easy.
2. God Eater 3
God Eater 3 is one of the best recommendations anyone can give you if you're looking for a game like Monster Hunter World. From its mechanics, gameplay, bosses, and even its co-op mode, it feels like it's straight up from the Monster Hunter series.
Your character is known as a "God Eater" who can absorb energy from different monsters to unleash special attacks. You can choose from various weapons; the game even has weapon classes similar to MHW.
God Eater 3 does have a faster-paced style and is more forgiving to beginners. You don't always have to use precise attacks and execute a game plan to defeat the bosses.
The four-player co-op is also very reminiscent of MHW and allows you to build a team with different roles.
1. Dauntless
Dauntless is hands down the best fighting game like Monster Hunter World that you can play. It's basically a copy of MHW but with more cartoony and animated graphics. I'm sure you'd feel at home with Dauntless because of its numerous similarities with the Monster Hunter series.
The game honestly feels like a simplified version of Monster Hunter that anyone can enjoy. However, it still requires a ton of time and patience to master.
One of the best things in Monster Hunter is the ability to go against goliaths and take them down. You can get that same feeling when facing the Behemoths in Dauntless. There's nothing more satisfying than slaying your first monster.
If you can't do it alone, you can always call for backup because Dauntless also supports up to 4-player co-op. Want to know the best thing about Dauntless? It's completely free-to-play. All you need is an Epic Games account and start slaying those monsters.
Dauntless is among the best hunting games on Xbox, PlayStation, Nintendo Switch, and PC. It even supports true cross-platform support, allowing you to play with friends no matter your device.