EA Sports has revamped the NHL 21 Be a Pro career mode gameplay to make it extremely comprehensive and as congruent to real life NHL clubs as possible. You can now create your pro to play across a variety of areas on the pitch and also select the type of player he will develop to be.
NHL 21 Be a Pro's Player Archetypes is an excellent addition to the game as it gives you control over how (and where) you want your custom pro to play and help our favorite teams win trophies, increase club worth, impress the general managers and become the best in the world.
Whether you love being the main scorer, the deke expert, or the muscle behind the madness – this NHL 21 Be a Pro best build list involves six different archetypes that allow you to play any role within the team. Here we will look at all the different player archetypes available in NHL 21 and how it modifies your in-game avatar.
The Sniper
Every team sport needs a finisher. They tie-up team plays and make the most of great plays by scoring. They are the most valued players across all professional sports as they are the prolific superstars in the game. The same holds true for NHL too, as the scorers are the most celebrated for their contribution.
A sniper's job is to find space on top of the circles. As a sniper, your role in the team is to have your focus completely on goal. While your teammates do the spadework, you will have to constantly look for little gaps to burst through to receive a pass and then instantly look up and lock on to goal. A sniper needs to have a great shot on him and must always look for the goal and angles to beat the goalie.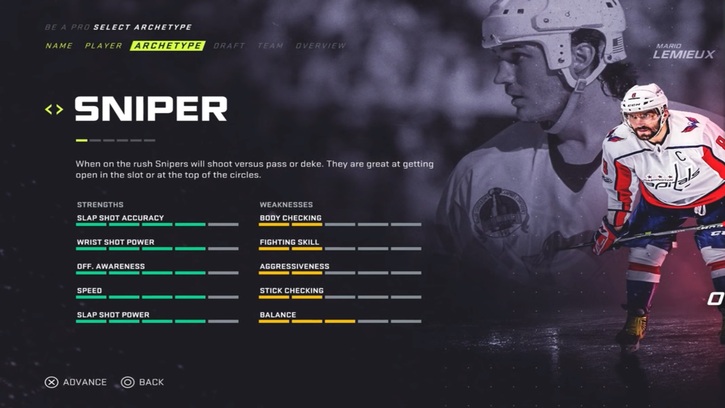 In NHL 21 Be a Pro, if you are drawn to being an attacker, the sniper archetype should be your go-to. If you admire players like Alex Ovechkin, Sidney Crosby or Connor McDavid, this build is for you.
By choosing this archetype, you get preset statistics that mirror players who play as the 'Sniper.' You get a very high and balanced 5 out of 5 in Slap Shot Accuracy, Wrist Shot Power, Defensive Awareness, Speed and Slap Shot Power makes you a complete pain for opponents going forward. You can score from multiple angles with no apparent weaknesses to your shooting game.
Being a nimble and agile forward comes with a few weaknesses in terms of aggression and strength related stats. But, this is not a job for you. If you are the striker-type, you play the role of hitman in front of goal. You have the freedom to become the superstar of the team and be adored by fans all over.
The Playmaker
Love pulling the strings and releasing attackers? Love the hushed comments of you incredible skill on the puck? Love Wayne Gretzky? This position is for you. Often the most talented hockey players, they use their skill, training and game intelligence to unlock opponents and set your attackers clean through to shoot.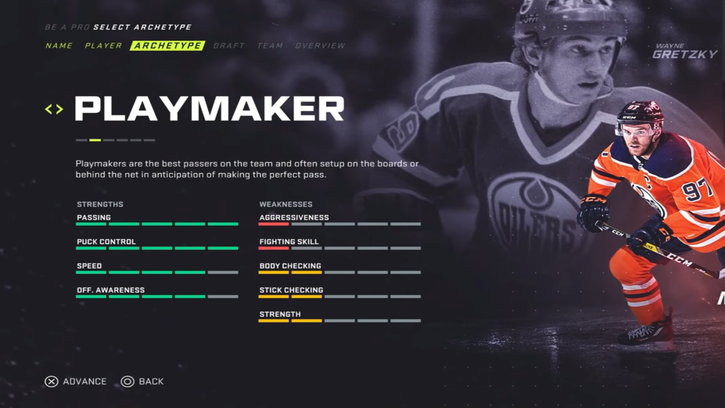 Playmakers are revered in every sport. In NHL 21 Be a Pro, with the power put on the beautiful cross arena switch passes, you can become an untouchable force that opponents cannot touch. Not the most prolific in front of goal or the first to initiate a fight, playmakers are the brains of the operation.
Joe Thorton from San Jose Sharks is the best example of this build. Always looking for a pass, you can rake in assists and set your team up for glory as the playmaker. With 6 out of 6 Puck Control and Passing, it is very tough to disposes playmakers. Dekeing in crowded areas, you can find space and play passes with your 5/6 speed and awareness. But this position comes with very poor strength and aggression traits. So, choose this NHL 21 archetype if cerebral, awe-inducing plays gets you off the seats.
Power
A Power forward is the most exciting player to watch in Ice Hockey. A combination of all things that make the sport a treat to watch, they can set the stands alight with their skill and sheer physical dominance in front of goals.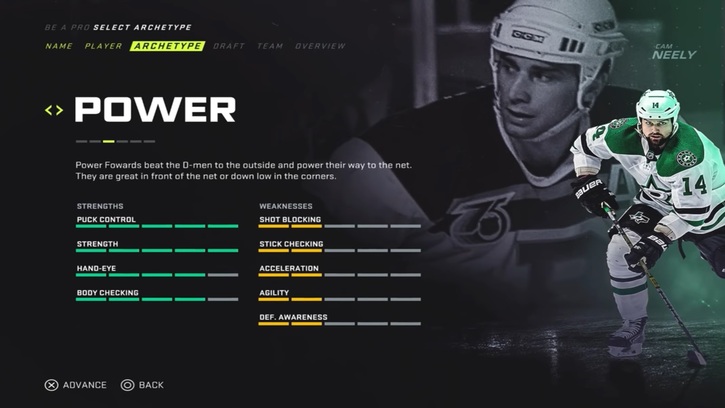 NHL 21 values strong players. In NHL Be a Pro, a strong forward can shrug off physical challenges and burst through defensive lines. this serves two roles, you could be a distraction to defense, clearing up room for a more nimble forward or use a 'Power' player as your main goal scorer who uses strength as much as skill to net a few points for the team.
If players like Brendan Shanahan or Gordie Howe are your Hockey heroes. then this build is your go to. They can even put seasoned, powerful and nasty defenders out of the game with their drive, power and ability on the puck.
This NHL 21 Archetype gives you a 6 out of six Strength and Puck Control stats, making this an almost overpowered build in the game. This gives you an awful resistance to body checks and incredible deking ability. You can play the role of both the Playmaker and the Sniper archetypes, making this the best forward build in the game. But this is not the best defensive build with low defensive awareness stats and blocking stats.
Two-Way
The best archetype in NHL 21, the Two-Way forward position is for players who look to contribute on either end of the rink. These versatile players are often the initiators for both attack and defense and have to read plays well to decide the role they will play in various situations across the rink.
Players like Patrice Bergeron and Ryan Getzlaf typify the build and denote the kind of player you can mold using this archetype. They can contribute in every area of the pitch, score, assist, keep possession or make defensive reads. They are handy as players who can set the game tempo and add to the scoring depth of the roster and are extremely important kind of players in NHL 21.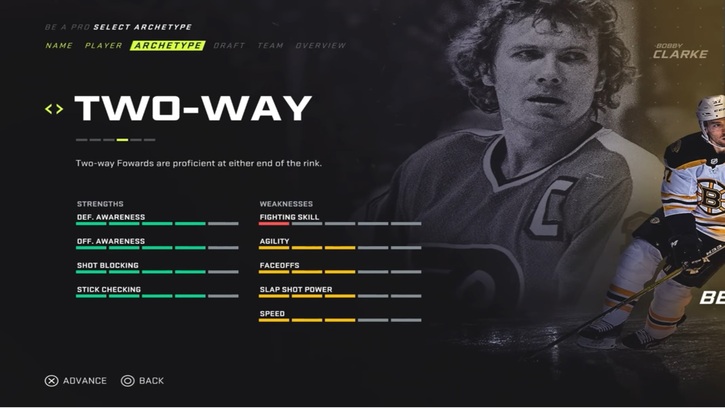 Though they have very poor fighting stats (1 bar) they are extremely rounded all over. With 5 out of 6 in Offensive and Defensive Awareness, Shot Blocking and Stick Checking – they are the best. They even have rounded slap shot power and speed. Making them a rather powerful build throughout.
If you want to start a NHL 21 Be a Pro game but are unsure of the role you want to play in the team, we suggest you go for the two-way forward. This gives you the best opportunity to analyze and choose whether you want to progress to an all-out attacker or switch to a more defensive build.
The Grinder
We are now entering big boy territory. Grinders, who are aptly named, break plays with body checks. They speialize in using muscle to push opponents off the puck and stop opponent attacks instantly.
By not waiting for the right opening for a pole-check, they save previous ground for the team and win the ball early. They use their size and strength to become a physical barrier to small and more nimble attackers.
Players like Tom Wilson and Shawn Thornton are prime examples for this archetype. If you love a physical encounter and aggressive plays to hinder opposition advances, this should be your go-to.
By choosing this build, you give yourself great defensive stats and average offensive stats. A 6 out of 6 for aggression and Body Checking combined with great shot blocking defensive awareness makes this build hard to go past in the game. The best way to outplay a grinder-heavy team is to use intricate passing. Try to dribble past them and you will end up sprawled on the ice.
The Enforcer
Fight, Fight, Fight! If you love the NHL for the scraps, rivalries and fights – this archetype might be for you. Enforcers play a crucial role in maintaining the 'Code' and when an opponent player takes a cheap shot or picks on a smaller player, they step in to fight it out.
Though the number of fights has decreased drastically in the last decade in the NHL, a quarter of the games still have huge brawls with players taking their gloves off to have a go. The unspoken rule of Ice Hockey is upheld by the big enforcers who ensure that dirty plays are punished.
If Tie Domi or Joey Kocur are your favorite brawlers and you live for a nice scrap on ice, the enforcer role is for you. The NHL 21 game plays heavy weightage on fighting and it occurs at certain situations during the game.
For example, if you take a shot after being flagged offside, you are instantly challenged. The controls for fighting in NHL 21 are very intuitive. You can dodge, grab and punch and it usually takes a few punches to knock an opponent down (based on your character size).
The Enforcer player build has full six points for Strength, Aggression, Fighting Skill, Balance and Body Checking making them players you don't want to mess with. But their skill with the stick and on the puck is rather poor, making this a very one-dimensional build.