To keep DiamondLobby free to read, this post may contain affiliate links. Learn more
The appeal of projectors for gaming is pretty easy to see. While there are several alternatives in the form of 4K HDR monitors and TVs that are priced significantly less, not many offer quite the same experience of playing your favorite fps game on the massive 100-inch scale that a 4K projector could offer.
Obviously, you can do more than just gaming with these projectors – they're solid all-round for video content. The high light output of the projector, for instance, is useful if you're watching movies.
However, when it comes to models such as the BenQ TK700 projector, there is a clear indication that the product targets gamers more than anyone else.
This is down to a few notable features, including an advertised input lag of 16.7ms for 4K/60hz or 1080p/60hz, 8.3ms for 1080p/120hz, and 4.2ms at 1080p/240hz (from a PC).
Such key features and more are discussed in greater detail in this BenQ TK700 review. If you're in the market for a 4K projector, or you're just curious about how this one performs, give it a read.
This article was written by Ola Olayiwola using testing, insight and opinions provided by Luke Jordan. The BenQ TK700 was tested for around 2 weeks of daily use with a PlayStation 5.
Key Specifications
Note that this projector should not be mistaken for the BenQ TK700STi. Both products share similar features and are from the same manufacturer, but the "STi" model is a smart projector with Android TV, and it costs more than the regular model does.
"ST" represents "Short Throw" and the "i" indicates that it is an intelligent model. Both projectors are short-throw, but the TK700 does not have smart features.
Also, the TK700's output stretches out to 150 inches at 12.03 feet from the projection surface, while the TK700STi only needs 9.8 feet for the same result.
Other key specs of the BenQ TK700 are listed in the table below:
| Technology | Brightness | HDMI | Native Resolution | Speakers | Lamp Life | Zoom Lens Ratio | Weight | Contrast | Warranty |
| --- | --- | --- | --- | --- | --- | --- | --- | --- | --- |
| DLP w/ XPR (0.47" Single-Chip DMD) | 3200 ANSI lumens | Dual 2.0b | 1920x1080x4 (3840×2160) | 5.0 Watts Mono | 4000 hours | 1.3:1 | 6.8 lbs | 10,000:1 | 1 year |
Note that the lamp life span indicated in the table above applies to using the projector in normal mode. Those numbers can be significantly boosted (up to 15,000 hours) in Lamp Save mode.
Design
With a footprint of 312 by 256mm, the BenQ TK700 is a compact model with a solid build.
The design language of the projector is a fairly muted one – it has a monochrome body with all basic controls featured at the top.
The sockets are found at the rear end, including the RS232 connector, two HDMI 2.0b ports (and an extra hidden one for the BenQ streaming dongle), a 3.5mm audio out, and a single USB 2.0 port.
You also get a remote control, and the base of the projector includes some screws that can be used to adjust your angles if you're trying to reposition the picture.
Features
The BenQ TK700 packs several useful features, especially for its gamer target market. Some key features are discussed below:
XPR Technology
Projectors that use a single-chip DLP (Digital Light Processing) like the BenQ TK700 usually tend to show rainbow effects, but that is not the case with this model. These types of projectors are also usually not true native 4K, so BenQ relies on its XPR technology to achieve its own version of "true" 4K.
The chip's native resolution is 1920 by 1080, and XPR technology quadruples that to generate the minimum 8.3 million pixels required to replicate native 4K resolution. To the naked and untrained eye, the difference is actually not noticeable when compared to true 4K.
2D Keystone Correction
The TK700 also uses 2D Keystone Correction to give users an option to square the image even if the projector cannot be installed in the best position. This feature helps with alignment, eliminating trapezoid effects when projecting from various spots.
There are two adjustment options with 2D Keystone Correction – Auto Vertical & Manual Horizontal ± 30 degrees. However, adjusting alignment using this feature might affect latency in Game Mode.
FPS Game Mode
Apart from the solid numbers for input lag, the projector also offers a unique FPS game mode that offers visual, audio and optimized latency settings. For fast-paced games, this feature will come in handy.
Speaking of features that enhance gaming performance, the TK700 refines projected images to make movement more easily noticeable in dark scenes. This "black detail enhancement" is pretty useful for locating enemies in the dark and quickly responding accordingly.
HDR
There are a couple of HDR options here for different situations. HDR10 is most suitable for watching HDR movies, HDR Game for high dynamic range gaming, and HLG (Hybrid Log Gamma) for more flexibility across various use cases.
Picture Quality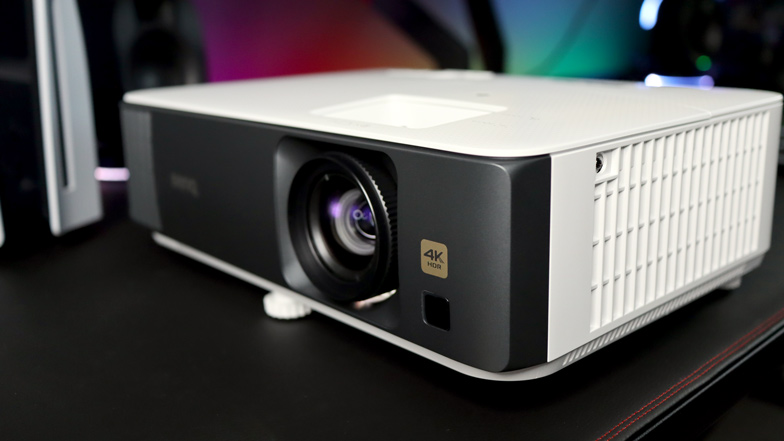 Apart from the HDR modes, the BenQ TK700 also has six picture modes for SDR (Standard Dynamic Range). These include Living Room, Game, Bright, Cinema, Sports, and User. If you go with the "Game" option, there are more settings for deeper customization of detail.
Generally, the picture quality is crisp and highly detailed. HDR looks really good, and the colors are rich and vibrant.
The improved detail in darker areas really shines in games where there are a lot of dark scenes, and it can give you an advantage if you're playing against people who don't have the luxury of that feature in their choice of a gaming display.
It's a pretty nifty feature that even some of the best gaming monitors might struggle to replicate with the same level of success.
If you're in the market for a projector for multimedia reasons, then these features might not mean so much to you and you will find projectors with better picture quality for multimedia.
This is not to say that the TK700's picture quality for streaming content or watching movies is bad. It still offers good performance but is clearly targeted toward gamers.
Sound
The BenQ TK700 ships with its own in-built audio system and surprisingly, it is actually usable for casual gameplay. It does not have stereo separation which is not ideal, but the volume goes pretty loud and retains a decent amount of detail.
The better option for improved sound quality would be to attach the device to an AV Receiver. For this, the projector has an Audio Return Channel (called Audio Return+) that comes in handy when you connect ARC-compatible speakers with HDMI cables.
If you don't use the audio return channel, you could also connect through the audio output jack. The results are not as fantastic due to the lack of immersive surround formats, but it does the job.
For most gamers, you're probably going to be using a headset that's connected to your console anyway.
Performance
I've spoken a lot about how this projector is targeted at gamers, but how does it perform overall for gaming? Should it be regarded as one of the top projectors on the market?
Using Game Mode with Fast Mode on, playing games are responsive and the HDR really breathes life into the pictures. Regardless of the type of game that you're playing, and the platform that you're gaming on, you should get smooth gameplay with vibrant colors.
Watching video content with the BenQ TK700 is not as exciting though. SDR viewing produces undersaturated pictures in certain scenes, and HDR viewing is also mostly hit-and-miss.
Cost
At the time of writing this review, the BenQ TK700 costs around $1,299 on the official store.
However, it might be available for less on Amazon from time to time.
Verdict
If you're in the market for a gaming projector, chances are that you're not looking for the optimal competitive esport setup – you probably want something that is amazing for casual gameplay.
Does the TK700 fit the bill? Honestly, I think it does.
Whilst it is a little noisy, you're not going to hear it whilst playing games or even whilst distracted, it's just something you're going to notice every time you boot it up.
This isn't going to be incredible for competitive FPS games, but for casual play with friends or family or even just within your home cinema setup (even on the hardest of games like Elden Ring), it's pretty darn good.
There's no noticeable input lag and the colors looked incredible on the dark wall that we projected onto for our testing and gameplay.
Overall, it's a great quality projector and is a better option than the similar TK700STi model if you are not short on space or don't want smart functionality.
BenQ TK700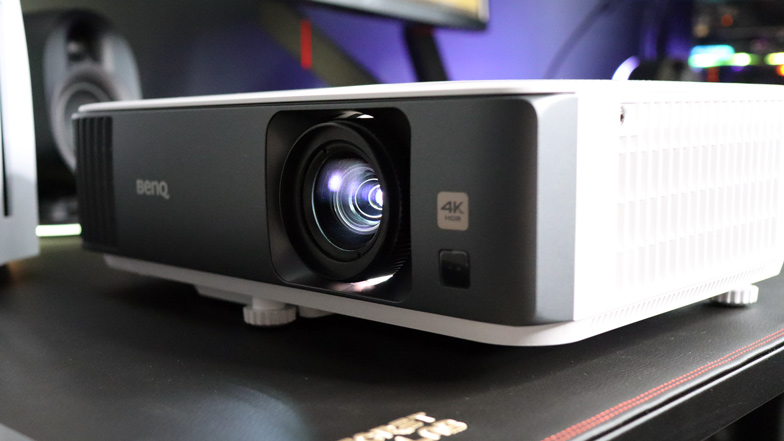 The BenQ TK700 is a 4K gaming projector with low input delay and a high quality image.
Pros
High quality 4K-quality image
Plug-n-play setup
Surprisingly low input delay
Built-in speaker