10 of the Best Cheap Signings On Football Manager 2022
Image credit: Sports Interactive
Everyone loves a good bargain, whether you're haggling for an item at the store or grabbing an underrated player for a cut-price fee in a soccer simulation game.
Hardcore FM fans in particular look out for these FM22 bargains on every new save, and some even have a set of players that they always sign regardless of the team, simply because they're too good for the fee.
If you're managing a club that is struggling with finances, a good cheap signing will save you a lot of investment, allowing you to splash the cash in other positions while maintaining the quality of player that you want for your team.
If you're managing a rich club, signing a couple of FM 22 cheap players could still be important for making a profit.
Their value is likely to increase when they join your club, and you can move them on for a healthy profit after a transfer window or two. Sometimes, these signings that are made for profit even come in handy for squad rotation.
On that note, we decided to compile a list of some of the best cheap signings on Football Manager 2022. All these signings cost less than $4m, and there is at least one option for every key position.
You could even turn this into a Football Manager challenge – win a major trophy with a team of players that cost less than $4M each!
1. Giorgi Mamardashvili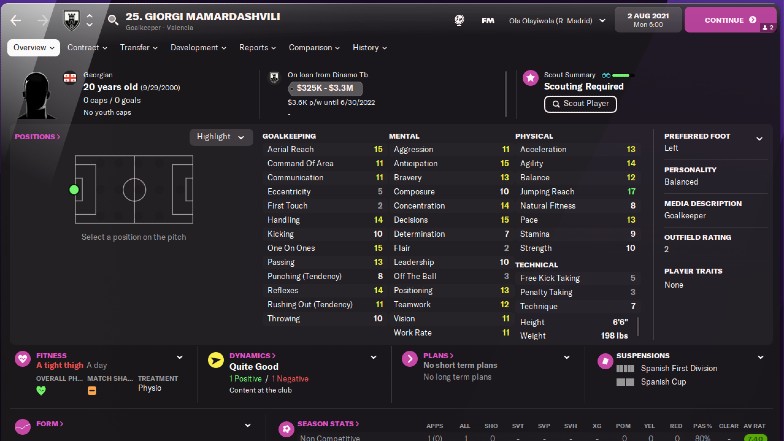 Age: 20
Position: GK
Nationality: Georgian
Current Club: Valencia
Estimated Price: $325K-$3.3M
Giorgi looks like a real talent on FM22 – even regardless of the low fee. The fact that Valencia have brought him on loan from home club Dinamo Tbilisi goes some way to show how quickly his stock is rising in Europe.
He's only 20 years old, so there's a lot of room for improvement, and you can maximize this with the right training parameters and coaches. He might even be a low-key FM22 wonderkid!
Giorgi already looks good in many of the key areas required for a top goalkeeper, with stand-out attributes in areas such as Reflexes, One on Ones, Handling and Anticipation. Those speed and passing ratings also give a glimpse into how good of a sweeper-keeper this guy can be.
If you can sign him right at the start of the game – even on a future transfer agreement, don't hesitate!
2. Andreas Linde
Age: 28
Position: GK
Nationality: Swedish
Current Club: Molde
Estimated Price: $50K-$475K
Here's a more experienced and developed alternative to Giorgi. If you can't afford to wait for the younger goalkeeper to develop well enough to break into your starting XI, then maybe Andreas can do so.
Despite being a first-team player for his club, Molde, Andreas is available for a dirt-cheap fee because his contract is running out.
Depending on the date you begin your save from, he'll only have a couple of months left on his contract and you can sign him up immediately for less than $500K.
Alternatively, you can make a pre-contract arrangement for him to join your club once that contract expires, so you don't have to pay a transfer fee. He's currently earning modest wages in the range of $2k per week, so he shouldn't burn a hole in your wage budget.
It's not all positive here though. Andreas is very slow off the mark, and his Communication and Anticipation skills are equally poor. He's 28, so there's not a lot of room to improve these attributes – you'll just have to make do.
3. Jordan Lukaku
Age: 27
Position: D/WB/M(L)
Nationality: Belgian
Current Club: Lazio
Estimated Price: $160K-$1.6M
Romelu Lukaku is right at the top of our list of the most valuable players on FM22, but his brother Jordan is more than 200 times cheaper.
This ridiculously low price does not tell the whole story though. Jordan Lukaku is actually a decent player on FM22, and a fairly versatile one across that left flank too. He has 8 caps for the Belgian national team, so there's definitely some talent there.
The stats tell the same story too. He looks like a very useful tool to have if your team is setup with offensive fullbacks.
Good ratings for pace, off the ball movement, dribbling and crossing means that he should get many opportunities to whip accurate balls into the box for your attackers to score.
His ratings for marking and tackling are not the best we've seen, but they're not shabby by any means either. You should be able to get the most out of him from that left wing-back spot.
4. Ryan Fredericks
Age: 28
Position: D/WB/M/AM(R)
Nationality: English, though switched to Scottish within our save
Current Club: West Ham
Estimated Price: $3.2M
We always love to see that green in the "Pace" and "Acceleration" markers for a player that operates on the wings. When that players is a defender, it usually means two positives – good recovery pace, and the ability to get forward very quickly to provide support in attack.
That's the case with Ryan here, and his strong ratings for other useful attributes such as crossing, dribbling, strength and off the ball movement only add more cream to this already-tasty cake.
Aston Villa obviously agree, because they snatched him up on loan from West Ham almost immediately on the save we loaded.
Positioning is a real worry here though, so you might need to have a midfielder in a role that can cover for situations where Ryan gets caught out of position. The potential rewards can certainly be worth the risk.
Plus, he costs less than $2m? A steal, anyday.
5. Blaise Matuidi
Age: 34
Position: DM, M (LC)
Nationality: French
Current Club: Inter Miami
Estimated Price: $24K-$250K
Matuidi is not a stranger to soccer at the highest levels of competition.
With his FM22 stats at Inter Miami, there's the feeling that he might have moved to this "retirement phase" a little too early. You can change that and bring him back for one last hurrah – he certainly looks good enough!
He's the oldest player on this list, but his physical stats are not so telling of that fact. He still looks very strong, and that "16" rating for natural fitness will certainly serve him well and keep him at a good level for a reasonably long time.
He's certainly not a long-term option, but he walks into many mid-level teams as it is. A quarter of a million is chicken change for Blaise. For that reason, he's one of the FM 22 bargains you can get your hands on.
6. Gabriel
Age: 27
Position: DM, M (C)
Nationality: Brazilian
Current Club: Al-Gharafa
Estimated Price: $1.5M-$3.2M
One of the lesser-known options on this list. Possibly no one remembers that he was a Juventus player in 2012, although he never made an appearance for them.
Since that time, he's had spells across a few Italian clubs in the second-tier, followed by a stint at Leganes, and then a big transfer to Benfica in 2018.
At the start of the game, he's on loan at Al-Gharafa from Benfica, which suggests that he might be surplus to requirements at his parent club.
One look a those stats is all the assurance you need that $3.2M is a bargain – barely any major weaknesses to see here.
7. Amin Younes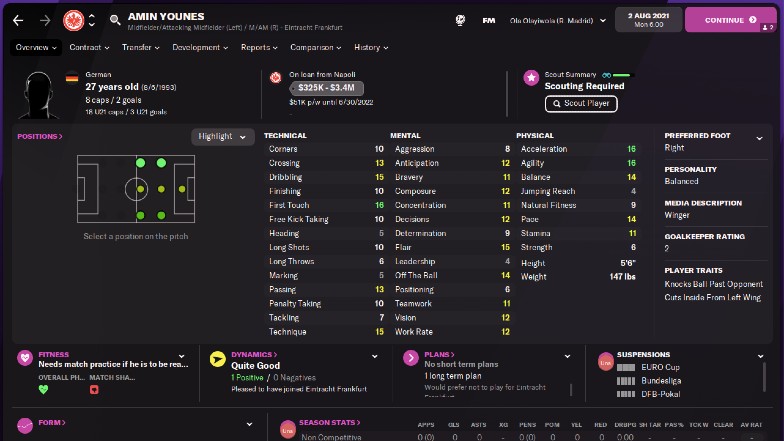 Age: 27
Position: M/AM (RL)
Nationality: German
Current Club: Eintracht Frankfurt
Estimated Price: $325K-$3.4M
Amin is on loan at Frankfurt from Napoli for the second year running. He's obviously not needed at the Serie A club, but he could do more than a job for many other teams.
He's a versatile player that can contribute in almost any midfield position, and he has a few decent technical, mental and physical attributes on top of that.
He looks like he'll do his best work on the left wing though – we're looking at that pace and dribbling!
8. Alexandru Mitrita
Age: 26
Position: AM (RLC)
Nationality: Romanian
Current Club: PAOK
Estimated Price: $350K-$3.4M
Another winger for your records. Alexandru has been out on loan from New York City Football Club for more than a year, and he starts off FM22 at PAOK in Greece.
He's not a speed demon, but what he lacks in electric pace, he makes up for in other attributes such as finishing and off the ball movement to make up a well-rounded skillset.
His wage demands are certain to be very modest too, so this one's a good option if you're REALLY struggling financially.
9. Dani Raba
Age: 25
Position: AM (C), ST (C)
Nationality: Spanish
Current Club: Villareal
Estimated Price: $1.4M
The central attacking midfield role is getting less attention every year, but a few people still have an attachment to this category of players.
Dani is a good option for these managers, and he can play in the striker position just as well if you decide to switch tactics.
His abilities are well-rounded with decent stats required for a striker (finishing, composure, off the ball and speed), and also for an attacking midfielder (passing, technique, vision, first touch, agility).
If you play a heavy rotation system, he should certainly be getting a lot of game time.
10. Facundo Colidio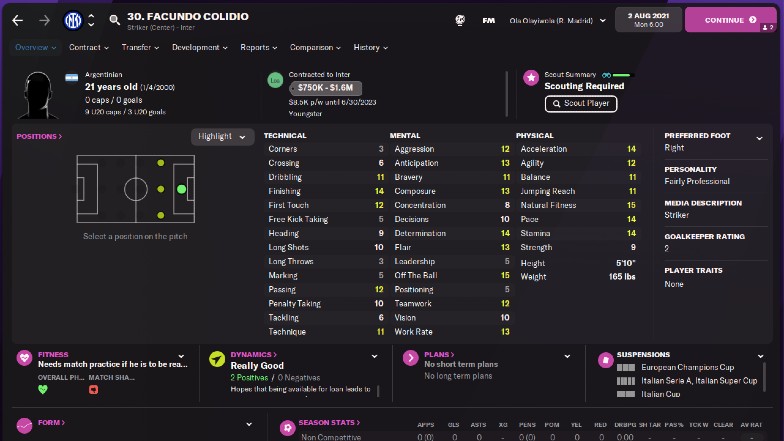 Age: 21
Position: ST (C)
Nationality: Argentinian
Current Club: Inter
Estimated Price: $750K-$1.6M
We love to see a good bargain on a player with a lot of room for improvement.
At 17 years old, Facundo already earned an $8M move to Inter from Boca Juniors. 4 years on, he's yet to make a first-team appreance, but Inter's loss could be your gain.
He's just returned to the club after another loan spell out at K Sint-Truidense VV in the Belgian League. With the departure of former talisman Romelu Lukaku to Chelsea, it may not take too long for Inter to recognize the talent they have within their ranks, so the faster you move for him, the better.
Final Words
There you have it – our FM22 best signings in the game.
Most of these FM 22 cheap players are of European origin, so you don't have to worry too much about that aspect of squad registration restrictions in the game. Nearly all of them are also under 30, so their potential contribution to long-term squad development offers additional value.
If transfer funds are not even an option, and you're looking for free transfers that involve no upfront fee, you will find some options on our list of the best free tansfers on FM22.
Enjoy!