One of the key updates in Football Manager 2022 compared to previous iterations of the game is how player value is presented.
On FM21 and earlier versions, each player had a fixed transfer value that rose or dropped over time based on factors such as form, club reputation, individual awards, age, etc.
Based on these fixed transfer values, one could then negotiate a transfer fee with the player's club and come to an agreement. Regardless, it was not uncommon to buy a player for much less than their valuation — or pay a lot more. Overpaying on value is especially true when buying the best wonderkids.
On FM22, each player's value is presented as an "estimated range" instead. When you scout a player, the report shows the club's estimated valuation of that player, and this is the same as the estimated transfer fee. If a club has no interest in selling a player, the transfer value tag simply shows "Not For Sale".
Alternatively, you can also speak directly to the player's agent to ask about availability. The agent will provide information about the player's interest, expected wage requests, and the projected fee that will be requested by the club.
It's all pretty interesting stuff, and it should be fun to see how this affects the ease of making transfers in the game.
For now, these are the top ten most valuable players as far as Football Manager 2022 player stats are concerned.
10. Ruben Dias
Age: 24
Current Club: Manchester City
Estimated Value: $194m-$223m
Nationality: Portuguese
Following his move from Benfica in the 20/21 season, Ruben Dias is playing his second season at Manchester City in FM22.
After winning the league in his first season, the stock of the entire club has risen which has affected player values.
Add that to the fact that Ruben won the award for English Player of the Year and it's understandable why the center-back is valued so highly in the game. Those mental attributes definitely have something to do with it too!
9. Jack Grealish
Age: 25
Current Club: Manchester City
Estimated Value: $204m-$273m
Nationality: English
Jack Grealish is a new Manchester City player on FM22, and he moved from Aston Villa for a huge fee in excess of $100m.
That fee alone definitely has something to do with the rise in his valuation on FM22 compared to the previous version, especially looking at the FM 22 stats that he's working with.
He does not have bad FM22 stats by any means though. Not bad, but not the best it could've been, to be honest.
Good crossing, dribbling, technique, vision, and decent pace are all solid attributes to have for a winger. However, you may want to consider developing his passing and playing him through the middle instead, especially if you rely on speed a lot on the flanks.
8. Marc-Andre ter Stegen
Age: 29
Current Club: Barcelona
Estimated Value: $212m-$254m
Nationality: German
Barcelona may be going through the toughest times they've seen in recent history, and they feature in our list of the best teams to manage in Football Manager 2022, but it does not seem to have affected Marc-Andre ter Stegen's value too much.
He is still one of the best goalkeepers in FM22, and he's also in the top three most valuable goalkeepers.
Those passing and kicking attributes bring daydreams of launching a pass from the 18-yard box to a speedy forward springing the offside trap in front of the opposition's area for a one-on-one. The sweet, sweet, reward of direct FM tactical play.
7. Achraf Hakimi
Age: 22
Current Club: Paris Saint-Germain
Estimated Value: $221m-$278m
Nationality: Moroccan
Hakimi is the youngest player on this list, and he's also the only full-back. It's interesting how much more valuable he is compared to Trent Alexander-Arnold ($129m-$190m), considering that they're rated similarly and Trent generally has better FM 2022 player stats.
He's a new player at PSG on FM22 though, and he joined the club for a fairly high fee for a full-back, so this may have something to do with how he's been priced in FM22. If that is the case, then that value might drop as the seasons progress.
For now, he's the 7th most valuable player in the game at the start.
6. Neymar
Age: 29
Current Club: Paris Saint-Germain
Estimated Value: $235m-$282m
Nationality: Brazilian
The other PSG player on this top ten list comes right after his teammate, and it's the man that does what he wants, whenever he wants.
Despite getting on in age, Neymar remains one of the very best and consequently, one of the most valuable. He's valued higher than his new teammate, Lionel Messi ($89m-$119m), and the third piece of the three musketeers, Kylian Mbappe ($117m).
To be fair though, Messi's 34 years old now and Mbappe has a contract that expires within a year, so their transfer values reflect this.
5. Harry Kane
Age: 28
Current Club: Tottenham
Estimated Value: $260m-$349m
Nationality: English
By far the most valuable player in the Tottenham squad. The closest player to Harry Kane is Heung-Min Son, valued at $102m-$150m.
Kane had arguably the best season of his Spurs career in the 20/21 season, and his value has been upgraded to reflect that in FM22.
He's never been the quickest off the mark, but he more than makes up for it with how well-rounded the rest of his game is. 18 passing and vision is just insane for a player that is naturally a striker, and those mental attributes – just magical!
We're getting serious "Complete Forward" vibes from Kane for Football Manager 2022. For some people, the lack of pace is a big worry for that role, so you may want to try him out as a deep-lying forward instead.
Kane also has the Model Professional personality, which is one of the best personality types in FM22.
4. Ederson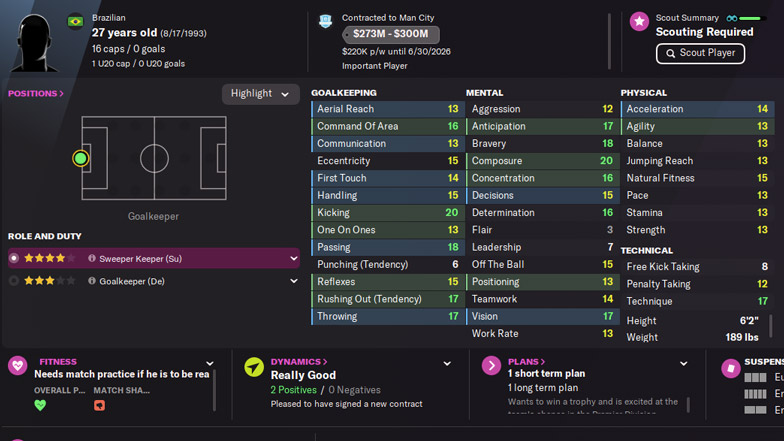 Age: 27
Current Club: Manchester City
Estimated Value: $273m-$300m
Nationality: Brazilian
Another player that has benefited from a successful league season for Manchester City.
On an individual level, Ederson won the English Premier League golden glove, and he was runner up for the UEFA Champions League Goalkeeper of the Season.
Add that to the club's achievements of winning the Carabao Cup and the English Premier League and it's understandable why he's valued so highly.
$300m though? We're not so sure about that valuation from Sports Interactive, and we fully expect those numbers to drop significantly within a season into the game.
3. Alisson
Age: 28
Current Club: Liverpool
Estimated Value: $278m-$333m
Nationality: Brazilian
Ederson's national teammate, Alisson breaks into the top three most valuable players for FM22, and it's a really interesting decision.
On one hand, we recognize the fact that these numbers are purportedly decided by the club's opinion of their player's value, but we can't help but wonder how Alisson gets this incredibly high-value rating.
He's undoubtedly one of the best goalkeepers in FM22, just like he was in the previous version, but the 20/21 season was not a remarkable one for the Brazilian shot-stopper in any way. In fact, he was injured for a portion of the season and his team, Liverpool, did not win anything.
He's another one that we expect to drop significantly in value as the game progresses.
2. Kevin De Bruyne
Age: 30
Current Club: Manchester City
Estimated Value: $299m-$325m
Nationality: Belgian
Kevin De Bruyne is the oldest player on this list and that, in itself, is an achievement. He's 30 years old and he does not seem to be slowing down in the game or in real life.
His passion, vision, and crossing attributes are a dream for gamers that like to play direct soccer, but his technique, dribbling, and flair also show that he's a world-class option for teams that like to play between the lines too.
He has no real weaknesses unless, for whatever reason, you place a lot of importance on having playmakers that can challenge in aerial duels.
De Bruyne was only just pipped to the title of the most valuable player in FM22 by his national teammate, Romelu Lukaku.
1. Romelu Lukaku
Age: 28
Current Club: Chelsea
Estimated Value: $302m-$377m
Nationality: Belgian
And the winner is…
Romelu Lukaku is FM22's most valuable player, at least at the start of the game. He's just completed a move to Chelsea for a fee in excess of $100m, so that definitely has something to do with it.
However, he's also one of the best strikers in the game, and perhaps the one with the best physical attributes. That combination of a 20 rating for strength, an 18 rating for pace, and a 20 rating for balance is bound to be unstoppable!
He's got excellent mental attributes too, which makes him one of the most complete forwards in the game. It also means that you can play him in a number of roles without worrying too much about a drop in performance.
Worth the estimated value? That's down to you to decide!
Final Words
Seven players from the Premier League, and four of them play for Manchester City – talk about domination.
If playing with Manchester City or any of the other big boys is too easy for you, then you might want to check out one of the FM22 challenge save ideas over here. Enjoy!