It feels like every year, the number of exciting young players in soccer is higher than the previous year. We now see players as young as 17, 18, playing regularly in the starting XI for top clubs, which means one thing to us – more FM 22 wonderkids.
The sheer volume of Football Manager 2022 wonderkids is certainly not lacking this year, and it'll be nearly impossible for you to find them all, even with the most extensive scouting networks in the game.
So, we've compiled 20 of the best wonderkids in Football Manager 2022 to make things a little bit easier for you.
It is worthy to note though that some of these young players start off the game with dynamic potential, which means that some starting attributes and potential ability may vary from save to save.
If you're managing one of the clubs with the biggest transfer budgets, you could hoover up a lot of these hot prospects.
Let's dive right in!
The Best Wonderkids in FM22's Default Database
20) Maarten Vandevoordt
Age: 19
Current Club: KRC Genk
Nationality: Belgium
Estimated Price: $19.5m – $25m
Maarten already has 44 first-team appearances for Genk, and his stock is rising fast among the wonderkids in Europe. After spending most of the season on the bench, he got a run of starting XI opportunities in the final 8 league games of the 20/21 season.
He is arguably the best teenage goalkeeper in the game, and you can snap him up from the start for a relatively low fee of less than $25m.
He starts off with pretty decent stats, with the key attributes being Passing (16), Reflexes (15), and Kicking (15) – a strong recipe for a fantastic sweeper keeper.
19) Ivan Martinez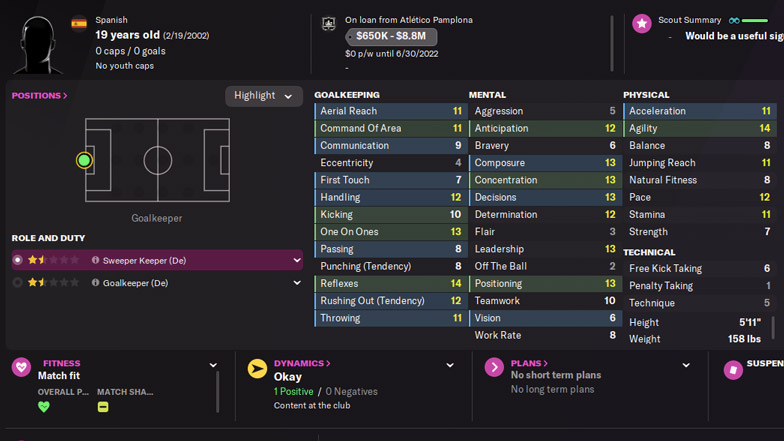 Age: 19
Current Club: Atletico Pamplona (CA Osasuna)
Nationality: Spain
Estimated Price: $650k – $8.8m
Ivan Martinez is yet to make a first-team appearance for Osasuna, but he's very highly rated among the club's fans.
He starts off the game with a loan spell at CD Castellón in the Spanish third tier, so you might not be able to get him into your squad immediately. However, a future transfer can be arranged for around $6m.
His starting attributes look decent too, with a 14 rating on Reflexes, 13 for One on Ones, and 13 for Positioning.
18) Josko Gvardiol
Age: 19
Current Club: RB Leipzig
Nationality: Croatia
Estimated Price: $73m – $87m
Signed for $18.25m from Dinamo Zagreb in 20/21, Josko was sent right back to his boyhood club on loan for the season, and his stock has only risen since then.
23 league appearances and 2 goals are highlights of his importance to Dinamo while he was on loan, and with the departures of Dayot Upamecano and Ibrahima Konate, he starts off as a first-team level player at Leipzig in FM22.
He won't come cheap, though. If you want Josko, you'll have to cough up at least $73m. Maybe those physical attributes are enough to convince you?
17) Tanguy Nianzou
Age: 19
Current Club: Bayern Munich
Nationality: France
Estimated Price: $20m – $24m
Bayern is developing a reputation for envious deals in the transfer market, and Tanguy is one of the results of those dealings.
He joined the club on a free from Paris St. Germain for the 20/21 season and has made 6 league appearances since then.
Tanguy is a quick, strong, and aerially dominant defender, evidenced by his Pace (15), Jumping Reach (15), and Strength (15) attributes. For a 19-year-old player with a lot of room to improve, those are pretty solid stats!
16) Tino Livramento
Age: 18
Current Club: Southampton
Nationality: England
Estimated Price: $59m – $72m
This guy's already good enough to start for some Premier League teams, and he's only 18! He's quick, and he's got pretty solid stats for dribbling and crossing. That "11" marking could definitely do with some improvement, but again, he's only 18!
If you train Tino to get down the right flank as often as possible, he could be an attacking weapon for a team that likes to play from the wings.
According to the scouts, $70m or thereabouts should be enough to snatch him up at the start of the game.
15) Tariq Lamptey
Age: 20
Current Club: Brighton
Nationality: England
Estimated Price: $70m – $84m
How about that acceleration, eh? It's incredible.
On paper, it looks like that's all Lamptey's got going for him at the start of the game, but paired with his preferred move of "knocking the ball past the opponent", he also looks like he'll be hard to stop when he gets going on that right flank!
You'll definitely want to work on his defensive stats and bump up that strength too. Or maybe you can train him as a winger – the options look pretty good. Brighton won't let him go easy, though.
14) Nicolo Rovella
Age: 19
Current Club: Zebre (Juventus)
Nationality: Italy
Estimated Price: $39m – $59m
This guy's a gem. In fact, he got an "A" star rating from PSG scouts at the start of the game – incredible stuff.
Juventus identified that talent in 20/21 and snatched him up from Genoa for $21.5m, although he's still been playing at the club on loan since then.
He's the ideal deep-lying playmaker, with solid stats for passing, tackling, technique, vision, positioning, and decision-making. Those attributes pair perfectly with his preferred moves – it's all very Pirlo-esque.
He's a potential world-beater, so free up those funds if you can, and don't wait for another transfer window before you put a bid in!
13) Gavi
Age: 16
Current Club: Barcelona
Nationality: Spain
Estimated Price: $59m
Barcelona's 16-year-old prodigy from La Masia is already worth a lot from the start of the game, and you'll be lucky if you can convince him to join your club.
He already has the dribbling, first touch, technique, and vision of a seasoned professional, which means he could be a pretty good loan option for a smaller club that can't complete a transfer.
The next Xavi, perhaps?
12) Eric Garcia
Age: 20
Current Club: Barcelona
Nationality: Spain
Estimated Price: $31m – $39m
They might not be as strong as they were a decade ago, but Barcelona is definitely rebuilding something exciting with all these young players.
Garcia is a product of La Masia. He completed a transfer to Manchester City back in 2017, but he's back at Camp Nou now, and those stats are looking good.
He's a solid ball-playing center-back from the start of the game, although those player traits look like he's a bit of a risk-taker too.
It's up to you if you want to train him to stop trying to play his way out of trouble, but if you have the heart to watch your center-back executing a Cruyff turn in your 18-yard box, then you probably don't mind!
11) Harvey Elliot
Age: 18
Current Club: Liverpool
Nationality: England
Estimated Price: $71m – $89m
Harvey's another one that's already good enough to start for any second division side, and some top-tier ones too. Just look at that beautiful first touch, with the technique and vision to go with it.
He's not your traditional winger, but he can also whip a solid cross in if required to. If you're playing with a top-tier club, then he might be one for the future. If it's a smaller one, then get him in that XI!
10) Vinicius Junior
Age: 20
Current Club: Real Madrid
Nationality: Brazil
Estimated Price: $66m – $98m
It's one thing to be a first-team player at age 20 for a club like Real Madrid, but to make nearly 100 league appearances already? There's a good reason why Vinicius is so highly rated, and his stats on FM22 reflect that nicely.
His crossing and passing need work, but apart from that, this is one of the best young wingers in the game by far.
9) Callum Hudson-Odoi
Age: 20
Current Club: Chelsea
Nationality: England
Estimated Price: $48m – $74m
If for nothing else, Callum's versatility alone makes him worthy of a second look. He can play comfortably in five different positions, and you can even train him to get better at a sixth one.
He's not just a Jack of all trades, though. His stats look pretty good too. There are a lot of "15s" in the key areas – crossing, dribbling, passing, technique, etc. which means you'll be seeing a lot of green with a bit of targeted training.
He's one for the future for Chelsea, but he could be one for the present for your team.
8) Ilaix Moriba
Age: 18
Current Club: RB Leipzig
Nationality: Guinea
Estimated Price: $126m – $152m
Signed from Barcelona for $22m ahead of the 21/22 season, Ilaix looks like a well-rounded midfielder that could play well in a number of roles.
He barely has any poor numbers, and his passing, vision, first touch, and technique particularly stand out.
With decent stats for long shots and finishing too, we expect him to be pretty useful at arriving into the box to score, or shooting from range. Your most advanced midfielder, perhaps? He's only 18 too, so there's a lot of room to improve.
7) Eduardo Camavinga
Age: 18
Current Club: Real Madrid
Nationality: France
Estimated Price: $87m-$107m
Camavinga is a new player at Real Madrid in FM22, so you may have to wait for a transfer window or two before trying to sign him.
His FM22 stats indicate that he's a good ball carrier, with solid stats for work rate, stamina, technique, and passing. You would have to pay extra attention to his dribbling attribute in training to maximize this potential, but there's enough time for that.
6) Wesley Fofana
Age: 20
Current Club: Leicester City
Nationality: France
Estimated Price: $100m – $154m
Leicester's golden boys has got a well-deserved, nice little upgrade for FM22. He's got a little bit of everything, with balance being his only real weakness. 
Unfortunately, he starts off with a long-term injury, so anyone looking to sign him would have a long wait.
The positive side of this is that his estimated transfer value will drop within that time, but on the other hand, his stats could also suffer. Regardless, he has time on his side, and a lot of improvement can be made when he recovers from that injury.
5) Mason Greenwood
Age: 19
Current Club: Manchester United
Nationality: England
Estimated Price: $66m-$97m
With his performances for Manchester United since his debut, Greenwood has become one of the very brightest talents in the game, and his stats on FM22 reflect that.
"17" Finishing is incredible for a 19-year-old striker. When you pair that with pace and good technique, it's clear that Greenwood will grow to be one of the best strikers in the game.
4) Youssoufa Moukoko
Age: 16
Current Club: Borussia Dortmund
Nationality: Germany
Estimated Price: $59m-$71m
Moukoko's already made 14 league appearances for Dortmund, scoring 3 goals. Considering the fact that he's only 16, it's very impressive. The decision-makers over at SI certainly agree.
With those stats, he's good enough to start for a decent team, and you should be looking to loan him out for game time if you start a save with Dortmund. All eyes are on this guy and Greenwood – they look like proper beasts!
Moukoko also has hidden attributes that will allow him to develop into one of the best strikers in the world, including the best personality type in Football Manager 2022.
3) Alphonso Davies
Age: 20
Current Club: Bayern Munich
Nationality: Canada
Estimated Price: $64m – $94m
Already considered to be one of the world's best left-backs, it's almost laughable that Alphonso Davies is still young enough to be considered a wonderkid.
He's fairly versatile down that left flank, so you can train him to be useful in many ways. If you're playing with Bayern Munich, you have a fight on your hands to keep the other big clubs away from him. Good luck with that!
2) Ansu Fati
Age: 18
Current Club: Barcelona
Nationality: Spain
Estimated Price: $54m – $79m
If that injury hadn't happened in 20/21, it's scary to think how much more Ansu Fati would have improved. He burst into the scene playing as if he's gone pro for decades, and his stats on FM22 certainly suggest that too.
You still have to wait a few weeks for him to recover fully before getting him into the XI, but Fati will undoubtedly be one of the best wingers in the game in the future.
And this is good news if you're looking to manage Barcelona because you'll need all the help you can get. They're one of the best clubs to manage in Football Manager 2022 if you're looking for a challenge save idea.
1) Jude Bellingham
Age: 18
Current Club: Borussia Dortmund
Nationality: England
Estimated Price: $109m – $131m
Jude Bellingham takes our number one spot for the best wonderkid on Fm22, and deservedly so.
He's only 18, and his stats show no real weaknesses. He can play as a ball-winning midfielder, a box-to-box midfielder, a mezzala, or a playmaker without losing quality – he's that good.
Luckily, this is his second season at Dortmund, so you should be able to snap him up if you have the funds for it. It's a lot of money, but the best FM22 wonderkid is well worth the fee!
There are many more hidden gems to find in the default database, but we'll leave the rest of that research up to your scouting department.
The Best New Wonderkids in FM22's Winter Update Database
As of February 24, 2022, Sports Interactive released a winter update to their database. The update came with some changes including current and potential ability ratings for some players.
As a result, there are some young players that have had their ratings boosted enough to achieve wonderkid status and a place on our list. Some of my favorite options are:
Anatolii Trubin
Trubin looks ready to go straight into the first team of a club playing at the lower end of the table. He still has a fair amount of developing to do in certain key areas, so it might be worth taking him on loan at a smaller club instead of paying the huge fee that Shakhtar is demanding here.
His speed and passing stats suggest that he should go on to be a great sweeper keeper.
Fabio Carvalho
Carvalho already has many games under his belt for Fulham in real life, and I doubt his price will remain that low for long. You may want to snap this one up as soon as you begin your save.
He's got well-rounded technical ability in key areas and should develop into a fine playmaker.
Aster Vranckx
This man has almost no weaknesses, and he's only 18! He looks like an all-action midfielder, especially with those physical stats. Imagine the monster he'll become when those stats inevitably develop even further as he ages and plays more games.
Angelo
A list like this would not be complete without a teenage South American attacker, would it? You can get good value for Angelo if you buy him right at the start of your save. Don't wait too long, as I'm pretty sure the likes of Real Madrid and Manchester City will be lurking in no time!
Ivan Ilic
Ilic can play multiple positions through the middle of the park, and that versatility alone is enough to call attention. He's one of the older options at 20 years, but don't let Verona's asking price put you off – this man will develop into a serious player.
Unai Vencedor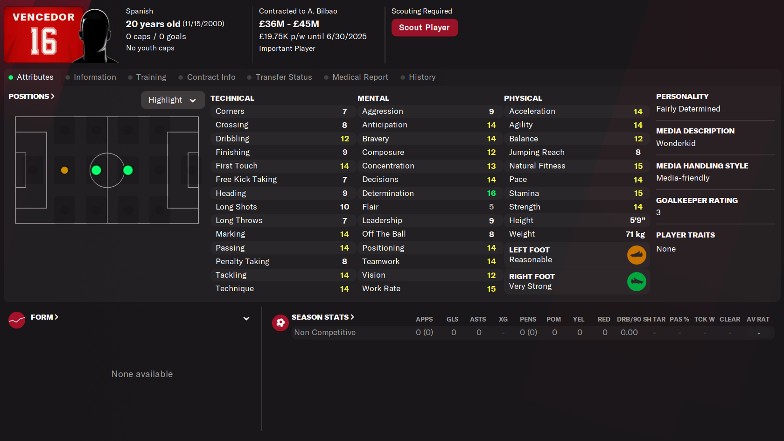 Yet another wonderkid that plays in the center of the midfield – they seem to be a dime a dozen in this winter update.
With the right guidance and training, Vencedor could dominate the deep-lying playmaker position for your team for years to come. It's a fairly steep asking price from Athletic Bilbao, but it'll pay off in the end.
Jeremie Frimpong
Frimpong is the most expensive player on this list, despite the fact that he's a defender. Attack-minded full-backs are all the rave in modern football, and this guy's speed and dribbling ability will have him marauding down your right flank as often as you want.
His defensive ability needs some work, but he's only 20, so you have all the time in the world to fix it.
Samuele Ricci
You probably don't want to play Ricci as a lone defensive midfielder, unless you have a supporting player doing all the dirty work. His best work is done dictating play, as you can see judging by those player traits in the lower right corner.
He's fairly ambi-pedal too, so you should have little to worry about playing him at LCM or RCM.
Arsen Zakharyan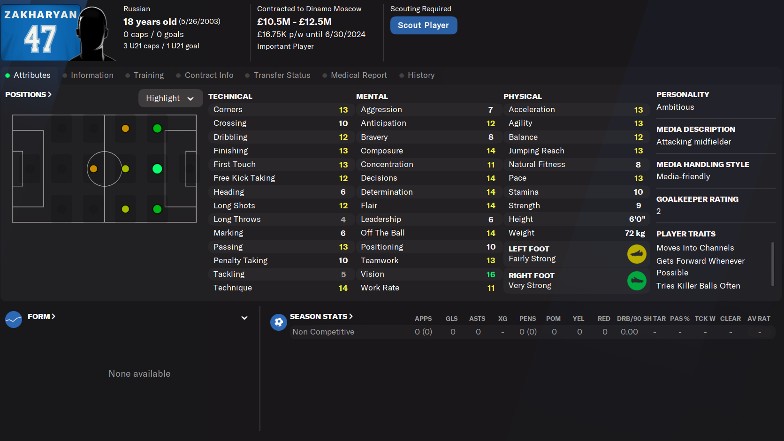 I'll admit it, the combination of Zakharyan's passing, vision, and player trait of "trying killer balls often" is a big reason why I had to include him here.
You may need to pay more attention to training him than you would with the others, as he has a few weaknesses in potentially important areas.
Martin Satriano
Satriano starts off on loan at Brest from Inter Milan, so you can't get him on your squad immediately. However, you may want to arrange a future transfer regardless because that asking price is likely to spike by the end of the season.
He's got strong and well-rounded physical stats, a nice blend of mental stats, and decent technical ability.
Final Words
There you go, twenty of the best wonderkids in FM22's default database, and ten more from the winter update.
Realistically, you might only be able to purchase one or two of them in your first season, but it will be useful to keep tabs on the rest, in case a chance opens up to swoop in. Enjoy!