To keep DiamondLobby free to read, this post may contain affiliate links. Learn more
Today I'm going to be taking a look at the ClonerAlliance Flint 4KP Plus, a capture card for streaming gaming content in 1080p.
Despite the name suggesting it might be a 4K capture card, it cannot output in this quality unlike the similarly-named ClonerAlliance Flint 4KP Pro.
What this product does promise is plug and play functionality, ultra low latency and high quality 1080p footage at 60 frames-per-second "without sacrifice", for both your gaming console and your DSLR camera.
In this ClonerAlliance Flint 4KP Plus review, I'm going to establish whether this product is worth your money (in my opinion, as someone that currently uses an Elgato HD60 S+). I tested it using a PlayStation 5 and both OBS and Streamlabs.
Please note, this product was sent to us free of charge. This does not impact our opinion of products – as you will see from any criticisms we make – we just believe in total transparency on DiamondLobby.
Design
The first thing that becomes clear when you open this product's packaging is that the design is actually pretty nice.
Compared to the black, cheap plastic feel of my HD60 S+, the Flint 4K Plus is sturdier and has more weight to it thanks to its metal casing. I also really like the red satin part of the case, though I'm not a fan of the company and product logos being emblazoned across the entire thing as it cheapens its appearance in my opinion.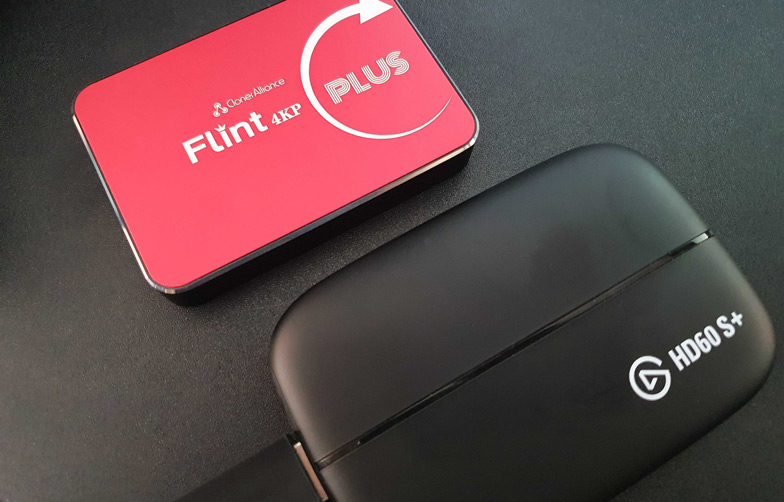 It's also quite compact, meaning it really doesn't take up much space at all. Its official dimensions are 8.99cm x 6.3cm x 1.5cm, with a weight of 238.14g.
In fact, it's only once you see it in person that you appreciate just how small this device is. Here it is in my hand to hopefully give you a small indication (my hands are medium/large).
Despite having a variety of ports for cables around its vented edges, it feels like there is room to breathe too – and, of course, the vents are there for that very reason too; to allow air in and out, in order to keep it cool.
At one end of the device the HDMI in and out (for input and pass-through), and at the other are – from left to right – Line Out, Mic, Line In, and the USB-C port for connecting to your PC whilst playing. The other ports are not necessary for recording or streaming gameplay. The only essential ports are the 2 x HDMI ports and the USB-C, which connects your console, monitor and PC all together.
Connectivity
The Flint 4KP Plus will work with any console that has HDMI and will work with any computer, providing it's powerful enough to record and stream content. ClonerAlliance themselves say that the minimum PC requirements include i5, 2.5GHz CPU, and that they recommend desktop PCs rather than laptops due to energy-saving CPU features within portable devices.
The product is 'plug and play', meaning you should be able to plug everything in and have it all running smoothly without any need for instructions.
Sadly, this isn't quite true. Whilst we managed to get things up and running without any issues, the average PC user that isn't familiar with streaming might not find things totally straightforward – it's nothing a bit of Googling can't handle, but there are no instructions whatsoever within the product's packaging.
To give a clear indication of what I'm talking about here, many people will not know that you need to change your console settings to use a capture card with a PS5.
You must navigate to System > Settings > HDMI, and then disable HDCP – this will be enabled by default. Without already knowing this, you will just be left wondering why the capture card isn't working. The console and monitor won't display any form of error code, it just simply won't work.
Note: disabling HDCP means you won't be able to watch Twitch, YouTube or similar on your console. You'll need to reenable it in future if you wish to do this – it's just one of the drawbacks of capture cards, likely intentional to prevent the easy recording of copyrighted material.
Recording Quality
The 4KP Plus records in 1080p at 60FPS. This is good enough quality to record and stream gameplay for most people on any console.
The PS5 and Xbox Series X / S do support 120FPS, meaning the capture card does not support the maximum output that the consoles are capable of being played at, but most people do not play with these next-gen consoles at this quality standard anyway. This is because 144Hz monitors (and above) are above the standard that casual gamers tend to have, and 120Hz (and above) TVs aren't really suitable for gaming due to their response times.
So, is the quality of the 4KP Plus the best in the market? No, because other capture cards do support the maximum 120FPS of next-gen consoles. However, it's more than good enough to support most casual gamers, or serious gamers that aren't playing competitive first-person shooter games.
When streaming, there is almost no latency and color reproduction is good, meaning this product does the job.
If you want to record and stream in 4K, or at 120FPS or above, this capture card won't be for you. For anyone that isn't looking for a top-of-the-range device, this product might be worth considering.
Reliability
I can't say that I stress tested this product to the absolute maximum, but it was reliable whilst using it. I didn't have any crashes or issues with gameplay recording during the 30-40 hours of playthrough that I streamed whilst using the Flint 4KP Plus.
The Verdict
If you're looking for a viable alternative to the Elgato HD60 S+, this might be worth your money. In terms of technical specs, they're very similar – 1080p 60FPS output and 4K 60FPS pass-through, with minimal latency.
In terms of the product quality, we saw no issues with reliability and the product itself feels nice and manufactured to a reasonably high quality.
The cables and adapters that come with the device are a little on the cheap side and don't quite reflect that of the capture card itself, but they do the job.
At the time of writing this, the ClonerAlliance Flint 4KP Plus is also exactly the same price as its Elgato competitor, so it's almost an exact like-for-like comparison, though it could be argued that with the bigger, more established brand you could be more likely to get higher quality post-purchase support.
My main criticisms of this device are the total lack of instructions and the cheap-looking branding on the capture card itself.
But, with Google available to assist with any issues and the fact the capture card won't be on full display very often – if ever – I can get over those things enough to recommend this for anyone looking for something good enough to do the job required with no frills.