To keep DiamondLobby free to read, this post may contain affiliate links. Learn more
If you're planning on pursuing a career in streaming, you're definitely not alone. A lot of gamers have started to stream their gaming sessions live on streaming platforms like Twitch, YouTube, and even Facebook in the hope of getting recognition for their skills and hopefully, making a living out of playing games.
But being good at a game and wanting to show the world isn't enough. You need to have access to the right equipment – namely a good capture card. Without one, you simply can't stream high-quality content to an audience. And if you can't do that, well, your chances of succeeding will quickly diminish.
Though there are many options on the streaming market today, today, we're doing a ClonerAlliance Flint 4KP Pro review.
We'll take a closer look at the capture card from various standpoints including its overall design, build quality, connectivity & compatibility, and the video & capture quality you can expect once you set it up and running.
By the end of the review, you will have a pretty good idea if this capture card is going to be a worthwhile investment for your streaming career.
Full Disclosure
We received the ClonerAlliance Flint 4KP Pro free-of-charge by ClonerAlliance – the original creators of the capture card. Prior to agreeing to receive the device, we explained to the company that we'd be more than happy to receive and review the product, but our thoughts, opinions, and criticism would be completely honest regardless of the free product offering.
We didn't receive any financial payment to review this product. Any positive or negative comments made in regards to the product are our own genuine opinions.
A Brief Overview of the ClonerAlliance Flint 4KP Pro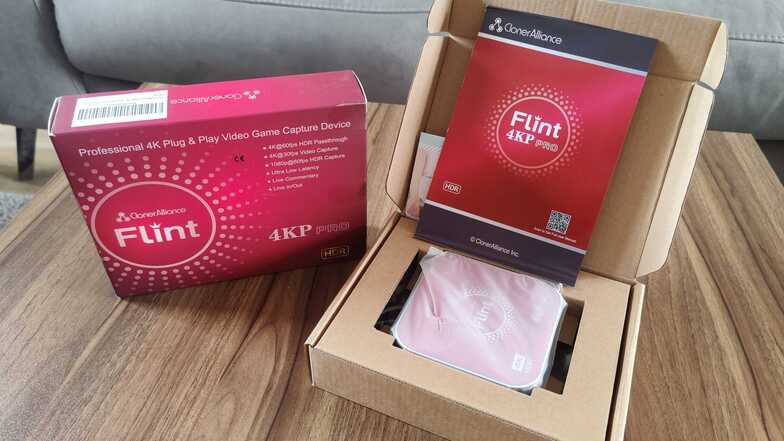 The ClonerAlliance Flint 4KP Pro was first made available to the public in late 2019. Since then, it has become a popular choice amongst both professional and up-and-coming streamers thanks to its versatile features.
It is a mid-range capture card when it comes to price but is certainly above-average in all other aspects, which we'll review further below.
In the original box, you'll get:
1x Capture Card
1x USB type-C cable
1x HDMI cable
1x USB type-C OTG adapter
Aside from those, you'll also get a tiny guide that will show you everything you need to know about the product, how to connect it, and so forth.
The Design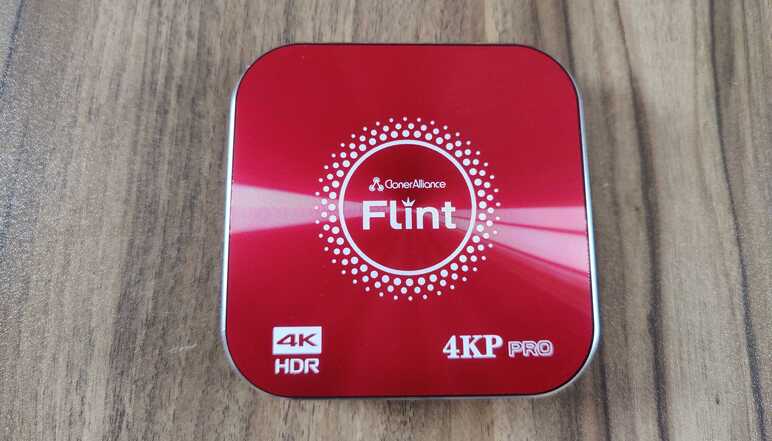 On first look, my first thoughts were that the ClonerAlliance Flint 4KP Pro capture card is super compact and tiny. It's almost surprising how such a small device can become the solution to pretty much all of your streaming needs.
The actual capture card device measures 3.74″ in length, 3.74″ in width, and 0.71″ in thickness. In terms of weight, it's just 5.5 oz. You can virtually place it anywhere on your desk and out of the way. Keeping in mind that the capture card can also help you stream from various different devices, if you decide to take it outside, it won't be a hassle at all.
When you place it in your hand, it fits perfectly and feels pretty solid and sturdy, which is always a plus, especially if you're streaming outdoors. Though it's not recommended, dropping it on the floor is unlikely to break the capture card and put it out of order – judging by how it feels when you hold it.
Connectivity & Compatibility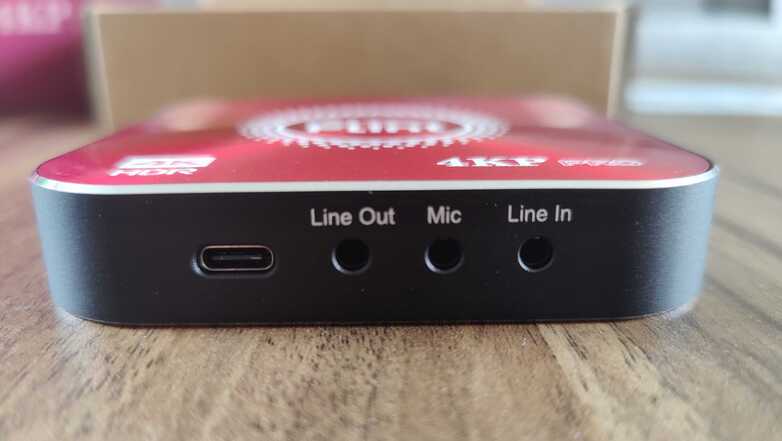 Now, in terms of connectivity and compatibility, we were really impressed with how versatile the capture card was. Thanks to the integrated UVC standard and USB 3.0 Type-C port, you can stream and record videos from your PS4 Pro, PS5, Xbox, any switch console, video players, webcams, DSLR cameras, camcorders, and more to pretty much any platform including Mac, Linux, Android, and Windows.
Whether you want to stream Call of Duty tournaments you're participating in or want to live stream a fitness challenge out in the wild, guess what – the Flint 4KP Pro can do both and anything else in between.
Besides that, thanks to the 'Line In' and 'Line Out' integration with the capture card, you can also add your own voice in real-time. If you're using the capture card for gaming, you can mix the line and mic audio with that of your gameplay so all the incoming audio that is recorded or streamed to your audience mixes up perfectly.
Video and Streaming Quality
Using the Cloner Alliance Flint 4KP Pro capture card, you can enjoy a lag-free 4K 60 FPS HDR video pass-through. As for capturing video content, you can record amazing videos in 4K at 30 FPS. It doesn't matter whether you're are recording through a console, a gaming PC, webcam, DSLR camera, or camcorder.
If 4K isn't always your priority, then you can capture video at 1080p at 60 FPS while retaining all the important video features such as reflections, shadows, and other details. Thanks to its integration with a USB 3.0 Type-C port and UVC standard, recording and streaming videos from your console, camcorder, mobile phone, or virtually any other compatible device is seamless and super straightforward.
Final Thoughts
Overall, I would give the Cloner Alliance Flint 4KP Pro capture card a rating of 8.7/10. From a design standpoint, it feels solid and durable – perhaps because of its compact design? If you drop it, it's unlikely to break.
As far as performance is concerned, recording and streaming in 1080p/4K is completely flawless. And even better, the capture card is super flexible in terms of connectivity and compatibility.
Whether you want to use it to stream FIFA on Twitch from your PS or want to stream from a camcorder, with the ClonerAlliance Flint 4KP Pro, it's all made possible.