To keep DiamondLobby free to read, this post may contain affiliate links. Learn more
If you play FPS games and your controller doesn't have back buttons, you're at a serious disadvantage.
Most console FPS players at an average-or-higher ability are using controllers that allow them to jump, slide, melee, shoot, move and aim all at the same time these days – without the need to play with a claw grip.
The TCP Pro is one such controller for PS5 that has two extra buttons located on the back to allow you more functionality without needing to move your fingers.
However, as we saw in our review of the SCUF Reflex Pro PS5 controller, additional functionality doesn't always make for a smooth user experience.
So, is the TCP Pro any good? Is it worthy of your hard-earned cash? Find out in this TCP Pro PS5 controller review.
Features
Digital Triggers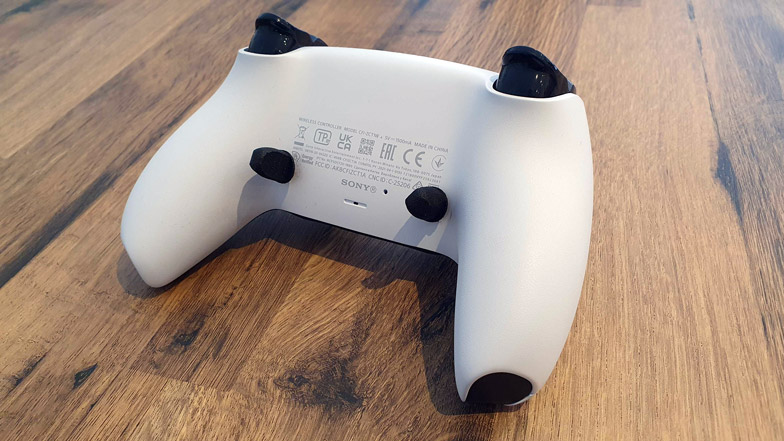 The TCP Pro is a PS5 controller with 'mouse click' triggers. Instead of having a range of motion when pressing L2 and R2, the digital triggers click in like a mouse would.
On FPS games, this means it's much quicker to start firing as you're essentially removing a chunk of input delay.
Whilst some competitor products also feature this on the L1 and R1 buttons, the TCP Pro opts to go with it on the back triggers alone – and the more expensive TCP Ultimate is the same.
For me, it feels a little strange that the L1 and R1 now press in further than the triggers, but it's nothing that I couldn't get used to in a short matter of time.
As for the sound of the digital triggers, it's not quite got that super-satisfying, mouse-like crispness.
On the Battle Beaver Pro Pick, the triggers feel and sound like mouse clicks. On the TCP Pro, they feel a bit like a mouse click in terms of the distance that they need to be pressed in to activate, but they don't sound like them.
The good news is that they don't have any pre-travel or post-travel, meaning you don't have any distance to press the button in before it's activated, and it doesn't continue pressing in after it's activated either, which leads to a very responsive feel.
ClickSticks
The main selling point of a PS5 controller with back buttons is usually, well…the back buttons.
However, back buttons alone are far from a unique design choice these days; the majority of pro-level controllers feature buttons or paddles on the rear side.
With the TCP Pro, the back buttons stick out quite a bit – so much so that they're called 'ClickSticks' by TCP. So, they're sticks, not buttons.
I don't think I'm offending anyone when I say the ClickSticks are designed for function and not form. That's my polite way of saying they're quite ugly – but they're there to do a job, in theory.
The ClickSticks can be mapped to any button on the controller that you like and it's extremely easy to map – or remap – any time you wish.
When I first started using the TCP Pro, I was surprisingly pleased with how comfortable the ClickSticks were to use. In fact, I'd say they were the best back buttons I've used on a PS5 controller to date.
However, I did come across a problem during routine product testing.
Part of my review process is to give products a little bit of a hard time – I pull things, twist things, flick things and bop things – just to make sure nothing will easily break.
As I only test for a few weeks, I always want to make sure that products can last for a few years if I'm going to recommend them.
I gave the ClickSticks a few hard squeezes, nothing that would intentionally damage the product, but just enough to put it through its paces. I also pulled the ClickSticks off and put them back on just to see what was underneath.
Unfortunately, the cover on the right ClickStick had issues sitting in place properly after I put it back on and it led to issues with the button failing to register. I contacted The Controller People about this issue and it turns out that all it needs is a 0.7mm Allen key to tighten it back up.
I was very impressed with the ClickSticks initially and I used the controller for 2-3 weeks before this happened, with no issues whatsoever up to that point.
IAS
The TCP Pro also comes with three sets of customizable thumbsticks, and this is dubbed the 'Interchangeable Analog System (IAS)' by The Controller People. This is fancy marketing speak for saying you can change the height of your thumbsticks, i.e. L3 and R3.
There are short, medium and high thumbsticks. I preferred the short sticks but I predominantly play in an SMG, objective-heavy role in FPS games.
I know that AR players often prefer larger sticks, especially on the left stick, and fortunately there's nothing stopping you opting for different heights on each stick should you find that comfortable.
None of the thumbsticks that come with the TCP Pro are domed or have any real difference in shape other than small cosmetic patterns, though the more expensive TCP Ultimate does come with domed sticks should you want them.
Price
The price of the TCP Pro is where this controller really stands out. At the time of writing, the controller is £137.50, or around $150.
The features of the TCP Pro put it somewhere between the SCUF Reflex Pro and SCUF Reflex FPS, if we want to compare it to the functionality offered by the main competition in the space, but both of those products are considerably more expensive, with prices starting at $219.99.
The TCP Pro is very similar to the Battle Beaver Pro Pick with the functionality it offers and the design it has too – no grip, slightly strange back buttons and digital triggers – but again this product is a lot more expensive (over $200 at the time of writing).
Verdict
When it comes to the TCP Pro PS5 controller, I think I lean more towards recommending it than I don't.
Firstly, the TCP Pro is so much more affordable than the leading products in the PS5 controller market. If value is something you're after, there might well be some on offer here.
Secondly, if you're careful and not likely to experience bouts of gamer rage, you should be much less likely to damage it than I was as someone that wanted to review the product from every angle, rather than just enjoy it for what it was.
I personally found the back buttons more comfortable to use than the paddles on the SCUF PS5 controllers, though you do need to invest in the TCP Ultimate to get all the comfort of the grip that SCUF controllers can offer.
The 'mouse click' triggers are nice to use, though I do wish this feature was extended to the L1 and R1 buttons too.
Overall, the TCP Pro offers clear improvements on the standard DualSense controller if you're looking to increase your KD in FPS games, and it comes at a very competitive price.
If you are interested in checking out more information, you can find the TCP Pro on The Controller People website.
Update: a previous version of this article stated that we'd broken the controller. It's now been corrected to show that the issue has an easy fix.
TCP Pro PS5 Controller
The TCP Pro is an affordable pro PS5 controller with back buttons that might be worth picking up.
Pros
Affordable compared to competition
Comfortable to hold
Cons
Doesn't have a premium feel
Could be easy to break