For players that take competition in Rocket League very seriously, it's always important to stay current on the latest tips and tricks.
This could be in the form of general beginner tips for first-time players, or more in-depth stuff that teaches how to be better at specific areas of the game.
For instance, we've got a guide on how to improve your aerial game in Rocket League, and a couple of other useful, similarly specific guides.
In this one, I'll be discussing the best cars in Rocket League. If you've been playing with the same car for a long time and want to switch things up, or if you're generally just looking to compete seriously in the game, then you'll find this guide very useful. Let's get into it!
Breakout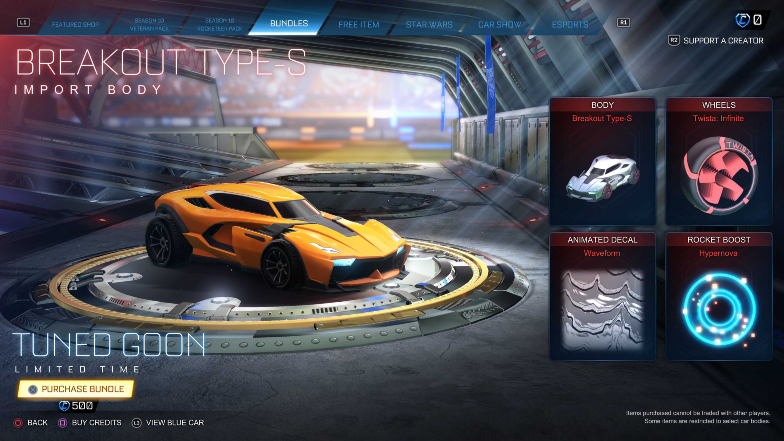 The Breakout is a great option for beginners because it's one of the default cars available to be unlocked at the beginning of the game. All you have to do is play a certain number of matches and you can get the car for free.
Overall, Breakout is a pretty solid car for dribbling and passing, and its large hitbox also makes it extra helpful for defending. If you're a defensive player, then this is a good option to consider.
That said, it's not the most efficient car in the air, so you need to get a lot of practice in with it if you're the type of player that relies on aerial maneuvers. That's just about every player in the higher ranks.
Breakout is not one of the most popular cars in the game now, but it's still one of the best cars in Rocket League if you need an easy-to-control car with great defensive capabilities.
Endo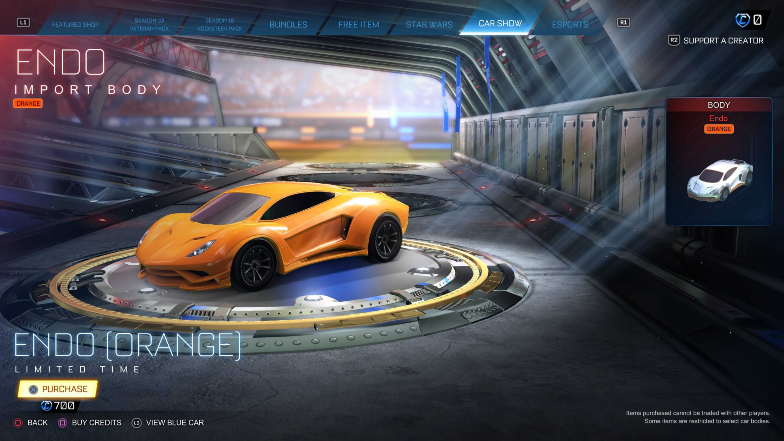 Where Breakout falters, Endo shines. This car may be boxier than most of the other popular cars in Rocket League, but its handling in the air is one of the best. It has a similar physical footprint to the hugely popular Octane, but it is longer which is an added advantage. In fact, it is one of the longest models in the game.
If you're the type of player that attempts aerial maneuvers and dribbles very regularly, then you should seriously consider this car.
Endo is available in the Turbo Crate blueprint.
Aftershock
Aftershock features some of the best handling that you'll get from any car in the game. The car is rapid and handles strong turns like a champ, making it ideal for players that like fast-paced attacking gameplay.
If you're familiar with Dominus hitbox, then it's not too dissimilar from Aftershock's. Both cars handle excellently well and share a similar body type.
Aftershock was originally only part of the Rocket League Collector's edition loot, but it has been available to everyone in the game since the DLC content drop in mid-2016. Since then, it remains a very solid option for new players and veterans alike.
Nimbus
Speaking of cars that share certain qualities with Dominus, Nimbus is another one. However, unlike the Dominus, it has a smaller footprint that helps with making it feel more lightweight and speedier on the ground.
The car has a flat top and a slim build within a hybrid hitbox. It is pretty quick and is also great for ball control. Despite its relatively smaller size, Nimbus still does a decent job in defense, but that is definitely not one of its strongest suits.
This car is available in the Elevation Crate blueprint.
Marauder
Like the Nimbus, the Marauder is one of the most underrated cars in Rocket League. It's another fantastic option for defense-inclined players due to its massive size.
Like the Aftershock, Marauder was also part of the original Collector's Edition before being made available as part of the DLC pack in mid-2016.
I can only really recommend this car for defensive players because, while that huge hitbox is the major factor behind why it is so good in defense, it is also the reason why this is probably the car with the worst handling and ball control in this review.
Sometimes, having a car that is excellent at one thing serves you better than having a Jack of all trades and a master of none, particularly in team matches.
Mantis
If you're put off by the size and limited capabilities of the Marauder, then you may consider Mantis.
This car also defends very well (not as well as the Marauder), but it has better handling on the ground and in the air. It features a Plank car type with a slim design and substantial length that all contribute to making it a fairly versatile option even outside of defense.
Mantis is available in the Nitro Crate blueprint.
Batmobile
The Batmobile is yet another Dominus-type car, but this one was specifically designed to look like the Tumbler of The Dark Knight fame.
Mantis may be long, but the Batmobile is longer. In fact, it is the longest car in the game. That, and its angular design with a wide and flat body just make the name fit like a glove.
The ties with The Dark Knight and the aesthetically pleasing design undoubtedly contribute to why this is one of the most popular cars in Rocket League, but it helps that it actually performs well in-game as well.
That body type is especially good for air dribbling and maneuvers. The length helps with defense, and the angular design is excellent for accurate and powerful shots.
The car has been removed from the game since Patch v1.70, so you can't get it anymore if you didn't pick it up from the DC Super Heroes DLC Packs. Regardless, it rightfully holds its place among the best cars in Rocket League.
Dominus
I've mentioned Dominus-type cars a few times already, so it should be no surprise that this is one of the most popular cars you'll find in the higher ranks. It ticks all the right boxes such as handling, aerial performance, and speed on the ground.
The Dominus hitbox is the second most popular in the game. The car's body type makes it great for hitting powerful shots in attack, and it performs equally well in defense as well.
In terms of design, this is also one of the better-looking cars in Rocket League. It really is the best of both worlds when it comes to performance and aesthetics, and you can't really go wrong with it, whether you're a seasoned pro or a beginner.
The car is available in the SuperSonic Fury pack DLC.
Octane
We're in the category of the very best cars now, and that's including the Dominus.
Octane is also extremely popular in Rocket League, and for good reason. It also helps that this is one of the three default cars at the beginning of the game, so pretty much everyone has easy access to it.
Don't be fooled by the easy access though, the reason why players stick with Octane for a long time is because the car performs great in-game. It has a fantastic design, great handling, and takes to corners like fish to water.
The car is also very effective for aerial dribbles and maneuvers, so if you're the type to switch up your approach multiple times in a game, you'll be very happy with what the Octane can do. It has virtually no weaknesses – a true flagship.
Fennec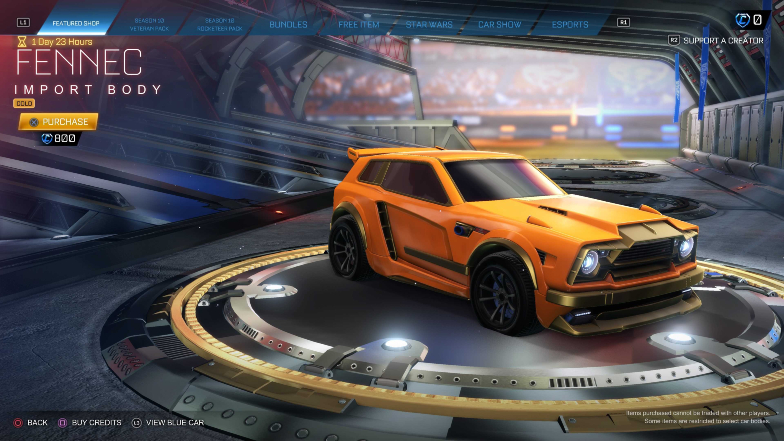 The Fennec is an improved, boxier version of the Octane in certain areas, but it also lags behind in others.
In conversations about the outright best car in Rocket League, you're bound to see the two cars mentioned very often, and it's really a toss-up to decide which one pulls ahead overall.
Fennec has the same hitbox as Octane, but it feels a tad slower and clunkier in comparison. If your gameplay is generally light on fast-paced attacks, this should not be an issue. If not, Octane might be the better option.
Fennec was released through the Special Event Crate, but you can also build one from blueprints earned while playing the game.
What Next?
Now that you know the best cars in Rocket League and how to get them, you should prepare yourself for upgrading your garage by gathering as many car upgrade items as you can lay your hands on.
You can get a good head start on this by earning crates, and we've got a guide on how to do so in an efficient manner. Be sure to check it out!