As a free-to-play battle royale, Warzone's selections of operators and skins are a key part of the game. Unlike some game's skins though, Warzone operators are all unique characters with backstories and lore to discover. One of the most interesting backgrounds for all the operators is the Mara Warzone Lore.
Mara's story in Warzone crosses over multiple games in the series. She pops up across storylines, being a key part of Call of Duty narratives over the last few years.
This is everything there is to know about Mara Warzone lore and the operator's background.
Mara: Backstory & Lore
Mara the Operator was originally added during Season One of Warzone, making her one of the game's most recognizable operators. As with the other initial operators, Mara comes from Modern Warfare 2019.
The character doesn't just have lore from Warzone. Thanks to appearing in the earlier game, there's backstory for Mara in both games.
We'll start with the Mara lore from Warzone and Modern Warfare, since this is the consistent version of the character:
Mara's Origins
Mara was initially contacted by the CIA when she was 15, though we know nothing more about her childhood and origins. This was in Venezuela, her native country. While typical CIA actions in the country are more based around coups and controls, this is Call of Duty so things get a bit more fantastical for Mara.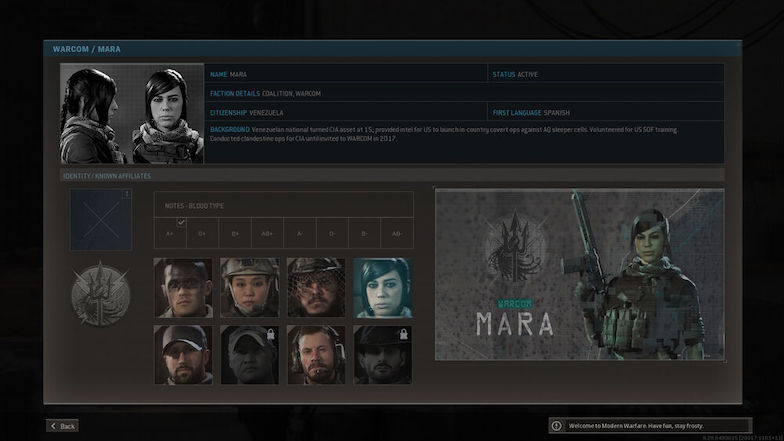 She was brought on board as a CIA asset, or an operative being used by the service within the country. She was supposed to be gathering intel for the agency on Al-Qatala activity and some sleeper cells in Venezuela.
Al-Qatala is a thinly veiled stand-in for a real-life jihadist group. While the name is changed in Call of Duty, you can probably fill in the gaps as to what the group is supposed to represent. In any case, these group's activities serve as the starting point for the Mara Warzone lore.
Mara Joines the Coalition
Getting involved in the Al-Qatala plotline is just the background for Mara. The character gets a lot more to do once we reach the active storylines of the Call of Duty games. However, there is a bit of a gap between Venezuela and Verdansk.
After a brief period, Mara resurfaces now working for the US Special Forces. Presumably, this connection came after she'd proven herself as an asset in the past. Mara has volunteered for training to expand her options as an operative. With greater experience, she becomes a part of the Warcom unit of the Coalition.
Warcom is one of the major factions in Modern Warfare and Warzone. Their primary role is countering terrorism. The group is part of the Coalition faction. That's a version of a NATO counter-terrorism group.
Most of their operators are related to the CIA in one form or another. Mara's lore background as a CIA operative fits in perfectly with the other operators in this faction. These include operators like Ghost, Charly, and Soap. The Coalition is home to some of the most iconic characters in Warzone.
Mara In Urzikstan
The next notable mission for Mara in this period took place in Urzikstan. This is a fictional country that shares borders with Russia. However, it largely functions as a stand-in for various Middle-Eastern nations.
The satellite footage used in-game to represent Urzikstan is from Syria. However, the borders of the country and narrative make it clear it's an amalgamation of most middle-eastern countries rather than representing any single nation.
Mara was involved in a mission in Urzikstan. Here, a helicopter had been shot down by Allegiance. Mara was tasked with securing the payload of gas canisters held by the helicopter. This made for an interesting mission in-game.
The Mara lore isn't the most involved with the main plot at this stage, so we don't get many more details. We can assume Mara had other missions for the Coalition at this time though.
In the Invasion of Verdansk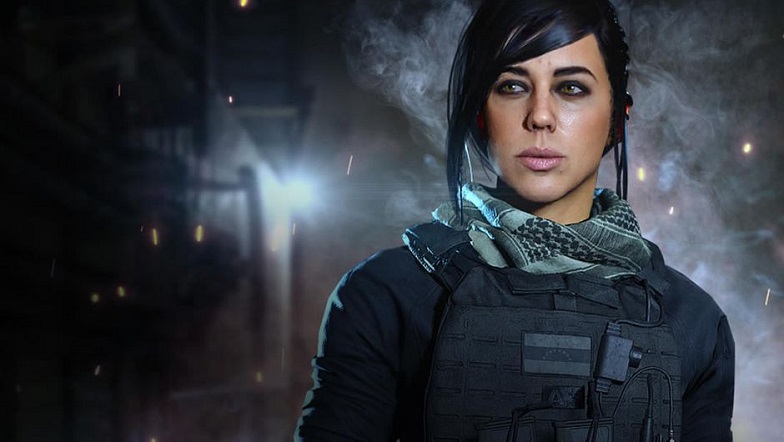 The next major plot in the Mara Warzone lore comes just a little after the Invasion of Verdansk. This was a larger plotline with a lot of repercussions across Call of Duty. Following the invasion, Mara was deployed into Verdansk.
Her mission was to intercept chemical and biological weapons. These could prove very dangerous falling into the wrong hands. This is some Mara Call of Duty lore that mirrors real-life anxieties about chemical or biological weapon security.
Mara was attacked by both Coalition and Allegiance forces while trying to intercept this delivery. This left her team taking heavy losses. While the operator managed to escape, it came at a high price.
That's one of the last real windows into the Mara Warzone lore that we've gotten from the game. Things have developed in Verdansk since, but Mara is yet to make another appearance.
This isn't the whole story for Mara though. The Warzone operator has more details hidden away across other Call of Duty games and sources. Particularly, in Call of Duty Mobile.
Mara Lore in Call of Duty Mobile
Call of Duty mobile utilizes a lot of the same operatives and lore of the mainline games. Although, it is produced by a different developer. The mara lore in Call of duty mobile is much more extensive, telling a full story about the operator.
Largely, Call of Duty mobile plotlines are separate from those in Warzone. It uses the same characters but can mainly be thought of as an alternative timeline. While it might not be part of Warzone, Mara's story in CoD Mobile and the comics in that title develop her a lot more.
Mara was initially added to the game in Season 10, the Hunt. The Battle Pass for this season contained the Mara operator. This season started in November 2021, so it comes after most of Mara's appearances in both Modern Warfare and Warzone.
Mara's Backstory in Call of Duty Mobile
Mara's backstory in Call of Duty mobile isn't fully explored, since it is the same character as the main games. The two largely diverge after the events of Warzone.
The first appearance of mara in Call of Duty Mobile follows up on an ongoing plot with Ghost. Acting on recently received information, he tasks Mara with finding Makarov. He is a villain in both Mobile and Call of Duty Modern Warfare 4, where he set off a third World War.
Mara puts together a team to try and secure Makarov. This consists of her, Golem, Otter, and an unnamed character. They manage to get inside Makarov's base deep in the jungle.
The operation isn't a total success though. The infiltration ends in a stand-off until Mace breaks it. He is primarily a villain in the game and he'll become pretty important to the stories that make up Mara lore.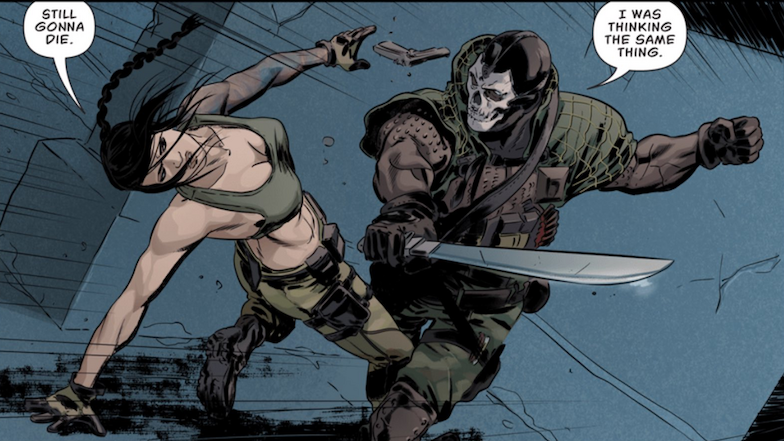 Makarov is betrayed by Mace, who kills him before escaping the compound on his own. On the way out, Mace activates an EMP missile with Mara being unable to prevent it.
United Anti-Terrorism Coalition and the Five Knights
Following the debacle with Makarov, Mara only just manages to escape. Having gotten out alive from the EMP, Mara meets Ghost and more call of Duty operators. Here she joined up with the United Anti-Terrorism Coalition.
This is a similar organization to those she was affiliated with in the mainline games. It largely exists to combat the Five Knights, a villainous group active in CoD Mobile lore.
The next bit of Mara lore included in this game is an extensive attack on the Five Knights. Mara is shown to be leading an attack against the Five Knights.
They reach the command center of the entire operation. That's located in Alcatraz.
Here, Mara finds Hidora Kai. He's one of the leaders of the Five Knights group. While Mara has taken most of the command center, Hidora has set the entire building to blow up. The explosions allow Hidora to escape, and Mara is trapped beneath the rubble.
Mara in a Coma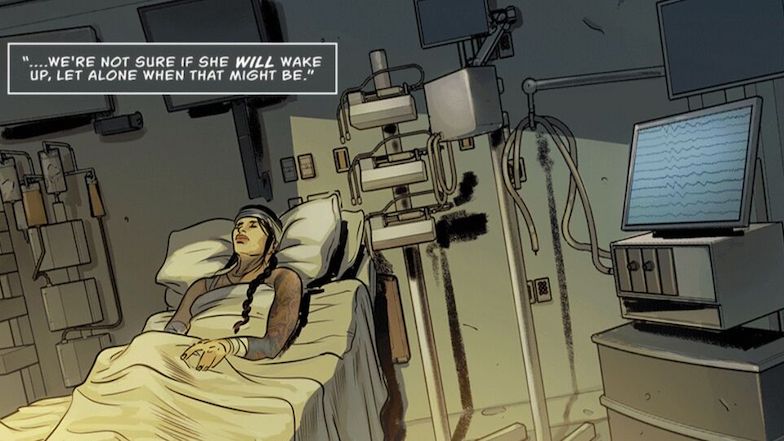 In a turn right out of a soap opera, Call of Duty Mobile has Mara survive the explosive confrontation with Hidora. Although, she's in a coma.
It takes a while for Mara to eventually wake back up. Even after this, it takes yet another year for Mara to become combat-ready again. She's out of the game in this period and the Mara lore naturally slows down a little bit. This isn't the end of her story though.
Back in Action
Following recovery from her coma, Mara begins to get back into the life of an active operator. Her next mission follows up on a long-running plot.
Shepherd and Mara storm a building to try and locate Raul Menendez. While he appeared in Call of Duty Mobile, Menendez is a major character in Call of Duty lore. He was the primary villain of both Call of Duty Black Ops II and Call of Duty Strike Team.
This is another costly mission, this time most of Charly's squad is killed. That's another Warzone operator with a lot of lore in Call of Duty mobile. While trying to save Charly, Menendez once again manages to escape. Mara does help to get Charly out of the building, and they have managed to finally capture Mace.
Mace proves a useful source of information for Mara. There is a lengthy scene of interrogation between the two. Eventually, a deal is struck where Mace will help to capture Menedez in return for being set for free.
While Mace is seemingly on-side, he's hard to trust given the earlier missions. The information he provides is invaluable though. Now, Mara is ready to try again to take out Menendez.
The Raid
The information from Mace leads the group to try and get inside of Raid, a map that's appaired in a few games. This is the new location for Menendez's operation, after Mara and Charly's last run-in with him.
The next operation has a lot of tension in Call of Duty Mobile. Major operators Price and Soap are both unavailable, and it seems that Menendez might have access to their computer systems. This puts them against the clock in trying to finally capture him.
Once again though, Menendez has a plain of scape. He attempts to leave by helicopter. However, this time the helicopter gets shot down, and Menendez is finally apprehended. While villains seem to change around a lot in Call of Duty Mobile, the Mace, Menendez, and Mara story has a dramatic build to this climax.
Mara's Eventual Fate
With the operation against Menendez finally completed, we don't see as much of Mara going forward. She does get a brief mention from Charly later in the game. Here Mara is said to have 'gone rogue' to try and get more information about what happened to Ghost.
While trying to get this information, Mara is taken by the Five Knights. After considerable torture, Mara is eventually killed. Her body is discovered by Ghost and serves as a motivator to finally take down the Five Knights.
What Faction is Mara?
Since the Mara lore in Warzone extends over a few titles in Call of Duty, she's had quite a few affiliations for factions and groups. Including:
CIA
Warcom
Coalition
Armistice
United Anti-Terrorism Coalition
Mara Lore Outside of Call of Duty
That's roughly all of the Mara lore in Warzone at the moment, but there's a bit more to know about this operator. These are some of the most notable 'behind the scenes' and real-world details about Mara:
Was Mara Plagiarized?
A little while after CoD Modern Warfare was released, a lawsuit surfaced specifically over the Mara operator. A photographer named Cade Janus sued Activation over the character, claiming Mara was stolen from his work.
The photographer has previously worked with the same model that Activision used for the character. A photoshoot of the character 'Cade Jane' put the model into various action movie scenarios. Some of these could be similar to what becomes Mara in Call of Duty.
He also claims that Activision used the same make-up artist along with outright hiring the same model. This would definitely point towards the photos being an inspiration for the character, but there are a few factors that make it more complicated.
For a start, the photographer claims only he is aware of plagiarism because everyone else involved agreed to cover it up. The legal team perusing Activision is also suing them over a similar 'plagiarism' scandal for Black Op 4, suggesting that they seem to actively seek out cases like this.
Depending on the outcome of this, it could mean that Mara appears less in games going forward. Although, with her story largely concluded it might not make much of a difference.
Mara's Real name
Call of Duty operators are sometimes called by callsigns rather than their real names. The real name of the character is a key part of their lore, but this isn't the case for Mara. She doesn't have a public proper name. Mara is the only one given to the operator,
Who Voices Mara?
Mara is voiced by Carla Tassara. She voices mara in all appearances. She has quite a few credits just for video games. She's played roles in Horizon Forbidden West, Judy in Cyberpunk 2077, Shin Megami Tensei III, Last of Us 2, and Red Dead Redemption 2.
The Cyberpunk credit is probably her most notable, being a part of missions like The Information in Cyberpunk 2077. She's also had some roles outside of video games, voice acting in Craig of the Creek, and other similar projects.
While Mara is voiced by Carla Tassara, the model for her physical description was Alex Zedra.
Mara's Current Status – Will She Be Back in Warzone Lore?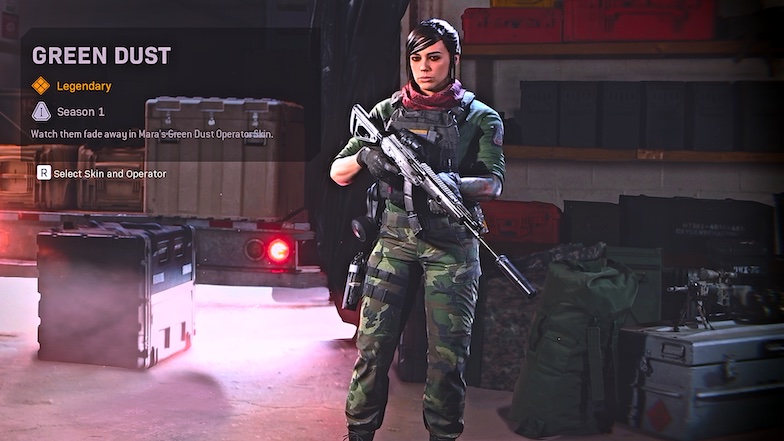 Mara might be dead and inactive in Call of duty mobile, but her fate is unknown in Warzone and Modern Warfare. The character could make an appearance in upcoming games like Modern Warfare 2 and Warzone 2.
Playing a character with deep lore probably won't help you perform any better, you'll need Warzone guides for that. However, it is always good to see characters developed fully. Hopefully, Mara can get a bit more action in upcoming sequels.