Knowing how to complete the Information job in Cyberpunk 2077 is an important part of the main storyline, and starts after you have finished the first task for Dexter Deshawn.
This job also brings a new feature called Braindance and you'll learn how to use it while completing the job.
Make sure to track this job so you can easily navigate through the streets of Night City.
Going to Lizzie's Bar
After talking on the phone with Dexter Deshawn, he will tell you to meet with a woman named Evelyn. She will have inside information about your target and you must learn all about it from her.
Navigate through Night City and go to the designated location for the job.
You can only enter Lizzie's Bar between 6:00 PM and 6:00 AM.
You can skip the time so that you do not have to wait for it or even do side jobs while you are waiting. After going to Lizzie's Bar between 6:00 PM and 6:00 AM, you will go to the bartender and ask for Evelyn.
She will eventually show up and introduce herself even before the bartender tries to prod you a little more. Evelyn will ask you to go with her to discuss the matter in private which is certainly the thing you were expecting in a bar like this but do not get your hopes up.
After conversing with Evelyn, she will introduce you to her close friend Judy, who is also a great BD editor, and you will learn more about the braindance feature in Cyberpunk 2077 from her.
Braindance
First, Judy will show you an example of how braindance works and just follow the instructions as she will be guiding you along the way.
You will enter a scenario where a thug is robbing a local store and you will use the braindance technology to solve the crime (within a crime).
After going through this tutorial process, you will now get your hands on Evelyn's inside information and you will use what you learned from Judy's little braindance tutorial. You will receive a video clip of what Evelyn was working on (if you know what I mean), and you grab all the details you can find inside the video while using the Braindance technology.
Grab all the clues in the visual layer of the BD editor and also do the optional objective since it is easy anyway because it is just right there. T-Bug will guide you through switching layers in finding the clues to it should be easy.
This guide will focus on the timestamps in which you can find them.
After progressing through the clip naturally and finding all the clues you can find, there are times where you need to rewind so that you can see what you need to be looking for.
For Yorinobu's datapad, it will be towards the end of the video and you will be able to see it as Yorinobu turns it off after seeing Evelyn go back to Yorinobu after playing some romantic music.
Pause and scan Yorinobu's datapad and you will move to search for thermal clues to find the relic.
There are a ton of clues as the thermal layer of the BD editor will detect a lot of things throughout the video clip. This part will also start when you are near the end of the video clip already so you either restart it or rewind the clip further backward.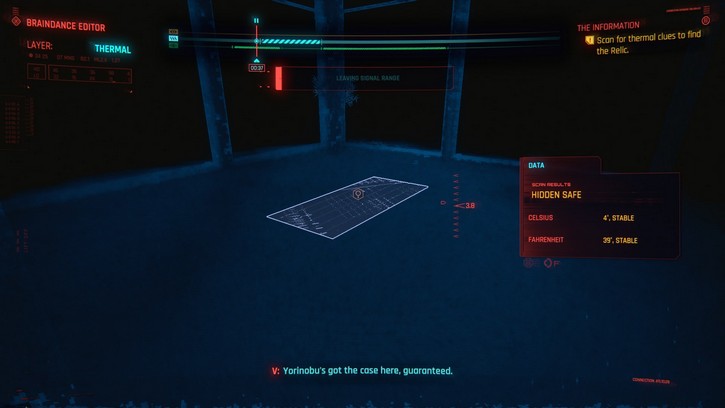 You can ignore most of the thermal clues as you can check the teapot and ventilation systems but you are only looking for the hidden safe that will contain the relic.
You can find it at the back left portion of the screen from where Yorinobu was having a call.
Search for the thermal indicator and you will find it on the floor and once you scan it, it will indicate that it is the hidden safe.
Conclusion
After going through all this, you will now enter "The Heist" with Jackie to complete this main storyline job.
If you did the optional objective, you will find it easier to hack into things when you enter this area.