In FIFA 21, the 4-2-3-1 has already gained notoriety for being the most overpowered formation. This set-up is deadly as it offers a lot of versatility going forward while being solid in defense. Teams across Europe's top 5 leagues used it in a variety of effective ways last season.
Bayern Munich, the champions of Europe, have dominated teams from across the world using the 4-2-3-1. They showed the world how effective and unplayable it can be. The 8-2 victory over the Messi-led Barcelona side showed us Bayern Munich's play style and is a template for how good this formation can be.
Emulating this in FIFA 21 is not too difficult. There are a few changes you will have to make to be effective. This guide will get you started on how to maximize the potential of this formation, helping you flow from defense to attack the way Bayern does.
Formation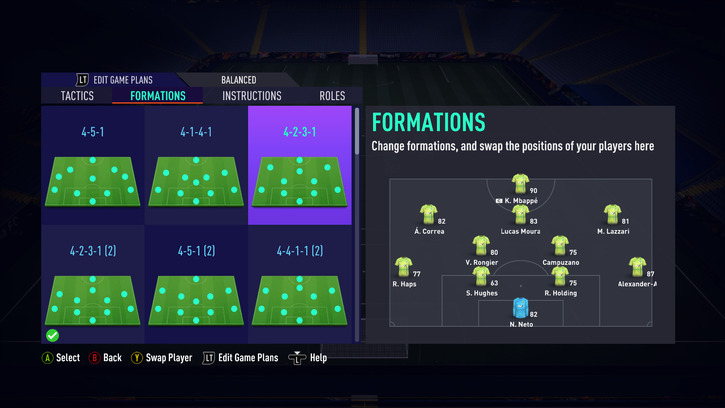 4-2-3-1 is the best Bayern formation in FIFA 21. The wingers who provide the width and the dynamism of the midfield two (which can become a midfield three when under attack) is a great combo. Adding in a powerful forward up-front is perfect for FIFA this year. It takes advantage of pace and header stats, which are pretty OP, making it arguably the best formation for Bayern in FIFA 21 for attack-minded players.
Tactics
Under Team management, go to the Custom Tactics menu. This will allow you to customize how the entire squad reacts to different scenarios on the pitch. You can tweak how your squad plays in offensive, defensive and set piece scenarios, giving you the upper hand by having a proper game plan to exploit opponent weaknesses.
In your FUT menu, press LT/L2 and then go to tactics. Under this menu, you will find many offensive, defensive and set piece customizations. The Bayern Munich tactics in FIFA 21 are well suited to the traditional 4-2-3-1 and you need no extra tweaks with regards to the player positioning or roles on the field.
To play like Flick's Bayern, change your teams 'Defensive Style' to 'Pressure on Heavy Touch. Bayern have a very measured style and do not tend to press teams constantly. They are comfortable with keeping the ball and forcing opponent errors when not in possession. Since they are so dominant, they tend to have the lion's share of possession with excellent interplay and movement rather than frantic pressure.
Defense
To play like Bayern in FIFA 21, your defense has to be extremely compact. Bayern defend as a unit and the defense and midfield are very close together. This will allow you to put the opposition attack in an offside position and cram their build up play by crowding opposition players. This is a large part of Bayern's success.
To play like this in FIFA 21, have a 5-bar Defensive Width and 8-bar Depth. To be effective, you need a highly talented squad and a midfield with good defensive awareness and positioning. Also, a strong and capable back 4 sets you up for solid defensive success.
This setup is excellent for keeping possession and suffocating opponents. This gives you elite defensive capabilities and prevents situations where you are caught out in a compromising area of the pitch.
Offense
Bayern dominate opponents by keeping the ball. 'Possession' under Offensive Style will be extremely effective in FIFA 21 with its improved player positioning and the AI's ability to read play. The game is excellent at getting players to drop back or make runs to create options for an open pass at all times.
Midfield players need to excellent passers and dribblers. Bayern have players like Goretzka, Kimmich, Tolisso and Javi Martinez who are all excellent on and off the ball and are quality players who always find space on the field.
When Bayern enter the final third of the pitch, they use their pacey wingers a lot. In Gnabry and Sane, they have some of the fastest wingers in the world. They drive through the touchline and whip in crosses into the box. They also have very offensive full-backs who can provide a lot of width.
To play like this, you need to have an eight bar width going forwards. When Bayern do get forward, they pump in players who make early darting runs into the box to scramble defenders and create space for the goal scorers.
An 8-bar 'players in box' setting gives your players the freedom to make runs into the box when they think an opportunity will present itself to score. Bayern score frequently and effectively and this is the main reason for it.
Player Instructions
This menu is probably the most important in FIFA 21. It allows you to completely dictate how a player will behave in the game when under the AI's control. It gives you maximum leverage to dictate how your team will attack and defend and how every player on the pitch will behave during their time on the field.
To play like Bayern in FIFA 21, you need to instruct your squad position players in the right areas on the pitch. With a few changes to the player instructions, you can give your team the defensive stability and the ruthless attack that the Bundesliga giants display.
Full Backs
Full Backs are not just defensive players in this build. In FIFA 21, they play a crucial role. With crossing and headers being so effective, marauding full backs are offensively important too. They need to be players with a high stamina rating and also a high defensive and attacking work rate. Recruiting a pair of solid full backs will help you rake in wins tremendously.
Give them offensive freedom by allowing them to 'Join the Attack'. This also enables them to join the wingers as wide attackers, giving them more freedom to form the famous 4 in the box that Bayern perfected last season.
Also, giving them the 'Overlap' Run Type will allow them to go around the winger and support them and also help keep possession, as discussed earlier. This is a highly important tip for most formations in FIFA 21.
Striker
The Striker is the main goal scorer in this formation. Playing him as a Target Man (under Attacking Runs) enables him to be the main focal point of the attack. Lewandowski, the main front man for Bayern is arguably one of the best strikers in this world. To be successful, you will have to spend a few coins in getting a fast, Powerful and efficient finisher up front.
Also, instruct your striker to Stay Central under Supporting Runs. This will keep him from chasing the ball and also be ready to drive into the box for a through ball or a cross. Players like Kane, Suarez, Cavani and Aubemeyang are perfect for this role.
Wingers
Wingers in FIFA 21 are crucial to a team's success. When you have fast wingers, who are good at shooting, your team is almost impossible to stop. Speed and runs in behind are extremely OP in FIFA 21 and having good wingers makes all the difference.
Sane and Gnabry are the perfect embodiment of this. Quick and strong, they can use their pace and trickery to get past their markers and deliver the ball in. Also, they can be great at finding the net and being prolific players for the team in this formation.
The Cut Inside option allows them to create chances from the flank of get inside and allow the ball to enter scoring zones to contribute directly to the score line. A Balanced Crossing Runs on Support allows them to flit between entering the box and delivering crosses.
Midfielders
Midfielders play the most important role in this formation. Playing a possession style football, they need to be alert and great passers. Choose the best in the world at positional awareness and vision to enable them to dictate the tempo and trigger attacks.
Asking your midfielders to Cut Passing Lanes under the Defensive Behavior panel gives them the best chance to watch the play and intercept poor passes. This compliments the pressure after bad touch strategy that Bayern have adopted in recent times and suits FIFA 21's intricacies.
Also, asking then to cover the flanks when the full backs go forward. This adds to their defensive stability. Select the Cover Wing instruction under the Defensive Positioning tab. This gives you added defensive stability and helps the attacking play tremendously.
Midfielders like De Jong, Fabinho, Thiago Alcanatara, Pogba and Valverde are great options to play in the middle of the park in this formation. They do not need to be the fastest but great physical stats are a bonus here.
Attacking Midfielder (CAM)
Muller has made this role his own. The modern day trequartista, he performs a crucial role as the lynchpin in attack for Bayern. This is difficult to replicate but with the right player and instructions, you can make sure that this position will be the primary assist provider for your squad.
The Free Roam instruction is best suited for a player here. This allows the CAM to operate in a variety of areas across the forward lines and find pockets of space to exploit. With a rigid target man up front, a fluid CAM can add a unique dimension to the attack. He will flit in and out of the box dragging defenders and playing the striker through, making it the perfect addition to your squad.
Players like Coutinho, Bruno Fernandes, Dybala, Fekir or Isco will be perfect players in this role and can contribute tremendously to your success in FIFA 21's FUT.
Conclusion:
This build will help you emulate the extremely successful Bayern Munich squad in FIFA 21 FUT. Having the right players for these roles is essential but these settings give you the best platform for success as an attacking unit the keeps possession and dominates the middle of the park. If you are looking to emulate the success of this dynamic team, this custom tactic is your way to go.