FIFA 21 offers a range of features for you to customize the squad in both career mode and FUT. Every year, people search for custom tactics to build a squad that enables them to play like their favorite team or the best team that year. But none is more popular than Liverpool's gegenpress tactic.
Klopp's Liverpool squad is a terrifying prospect for any team to face. This fast-paced, attacking team with high pressing tactics has been a fan favorite for many years now. Both on FUT and career mode, Klopp's Liverpool build has been a go-to for FIFA fans to try and emulate.
Playing with a team built around this style of play puts you on the front foot immediately in both FUT and career mode games. You put more defensive custom builds under instant threat, forcing them on the back foot from kick-off. This is why you will encounter a lot of players adopting Liverpool's custom tactic in FIFA 21, trying to press you from the get go.
This guide will give you tips on how to set up like the highly effective Liverpool squad under Jurgen Klopp from their title winning season last year.
Formation
4-3-3 (5) is the most accurate representation of Klopp's Liverpool tactics in FIFA 21. It has a strikers who drops back deep and highly offensive wingers who play high up the pitch. The midfield three is grouped tightly together with one player favoring the CDM (defensive Midfielder) role, while the other too can cover for attacking full backs or rush into the box.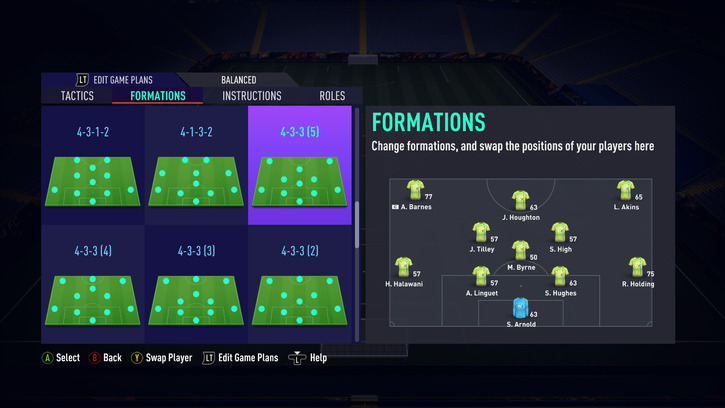 If the, 4-3-3 (5) is not for you, the second best Liverpool formation in FIFA 21 is the more conventional 4-3-3 (2) if you prefer a more traditional striker in your squad. This formation essentially works very similar to the 4-3-3 (5). But it allows for a more target man – type striker who presser slightly higher than a False – 9.
Tactics
Under Team management, go to the Custom Tactics menu. This will allow you to customize all of your FIFA 21 Liverpool tactics and how the entire squad reacts to different scenarios on the pitch. You can tweak how your squad plays in offensive, defensive and set piece scenarios, giving you the upper hand in having a proper game plan to exploit opponent weaknesses.
In your FUT menu, press LT/L2 and then go to tactics. Under this menu, you will find many offensive, defensive and set piece customizations. To play like Klopp's Liverpool, the most important change you will make is to change the 'Defensive Style' to Constant Pressure. This mimics the team's real-life ability to strangle opponents for room. Your team will hound the opponents for the ball throughout the pitch with freedom and will constantly wander from their original positions to do so.
Defense
You will find your team winning the ball in the offensive third a lot, giving you a lot of opportunities to score but remember that your squad should have good stamina stats and individual players should have a good engine for this to work.
Also have a six bar defensive width and eight bar defensive depth. This will allow your team to remain compact and maintain a high line and prevent many of the counter attacks that opponents might try to use against this strategy. By having a high defensive line, you put pressure on the opponents as their midfield play will be hindered.
Offense
Liverpool are fast but measured in attack. This is best suited for a 'Balanced' offensive approach with no over reliance on any one method of attack (long balls or through balls). This allows you to attack in various means depending on the scenario. The players will not rush to any one area of the field but sense gaps and make runs accordingly.
Liverpool plays with a wide offensive formation that requires overlap from the full-backs and wingers pinging in the ball (Headers are OP in FIFA 21). To facilitate this, you need to have an eight bar width going forwards.
With a 5-bar 'players in box' setting, you allow for a more measure build up play without relying only on players rushing the box and picking up scraps. This benefits the Balanced offensive approach too.
Player Instructions
This menu is probably the most important in FIFA 21. It allows you to completely dictate how a player will behave in the game when under the AI's control. It gives you maximum leverage to dictate how your team will attack and defend and how every player on the pitch will behave during their time on the field.
For a Liverpool build in FIFA 21, there are a few tweaks you will have to make to the 4-3-3 (5) to plug holes and prevent counters while bombing forward. Let as look at the instructions for every position of the field so you can demolish opponents like Klopp's team.
Full Backs
Arguably the most important players in this build, full backs under Klopp's Liverpool have revolutionized the role in the modern game. To mimic this, you will have to give them offensive freedom while covering for counters when they are forward in advanced positions on the field.
Give them offensive freedom by allowing them to 'Join the Attack' and also select the 'Overlap' function under Run Type. This allows them to make runs around the winger which provides more width and option to cross the ball in.
You need to have quick attack minded full-backs who can cross the ball like Marcelo, Robertson, Trent Alexander-Arnold, Kyle Walker or Ben Chilwell. These players have the pace and skill required for this position.
Centre Forward
The Centre Forward should be able to press high up the field and drop down to the midfield to open up space for the wingers in this formation. To achieve this, the False – 9 setting under Attacking Runs and Aggressive Defensive Interceptions is perfect. This will allow the striker to perform as a defensive forward who provides rather than score, much like Liverpool's Roberto Firmino.
Also, the Aggressive Interceptions option under Interceptions will allow him to block passing lanes when the opposition play out of defense. this will force them to go long and give you possession earlier.
Wingers
Wingers in FIFA 21 are crucial to a team's success. When you have fast wingers, who are good at shooting, your team is almost impossible to stop. Speed and runs in behind are extremely OP in FIFA 21 and having good wingers makes all the difference.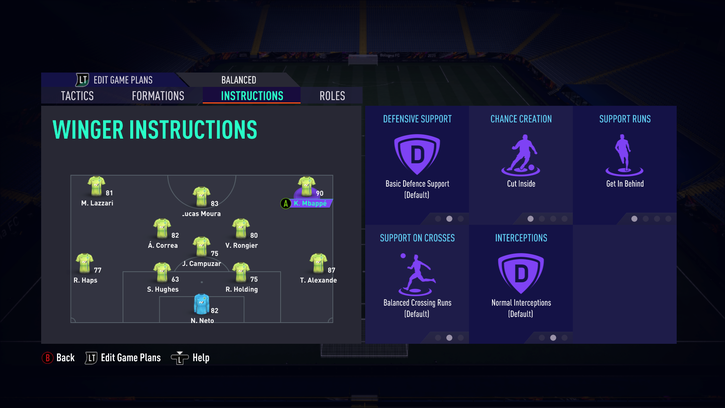 To get your wingers to score like the prolific duo of Mo Salah and Sadio Mane – opt for the Get In Behind setting under Support Runs. This automatically allows your wingers to trigger runs when the CF or midfielders have possession in the middle of the park.
Also, Cut Inside under chance creation allows them to get the ball on their strong foot (inverted wingers are essential for this) and shoot at the far post. This is the best way for wingers to find space on the edge of the box. They can cut inside and cross too, making it a deadly option for the team.
Midfielders
You need to have one Defensive midfielder in the squad who drops in between the Centre Backs. This is because the full backs are assigned offensive roles which leaves the back line bare in this custom tactic. Having a defensively strong and tall CDM allows you to essentially convert the back into a 3-man wall that can absorb a lot of pressure.
For this you need to select the Cover Centre option in Defensive Position. This will allow them to play like Fabinho or Calvin Philips, dropping into the back and triggering attacks and providing defensive stability with this custom tactic. Also, the Drop Between Defenders option under attacking support allows the CDM to stay back and guard the back line as the third CB.
For the other two CM's, they have a more dynamic role in the squad. They need to cover the flanks and also supplement the attack. For this, you need to give them the Cover Wing option under Defensive Positioning. This enables them to cover for the extremely attacking minded full backs in the team. This also provides an option for the attack as the wingers can pass back to trigger an early cross from the wide midfielders. This is a very effective way to score in FIFA 21.
Midfielders in this build have to have high stamina and strength to last 90 minutes and provide defensive stability. Player like Correa, Alex-Oxlade Chamberlain, Pogba, Fernandes and De Jong are great options for this role.
Goal Keeper
Having a Sweeper Keeper who can play out from the back will assist your attack tremendously, The likes of Patricio, Allison, Neto and Leno are great for this role as they are good with the ball at their feet and can make short passes to the CB's or long passes to the Full Backs.
Conclusion:
This build will help you emulate the extremely ruthless Liverpool squad in FIFA 21 FUT. Having the right players for these roles is essential but these settings give you the best platform for success as an attacking unit the presses high up. If you are looking to emulate the success of this dynamic team, this custom tactic is your way to go.