Have you played a couple of games already and have had no luck in getting first place in Fall Guys? Well, if you are wondering how to get first place in Fall Guys, in this article, we will give you all the relevant tips and tricks to put you above the rest so you can get your very first win, and get kudos.
As a side note, we'd like you to know that there is a lot of RNG (Random Number Generator) in the game, meaning that there isn't really a go-to strategy as it's mostly luck, however, don't let that fool you. There are plenty of things you can do to improve your overall strategy and increase your chances of winning.
Use the Map Design to Your Advantage
As you qualify through the rounds, the maps are picked out on a random basis, so, the more you play the game, the higher the chances are of your learning the ins and outs of each map.
Essentially, you should really use the map and its design to your advantage. For example, in a lot of the racing and obstacle maps, you will need to cross balancing platforms. You will notice a lot of players are going to the side, making it imbalanced. The best way forward, in that case, is to always go down the middle and stay there while crossing it.
As mentioned above, the more you play the game, the more you will learn about the individual aspects of each of the maps and you will naturally learn which path to take every time.
Don't Rush the Map
If you are a complete beginner, we recommend you to just jump into the game and play it as you'd like. But, if you have played it for a while, in the very first rounds, you should definitely take your time and never rush any of the obstacles as this high-risk high reward strategy can put you further behind than if you were to take things slowly. You will see a lot of newbies in the game to just launch forward without a second thought, causing them to make silly mistakes that puts them behind. It's all about consistency.
Investigate the map, carefully plan out your route, and try to time everything perfectly. At the end of the day, it's a marathon, not a spring.
Get a Head Start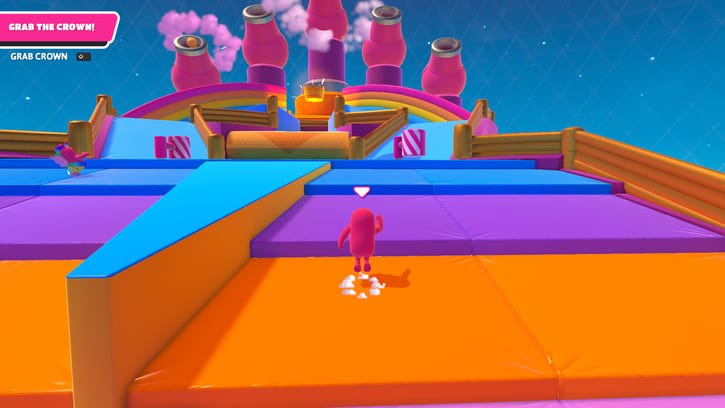 It's no secret that if you can get a head start, it would be pretty hard for you to lose. In Fall Guys, however, getting a head start isn't always the right strategy to win, especially when it comes to crossing the fake tiles map. In such cases, your head start should be to follow everyone as they make mistakes. At the end of the day, someone has to risk it for the team. That player would often not qualify as each time you die, you get put right at the back of everyone that is playing it safe.
However, in many other cases, getting a head start will put you in a better position to win because there will be fewer players around that will be pushing you for a head start. One way to do that is to see where everyone else is going right at the beginning and picking an alternative, less congested route.
Be Strategical
One key to victory is strategy, and so, having one before you start the round will be fundamental to your success. For example, if there are 60 players and 43 need to qualify, you don't need to rush. Or, if you are playing with a team to capture as many eggs as possible and bring them over to your nest, sometimes, it is better to defend what you already have rather than running after the enemy teams eggs.
When it comes down to elimination rounds like standing on a single platform fighting for your survival as different objects come flying in an attempt to take you out, try and stand further back where there are fewer players fighting for space.
Be a Team Player
Regardless of whether you are playing solo or with your friends, being a team player in some of the team games in Fall Guys and doing your part to help your team win is the best way to ensure that you are going to qualify for the next round and be one step closer to that victory.
Final Thoughts
If you have only just started playing Fall Guys and haven't yet won any of your games, don't worry. You have plenty of time to capture that victory. With time, you will get better, learn the strategies, and ways to play the game.