Fall Guys is one of the most exciting and quirky games ever made, and you might find yourself enjoying it better while sitting comfortably on a couch or a bed.
Playing on a mouse and keyboard can be an inconvenience, but since the game was previously available for Steam, it is possible to play this game using Steam's controller support.
If you get the free game on the Epic Games Store, they also have controller support.
This guide will show you how to play with a controller on a PC in Fall Guys on both platforms.
Types of Controllers Steam Supports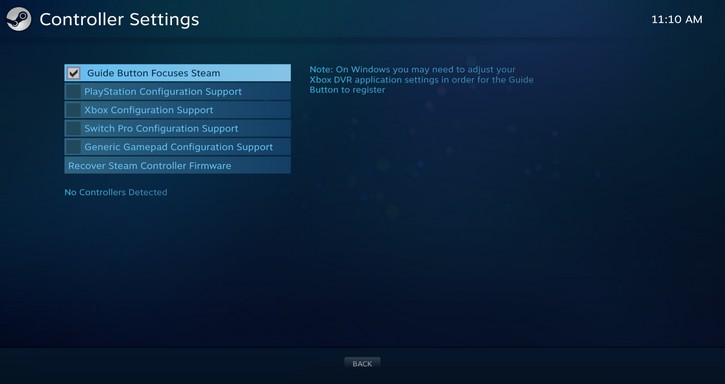 Firstly, you have to plug your controller into a USB port on your PC and have it connect. This might take a while if you are plugging it in for the first time because your PC will still discover and install the driver automatically, and it will depend on the type of controller you are plugging.
Steam has its own controller support, so it might be easier just to plug in Steam-supported controllers. Steam supports multiple controllers, including Sony's Playstation Dualshock controller, Xbox controllers, dedicated Steam or PC controllers, and even the Switch Pro controller.
Once you have it connected, Steam will automatically detect the supported controller, and it will already work. Before you open Fall Guys, it will be easier to activate Steam's Big Picture Mode, which is mainly used by gamers who play games with a controller on PC.
Steam's Big Picture Mode
Steam's Big Picture Mode can be activated by pressing the screen icon on the upper right corner of your Steam window. It is right between the minimize button and your profile account name.
You can also activate 'Big Picture Mode' by pressing the middle button on your controller. For example, the Playstation Dualshock controller can open this mode by pressing the PS button in the middle.
After connecting your desired controller and using Big Picture Mode, you can open the settings and configure your controls.
Since Fall Guys' support controller function, you can also set and configure your controls in Fall Guys' settings. It will be more simple to do it here because configuring your controllers on Steam will configure them for every game you decide to play with a controller on Steam.
For Fall Guys, there are multiple buttons available to do a single action in the game when playing with a keyboard and mouse.
Since diving can be used by clicking the right mouse button and the control button on your keyboard, you can do the same to your controller when you configure the controls.
My recommended settings to use for the Playstation Dualshock controller are the following:
Attaching the 'Grab' control to a trigger like L2 or R2 and LT or RT, which depends on which controller you are using
Attach the 'Dive' control to the opposite trigger and the square button
Attach the 'Jump' control to the X button so that it will be easier to jump and dive if you slide your thumb forward to also tap the square button
Emotes and other controls can entirely be up to you
This simple control configuration will make it easier for you to jump and dive, and if you choose just to dive, you can use the trigger instead to avoid using the jump while diving.
Epic Game Store
Fall Guys already has controller support built into the game. The game just needs to detect a controller that is connected to the PC.
You can either connect your controller through Bluetooth or a wired connection. Either one works as long as the PC reads the controller.
To connect your controller via Bluetooth, just go to your Windows search bar on the lower left and type 'Bluetooth.' Look for 'Bluetooth & other devices) and open that window.
Click the '+' or Add Bluetooth or other devices. Choose 'Bluetooth' and use your controller's pairing button. Find your controller while your PC is searching, and it should connect.
Open the Control Panel and go to 'view devices and printers' under 'Hardware and Sound.'
Check if your PC sees your wireless controller, as it will be seen in this window.
If you connect your controller through a cable, just plug it in through a USB port. Wait for the controller to be read or installed by your computer.
After reading or installing, the controller should also show up in the 'view devices and printers' window.
Conclusion
You can play using your own configuration and what works better for you.
There are multiple controllers that support Fall Guys and Steam.
Hopefully, you can use the same configuration on the other games you choose to play on Steam, or you could easily change it again in the settings.
Sooner or later, there should be an added split-screen, which can make Fall Guys a popular Couch Co-op game for family and friends.