I'm sure that most of us initially flocked to Fall Guys for the the cuteness and goofiness that it brings to the table. Who would've thought that a bunch of jelly beans in costume would be so much fun?
Fall Guys provides a competitive but laughable game like no other. It's definitely one of the most unorthodox battle royale games around.
I love the game's casual vibe whilst retaining the competitive aspects and bragging rights when you finally claim the victory crown. The goofy outfits are wonderful, too.
If you love crazy, chaotic, and simple gameplay matched with a casual yet competitive environment, you're in for a treat.
Here are 13 of the best wacky games like Fall Guys, covering games from a few different subgenres and styles.
13. Overcooked! All You Can Eat
Overcooked! All You Can Eat is a complete version of the Overcooked! 1 and 2 games that has been remastered. It features over 200 levels with 12 new ones. There are also over 80 chefs, including 3 new ones that can allow you to change your character's appearance.
Just like Fall Guys, this game provides a casual yet competitively fun gaming experience. Your main goal here is to create dishes based on the customer's orders and serve them before their patience runs out.
The game's overall nature is fast-paced because you are working under a timer. It also provides a chaotic gameplay experience because you work as a team to complete the dishes in time. Sometimes there are barriers to separate team members, causing them to throw items or dishes across to the other members.
If you're looking to battle it out against other players like Fall Guys, Overcooked! All You Can Eat also has an online PvP feature. In the Versus game mode, you'll compete against other teams on random or pre-picked maps. The team with the highest score at the end of the timer wins the match.
This game is utterly chaotic, and it's one of the best party games on the Switch. If you're looking for more games like Fall Guys, this is the game for you.
12. MicroWorks
| | |
| --- | --- |
| Genre: | Casual |
| Developers: | Agiriko |
| Release Date: | September 2, 2022 |
| Find at: | Steam |
| Multiplayer: | Online PvP |
| Average Playthrough: | N/A |
If you like adrenaline-filled chaotic games like Fall Guys, then you're going to love MicroWorks. It may not be a battle royale game like Fall Guys, but it still delivers action-packed, fast-paced mini-games like no other.
MicroWorks is a competitive online party game where you go against other players and try to outperform them in various mini-games. The games can range from smashing objects, avoiding laser beams, completing obstacle courses, and answering questions, among many others.
One fun thing about MicroWorks is that you can never count anyone out. Every game ends in a boss fight where players can try to score as many points as possible and try to shift the odds in their favor. So, even if you are way behind, don't give up yet. You only need one boss stage, and you can still win the game.
I'm sure that you won't lose interest in MicroWorks because it features over 150 different ways to play mini-games and over 15 boss stages. All these games are picked randomly, keeping you on your toes every round.
11. Among Us
Among Us is one of the best games like Fall Guys to pick up if you liked the adorable jelly bean-shaped characters. This game came out in 2018 but it only gained popularity in 2020 when popular streamers played it for millions of viewers to see.
The game provides a great way to socialize with friends. That was actually one of the main reasons why it grew so popular during the COVID-19 pandemic. It provided comfort, a way to communicate with friends, and a deceptive, competitive environment.
When you play Among Us, be ready to argue with people all match long. Among Us is basically a Werewolf game where your goal as a group is to do tasks while eliminating Impostors.
For the Impostors to win, they need to kill everyone on the ship. They can sabotage the ship to buy time and distract the Crewmates from doing their tasks. Impostors also have access to the vents, allowing them to quickly move around the ship.
Overall, it's one of the best games like Fall Guys, primarily because of their similar-looking characters. Don't worry if Among Us isn't your type of game. The list gets better, so make sure to continue reading.
10. Stick Fight: The Game
Stick Fight: The Game is a perfect substitute if you're looking for one of the best games like Fall Guys that's a little more violent but has the same quirky mechanics and competitive nature.
It's a fast-paced party game where you play as colored stick figures and fight against other players to win the game. At its core, Stick Fight: The Game is a free-for-all with elements of side-scrollers and platformers built-in.
The best thing about Stick Fight: The Game is that it's more than just a 2D fighting game.
Aside from trying to dodge and counter your enemy's attacks, you must carefully watch your environment and clear the different obstacles. The various levels in the game present some moving objects that can be hazardous to you and other players.
Stick Fight: The Game's matches are very short, allowing you to quickly hop in and out of the game easily. This makes it a great casual game that you can play at parties or during bits of your free time.
This is one of the best party games on Steam to check out if you're looking for more games like Fall Guys to play with your friends.
9. Survival Quiz City
| | |
| --- | --- |
| Genre: | Action, Casual, Battle-Royale |
| Developers: | Bandai Namco Studios Inc. |
| Release Date: | March 4, 2022 |
| Find at: | Steam |
| Multiplayer: | Online PvP |
Survival Quiz City offers one of the most unique takes on a battle royale game like Fall Guys. It encourages you to use both your brainpower and your mechanical skills to survive the game. Survival Quiz City provides an adrenaline rush when you run the course and a satisfying feeling when you get the answers right.
In this game, a total of thirty players compete in a quiz show. Based on their answers, they then get split between 'winners' and 'losers.' The losers aren't out yet. They still get to run an obstacle course to try and make it to the next round. But, to make things interesting, the winners get various weapons trying to stop the losers from finishing the course.
This goes on until the last person remains, who then wins.
Survival Quiz City has everything that you'd expect as one of the best games like Fall Guys, from the various obstacle courses and mini-games to the thrill of a battle royale.
8. Just Act Natural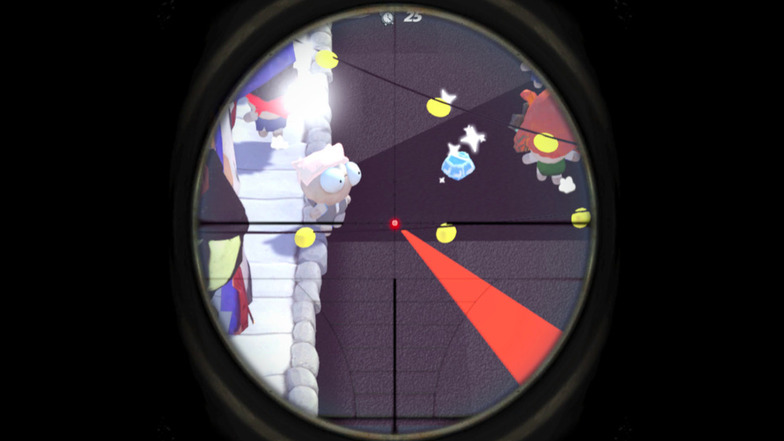 | | |
| --- | --- |
| Genre: | Casual, ACtion, Arcade |
| Developers: | Conor Garity, Liam Kerrigan |
| Release Date: | March 25, 2022 |
| Find at: | Steam |
| Multiplayer: | N/A |
| Average Playthrough: | Online PvP |
Our next wacky game like Fall Guys is no other than Just Act Natural. Just Act Natural is an online multiplayer game where you play as clay-molded characters with big and popping eyes. It's one of the best games on Steam to play with your partner, for sure.
It's a game of deception and deceit where you must hide among NPCs and try your best not to let the seeker find you. It's a one-versus-many game where one player gets the seeker role and has to find the others hiding amongst the crowd.
Your goal is to blend in with the crowd of NPCs to avoid being spotted by the seeker. To make things a little bit interesting, you'll also get objectives and tasks that you must accomplish throughout the game.
Just Act Natural is a cute party game that you can play with friends or with random people online. All the characters are hand-crafted with a clay art style, giving the game a unique aesthetic. It's also free-to-play, so you don't have anything to lose.
7. Gang Beasts
If you loved sabotaging other players in Fall Guys, then you're going to love Gang Beasts.
Gang Beasts is another excellent casual game on Steam, Xbox, PlayStation, and the Nintendo Switch. It has insane slapstick fight mechanics with ragdoll physics all over the place.
Gang Beasts is a beat 'em up game where the characters flop all over the place because of their gelatinous builds. You can use your hands and feet to punch and kick an opponent to knock them out. You can then try to toss them over the dangerous environment and keep them out of the game for good.
Gang Beasts features 8 different stages, each having unique hazardous elements, perfect for beating other people up. There are also various costume customization settings so that you can thrash people in style.
If playing co-op is more of your style, Gang Beasts also offers levels where you have to work as a team to defeat various enemies or simply chill out and play football.
6. Ultimate Chicken Horse
Ultimate Chicken Horse is another game where you can sabotage and troll other players. One of the most satisfying feelings in Fall Guys is successfully pushing someone off the edge, and Ultimate Chicken Horse takes sabotaging to a whole new level.
It's a unique type of platformer game because you and the other players create the levels yourselves. You build as you play, allowing you to easily sabotage other players. But, you also have to be careful because they can also place traps or other hazards to screw you over.
The main goal in Ultimate Chicken Horse is to accumulate points by building the level as you go. There's also a flag on the other side of the level. Whoever gets there will score points. The winner will be determined after meeting the set number of rounds or points.
In Ultimate Chicken Horse, you also play as one of the various animals in the game. This adds a cuteness factor because who doesn't like animals? It's also very funny, especially when you start seeing people try to survive a swinging saw attached to a conveyor belt using honey.
This is one of the most unique platformer games on the Xbox Series X / S and fans of games like Fall Guys are sure to get a kick out of it.
5. Human: Fall Flat
Human: Fall Flat is another obstacle-based game like Fall Guys. As you may have guessed from the 'Fall' in the name, you'll fall and fail a lot within the game. Luckily, Fall Guys will have prepared you for this exact moment.
In the game, you play as Bob. Bob is a customizable human with no face and no special abilities. You can only use your hands to grab objects and climb onto surfaces. You can also look around and observe your surroundings to look for clues.
Human: Fall Flat doesn't exactly have an ending because of its casual and light-hearted nature. Your main goal is to solve the unique puzzles found on each level. You can choose to play alone or with up to 8 players online.
One of the best things about Human: Fall Flat is the replayability of its levels. Each level has multiple solutions, allowing you to keep playing repeatedly and solving it in different ways. This forces you to think outside of the box and come up with creative solutions.
4. Pico Park
| | |
| --- | --- |
| Genre: | Casual, Platformer |
| Developers: | TECOPARK |
| Release Date: | May 7, 2021 |
| Find at: | My Nintendo Store and Steam |
| Multiplayer: | N/A |
| Average Playthrough: | Online Co-op |
Next on our list is Pico Park. Pico Park is another game like Fall Guys that has gained some popularity because of streamers playing it. It's a challenging and cute little game that forces players to team up to solve various puzzles and get through obstacles.
Pico Park offers three different game modes- World, Endless, and Battle. World mode is the most popular and requires up to 8 total players to cooperate and solve puzzles. Endless mode is pretty much the same, but you're playing to get a high score instead.
Battle mode is the one most similar to Fall Guys. Here you have to fight and compete with other players to win the game. There are levels in Battle mode where the last one standing wins.
Pico Park features various mini-games to choose from for each of its game modes. There are over 55 different levels to choose from across all game modes. If you're a fan of games like Fall Guys, you're sure to love this title.
3. Pummel Party
| | |
| --- | --- |
| Genre: | Casual |
| Developers: | Rebuilt Games |
| Release Date: | September 20, 2018 |
| Find at: | Steam |
| Multiplayer: | Online PvP, Shared Screen PvP |
| Average Playthrough: | 11 hours |
If you're a fan of Fall Guys' chaotic and disorderly nature, then you'll enjoy Pummel Party. I would best describe Pummel Party as a game full of chaos, violence, sabotage, and pummelling. It's quite similar to the popular party game Mario Party.
Pummel Party can only be played by 4-8 people either online or via local multiplayer. You can also add some AI-controlled characters if you want a bit more chaos in the game. You can also customize your character's appearance by changing hats or colors.
In Pummel Party, you play on various board layouts and take turns rolling the dice to advance. Each spot you land on has a specific purpose. You can either get items, keys, or activate hazards, among many others.
After each round, a mini-game starts, where you compete against everyone in the lobby. The placements in the mini-games determine the order of the following turn and can sometimes get items as rewards.
Overall, you can win the game by having the most number of goblets/trophies at the end of the game.
2. Rubber Bandits
Rubber Bandits is a fast-paced multiplayer game for up to 4 players where you must collect loot and cross the finish line to win. The player with the most loot at the end of the game wins.
You may have already guessed from the name that you play as rubberized criminal characters in the game. These characters look just as goofy and silly as the jelly beans running around in Fall Guys. They even have unique costumes as well, from bananas to old ladies, take your pick.
Rubber Bandits is full of destruction and fun. There are several heist themes where each map is highly destructive and can be used to sabotage other players.
You can use any of the 20 available weapons in the game. This includes ridiculous things like a baguette to deadly weapons like a lightsaber or a rocket launcher. You can even use some of the debris as makeshift weapons.
1. Stumble Guys
| | |
| --- | --- |
| Genre: | Casual, Action, Free-to-Play |
| Developers: | Scopely |
| Release Date: | October 7, 2021 |
| Find at: | Steam |
| Multiplayer: | Online PvP |
Now, we have the best wacky game like Fall Guys.
From the name itself, you can already probably tell that Stumble Guys is pretty much a copy of Fall Guys. There's no doubt that it's the best game like Fall Guys out there because they share a ton of similarities in aesthetics, gameplay, and even costumes.
Stumble Guys has some of the same mini-games appearing in Fall Guys. But, it isn't just a full-on copy of the game. It also features some unique maps and levels that are actually really fun to play on.
Stumble Guys only supports up to a maximum of 32 people in a match. This is basically half the competition you get in Fall Guys, giving you much better odds of winning.
The best part about Stumble Guys is that it's free-to-play. If you don't have enough money to purchase Fall Guys, I highly suggest picking up Stumble Guys as an alternative. It's also one of the best battle royale games on Steam, especially since Fall Guys isn't available on the platform anymore.