Football Manager 2022 can still be run even with a relatively low level computer. The question is, how well will it run?
Football Manager 2022 doesn't require any high-end specs, but even then, a lot of the actions and scenes that happen in sports simulation games can be quite heavy on the RAM.
If your PC or laptop is freezing, or in the middle of games you are experiencing extreme lags and crashes, there's a high chance that it's a RAM issue.
Don't worry! You won't necessarily have to cash out to solve a RAM issue. Sometimes, all you need is a little bit of technical knowledge.
In this article, we're going to show you how to effectively allocate more RAM to Football Manager 2022. These methods are tried and tested by players alike, and what's great about this is that we've gathered specific ways to help you out!
Clear Steam's Download Cache
Steam is literally a virtual library. You'd be lying if you said you didn't put any game on your wish list or that your Steam library isn't literally filled with hundreds of games that haven't been downloaded.
We've all been there, don't worry.
Now while the games on your list aren't more than just a few MB since they haven't been installed, having a couple hundred of them can eventually take up a lot of resources.
To clear Steam's download cache, go to the settings menu under the Steam tab on the upper left. Look for "Downloads" on the list and click on it. At the lowermost portion, there is a button that says "Clear Download Cache". Click on that button. Steam will automatically restart afterward.
Verify Game Files on Steam
Why are we putting this recommendation immediately next to the deletion of the download cache? It's because it would be best to do these two steps in tandem.
When Steam restarts, don't log in yet. Do a complete reboot of your PC just to be sure.
Once you're on Steam, go to the Library tab and look for Football Manager 2022. Right-click on the game and go to Properties. In the left menu list, go to the Local Files. There should be two or three big buttons, with the second one having the label "Verify integrity of game files…". Click on that button and wait for the process to finish 100%.
Use Your Dedicated GPU
You spent a thousand dollars on your build and your games aren't even running on the GPU you bought? That's a travesty!
Don't worry, it does happen and fortunately, it isn't the end all be all. There's also a really easy fix for it.
First, go to the Football Manager 2022 game folder. It varies on your download settings but it's usually in the C Drive. Right-click on the Football Manager 2022 launcher which should have the file name "fm.exe". When the pop-up menu appears, click on the "Run with graphics processor". Then, change the default graphics processor and look for your GPU.
Integrated GPUs aren't inherently bad since they can play some decent e-sports titles, but they definitely aren't the best and the potentially odd interaction that it could cause if you have a dedicated GPU might give issues.
Update Your Softwares
This doesn't just include your GPU driver but also your Windows.
Why is keeping your software up to date so important? There are some processes that can seriously mess up the interplay between software and RAM. The result is a memory issue or memory leak.
More often than not, an update would immediately fix this issue in no time. Updates aren't just the addition of new features, they're also responsible for fixing bugs in prominent games.
If you have an Nvidia, go to the Nvidia Control Panel where a big green update button would be the very first thing you see. If you have an AMD, go to the Radeon Settings Menu. The updates button should be on the lower left corner.
To check if your Windows software needs updating, just search for the "Windows Update" menu on your Windows search bar. You'll immediately see if it's up to date or you can also manually do it by clicking the "Check for updates" button.
Reduce the Number of Leagues That You Have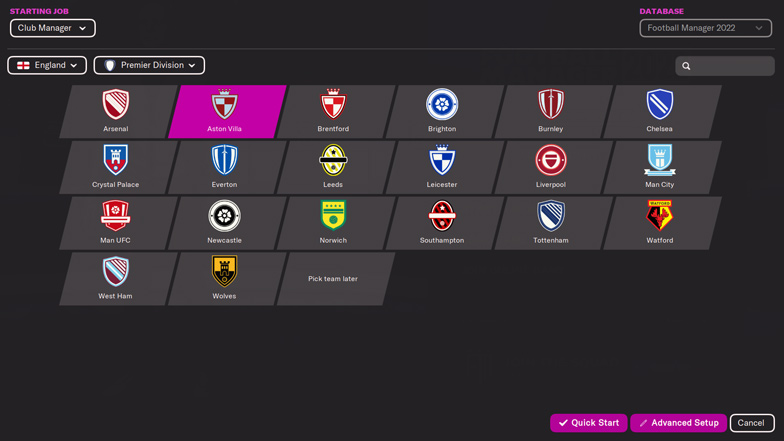 There are 118 leagues on Football Manager 2022. It can be pretty exciting having them all loaded in your arsenal but, news flash, it can seriously hamper how the game runs on your computer.
Sometimes, it can be a regional thing. Say, you're from a European country, and there might be this desire to have all the European leagues available. If you do that, you'd have at least 30 leagues! That's too much, and honestly, there's a high chance that you won't even use the majority of those leagues; while some leagues loaded aren't truly worthwhile.
There are also some leagues that have added expansion, and these can really take up a lot of memory.
Limit your leagues to the ones that you really like and play with or, better yet, manage the best leagues right now in the game.