In 2021, we worked on a diversity in video games study that highlighted gender and ethnical inequality in major video games.
The study was featured on Newsweek and The Independent, along with over one hundred other websites.
Recently, the data has been the subject of a whole load of attention due to Activision Blizzard's announcement of their 'King's Diversity Space Tool' – and the fact they namedropped us within it:

Activision Blizzard's tool has seen a large amount of criticism, leading to multiple edits within their announcement.
I do want to start by making it clear that no-one at DiamondLobby was aware of their tool, nor were we aware that they would be referencing our data – they didn't even provide fair attribution, i.e. a link to the original source.
But, rather than piling in with our pitchforks, we wanted to use this controversy as inspiration to revisit the world of diversity in gaming. And most importantly: are any improvements actually being made?
We've just finished analyzing 152 major games released so far in 2022 and we're sharing our findings in this article.
The data is publicly accessible at the end of this post.
Please credit DiamondLobby.com when re-using our data, findings or images. We welcome you to make good use of what we create, but we request proper attribution when doing so, i.e. linking to this article as the original source.
Female Representation in Gaming in 2022: Our Findings
Nearly two times as many games released in 2022 have more playable male characters than playable female characters.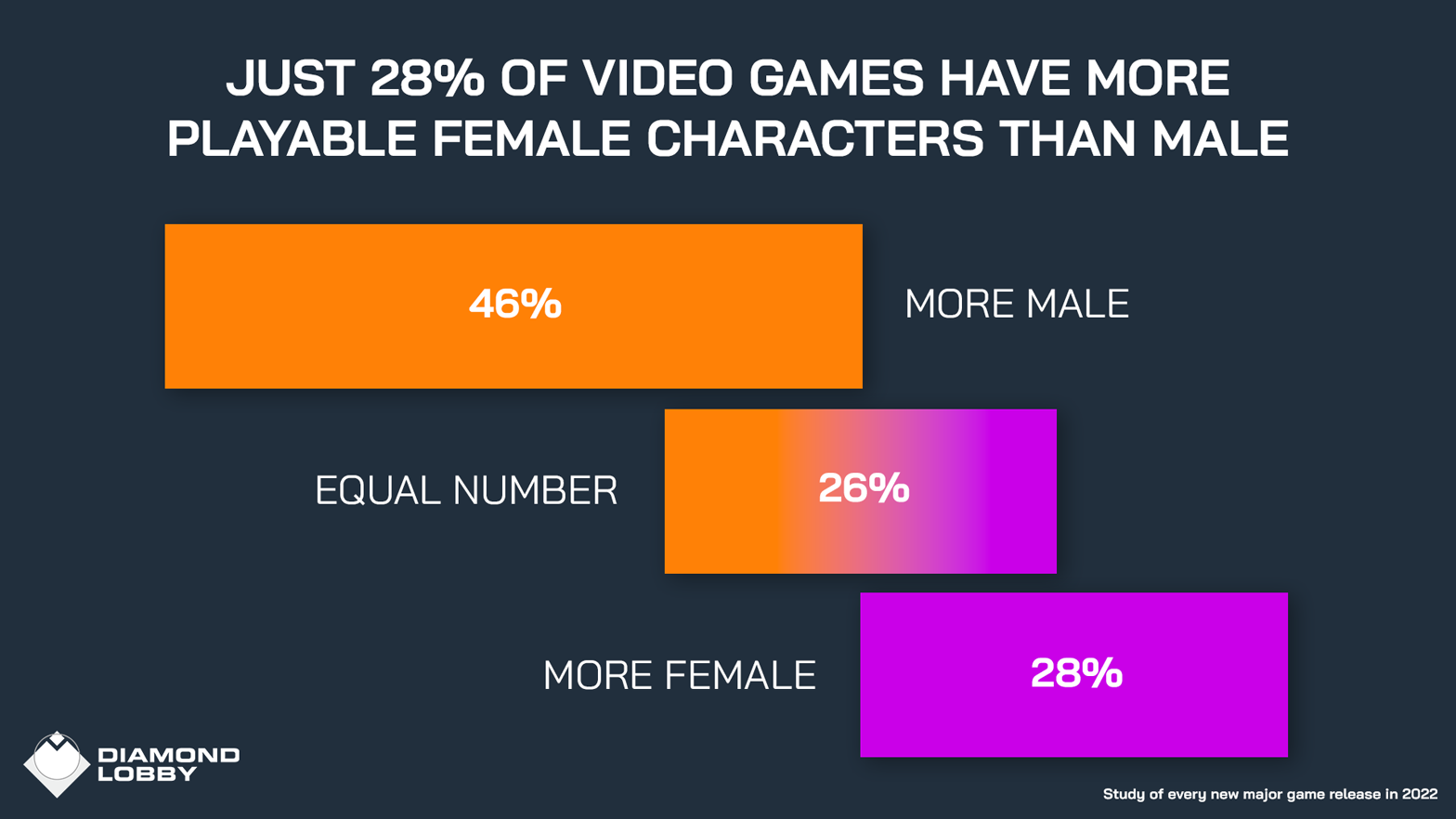 26% of games had an equal number of playable male and female characters
28% of games had more playable female characters than male
46% of games had more playable male characters than female
This shows that whilst there is a growing gaming diversity trend of including more women in games than men, there are still a greater number of games that have male-dominated casts.
The majority of playable characters within games are male, but the numbers are improving.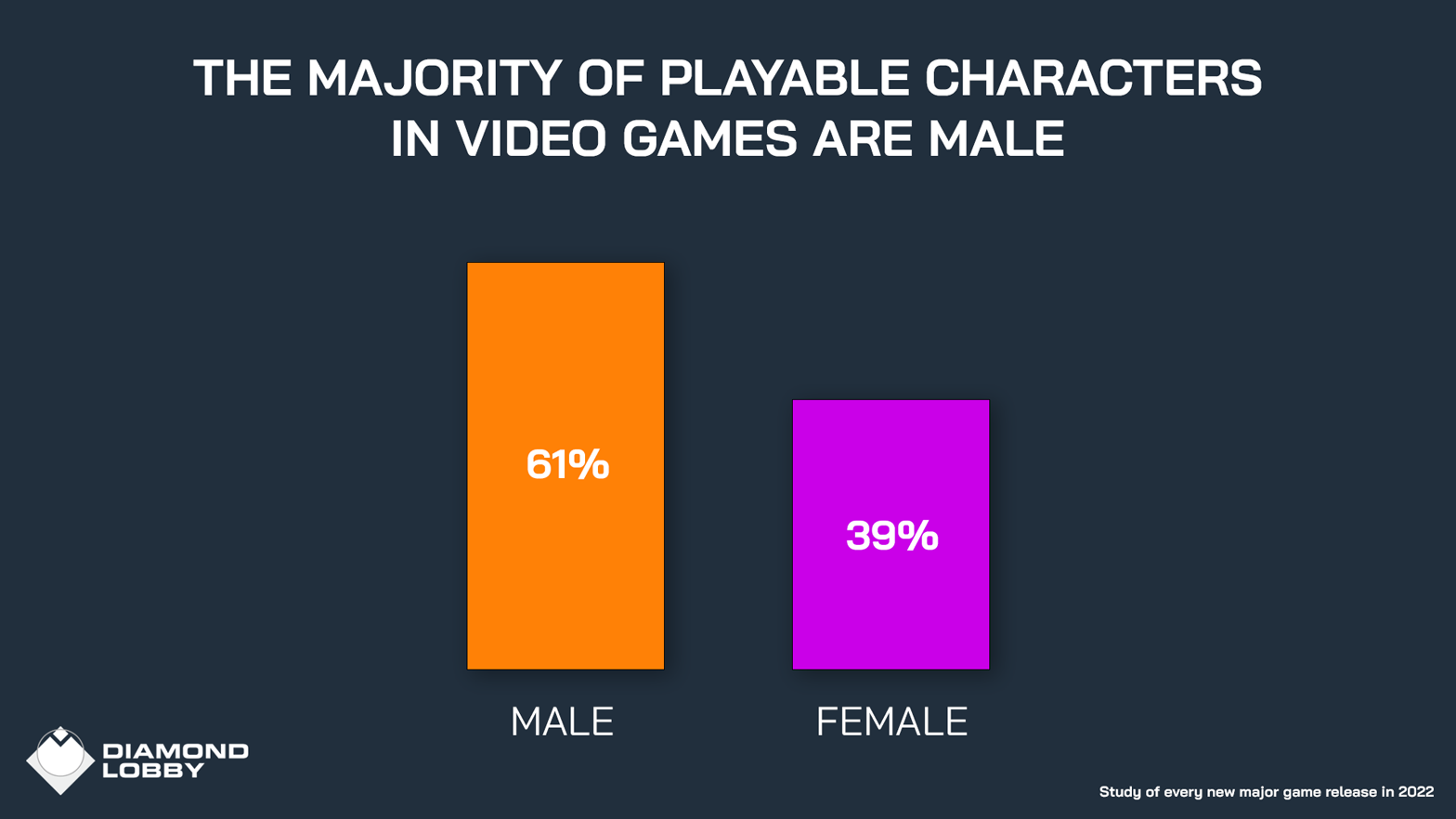 61% of playable male characters were male
39% of playable female characters were female
This statistic, which was at 66.5% for male characters in our previous study, has seen improvements but still isn't close to parity.
This figure has been adjusted for outliers. CrossfireX has 46 more playable female characters than male, which skews the data significantly as the only game in our dataset with significantly more females, so it was removed. We also removed Dynasty Warriors 9 Empires, which has 56 more playable male characters, to balance the data for this specific statistic only in order to be a more accurate reflection of reality.
When games include only male or only female playable characters, we're getting closer to equality.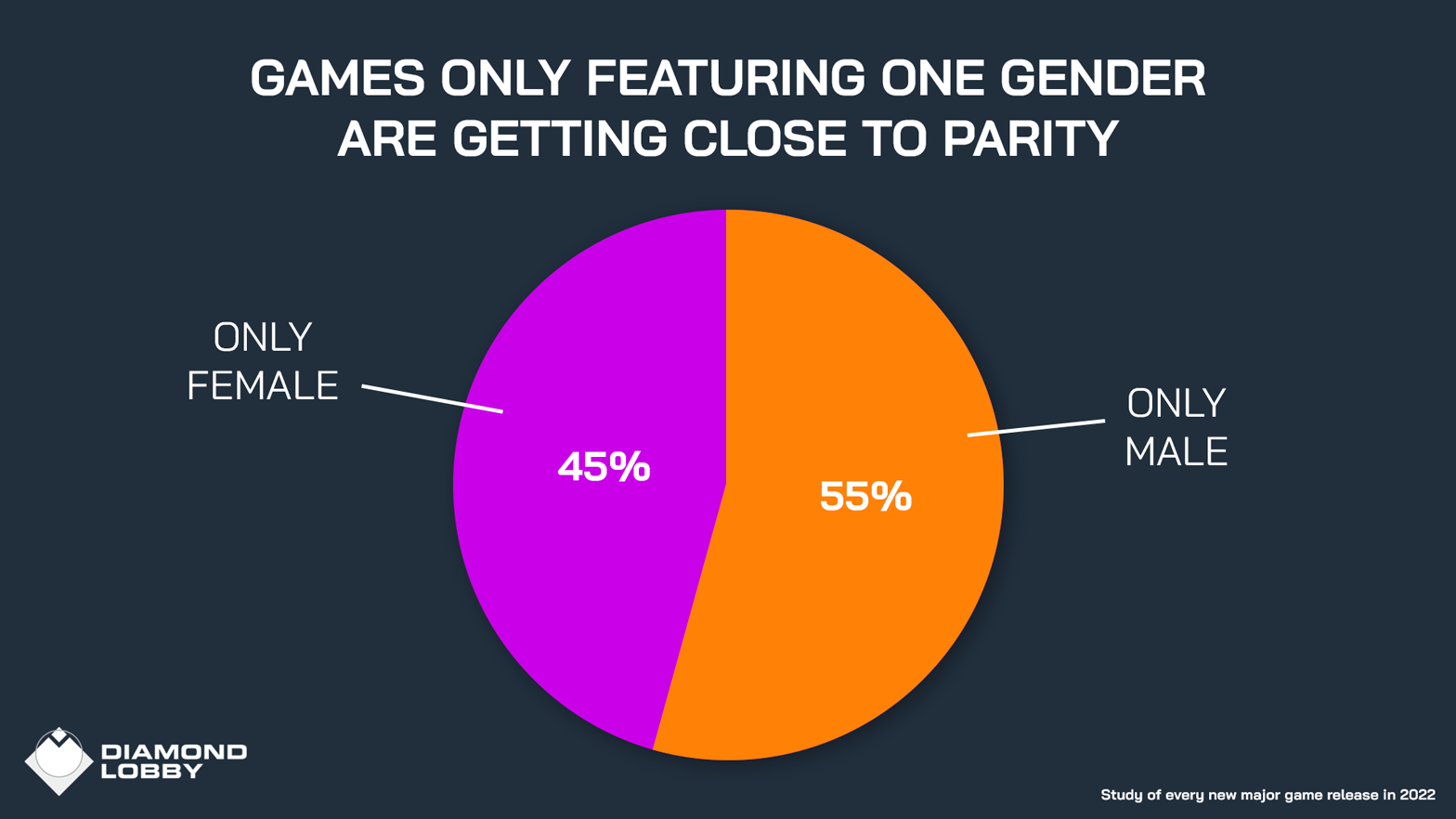 Of games that only include playable characters of one gender:
45% of characters in games with only one gender were female
55% of characters in games with only one gender were male
Sharing Our Data & Images (Fair Use)
This work is licensed under the Creative Commons Attribution-Share Alike 4.0 International License — you are allowed (and encouraged) to re-use or republish our data or images, we just request fair credit when doing so.
What is fair credit? A link to this article as the original source. This allows our team to get rightfully recognized for our hard work.
Methodology
We studied every game released in 2022, according to Game Informer's game release schedule, between January 1st and May 18th (the date we published our research). This does not include every tiny indie game released into the world, but includes the vast majority of major titles and a large number of indie games too, across PC and consoles, and includes games developed all over the world.
There were 152 games released within the timeframe of our study.
We started by eliminating every game that was a re-release, remaster, or had previously been released on a different console. We didn't think it was fair to include these as examples of a '2022 release' if they actually weren't first released in 2022 at all. Sound good? We think so. 83 of the games were defined as 're-releases', leaving us with 68 games to analyze.
We then determined which games had only preset playable characters, which games allowed users to customize their playable character (e.g. they had 'character creation' functionality that allows players to change their gender, appearance and more), and which games had no known playable character (e.g. they're never mentioned, or you're an inanimate object such as a car). 46 games had only preset playable characters, 12 games had fully customizable characters, 7 had no known character, and we eliminated 3 games due to being based on non-fictional sporting rosters (Rugby 22, MLB The Show 22 and WWE 2K22).*
Our study focused on the 46 games that only allow you to play with preset characters, meaning their gender and appearance were predefined by game developers, rather than chosen by individual gamers via freewill.
*Both Rugby 22 and MLB The Show 22 include no female teams or players, though these games were excluded from our findings.
Our data is publicly accessible here. Please credit DiamondLobby.com when using our data.
Final Thoughts
We looked at how many characters in games are female, how many games have more male characters than female, and how many games only have either male or female characters.
The data that we looked at in 2022 seems to suggest two things. Firstly, we clearly don't have equality between male and female representation in video games yet. Secondly, the industry is undoubtedly making improvements.
However, one thing we looked at in our first study is the idea of the 'main protagonist' – the main character that you either control or interact with most. 79.2% of main protagonists were male between the years of 2017-2021.
That's not something we looked at in this quick dive back into new data, but it is worth passing a comment on: the reason we first looked at the main protagonist is because we felt that female characters were often lumped into larger groups of characters to make up numbers on a diversity quota.
Whilst progress is being made to introduce a larger number of female characters in video games, albeit a little slowly, we'd like to see more games where females have a leading role. Great games can have male leads or female leads, like Horizon Forbidden West showed earlier in 2022, and many other amazing titles before it.