Building a team that can help you make big plays is especially important during the early game in Madden 22 Ultimate Team.
This is when you need to complete all your challenges to get good cards and hit the ground running. Since most of these challenges will be done against weaker teams, a few solid players can make a huge difference. Just having a good QB, WR, and HB will make it much easier to execute offensive plays and get those challenges done.
Of course, you don't want to spend all of your hard-earned coins on these players. So here are our best cheap players for Madden 22 Ultimate Team that can make a massive difference in the early stages and even stay backups in your Elite team in the future.
Offensive Players
When you're doing Challenges – especially in The Campaign – you'll be facing weak teams on low difficulty. A few solid offensive Gold players will tear these defenses apart. All you need to do is look at the right attributes.
Here are some of the best cheap meta players on offense.
Nyheim Hines, HB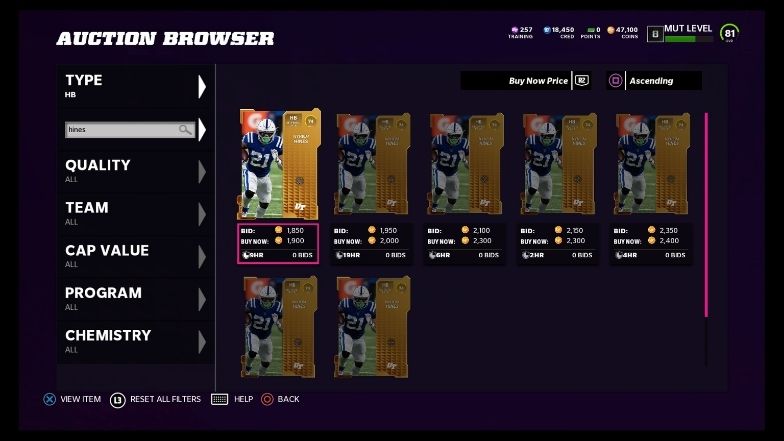 When looking for the best cheap running back, you're essentially looking at Speed, Acceleration, and Carrying. Focus on these essential attributes and you'll find a running back that will light up weaker defenses easily.
For my money, that's Nyheim Hines. He's incredibly cheap – you can find him for around 2,000 coins at any time in Auctions, sometimes he'll be even cheaper. He has 85 SPD, 85 ACC, and his Carrying is at 62 which isn't great but it beats most running backs at this price range. He also has a solid 77 Change of Direction.
Matt Breida is an even better option but he's around 4x more expensive.
Other running backs to consider:
TJ Logan
Kene Nwangwu (not great rating but he's the fastest on the list)
Matt Breida
Austin Ekeler
Raheem Mostert (expensive but worth it)
Dallas Goedert, TE
With Tight Ends, you're looking for a good mix of speed, catching, and run blocking. The issue at this price range is that most of the available players have a bad Run Blocking rating. O.J. Howard is a popular example and is considered a cheap meta player at the TE position but his RBK is only 63.
That's why I'd go with Dallas Goedert at TE on a budget over pretty much anyone else. He has 79 SPD, 77 CTH, and 73 RBK. So he's 3 points slower than Howard but his Catching is marginally better and his Run Blocking is a big upgrade. Plus you'll be saving around 4,000 coins if you go for Goedert over Howard.
Other Tight Ends to consider:
Evan Engram
O.J. Howard

Kyle Pitts

(not that cheap but a really good player)
Henry Ruggs, WR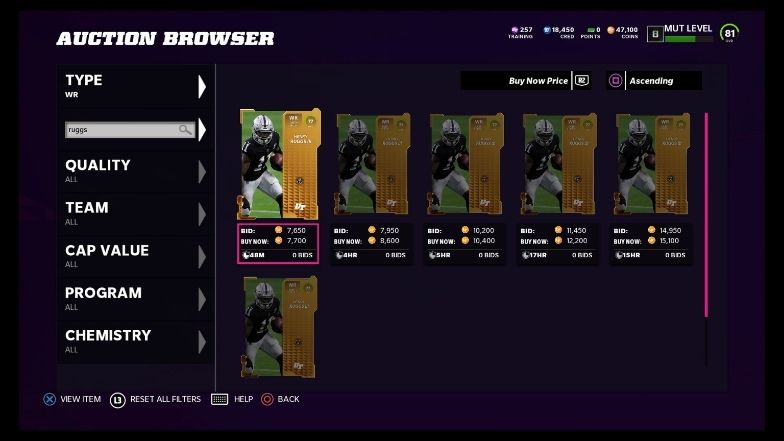 Granted, Ruggs isn't that cheap compared to other solid options at WR but his Speed and Jumping combo is unmatched at this price.
He has 88 SPD (the fastest along with John Ross) and 84 JMP (only outmatched by Jalen Reagor). His Catching isn't that great at 70 but you won't really find anyone with over 75-77 CTH at this price range anyway.
Ruggs may even stay your backup WR long after you've got some Core Elite players. You can always sell him and get lots of training because of his relatively high rating – check out our Madden 22 Training Values guide to see how much you can get for each player.
Other Wide Receivers to consider:
DJ Chark
John Ross
Chase Claypool
Marquise Brown

Curtis Samuel

Jalen Reagor
Justin Herbert, QB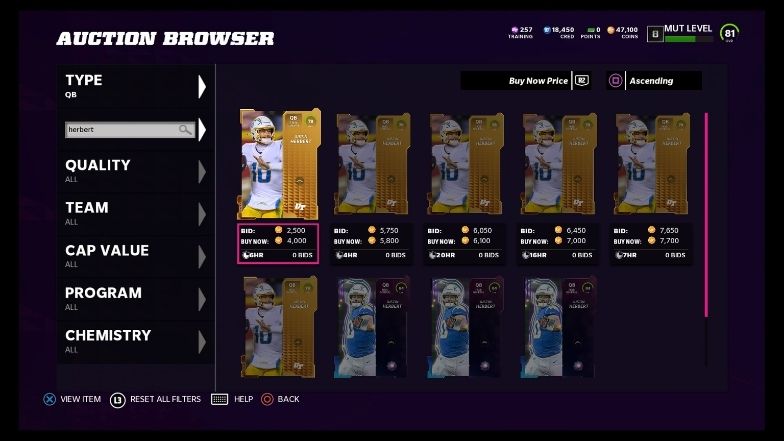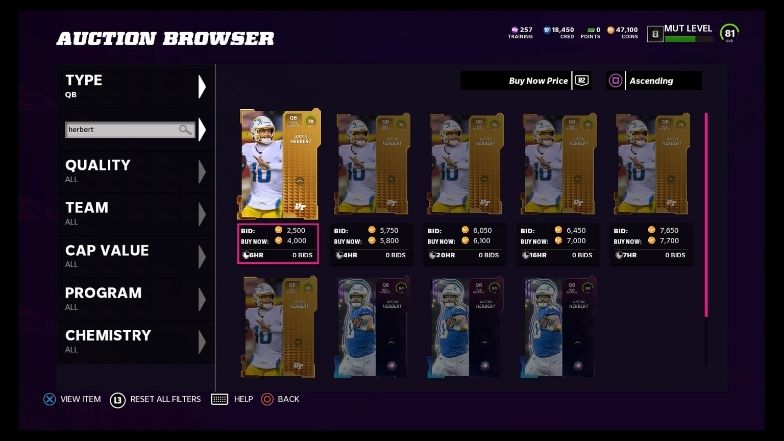 In the Core Gold program, Justin Herbert is the QB with the highest Throw Power (86), which is why you'll often see his name when looking for the best cheap meta players in MUT.
He also has 75 Speed and 78 Acceleration which are just enough to scramble when needed and get those extra yards. You won't find a better QB at this price, especially since he can sometimes go for as low as 4,000 if you stay patient and keep bidding.
Other quarterbacks to consider:
Cam Newton
Derek Carr
Carson Wentz
Jared Goff
Defensive players
Your defense won't matter as much in the early challenges but you'll definitely start seeing a difference as you progress through Ultimate Team. Better defenders will be able to read plays, shed blocks, and keep up with their receivers more easily. Generally, you want to prioritize safeties since these are most likely the players you'll be usering.
Good cornerbacks will also be important to keep up with the receivers and break up passing plays.
Darnell Savage, FS
You want your safeties to have good Speed, Acceleration, and solid PRC (Play Recognition) and ZCV (Zone Coverage) ratings. At this price range, you'll hardly find a safety that ticks all the boxes but Darnell Savage is about as close as you're going to get.
He's got 86 SPD, 85 ACC, 72 PRC, and 71 ZCV. Not incredibly impressive but you won't find a better free safety at this price. The only player that outperforms him (and he's also taller by 4") is Jeremy Chinn. However, Chinn is almost twice as expensive so I'm going with Savage.
If you can find Chinn below 6,000 in Auctions then definitely go with him.
Other Safeties to consider:
Jeremy Chinn
Isaiah Simmons
Tarvarius Moore
Troy Apke

Duron Harmon

Jabrill Peppers
Rashan Gary, LOLB
Rashan Gary has pretty much everything you need from a solid Core Gold linebacker: Speed, Acceleration, solid Tackling, Power Moves, and Play Recognition. He's also the Power Rusher archetype, which is always useful at the OLB positions.
My other choice here would be Andrew Van Ginkel but they're really close in terms of rating and he's a little more expensive. You'll find a lot of solid linebackers in the 75-79 OVR range so it might just come down to your personal preference or Team Chemistries. I play with the Packers so Rashan Gary is my personal choice as a cheap solid defender for MUT.
Other Linebackers to consider:
Jayon Brown
Andrew Van Ginkel

Jerome Baker

Kenneth Murray
Jonathan Jones, CB
Like with wide receivers, you're mostly looking at Speed and Jumping as key attributes when choosing a cornerback. However, Man Coverage (MCV) and Zone Coverage (ZCV) also come into play here.
You'll hardly find a Core Gold cornerback that's quicker and plays better coverage than Jonathan Jones. He has 86 SPD, 87 ACC, 74 MCV, and 72 ZCV. He also has the Man to man archetype.
The only issue is that he's shorter and his Jumping isn't as good as some of the other CBs in this range. I'd look at Jamel Dean and C.J. Henderson as taller but equally quick options.
Other Cornerbacks to consider:
Eric Stokes
Jamel Dean
CJ Henderson
L'Jarius Sneed
Final Thoughts
Completing challenges early on will set you up for success in a major way. Challenges are among the best ways to get coins in Madden 22 and they'll almost always reward you with a player you can put in your lineup or at least use in Sets.
The best cheap players we went through will play big roles in your Madden 22 Ultimate Team campaign and toy with CPU-controlled defenses.
Hit the Auction market, look for the best deals, and be patient. Remember that most of these players will be replaced by Core Elite cards in the future so don't break the bank for them.
Instead, look for specific attributes that matter for each position and be cost-efficient!