Madden 22's Face of the Franchise follows the story of your own customized character as you attempt to join the NFL and become an all-time great.
You will go through the steps every athlete goes through before, during, and after the draft in your career. This mode aims to be as immersive as possible for the fans of the game.
The first step in Face of the Franchise for any player is to get yourself drafted onto an NFL team.
This guide will show you how to increase your draft stock when completing drills, which interview answers you should give as the best answer, and will ultimately tell you how to get drafted as the first overall pick in Madden 22.
Starting Your Face of the Franchise Career
Once you've created your character after launching Madden 22 for the first time, you will immediately use that character in the Face of the Franchise mode.
In Madden 22, the story starts with your player getting ready for the NFL draft and you need to select the college that you play for.
Which Position Should You Pick?
The Jacksonville Jaguars get the number one pick in Face of the Franchise in Madden 22 — and in real life — and the storyline continually refers to them looking for a new quarterback. Therefore, we recommend being a QB, and let's be honest here, most players will probably pick the QB position anyway.
I did choose the QB, but you will play with all players on offense, defense and special teams throughout the mode anyway. It's not like 'Be A Pro' modes on other games where you only control your own character.
Which College Should You Pick?
It doesn't matter which college you select in Face of the Franchise. Regardless of where you choose, you will be a guaranteed starter and will play every minute for them in the small number of matches and drills that you complete.
After picking your college, you'll meet your future agent and mogul to help you out during the whole process. While the story starts after your college career, you will end up going through 'flashback' games and whilst you're playing them 'live', they technically happened in the past in the timeline of the story.
First Training Drills
You'll now be attending your first week of training camp. As a QB, you'll be taking passing drills first. These are really easy drills, nothing too serious, and everything should be a walk in the park even for first-time players.
During the drills, you will see your score on the upper-right portion of the screen. Each failed attempt will have a red mark on your score. You should try to perfect these drills as you play through the Face of the Franchise mode.
I ended up scoring a perfect 5 out of 5 here when I was drafted first.
The next part will be another round of drills. You will be trying to push for first downs and move the chain by completing passes to your pro-player teammates with defenders around.
This part is still easy as it acts as more of a tutorial for players.
From my testing, you can get away with failing on some of these, but try to make sure you aim for a perfect record to ensure your chances of being drafted first are at their highest.
After each training drill, you will meet up with the trainer for a conversation. You will be able to choose which aspect you want to improve which is either your mental focus or physical attributes.
Choosing one will let you pick which stat you want to improve such as speed or change in direction when you choose physical attributes.
The stat boost only lasts up until the Road to the Draft ends. Perfecting this training stage will help increase your draft stock a little.
Which Elite & Extreme Effort Answers to Pick
Elite Effort gives you a big buff to your overall ability in specific areas, and you can choose between two options for boosting your stats. A lot of this will come down to the style of QB you've selected and your own playstyle.
I chose to put my first Elite Effort into Physical Development, and then chose +5 Speed for more effective scrambling and to allow me to pull off more successful QB slides.
For the Extreme Effort that you get after the Nike Pro Challenge, I chose Mental Focus and went for All Pass Accuracy +10.
My logic with these picks was that I wanted to boost all-round attributes that would be good for my role, trying to make myself a well-rounded QB rather than one that excelled in just one area.
Where to Assign Skill Points
Throughout the pre-draft stage, you'll accumulate up to 5 Skill Points.
If you want to know how to assign these Skill Points, click 'Edit Avatar', then hit 'Edit Class' (square on PlayStation).
I assigned my Skill Points as follows:
Power: 1
Accuracy: 3
Quickness: 1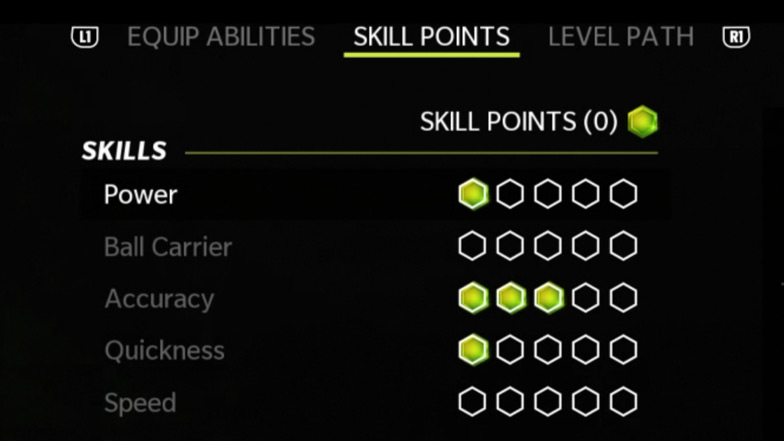 This made me an 83-rated QB overall on my stats page, but showed me as an 85-rated QB on the main screen. And, along with everything else I did in the rest of this guide, this was enough to make me the number one pick.
Winning Your College Games
After a few cutscenes, you will have your first match in college after a flashback scene. Depending on which college team you selected before, your opponents might be different for each playthrough.
This will be a full match played and you will be playing both the defensive and offensive side of the game. If you are playing a wide receiver (WR) position, you will still be controlling the QB and the defensive line.
Winning the game will advance your team immediately to the collegiate championship game. For my last match, I played against Trevor Lawrence — who also happens to be the real first overall pick in the 2021 NFL Draft.
I would assume that winning this game will put me ahead of Trevor Lawrence as we both play the QB position. So, I wiped the floor with his team and won 28-0. To win the game, work on your strengths. As a QB General (player type), I excel more in passes.
Choose and execute plays that go with your player's strengths. This is an important game as winning the college trophy will surely increase your draft stock.
You can see from the picture above that there is a tag on top saying "Draft Stock Trending Up".
This will pop up more later on during the interviews. Focus on winning this match and making big plays with your player. Look to pass where possible, or scramble to run to score touchdowns yourself.
Which Interview Answers to Pick
The next part will be a whole lot of storytelling. You will go through a lot of interviews and here are the right choices you need to make.
After having your friends help you prepare for the interview, you will be answering two questions.
First Question
"The team that pick near the top of the draft are generally concerned with how guys, who have had a lot of success in college, will handle it if that does not come overnight in the NFL. Obviously, we are picking first overall for a reason. We have a lot of holes in our roster we need to fill. So, if this is a process that takes some time, how are you going to respond?"
The correct answer will be "We'll Work Together" as it increased my draft stock after picking it. It seems that the most confident and most humble answers are the thing here. You will see the draft stock rising up notification again on the top-left part of your screen.
Second Question
"I want to go back to your last college season. It goes without saying that you had a prestigious career. But, did you feel that you needed to win the national championship to validate it?"
Ignore my answer here as I chose "It was A Great Ending". It ended up not showing any notification above even if it was the most humble answer but ended up being not as confident.
I restarted and chose "Without A Doubt", which turned out to be better for your increasing your draft stock.
Charity Game or Nike Event?
After a few cutscenes, you will need to decide which event to go to. Your boy Zo has set up a Nike event for you to join and build up your fanbase while J has a Hawaii trip football charity game for you to play at.
You will not be able to attend both events because of the conflict in time. So, you'll need to make your mind up and pick between the Nike event or Hawaii in Madden 22. I first chose to attend the EA Sports Charity Game in Hawaii.
After choosing this game and playing through the EA Sports Charity Game (and after playing through the rest of the pre-draft mini-games) I ended up being the 2nd pick behind Trevor Lawrence.
I'm not sure if this was down to this selection alone or if anything else made a difference, but I then replayed the whole Face of the Franchise mode from scratch and chose the Nike event, and this time around I ended up being the number one pick.
Once you arrive at the Nike or Hawaii event in Madden 22, whichever one you pick, it will be played a little differently to a normal game of football. The match will be a 6-on-6 Ironman Football match.
First to 21 points wins the game and there are no extra points. You can only run the ball after scoring a touchdown for 2 points. You also can't scramble to a touchdown with your QB as it won't count (and you'll move onto the next down).
No timeouts and an interception give the team a point.
Plays caught for 40 yards or more will also score an additional point.
Scoring a touchdown after a double pass gives an additional two points — you can pass the ball as many times as you'd like behind the line of scrimmage.
The game was fun and it will be an arcade-style of play. I play on simulation mode but the play art or lines still show up on the field.
Winning the game will help increase your draft stock and give you bonuses after talking to J again.
The next option differs depending on which event you chose to attend. However, none of the options had any impact on my draft stock.
Training to Increase Your Draft Stock
After all the cutscenes, you will end up meeting the senior assistant coach to help you with your training. You will go through training again and this is where you will need to play a little better.
As a QB, the drills get a lot harder this time.
The first drill will require you to survive for 7 seconds in the pocket without being tackled. Then, you'll need to survive for 10 seconds, and then 10 seconds once more. I actually failed on the third one but still ended up being the number one draft pick.
The second drill involves needing to time passes so that you catch them inside hotzones. Honestly, this one is quite easy if you play shorter passes.
Completing these drills perfectly will increase your draft stock. This is the last chance to make a name for yourself and get the 1st overall pick.
After the training, it will be all cutscenes leading to draft day.
Draft Day Results
The first time around, after doing fairly well in my training drills, winning all of my matches comfortably and answering interview questions effectively, I was the second pick on draft.
On my second attempt, my training drill results were almost perfect — just a couple of mistakes throughout the whole thing. I won all of my matches and won the Nike event 22-0. I knew which interview questions to select and became the number one pick.
I was selected by the Jacksonville Jaguars and became an 86-rated QB heading into the rest of the Face of the Franchise mode.
Final Tips
In the end, it doesn't really matter which order you get picked.
Of course, if you want to pick which team you get drafted to, you'll need to try to get drafted to a specific team. This means you might need to aim to not be the best.
Here's a list of the official NFL draft order so you can somehow adjust your play if you do want to get drafted on a specific team.
1) Jacksonville Jaguars
2) New York Jets
3) San Francisco 49ers
4) Atlanta Falcons
5) Cincinnati Bengals
6) Miami Dolphins
7) Detroit Lions
8) Carolina Panthers
9) Denver Broncos
10) Philadelphia Eagles
11) Chicago Bears
12) Dallas Cowboys
13) Los Angeles Chargers
14) New York Jets
15) New England Patriots
16) Arizona Cardinals
17) Las Vegas Raiders
18) Miami Dolphins
19) Washington Football Team
20) New York Giants
21) Indianapolis Colts
22) Tennessee Titans
23) Minnesota Vikings
24) Pittsburgh Steelers
25) Jacksonville Jaguars
26) Cleveland Browns
27) Baltimore Ravens
28) New Orleans Saints
29) Green Bay Packers
30) Buffalo Bills
31) Baltimore Ravens
32) Tampa Bay Buccaneers
You could consider throwing a few games and purposely failing some drills so you can end up playing for a specific team like the Tampa Bay Buccaneers. Then, you could work your way up and steal Tom Brady's position at QB as the torch is being passed on to you, though admittedly being drafted as the absolute last pick might be too tough of a challenge.
To summarize everything we said above: be close to perfect in your training drills, win every game comfortably, choose the interview questions that we recommended and opt for the Nike event rather than the charity one. But ultimately, whether you pick the Hawaii event or Nike event, it doesn't matter.
Be humble but confident and play well at all times.
Your next goal is to get a 99 rating in Face of the Franchise.