Calling defensive plays in the NFL in its simplest form is addressing what the opposing team wants to do, and determining how to best stop them from doing that.
When playing Madden, using coach suggestions to call your defensive plays may be convenient but it often leaves something to be desired. At times, these suggestions seemingly ignore the opposition's formations and personnel, leaving you open to a big play from your opponent.
The best way to remedy this is to use the best defensive playbook you can and be familiar with its plays and formations in order to shut the other team down.
Choosing the Best Defensive Playbook
When it comes to picking out the best defensive playbook, the most important factors are the playbook's versatility and its fit with your defensive personnel.
When calling offensive plays and formulating the game plan, a coach is able to set a concrete strategy and know the exact plan of attack on every single play. Playing defense, on the other hand, is much more reactive.
Without knowing what routes a wide receiver is going to run, or who a QB is going to look at first, a defensive playbook needs to be versatile.
But a defensive playbook also needs to be a good fit for the players that are running it. Every player has their own strengths and weaknesses. A defensive playbook may technically be good, but if it's a poor fit for the abilities of the team's players, it'll fail all the same.
Thankfully, the playbooks in Madden 23 are made to represent their real-life counterparts as accurately as possible, which means you can look at a real-life team's strengths for an idea as to what the strengths of their playbook are in-game.
With that in mind, what things should you be considering when choosing your defensive playbook?
What are your secondary's strengths? Are they better at man coverage or zone coverage?
What are your linebacker's strengths? Are they coverage linebackers or run-stoppers? If a team has a great pass rusher at LB, they may play in a 3-4 defense more often in order to rotate him to the line of scrimmage.
What kind of defensive lineman do you have? Speed rushers or power rushers? Pass rushers or run stoppers?
Now that you've considered these factors, let's take a look at the best defensive playbooks in Madden 23.
New England Patriots
The New England Patriots also made our list of Madden 23's best offensive playbooks for similar reasons to their inclusion here. The Patriots are led by the greatest coach of all time Bill Belichick, so it makes sense that his team would have top-tier playbooks.
With Belichick being a defensive mind first and foremost, the Patriots' defensive playbook is an even safer bet than their offensive playbook.
The Patriots' defensive playbook is extremely versatile.
Whether its 3-4 and 4-3 on early run downs or nickel and dime for later passing downs, the Patriots playbook has a wide array of plays available in each formation for you to keep your opponent guessing.
For a versatile playbook that you can be confident holds a play for any situation, look no further than the GOAT and the New England Patriot's defensive playbook.
New Orleans Saints
The New Orleans Saints defense is masterminded by long-time defensive coordinator turned head coach Dennis Allen.
Allen's playbook and coaching turned the Saints into one of the top defenses in the league, and you can do the same using this playbook.
The Saints' defensive playbook is more aggressive than the previously mentioned New England Patriots. While this playbook lacks the 3-4 formation, it makes for it with a 46 and multiple variations of the 4-3 defense to punish an opponent's running game.
Due to the lack of the 3-4 formation, if you have a great pass-rushing LB you'll likely want to move him to a defensive end role so he can best get after the QB in a 4-3.
For pass defense, the Saints' playbook boasts the dime, dollar, and multiple nickel formations that will make the QB struggle to find an open man and deliver him the ball.
For an aggressive playbook that still provides you with versatility, the New Orleans Saints' defensive playbook is the way to go in Madden 23.
Tampa Bay Buccaneers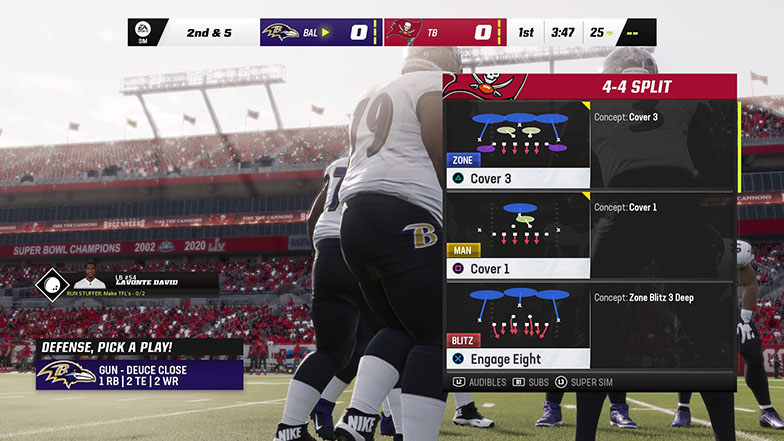 There are a few things on defense in Madden as fun as sending in a blitz resulting in successfully sacking the QB.
That's why the Buccaneers make this list. With one of the highest blitz percentages in the NFL, defensive coordinator Todd Bowles has shown he's not scared of dialing up the pressure on QBs. This team is one of the best teams to use in Franchise Mode.
The Buccaneers' playbook is chock full of fun blitzes that you can use to put pressure on the quarterback, stop the running back behind the line of scrimmage, and make the other team respect the possibility of pressure coming at them from every angle.
For the early run downs, the Buccaneers' defensive playbook has the 4-4 as well as multiple variations of the 3-4 formation. These are already good run-stopping formations, but the 4-4 specifically allows for creative blitzes and pressure schemes to get a defender in the backfield.
But even in pass defense, for which this playbook holds multiple of both the nickel and dime formations, there are blitzes to strike fear into the QB. The nickel and dime formations allow you to send unexpected blitzes from cornerbacks and safeties, which will keep the QB and OL guessing on every play.
If you wish to consistently dial up fun and creative blitzes to keep a QB on their toes, the Tampa Bay Buccaneers' defensive playbook is the one for you.
How to Make a Custom Defensive Playbook in Madden 23
No playbook will better suit your team and playstyle than one you create yourself specifically for that purpose! The process of creating your playbook is quite simple:
To start, navigate over to the small NFL logo on the far right of the main menu. From there, simply scroll down and select "playbooks".
This will cause the custom playbooks screen to appear. You can use L1/LB and R1/RB to choose between creating a new offensive or defensive playbook, or editing an offensive or defensive playbook you've already created.
With "Create Def" selected (the option second from the left), you'll then be able to choose what team's playbook you want to use as the base for your new creation. It'd be best to choose one that's similar in makeup to the style of playbook you plan on creating.
After choosing which playbook to use as a base, you'll be able to edit the available audibles, as well as the plays and game plan.
"My Playbook" displays the plays that are currently present in the playbook, while "All Plays" lets you find and add plays that aren't currently a part of it. Both of these screens are sorted by formation, with L2/LT allowing you to toggle between them.
"My Gameplan" is where you can adjust the frequency and timing of what plays will be called if an AI team is using the playbook. This screen is sorted by game situation, again toggleable with L2/LT.
Pressing square/X will let you edit what plays are present in each situation, while you can adjust the frequency of each play's usage with X/A. The more stars any given play has, the more often that play will be called.
When creating a defensive playbook, it's best to have at least one of either 3-4 or 4-3, as well as a nickel, dime, and goal line formation.
This is because you want a formation that always matches an opponent's personnel. 3-4 and 4-3 work well against two receiver sets, while nickel works for three receivers, and dime works well for four-receiver sets.
Final Word
The best defensive playbook in Madden 23 will differ from person to person depending on how they want to play the game. For this reason, it's worth experimenting with various options, including your own custom playbook creations.
After deciding what defensive playbook works best for you, you'll want to make sure to choose the best offensive playbook, as well as setting your sliders so these playbooks play as well as possible on the field.