Whether it's a creating a team or player, or designing a new playbook to fit your preferred playstyle, having the ability get creative and create your own things has consistently been one of the most enjoyable and fan favorite parts of the Madden franchise over the years.
Creating your own team can be a very fun and rewarding experience, as you watch and/or control a team that you created every aspect of from the name to the logo take an NFL game and hopefully even take home the win.
Different entries into the Madden video game series have various levels of customization available to you throughout the game.
In Madden 23 specifically, while you can't create a team name, uniform, stadium, and logo from scratch like you can in other editions, there is still a way that you can add a team to the league and watch them play on an NFL field via the game's Franchise Mode.
So if you're looking to spice up your game and give it a bit of uniqueness by adding a new team to the league, you're in luck, as in today's article we'll go over how to create a team in Madden 23.
Relocation Franchises
Madden 23 does not have a full blown "create a team" feature that can be found in other editions of the game. However, while that means you can't create a team from scratch, there is still a fun work around to add a new team to the league in the form of relocation teams in Franchise Mode.
Relocation teams are a set of pre included fictional team names, logos, and uniforms available to you in Madden's Franchise Mode. You can access these new teams by relocating your team to a new city and changing the name as you make that move.
Doing this will give your franchise an entirely new logo and team name, as well as a brand new set of both home and away uniforms.
League Settings
In order to relocate your franchise, you'll need to make sure the settings for your league allow you to do so. You can access these settings both when first starting your franchise as well as at any point when the franchise is already underway.
To access the settings while setting your franchise up, you'll want to first create the new franchise and select what roster you'll be using as well as the team you'll be playing as. Once you've done that, you'll be greeted with a screen that allows you to choose your role (player, coach, or owner). You'll want to select your role to be "owner" as that is the only role that is able to relocate a team. (You may find relocation easier if you select the "Financial Mogul" archetype, as that will begin you with $300 Million to make the relocation process easier.)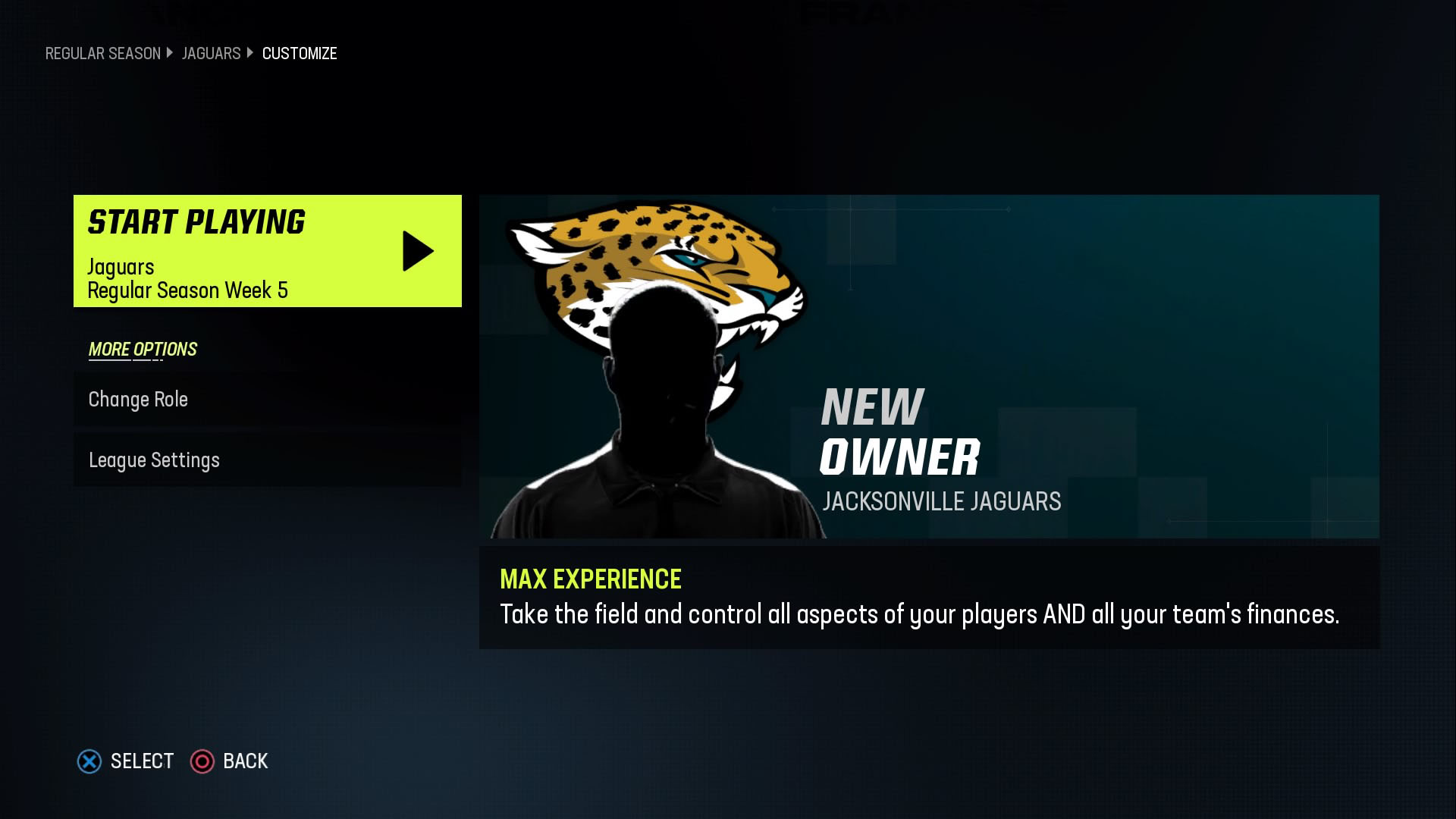 Simply scroll down to the bottom and select "League Settings". Under the "Commissioner Settings" category, scroll down to "Relocation Settings" and toggle the option to "Everyone (Can Relocate)". While the "Normal" option will sometimes allow relocation, choosing "Everyone (Can Relocate" will ensure that you can do so at any time you wish.
If you'd like to access the league settings for a franchise already in progress, you'll first need to use R1 and L1 (or RB and LB) to toggle over to the right most tab of "Options" on the Franchise Mode main menu.
From there, select the top option of "Franchise Settings" before selecting "League Settings". From there, once again scroll down and toggle the "Relocation Settings" to "Everyone (Can Relocate)".
Relocating Your Team
Now that you've got the settings sorted out to allow you do so, it's time to get the relocation process underway. The full process of relocating your team takes one full year in Franchise Mode, so it's best if you begin that process in Week 1 of the preseason, although it's not necessary.
To begin your relocation, first select "Manage Team" from the "Home" tab of the Franchise Mode main menu. From there, select the top option of "Stadium".
From there, you'll see a screen that gives you a breakdown of the various facilities and offerings of your current stadium, fan sentiment of your current stadium, as well as the options to upgrade, rebuild, or relocate your stadium. For the purposes of today's article, we'll only be interested in the bottom option of "Relocate".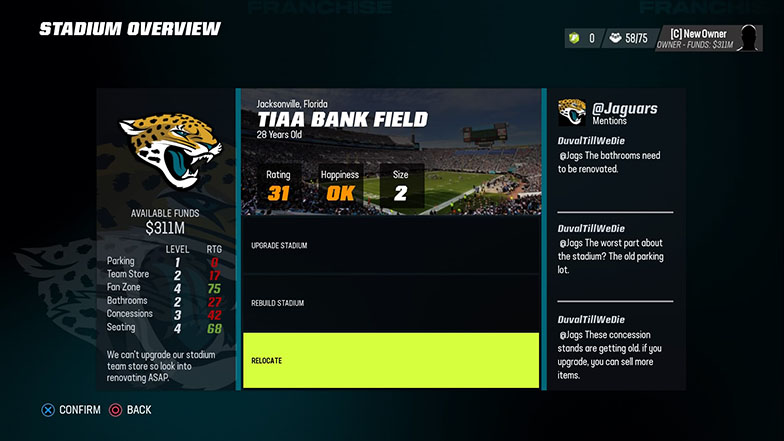 Once you've confirmed you'd like to relocate, you'll be given a pop up confirming your decision and letting you know to keep your eye on your activity list.
After you've made the decision to relocate, your next step in the process won't come until Week 5 of the regular season. Once you've reached Week 5, the option of "Start Relocation" will appear at the top of your activity list in the Home tab.
Selecting this option will then prompt you to choose your team's new city from the available options of: London, Mexico City, Toronto, San Antonio, Orlando, Salt Lake City, Brooklyn, Memphis, Chicago, Sacramento, Columbus, Portland, Austin, Dublin, Houston, Oklahoma City, St. Louis, San Diego, and Oakland.
Each option will come with a quick blurb describing the city, as well as the market size and personality type of each option city. Every city besides St. Louis and Oakland will allow you to choose a new team name and logo, so those cities should be avoided when trying to create a new team. Each city also comes with it's own unique options for new team names, which are as follows:
| | |
| --- | --- |
| City | Team Name Options |
| London | Bulldogs, Monarchs, Black Knights |
| Mexico City | Diablos, Golden Eagles |
| Toronto | Huskies, Mounties, Thunder Birds |
| San Antonio | Dreadnoughts, Express |
| Orlando | Orbits, Sentinels, Wizards |
| Salt Lake City | Elks, Flyers, Pioneers |
| Brooklyn | Beats, Bulls, Barons |
| Memphis | Hounds, Egyptians, Steamers |
| Chicago | Tigers, Blues, Cougars |
| Sacramento | Condors, Miners, Redwoods |
| Columbus | Aviators, Caps, Explorers |
| Portland | River Hogs, Snowhawks, Lumberjacks |
| Austin | Bats, Armadillos, Desperados |
| Dublin | Celtic Tigers, Antlers, Shamrocks |
| Houston | Oilers, Gunners, Voyagers |
| Oklahoma City | Lancers, Nighthawks, Bisons |
| St. Louis | N/A |
| San Diego | Crusaders, Red Dragons, Aftershocks |
| Oakland | N/A |
After choosing a new city for your new team, your next step will come in Week 6, which is when you'll be able to choose your team's new name and logo. To do this, select the "Choose Name" option that will appear in your activity list on the Home tab.
You'll then be able to cycle between your current team's name and logo, or the new options of your selected city. You'll also be able to see the fan interest for available each name and logo option when making your decision.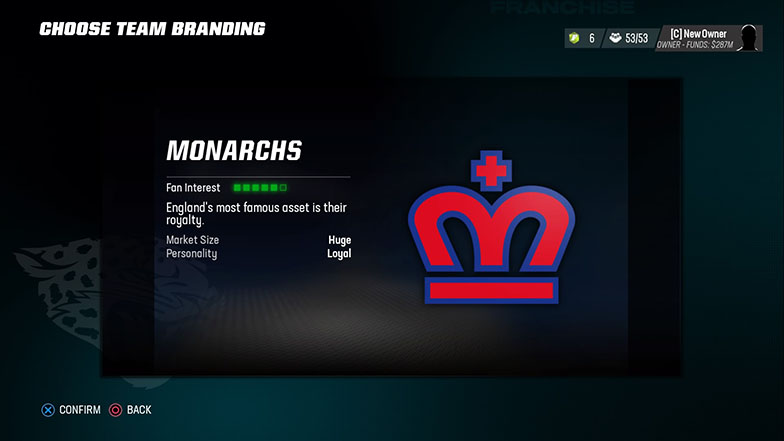 After choosing a new team name and logo, you'll be able to select your new uniform in Week 7. After selecting "Choose Uniform" from the activity list, you'll be presented with three uniform options, as well as the fans' opinions of each along the right side of the screen.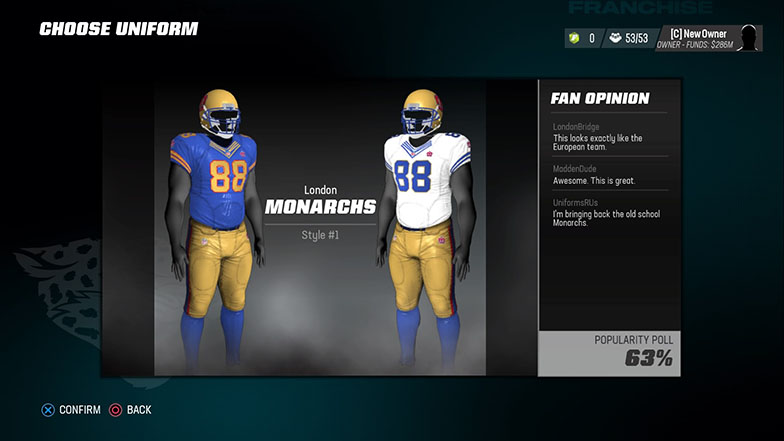 Following the selection of a new uniform, you'll be able to choose your new stadium in Week 8. After selecting "Choose Stadium" from the activity list, you'll be able to see an aerial view of each potential stadium, as well as a breakdown of each stadium's cost, capacity, and similar attributes. This is where choosing the "Financial Mogul" archetype for your new owner comes in handy, as none of the options will truly hurt your pocketbook.
Once you've chosen your team's new stadium, congratulations, you've finished the relocation process (and even earned a trophy too)! Once the new season comes around, your team will have fully moved to their new location and be sporting the new name, logo, and uniforms!
Final Word
While you may not be able to fully create every aspect of your new team form scratch like in some editions of the Madden franchise, relocating a team in Franchise Mode does provide a wide range of cities, names, logos, and uniforms you can choose from to get your creative juices flowing.
Relocating and rebranding a team in Franchise Mode can provide a fun sense of ownership and freshness to your playthrough, making every win and achievement feel more unique, earned, and personal to your specific experience playing through Franchise Mode, as well as the fun experience of seeing real players playing for a new logo and wearing a novel uniform that doesn't exist!