Tom Brady is one of the most decorated players in NFL history and is widely regarded as the greatest of all time.
While he is still a current player in Madden 23, there is a way you can replicate a better version of Tom Brady.
In the Face of the Franchise mode, you can create your own player, choose the skills, and develop your attributes to your liking.
If you are interested in mirroring Tom Brady's package, here is our version of the best Tom Brady build in Madden 23's Face of the Franchise mode.
Tom Brady's Skills
Tom Brady isn't a highly touted player in the NFL draft. He was drafted as the 199th pick in the whole draft. Most of the scouting reports said the following about him.
Poor physical build
Poor physical stature and strength
Lack of a strong arm
Low mobility
Unable to drive the ball
A systematic player who can get exposed easily
Gets knocked down easily
With all this information from the scouts, you can say that they didn't know what they were talking about.
You could say Tom Brady developed incredibly fast, and his high IQ carried him through his development. But, there is no way a player of this caliber can have all those weaknesses at the start.
Throughout Tom Brady's career, he made himself well-known as one of the most efficient passers in history. He holds multiple records, including a record for attempting 48 throws without a single interception.
Tom Brady's pass consistency, long throw skills, and ability to make the right play make him a great player. With a brilliant coach like Bill Belichick, he blossomed into arguably the best quarterback to ever play.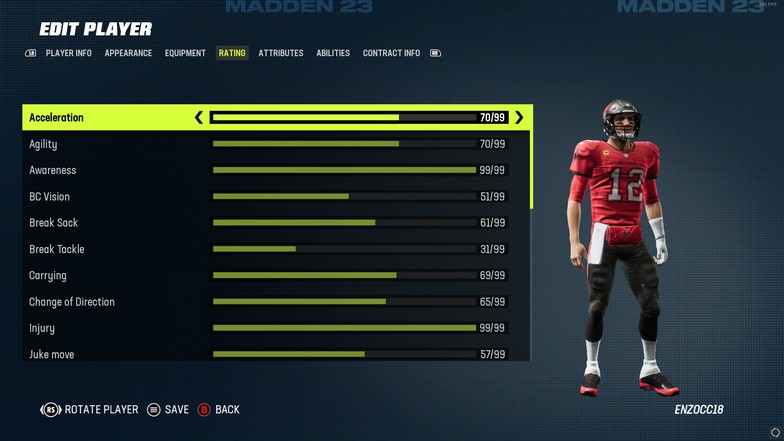 Here are Tom Brady's attributes:
Acceleration – 70
Agility – 70
Awareness – 99
BC Vision – 51
Break Sack – 61
Break Tackle – 31
Carrying – 69
Change of Direction – 65
Injury – 99
Juke Move – 57
Play Action – 99
Speed – 71
Spin Move – 35
Stamina – 99
Stiff Arm – 27
Strength – 64
Deep Throw Accuracy – 95
Medium Throw Accuracy – 96
Short Throw Accuracy – 99
Throw on the Run – 83
Throwing Power – 92
Throw Under Pressure – 86
Toughness – 99
Trucking – 20
Tom Brady Build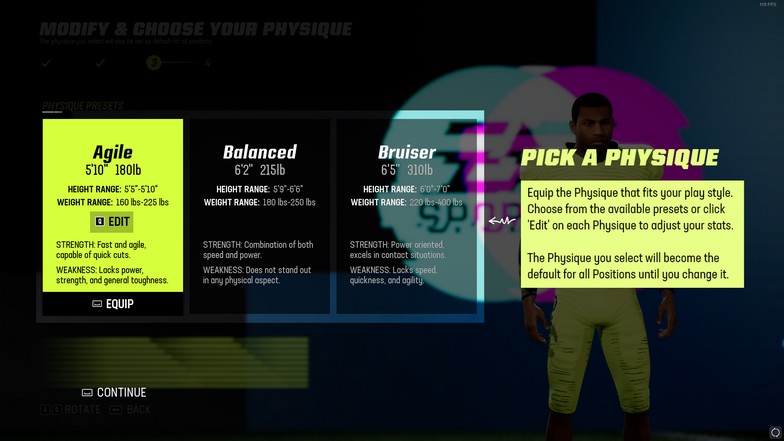 To start, you need to choose the right physique for your player. The only option here is choosing a Balanced physique.
You have equal strength in both speed and power as well as having no apparent weaknesses physically.
The other physique choices are too different anyway since Madden 23's customizations are quite limited.
For the abilities, you can select the following for each tier.
X- Factor – Bazooka
Sideline Deadeye
Pass Lead Elite
Throw Power
Deep Throw Accuracy
This build is also one of our best QB builds in Madden 23.
Bazooka is the only X-Factor suitable for a Tom Brady build. When activated, Bazooka increases your max throwing distance by 15+ yards.
Sideline Deadeye gives you perfect pass accuracy on throws outside the numbers.
Pass Lead Elite increases your throw power on leading bullet passes.
Throw Power is pretty straightforward. It increases your Throw Power rating by 5 points.
Deep Throw Accuracy increases your Deep Throw Accuracy rating by 4 points.
All of these skills combined allow your player to throw long passes while having decent skills in all other categories.
Since Tom Brady usually throws accurate short and medium passes as well, we will be getting those on your attributes.
Most of the attributes can be maxed out at 95, which is already close to Brady's stats. However, Tom Brady's Short Pass Accuracy is 99, but we are going to swap that for Deep Throws.
Since most of your skills will be based on your attributes, your skill points will play a major role in attaining this build.
In the image above, you will see all the attributes you can upgrade. Based on Tom Brady's actual stats, you have little control over the other attributes, and these other attributes will be based on your physique.
However, you can improve on the other attributes more than Tom Brady's actual skill level. You can increase your rating to 99, which will be better than Tom Brady's overall rating.
For your progression, focus on maxing Throw Accuracy while allocating a few points on Pocket Presence, Throw Power, and Throw on the Run.
After maxing out Throw Accuracy, you can follow this prioritization.
Throw Power > Pocket Presence > Throw on the Run > Power Scrambling > Elusive Scrambling
You might as well max out everything after a few seasons. During your Face of the Franchise run, your contract will eventually expire, and you can select a new team.
You can even choose Tom Brady's former teams and have their offensive playbook designed perfectly for you.