In this guide, we're going through the best offensive playbooks to use in Madden 23 based on hours of our own playthrough and testing.
They say football is a game of chess.
While those unfamiliar with the sport may simplify the sport to large men mindlessly hitting each other, the reality is that there's a lot of strategy that goes into every single decision made on the football field.
The difference between good and bad play calling can mean the difference between a good and bad performance in game. A good roster can be beaten by a worse team if they get outcoached.
This is why you need to be able to run one of the best offensive playbooks in Madden 23, both in terms of matching your team's personnel and matching the way you like to play the game.
Choosing the Best Offensive Playbook
The offensive playbooks in Madden 23 are made to represent their real-life counterparts as accurately as possible. This means that each team's playbook is tailored to suit the players they have at their disposal, as well as being influenced by the head coach's tendencies and style.
This means a team like the Kansas City Chiefs, who have an elite QB in Patrick Mahomes and a pass-loving HC like Andy Reid are going to have a pass-centric playbook in Madden 23.
The Tampa Bay Buccaneers will have a playbook focused on long developing deep route concepts, while the New Orleans Saints playbook will be more centered around quick hitting short and intermediate routes.
Due to this, it's important to consider what kind of players you have when choosing the playbook for you. Some relevant factors to consider include:
Do you have a great/elite QB?
How good is your running back?
Is your OL better in the passing game or running game?
What are your receivers strengths: are they super fast deep threats; are they great route runners?
How do you best enjoy playing Madden?
After considering the questions above, you'll be ready to make your decision on what style of playbook to use be it pass heavy, run heavy, or a combination of the two.
Now that you've determined what kind of playbook you'll be running, let's take a look at your best options in Madden 23.
Kansas City Chiefs
If you're looking to win by dicing up the opponent's secondary and beating their coverage with a pass focused offense, the previously mentioned Kansas City Chiefs are a great option.
The combination of the extremely talented QB Patrick Mahomes and pass minded HC Andy Reid makes the Chiefs' playbook one with a comprehensive selection of passing concepts.
The playbook comes with a good combination of passing plays targeting all levels of the field, from the deep balls that take advantage of Mahomes' strong arm to underneath options designed to benefit from players like TE Travis Kelce and WR Juju Smith-Schuster.
The Chiefs' playbook also comes with a good amount of fun and creative gimmick plays and trick plays that you can experiment with thanks to Andy Reid's tendency to get creative with his play calls.
If a strong passing game is how you want to play, look no further than the Kansas City Chiefs' offensive playbook.
Baltimore Ravens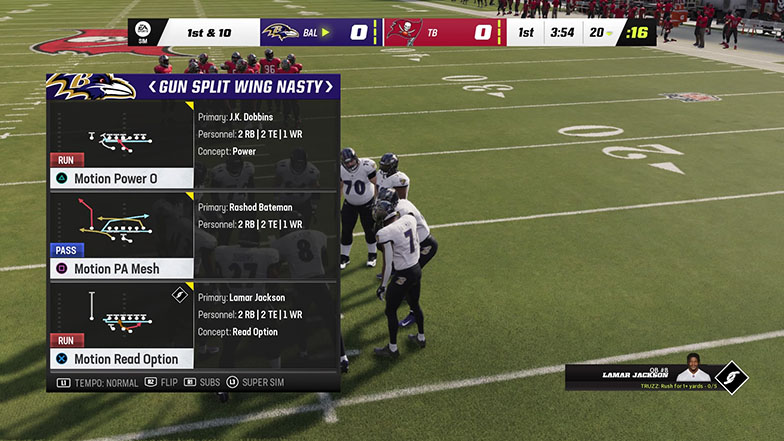 If you're more a fan of playing with a strong running game, the Baltimore Ravens' offensive playbook is one you should definitely consider.
The Ravens have been one of, if not the, most run heavy team in the NFL for years now. They like to use heavy formations with multiple big run blocking tight ends, and even have good run blocking abilities in the WR corps.
Of course, the biggest asset to the Ravens running game is QB Lamar Jackson, the best rushing QB in the league.
This is an offensive playbook that's mainly focused around Lamar's strengths, so if you have QB who can run the ball himself, the Baltimore Ravens playbook is great option to have fun on both designed QB runs and plays where you scramble out of the pocket.
The playbook also has its fair share of passing plays to keep the other team guessing, with an emphasis on the tight ends as the main pass catchers.
For a playbook that allows you to run at will, be it with the quarterback or the running back, the Baltimore Ravens' offensive playbook will be your best bet.
Carolina Panthers
You're not always going to find yourself with a great mobile QB at your disposal. If that's the case but you still want to have an offense focused on the running game, the Carolina Panthers' playbook is a good fit.
The Panthers' playbook is one that's entirely centered around versatile running back Christian McCaffery. He's the engine of this offense both via taking handoffs and catching passes from out of the backfield.
Due to this, there's no shortage of running play options in this playbook. No matter the down, distance, or game scenario, there's a running play that you can use to get the job done.
The Panthers' playbook also allows you to get creative with the ability to use your running back in the receiving game, as it's designed to take advantage of McCaffery's elite skills as a pass catcher.
For a strong running game without the necessity of a mobile QB, the Carolina Panthers' offensive playbook is your best option.
New England Patriots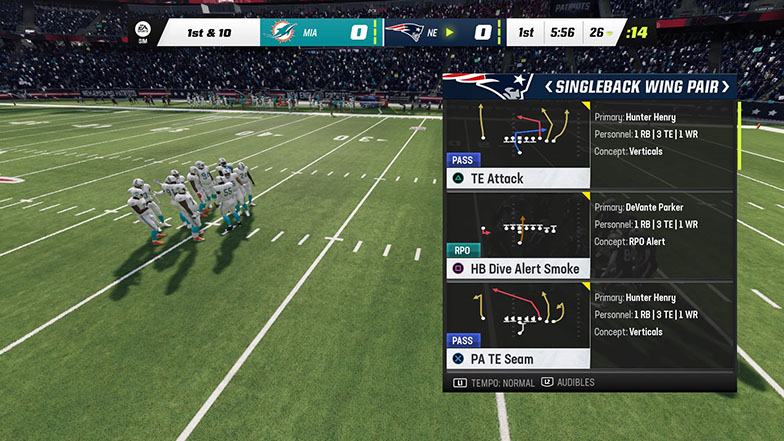 It shouldn't surprise anyone that the greatest head coach of all time would boast one of the best playbooks in the game.
There's a reason the Patriots were able to make the playoffs with a rookie QB who, while a good player, lacks any noticeable standout skills. That's thanks to elite play calling and game management from HC Bill Belichick.
Belichick greatly modifies his game plans on a week to week basis in order to best exploit the unique weakness of each opponent, and this playbook allows you to do the same.
The Patriots are a team with a "jack of all trades, master of none" type of offensive personnel. Due to this, the Pats' playbook is an extremely good option to have the versatility of both passing and running the ball.
If you're looking for a playbook that allows you the versatility of attacking with any strategy depending on the situation, the New England Patriots' offensive playbook will provide you with that.
How to Make a Custom Offensive Playbook in Madden 23
No playbook will better suit your team and playstyle than one you create yourself specifically for that purpose! The process of creating your playbook is quite simple:
To start, navigate over to the small NFL logo on the far right of the main menu. From there, simply scroll down and select "playbooks".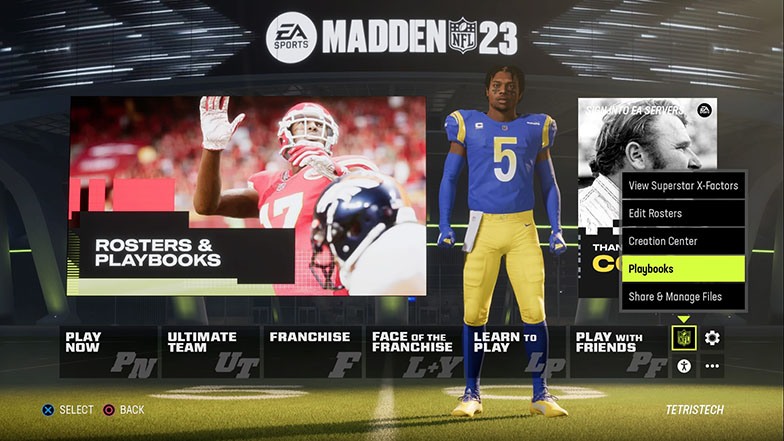 This will cause the custom playbooks screen to appear. You can use L1/LB and R1/RB to choose to create a new offensive playbook, or edit an existing offensive playbook you've already created.
With "Create Off" selected (the leftmost option), you'll then be able to choose what team's playbook you want to use as the base for your new creation. It'd be best to choose one that's similar in makeup to the style of playbook you plan on creating.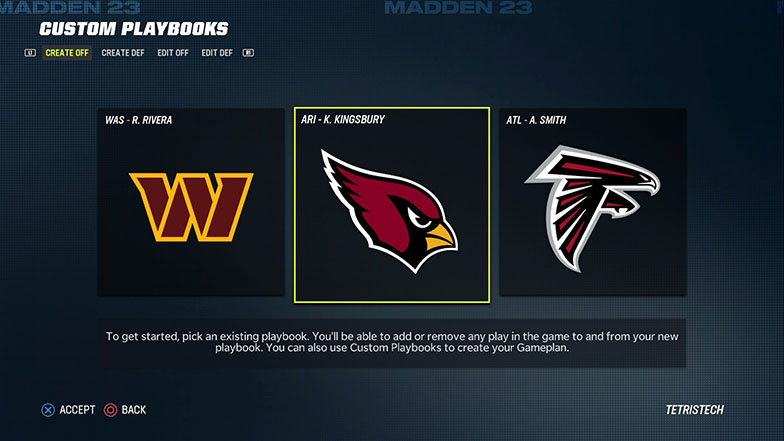 After choosing which playbook to use as a base, you'll be able to edit the available audibles, as well as the plays and gameplan.
"My Playbook" displays the plays that are currently present in the playbook, while "All Plays" lets you find and add plays that aren't currently apart of it. Both of these screens are sorted by formation, with L2/LT allowing you to toggle between them.
"My Gameplan" is where you can adjust the frequency and timing of what plays will be called if an AI team is using the playbook. This screen is sorted by game situation, again toggleable with L2/LT.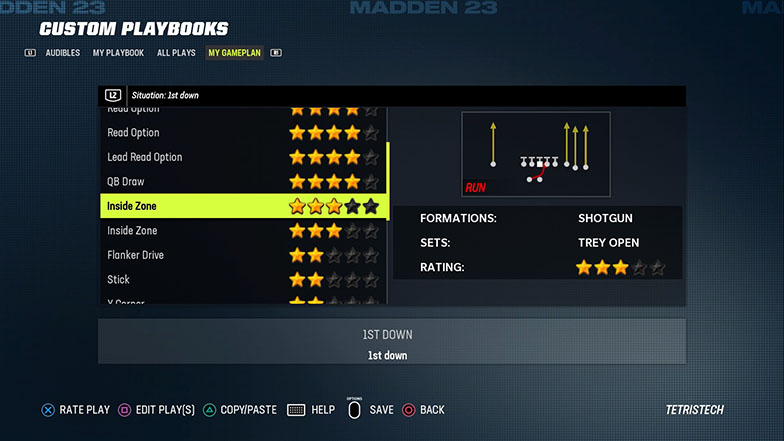 Pressing square/X will let you edit what plays are present in each situation, while you can adjust the frequency of each play's usage with X/A. The more stars any given play has, the more often that play will be called.
Final Word
The best offensive playbook in Madden 23 will differ from person to person depending on how they want to play the game. For this reason, it's worth experimenting with various options, including your own custom playbook creations.
After deciding what offensive playbook works best for you, you'll want to make sure to choose the best defensive playbook, as well as setting your sliders so these playbooks play as good as possible on the field.
What is your favorite playbook in Madden 23? Did we miss any good ones? Let us know in the comment below!