In football, the quality of a team's play calling (both on offense and defense) can make or break a game, even entire season, for a team.
The league's great play callers can get their team to play at a level that's greater than the sum of their parts, while a bad play caller could cause a talented team to perform poorly by not appropriately using the strengths of their players.
This same line of logic also applies to the virtual football in Madden 24, as your play calling can help your players perform (for example, you wouldn't want to have an elite receiving TE like Kyle Pitts mainly blocking).
Madden 24 has a lot of playbooks to choose from, which can make the options seem overwhelming at a first glance.
In this guide, we'll go over Madden 24's best offensive playbooks to help you decide what to call and when to call it.
Kansas City Chiefs & Washington Commanders
Thanks to former Kansas City Chiefs OC Eric Bienemy moving over to the Washington Commanders to fill their offensive coordinator role, the Chiefs and Commanders have identical offensive playbooks in Madden.
If you're the type of player who likes to focus on dicing up the opposition with your passing attack, then this offensive playbook is a great option for you.
An offense designed by the league's best offensive head coach in Andy Reid for the league's best QB in Patrick Mahomes results in an extremely varied and creative passing attack that you can use to target any area of the field.
Thanks to this playbook being designed for a team with elite TE Travis Kelce, the playbook does a great job at allowing you to get both your TEs and WRs involved in the passing game.
This gives this playbook an advantage if you have a talented TE or subpar WRs on your team, as some playbooks overly focus on the WRs without giving many opportunities to the TEs.
While this playbook is decidedly focused on airing it out and winning with a passing game, it does leave room for a good running game thanks to a power run scheme designed for Isaiah Pacheco.
A few good runs could have the other team creeping in to stop it, allowing you to open up the playbook in the deep passing game where it really shines.
San Francisco 49ers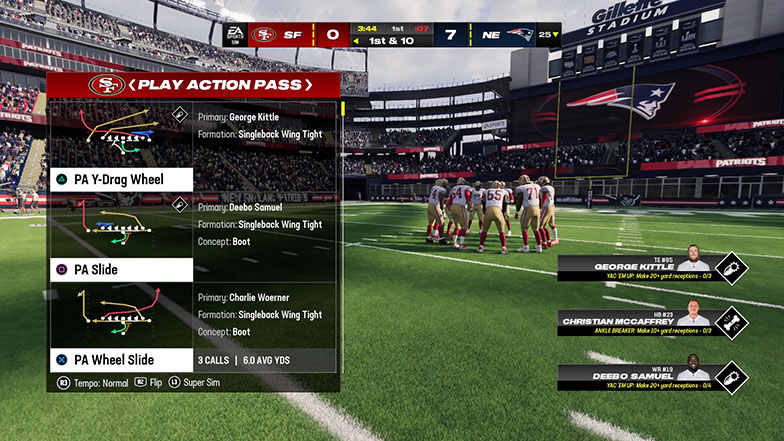 While the previously mentioned Chiefs (and Commanders) playbook does have room for you to get a good running game going, it's real focus is the passing game.
If you're the type of player who prefers to put the main focus on running the ball then the San Francisco 49ers playbook is a great option for you.
Designed by the league's best young play caller in Kyle Shanahan, the 49ers playbook is the most creative running playbook in the game.
There's a reason that in real life so many teams around the league are trying to adopt a Shanahan style running scheme: it works.
The 49ers have historically been able to get great rushing production from a wide variety of backs, from players that went on to do nothing of note elsewhere to the league's elite backs like Christian McCaffery.
With this attacking playbook you can use the plethora of creative running plays to get great results from your running back on the way to a victory.
This playbook also has the advantage of some amazingly designed play action passing plays, designed to get WRs wide open and give easy reads to the QB.
When you spend an entire game running the ball at will, a well timed call of a play action play will make the task of completing a deep ball to your receiver much easier.
Philadelphia Eagles & Indianapolis Colts
Similar to the previously mentioned Chiefs/Commanders situation, the Philadelphia Eagles and Indianapolis Colts share an offensive playbook thanks to former Eagles OC Shane Steichen leaving to take the HC job in Indianapolis.
This playbook is similar to the 49ers playbook in that in has a heavy focus on wearing the opposition down through the running game, although its main difference is that it's also designed to take advantage of a mobile QB.
If you're a player who prefers to play offense with a QB that can run, this playbook is a great option for you.
The dynamic of being able to rush with both the QB and RB gives an extra dimension to this playbook's running game that can cause trouble for opposing defenses.
The option plays in this playbook are particularly strong as they force the other team to make a choice on what ball carrier to pursue (the QB or RB) and allow you to simply run with the other.
The secondary focus of this playbook is the deep passing game that you'll open up after a heavy rushing focus with both your QB and RB.
The play action plays work especially well when used after a few successful read option plays, as they give the opposition manager too many variables to keep track of.
New Orleans Saints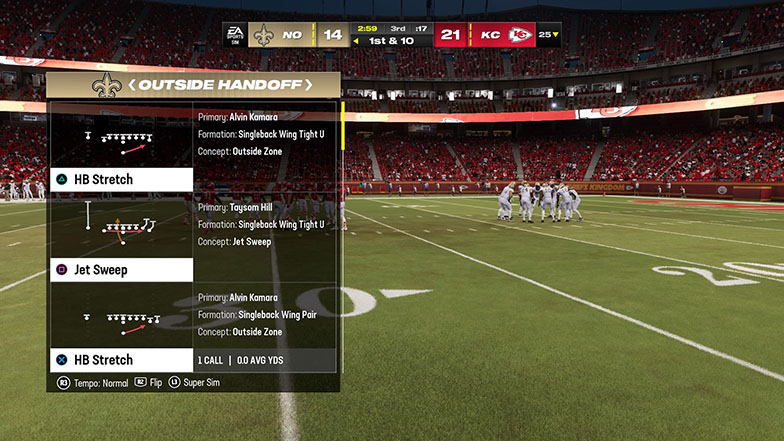 The other three playbooks have been focused on taking advantage of standouts on your roster: a great QB and passing game for Chiefs/Commanders, a great running game for the 49ers, and a great mobile QB for Eagles/Colts.
However, you won't always find yourself with elite talent to scheme for on your offense.
When you find yourself with good but not great players you need an offensive playbook that's simply all around solid, which is where the New Orleans Saints playbook becomes a good option.
The Saints playbook is designed by Saints HC Pete Carmichael, who was the right hand man to one of the best offensive minds in the last two decades in Sean Payton.
The Saints' playbook's main strength is the short passing game.
If you find yourself without a star QB that can make every throw on the field while making it look easy, the short passing attack is a great solution.
Focusing on the short passing game allows you to simply drop back and take whatever checkdowns the defense gives you without asking too much of your QB as you methodically drive down the field to score.
Creating a Custom Playbook
If you're proficient at the game within the game that is offensive play calling, you may find that no preset playbook 100% fits your needs no matter how good it is. In this case, creating the custom playbook of your dreams may be the best choice for you.
To create a custom playbook, your first step will be to navigate to the Creation Center from the main menu. The Creation Center is the fourth option from the right, signified by the NFL Shield logo.
Once you've entered the Creation Center, you'll want to navigate over to the "Playbooks" option, which will be the second option from the right. Once you've selected "Playbooks" the game will prompt you to choose a pre existing team playbook to use as the base for your custom playbook. Be sure to use L1 and R1 (or LB and RB) to ensure that you're choosing from offensive playbooks.
After choosing your base playbook you'll be able to edit it in any way you see fit, so while you can theoretically choose any base playbook you'd like, it will make life easier for you if you choose a playbook that you know has formations you like and plan to include in your custom playbook as your base.
Once you've decided which existing team playbook to use as your base, you'll be able to start editing the formations and plays available within the playbook.
You can use L1 and R1 (or LB and RB) to toggle between "Audibles", "My Playbook", "All Plays", and "My Gameplan".
"Audibles" allows you to edit what the audible choices will be in-game for each formation that's included in your playbook. This will help you be successful when you don't like the look the other team gives you after calling your play, as you can be sure the audibles are plays you like and can execute.
"My Playbook" lets you take a look at all the formations and plays within them that are currently included in the playbook. From this screen you can remove plays you don't want included as well as rate the frequency of when each play will be called by the CPU when using this playbook.
"All Plays" gives you a display of every play within every formation that's in the game. This is the screen where you'll be able to add new plays and formations to your custom playbook by pressing X (or A) when the play of your choice is highlighted.
The "My Gameplan" option gives you the most in depth control over when and how often certain plays will be called by a CPU using your playbook. You can rate each play on a five star scale of how likely the play is to be called in various situations. Simply use L2 (or LT) to toggle between the game situations, and then use X (or A) to edit the rating for each play in said situation.