For the first time in a decade, Superstar Mode is back on Madden! This game mode was initially removed as a separate mode after Madden NFL 25 (released in 2013).
Then, in 2020, a similar mode called "Face of the Franchise" was introduced but it was not quite the same.
Now, Superstar Mode is once again a separate game mode, and it comes with many new features compared to the last time we had it.
Every step matters for players that love the journey of starting out as a rookie and playing their way into the Hall of Fame.
The first step is getting drafted, and this guide covers everything we know about how to get drafted as the first overall pick in Madden 24.
Customize Your Character
Even if your character build doesn't influence where you're picked in the draft, it's useful to build the right physical profile for your player from the start.
I wanted to prioritize speed, so I went for a 6'2″ quarterback that weighs 207 lbs. This pegged his stats at 90 for agility and speed, and 75 for strength and stamina.
As you adjust these physical characteristics, you'll see in real-time how each change affects the stats of your player and their skill set. My guy's build improved his Spin Move, Juke Move, and Throw On The Run but worsened his Throw Power, Stiff Arm, and Break Sack abilities.
Apart from the height and weight, the other physique alterations do not have any effect on stats.
You can start a new superstar career in Madden 24 as a quarterback, halfback, wide receiver, linebacker, or cornerback.
Starting as a quarterback can increase your chances of a better draft pick position because it's a more desirable position for the weaker teams – the ones that get the first draft pick.
I've played through Superstar Mode in all playable positions, and these are the best build recommendations for each:
Force Team Selection
An easy way out if you want to be the first overall pick with little-to-no effort is to simply enable the "force team selection" option in settings before you even get to the draft combine.
This setting allows you to choose whichever team you want to play for in the NFL. Regardless of your results in the combine, you will be offered a contract by the team you select in this option.
To technically be the first overall pick, you'd have to choose the Chicago Bears.
NFL Combine Events
If you choose to go the harder route, then your selection in the draft will depend wholly on your performance in the string of combine events that you'll be presented with and the interview that follows.
You can make things easier for yourself once again by choosing the "Rookie" difficulty level from the start. In my experience based on a handful of trials, I found that this significantly increases your chances of being selected as the first overall pick even if you did not completely ace the events.
Make no mistake, you still have to put in a decent amount of effort to get first pick even if you're playing on the Rookie difficulty level. However, that effort is lower than what would be expected of you if you play on Pro, All-Pro, or All-Madden.
Before each event, there will be a short description of what you're expected to do. If you don't get it right the first couple of times, you can keep trying again until you get a score you're satisfied with.
Try to outperform your expected result and earn an A in every event. Once you hit "Continue" you cannot attempt that specific event again.
Bench Press
For the bench press, you can expect a lower number of reps if you have a build like mine that focuses on speed instead of strength. If you have a higher strength score, you'll have a higher range of expected reps.
40 Yard Dash
I spent more time on this than on anything else. The instruction says "Dig Deep just before crossing the finish line", but that didn't work for me. Instead, I suggest hitting the button for "Dig Deep" immediately after it becomes available.
It shows up greyed out at first, so wait for it to activate fully before hitting the button.
Broad Jump
You'll struggle to outperform your expected result here, so as long as you're in first place with an A grade, you're good to continue.
20 Yard Shuttle
The flick motion from the previous event is repeated here. It's a fairly easy one to complete but you may struggle to outperform the expectation here as well. It helps if your build prioritizes speed as mine did.
You have to complete these four events regardless of the position of your player. However, the final event – drills – is different for each position.
Quarterback Drill
For the quarterback drill, you get 8 attempts to launch the ball to different end zones for a receiver to catch. Getting the timing of your throw right is key here.
For most of the attempts, the receiver makes an angled run, and you can use the point where that angled run begins to determine the distance of the player from the catch zone and time your throw to perfection.
This way, even if you don't get it right the first time around, you have a visual aid that you can use to gauge if you need to throw a bit quicker or hold off a little longer.
Cornerback Drill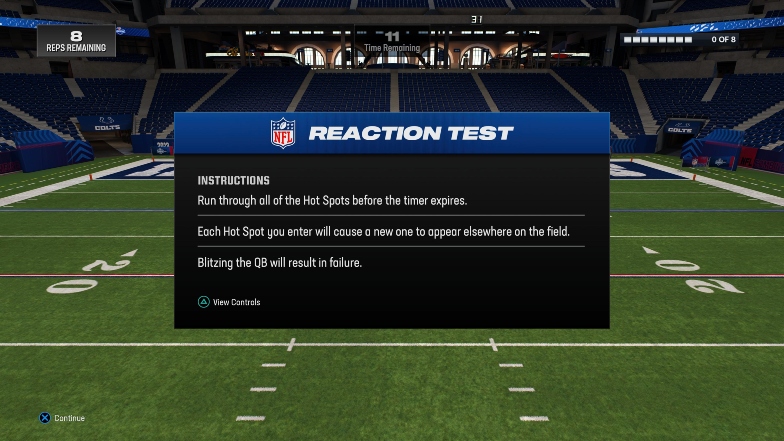 For the cornerback drill, hold the R2 button to sprint to the various hotspots before the timer expires.
As you arrive at each hotspot, release the R2 button and quickly hold the L2 button to halt your run and make a quick turn in whichever direction the next hot zone appears in. Then, sprint toward that, rinse and repeat.
Halfback Drill
For the halfback drill, you need to use the same approach as the cornerback drill. However, this time, you're sprinting into a hot spot to catch a ball being thrown towards you.
I suggest holding the L2 button to halt your run just as you're entering the hot zone. If you wait until you're actually in it before trying to halt, you might overrun the zone while trying to catch the ball.
Wide Receiver Drill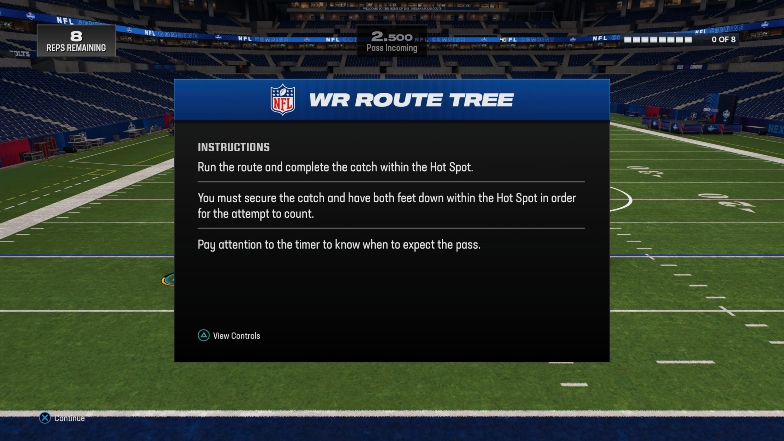 The wide receiver drill is identical to the halfback drill, so the same tactics apply.
Linebacker Drill
The linebacker drill is identical to the cornerback drill, so the same tactics apply.
Interview Questions & Answers
After completing the combine events and drills, you will be asked if you want to participate in an interview to test your knowledge of the NFL. Acing this interview will improve your chances of getting a better pick spot, but the reverse will be the case if you do badly.
It's a risk and you can choose to decline. However, if you already have the interview answers going in, you're in a much better position.
So, I've put together this list of a bunch of interview questions in the Madden 24 combine that came up during multiple playthroughs.
I noticed that each playthrough never included the exact same set of questions, so this list is much longer than the ten questions you'll be asked during the interview.
After winning the Rookie of the Year award in 2006, what player was on the cover of Madden 08?
Vince Young
Who holds the record for the all-time leading scorer in NFL History?
Adam Vinatieri
How many challenges does a team start the game with?
2
Two touchdowns + two successful PAT's + One Safety
16 (6+6+1+1+2)
John Madden was inducted into the Pro Football Hall of Fame in 2006. In what Ohio city is the Hall of Fame located?
Canton
Who is the NFL's all-time leader in receptions, receiving yards, and receiving touchdowns?
Jerry Rice
What is the color of the flag a coach would throw onto the field if he wanted the previous play to be reviewed?
Red
Who are the only teammates who were on the cover of Madden in consecutive years?
Gronkowski and Brady
Which NFL owner famously said "Just win baby!"
A. Davis
What yard line does a team attempt a 2-point conversion from?
2-yard line
Number of teams Peyton Manning played for + Number of teams Brett Favre played for?
6
What city did the Chargers franchise play in before moving to Los Angeles, California?
San Diego
What city did the Colts franchise play in before moving to Indianapolis, Indiana?
Baltimore
What other professional sport did both Deion Sanders and Bo Jackson play during their NFL careers?
Baseball
Number of '72 Dolphins losses + Number of Tom Brady Super Bowl wins?
7 (Dolphins went 17-0 in 1972!)
As a commentator, John Madden popularized the use of what NFL Broadcast feature?
Telestrator
How many yards is the defense penalized for roughing the passer?
15 yards
Number of points a safety is worth + number of teams that make the playoffs each season?
16 (2 points for a safety, 14 teams make playoffs)
After meeting in the Super Bowl the previous season, which two players shared the cover of Madden 10?
L. Fitzgerald and T. Polamalu
The New England Patriots play in what Boston Suburb?
Foxborough
Which of the following quarterbacks was NOT a former number-one overall pick in the NFL draft?
Joe Montana
Which city did Peyton Manning famously use as an audible during his tenure with the Denver Broncos?
Omaha
What is the maximum number of coach's challenges a team can have in a single game?
3 (You start with 2, but if both are correct you're granted an extra challenge)
Aaron Rodgers' Jersey Number + Patrick Mahomes' Jersey Number – Joe Burrow's Jersey Number
14 (Rodgers = 8, Mahomes = 15, Burrow = 9)
In 2021, T.J. Watt tied what New York Giants player's record of 22.5 sacks in a single season?
Michael Strahan
Which member of the Seattle Seahawks "Legion of Boom" defense was on the cover of Madden 15?
Richard Sherman
How many seconds is the NFL play clock?
40 seconds
In the Super Bowl era, which pair of division rivals are the only teams to complete undefeated regular seasons?
New England and Miami
What Pittsburgh Steeler running back pulled in the catch on "The Immaculate Reception"?
Franco Harris
Despite their names, what state do the New York Jets and New York Giants play their home games in?
New Jersey
One touchdown + one successful two-point conversion + two field goals =?
14
In 2000, who was the first player to appear on the cover of Madden without Coach Madden also on the cover?
Eddie George
What former Madden cover athlete did Peyton Hillis beat out in a fan vote to be on the cover of Madden 12?
Michael Vick
How many defensive backs are on the field if a Defense is in Nickel?
5
Which of the following states is NOT home to at least two NFL teams?
Arizona
Chad Johnson led the NFL in receiving yards in 2006 as a member of what team?
Cincinnati Bengals
Who did John Madden share the announcer booth with for eight Super Bowls?
Pat Summerall
"The Frozen Tundra" is the nickname given to what team's home field?
Green Bay Packers
How many timeouts does a team get per half?
3
John Madden is synonymous with what Thanksgiving dish?
Turducken
Following a touchback on a kickoff, what yard does the ball come out to?
25-yard line
Which of the following matchups was the only Super Bowl to go to overtime?
New England vs. Atlanta
Which personnel alignment indicates there are three WRs, one RB, and one TE on the field?
11 Personnel
What year was the original John Madden Football game released?
1988
The trophy awarded to the team that wins the Super Bowl is named after what former head coach?
Vince Lombardi
Which southern city has hosted a record 11 Super Bowls?
Miami
How many years does an onside kick need to go for the kicking team to successfully recover?
10 yards
Number of teams in each conference + Number of points a field goal is worth = ?
19
Lamar Jackson was on the cover of Madden 21. Who is the only other Baltimore Raven to appear on the cover?
Ray Lewis
Adrian Peterson was beat out in a fan vote by what Hall of Fame running back to be on the cover of Madden's 25th-anniversary edition?
Barry Sanders
What does RPO stand for?
Run Pass Option
Which personnel alignment indicates there are two WRs, one RB, and two TEs on the field?
12 Personnel
Which city has never hosted a Super Bowl?
Chicago
What is the name of the team John Madden put together each year based on who he thought played the game of football the way it should be played?
All-Madden
"Orange Crush" was the nickname given to which team's defensive line in the 1970s?
Denver Broncos
Now, you're ready to put yourself in the best position to be drafted as the first overall pick in Madden 24.
I should warn you though that it seems there is a bit of randomness involved in the selection process as well.
After the playthrough where I got selected as the first overall pick to join the Chicago Bears, another playthrough with the same build, position, difficulty level, and better combine and interview results only got me an 11th first-round pick.
The point here is that there are no guarantees, but this is the best way to stack the odds in your favor. Best of luck!