The car to grace Need For Speed Unbound's cover; A$AP Rocky's custom 1988 Mercedes-Benz 190E 2.5-16 is a certified head-turner.
With an incredibly clean and, at the same time, menacing look, due to its two-tone black and white paint job, touched-up with gold chrome accents and the crash test dummy-style turbo fan wheels on the front, and a bumper delete on the rear, it looks right at home in Need For Speed Unbound.
This would also be the first time the base Mercedes-Benz 190E would appear in a Need For Speed game as it was only the 1990 Mercedes-Benz 190E 2.5-16 Evolution II that appeared previously in Shift 2 Unleashed and Need For Speed Edge.
This makes A$AP Rocky's custom Mercedes-Benz 190E a rather unique car, just like how the now-iconic BMW M3 GTR was unique for Need For Speed at the time it debuted way back in 2005's Need For Speed Most Wanted.
In this article, we will be looking at how to get A$AP Rocky's Mercedes-Benz 190E in Need For Speed Unbound in both online and offline mode and have you own this future classic.
How to Unlock A$AP Rocky's Mercedes-Benz 190E for Purchase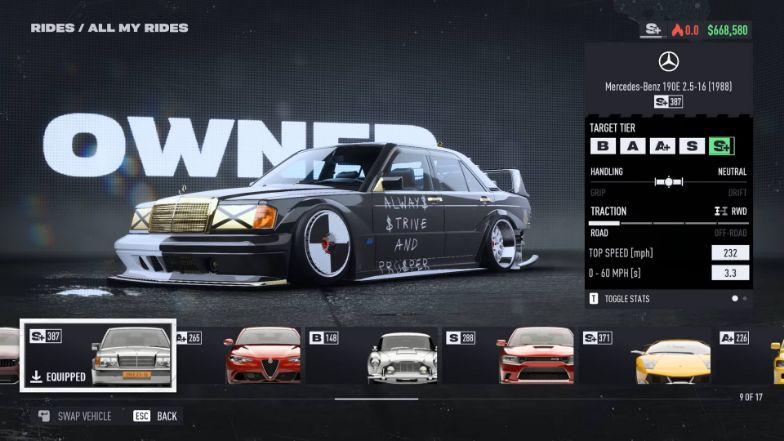 A$AP Rocky's Mercedes-Benz 190E will only be available to purchase after you beat him in his Head to Head race. It will cost you $350,000 and it can be found under the Buy Custom tab in the Buy and Sell menu.
A rather steep price for anyone just starting out. The car sits on the upper half of the S+-class tier and boasts a top speed of 232 MPH, which is very high considering the age of the car.
You will actually get to drive the car in a sort of preview event once you reach the 3rd week. On Thursday night, A$AP Rocky will call you saying he is scouting the competition for The Lakeshore Grand. Simply drive up to the location he pins you and you will get to take it for a spin for a few minutes.
However, there is a way to get it for free, and that is to beat A$AP Rocky in a Head to Head race found in the offline mode. This race will only appear in the 4th week on Friday night in the University Meetup. If you are not able to race in this event, you will miss out on the car for free and will be forced to buy it.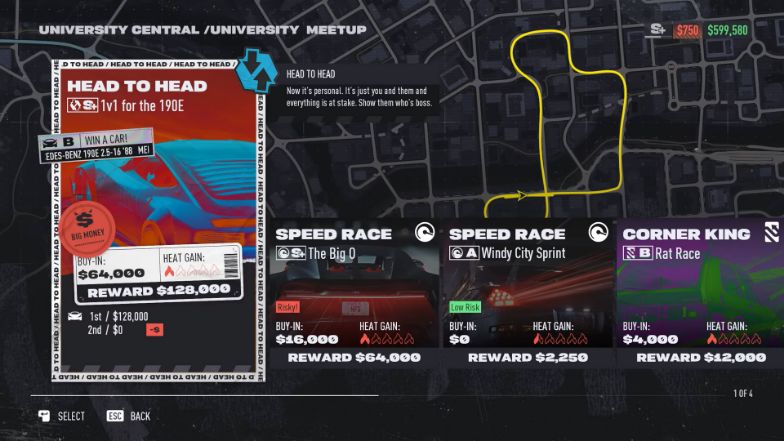 Take note too that any prize car you win in the offline mode will also carry over to the online mode, so if you win the car in this event, you will also be able to drive it in your online garage, so it is well worth it to seek the event out.
Head to Head: 1v1 for the 190E
The name of the head to head race to look out for is called the "1v1 for the 190E" and the buy-in for it is an expensive $64,000 so make sure that when you are starting your night, you have enough money to enter the event.
The prizes for the head to head include $128,000 for the winner, as well as A$AP Rocky's Mercedes-Benz 190E. While the poster of the event says that the car being rewarded is a B-class car (as an unmodified Mercedes-Benz 190E is rated as B-class), it will reward you with the customized Mercedes-Benz 190E that is rated S+-class.
You will be racing against A$AP Rocky himself in his own car so make sure you bring a suitable car in order to beat him handily. You can also make a side bet against him to add to the total cash prize you will be taking home if you beat him.
A$AP Rocky's Mercedes-Benz 190E is rated at an S+ 387, so make sure your car is at least tuned to match or be close to that rating or you will be losing this event and losing $64,000 and the car in the process.
The track to be used in the event is rather simple and short as it just goes around a few blocks and features a total of 9 turns per lap. It takes at least 50 seconds to go around a lap and it is only a 3-lap race making mistakes rather costly as there is too little time to catch up again if you find yourself crashing.
Once you have successfully won the race, you will then be able to purchase the car from the Buy and Sell menu, but most importantly, you will be rewarded A$AP Rocky's Mercedes-Benz 190E itself, free to use in both online and offline modes.