To keep DiamondLobby free to read, this post may contain affiliate links. Learn more
For over 10 years, I've mostly used a split headphone and microphone setup.
I was willing to change all of that as I put the Logitech G Pro X Wireless LIGHTSPEED headset to the test.
The G Pro X Superlight is my favorite mouse, would the similarly-named headset be just as good?
Build Quality
The first thing that crossed my mind when I grabbed the G Pro X for the first time was, "Oh man, these are heavy!".
The spec sheet says they weigh 370 grams, and my regular pair (the Sennheiser HD599s) only weigh 249.98 grams in comparison, so you can see where I'm coming from.
Considering the fact that Logitech had to fit wireless technology in there, I think it's understandable that it's reasonably heavier. Also, maybe this is the standard for this type of headset? I don't have much to compare it to, so there's that.
Moving on from the weight, the headband on the product feels really sturdy and flexible. I expect that this should improve durability, but don't ask for a drop test because I just won't do it.
The cups are the same, they feel quite strong and reliable. You can tell that a good portion of that price tag went to build quality in production, and I'm not even mad – it feels very premium.
Features and Controls
On the left side of the headset, you have all the important controls in one place. There's the on/off switch, the volume slider, and the "mute mic" button. There's a USB-C type connection too, which I absolutely love to see.
Regarding the microphone itself, it is detachable, but it's pretty snug in its port so it won't fall out accidentally. The flat side of the mic filter is the side that you speak into – you'll notice the difference if you don't.
Apart from audio performance, a key feature for me with headsets is the level of comfort I get while using them.
The longest I wore this pair in one sitting was about 10 hours, and my ears did not get uncomfortable at any point. Maybe a little warm, but nothing unexpected.
I also started to feel the weight at some point, but not enough to be a real problem. I caught a glimpse of my reflection and it does look a bit chunky sitting on my head, so prepare to look like a helicopter pilot when you have these on.
The advertised battery life for the G Pro X is 20 hours on a single charge, which I think is okay. When I'm away from my desk but leaving my PC on, I just stick the USB-C cable in and leave the headset plugged till I get back to it, so I never run out of juice.
Software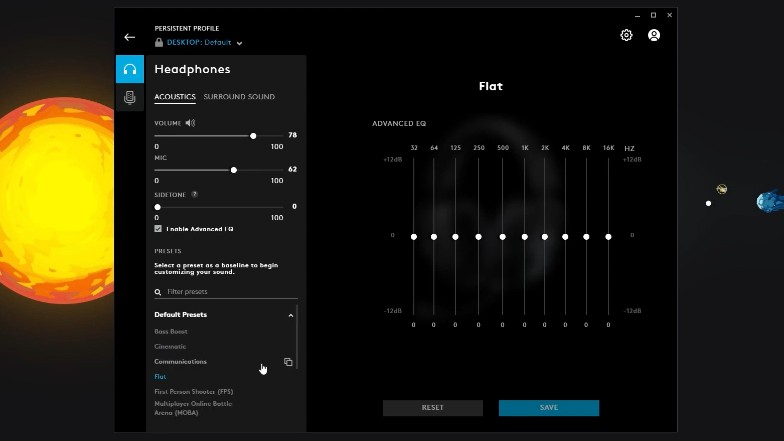 The software for the headset is feature-filled. To be honest, I was too lazy to go through everything and I've never been a big fan of fiddling with default settings unless I absolutely have to.
The default settings here are just fine, too. The most adventurous I got with tweaking anything was just turning on the surround sound but it just made everything sound weird.
Imagine listening to music with a bin on your head – that's what it was like. I left it on for about an hour but then I thought, "Why am I putting myself through this?" and turned it right off.
I fiddled a bit more with other audio presets but they all just sounded unnatural so I stuck with the default. Maybe one day when I actually know what to change, I'll get better results.
Audio & Mic Quality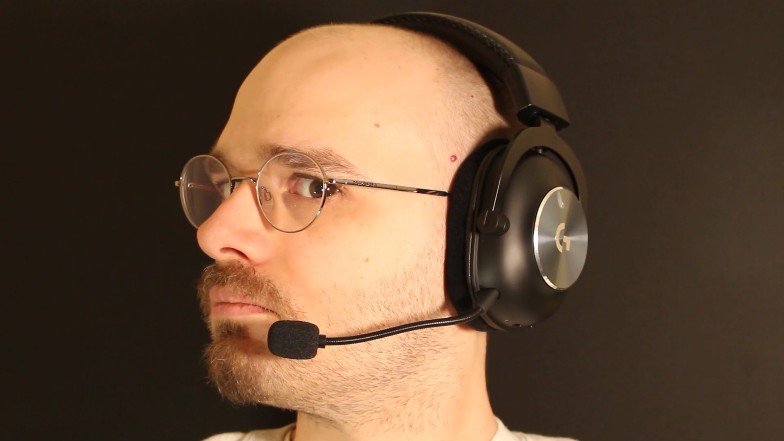 Again, pardon me for the lack of audiophile jargon here but, the sound here is pretty good on default settings. Listening to music is great – I listen to all types of music and they all sounded really nice.
In-game, the sounds were pretty clear too. Quite similar to my HD599s, actually. If that's made someone rip their hair out in annoyance, I apologize, again.
Noise-canceling isn't an advertised feature on the G Pro X, but it actually keeps out background noise really well. That's something to note if you're in an environment where you need to be aware of what's happening around you. It's easy to get completely immersed and detached from everything else.
Summarily, audio quality is great, and unless you know exactly what you're doing, don't touch the settings.
Regarding mic quality, it's best to leave that to personal preference. Personally, I think it's below par, but my experience for comparison is limited to the standalone that I've been using for years, so it's probably unfair for me to judge.
That said, you get options in the software for mic quality too. Again, a lot of sliders that I don't know how to work, but it's nice to have the options.
I had an urge to try these just as headphones and I actually really liked them. There's the small matter of the chunky size and weight, but the wireless connectivity more than makes up for it.
The fact that I don't have to worry about the untidiness that comes with cables, and I can move about the house with ease while still listening to whatever's in my ear is all really convenient.
I did notice a couple of things that were not so great, though. Sometimes, my headwear knocks the volume slider on the headset a bit and starts to turn it down.
Also, the headset occasionally disconnects for battery saving when I leave it with nothing playing for a bit. I get the point of it, but I don't enjoy having to turn it off and then on again to pair.
Minor issues, but worth noting.
Cost
In my opinion, the $229.99/£219.99/€221 RRP is a bit steep for this.
There is a wired alternative that costs less, so you've got options at least. You could also keep an eye out for deals on Amazon and other third-party stores here and there, but they are usually few and far between.
Verdict
I'd say my experience with Logitech's G Pro X Wireless headset has made me open to the idea of using wireless headsets more often. The biggest draw for me is the convenience of wireless technology, and now that I know that I can still get really good audio quality with that, it's all looking very interesting.
Also, with Logitech's Lightspeed technology, you don't have to worry about latency in comparison to wired alternatives.
So, the big question. Would I recommend it?
It's a difficult question to answer. If you find one on sale, then by all means go for it – it's a solid product. However, if you're looking at paying the full price, and you need the headset specifically for mic quality, you're probably better off looking for an alternative.
Logitech G Pro X Wireless LIGHTSPEED Headset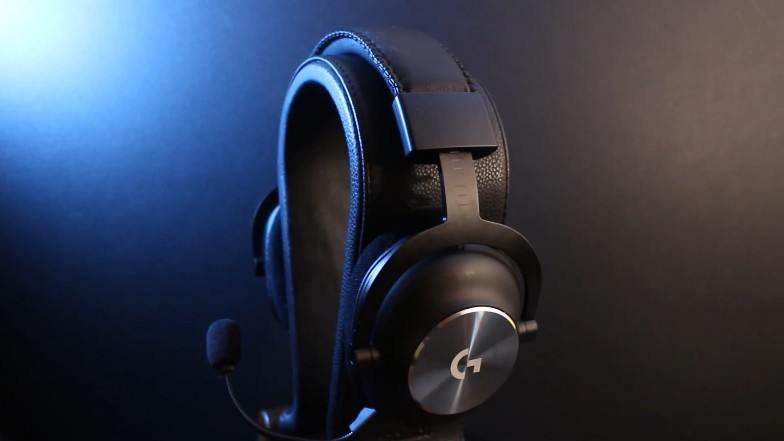 The G Pro X Wireless LIGHTSPEED headset delivers reasonable audio quality at an unreasonable price.
Pros
Comfortable
Latency-free wireless
Cons
Expensive
Poor mic quality