To keep DiamondLobby free to read, this post may contain affiliate links. Learn more
Logitech made a really solid product with the G Pro Wireless gaming mouse. The success that it had led to a considerable level of hype for the G Pro X Superlight variant, so the fanboys were waiting a while for this one.
It's no surprise then that this has become a pretty popular option among top gamers worldwide. In fact, 6 out of 10 players were using this model in the Starladder CSGO Major.
Logitech G Pro X Superlight is advertised to be an improvement on the regular G Pro, with the main attraction being its extremely lightweight build. It's the lightest mouse I've ever tested, and the fact that it's wireless makes that fact even more impressive.
At first glance, the similarities between this model and the regular G Pro stand out, but there are also significant differences in terms of how each one does its job.
It's my job to tell you what makes this model unique, and if it's worth your cash, so let's get on with my Logitech G Pro X Superlight review.
Specs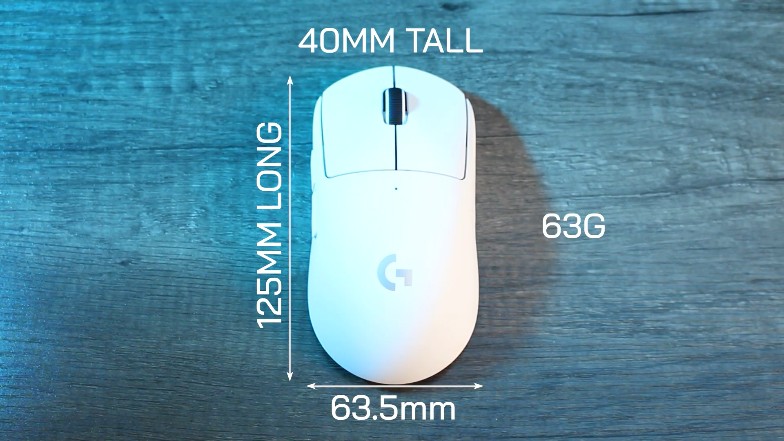 In the box, you get the mouse, a micro-USB cable, and the receiver dongle. When you take the mouse out, you'll see that there are five programmable buttons on the body.
The rest of the key specs are as follows:
| Size (mm) | Weight | Sensor | DPI | Polling Rate | USB Type | Battery Life |
| --- | --- | --- | --- | --- | --- | --- |
| 125 × 63.5 × 40 | 63 grams | HERO | up to 25600 | max of 1000hz | USB-A | around 70 hours |
Logitech has adopted its own HERO sensor technology here, as expected. That, alongside a DPI of up to 25600 and the ridiculously low weight are perhaps the most interesting bits of information about the G Pro X Superlight.
The polling rate is pretty standard for a gaming mouse of this class, and the advertised battery life of 70 hours is solid enough for the average user.
It's not the best battery life you'll ever see, but it's impressive nonetheless. I imagine that the absence of RGB lighting would've contributed to boosting the numbers here.
Notably, the adoption of a USB-A port is a bit disappointing as it feels archaic in comparison to alternatives that have progressed to using the more universal Type-C ports.
Anyway, moving on to the most exciting thing about this model – at least, for me. The design.
Design
The G Pro X Superlight is as minimalist as they come when it comes to design. Nothing extraordinary, just a clean, simple, right-handed design that works.
You get two color options – white or black. The chassis is matte plastic and really smooth to the touch.
Weight
Yeah, I have to mention this again. It's quite impressive how Logitech has managed to fit wireless technology and all the key capabilities of a quality gaming mouse in a footprint this lightweight.
They've had to add a battery and other components that add that extra bit of weight, so imagine this wasn't even wireless!
For context, the regular G Pro mouse weighs 80 grams. That's 17 grams more than this Superlight model.
Now, before I actually received and held the product, I will admit I had some fears about the weight. I was worried about the fact that Logitech's attempt to make a "superlight" mouse would result in a fragile, cheap-feeling product.
However, I've been pleasantly surprised by the build quality of the G Pro X Superlight mouse. It doesn't feel fragile at all and is actually quite pleasant to hold.
Shape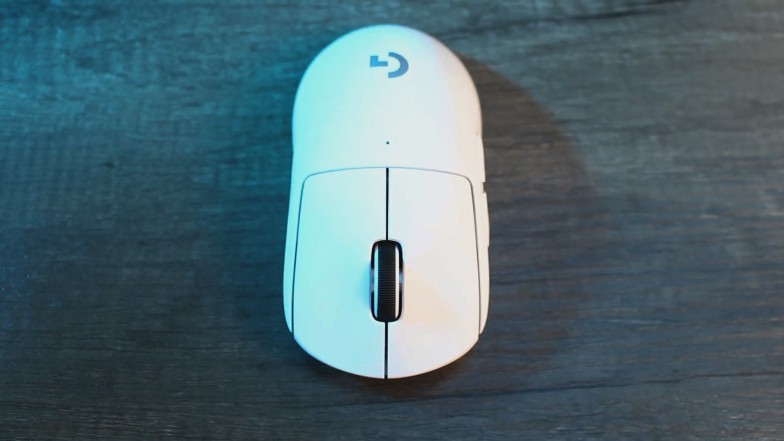 The shape from the regular G Pro has been retained here, and it is still as comfortable as ever. It's suitable for various grip types – palm, claw, fingertip, whatever.
Personally, I use the palm grip, and the mouse feels nice and sturdy underneath my palm. The sloping chassis is perfect for my grip.
Feet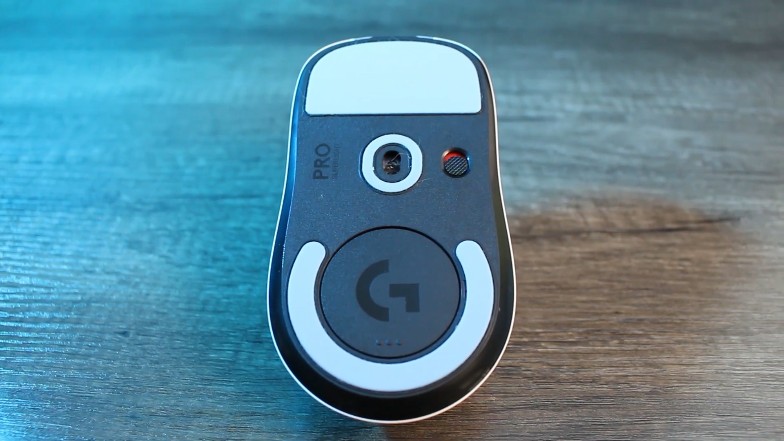 The feet here are 100% PTFE, which is what you'll get from many other premium alternatives. They help the mouse to stay speedy and alongside the sensor ring, remain balanced too.
The feet glide really well and I expect they would glide even better if you switch the stock plastic receiver cover with the included PTFE cover. However, if you do this, you will not be able to use the wireless charging option made available with Logitech's Powerplay mousepad.
Buttons and Switches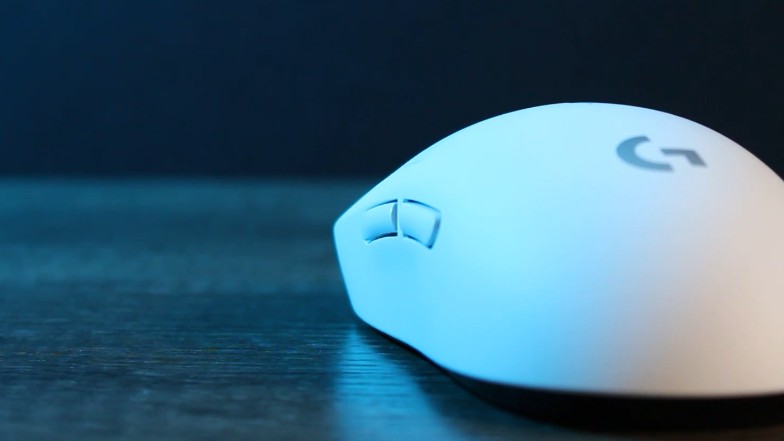 Again, if you've used the regular G Pro, then there are no real surprises here. The buttons are pretty much the same, and they work just as well too.
The side buttons are small, and if you have small hands they might be hard to reach with a fingertip, but they're easy to use otherwise. Just roll your thumb across them and they work flawlessly.
The mouse 1 & 2 buttons, the wheel click, and both side buttons can be reprogrammed inside the G-Hub software, and you can even set one of them to be your profile-switching button.
Also, if you set one of the inputs to a G-Shift button, you can create a second layer of controls.
The scroll wheel is very nice and consistent, thanks to its defined steps. It has fantastic notches that make scrolling a real pleasure, and the click feels great.
Unfortunately, there is no dedicated DPI button. That, among a few other things that I'll mention, appears to be one of the sacrifices that Logitech had to make for a lightweight model.
It's more of an inconvenience than a real issue though as you can still tweak the DPI in G-Hub. At this point, I should probably go into more detail about the software.
Software
While we're talking about changing the DPI from G-Hub, I should also mention that this is where you change the button functions and adjust the polling rate of the mouse.
I'd rather there was a physical DPI button but the software will have to do. Thankfully, there's onboard memory, so you may decide to uninstall G-Hub after making the changes you need to make the mouse feel like your own.
A missing DPI button is not the only sacrifice that Logitech has made here. I had a few other grievances that I'll be taking up with them…eventually.
Missing Features
They're not all outrightly missing – there are also a couple of things that I just think could have been better.
I already mentioned the USB-A. I think USB-C support would have been better because it's more future-proof and generally more widely used at this point.
Not only is type A outdated, but it also doesn't draw as much power as type C, so the charging time could have been reduced.
The model from Ninjutso uses a type-C port and is just 2 grams heavier than this Superlight model, so I wonder if weight really played a major role in Logitech's decision here.
Additionally, the battery life is great, but considering the fact that there is no RGB lighting to take a toll on its longevity, I think it could have been better.
The absence of RGB lighting will be bad news for gamers that like the aesthetic experience just as much as playing the game itself. You can't customize your mouse's colors to match everything else on your desk setup.
Also, I liked the interchangeable side buttons on the regular G pro. Logitech has cut that option off in this model, presumably to keep the weight down, but I think it was a nice touch to be able to utilize an extra button for separate bindings.
Finally, there is only one light in the battery indicator here, compared to three on the regular G Pro. Not a huge deal, but nice to note.
Cost
The Logitech G Pro X Superlight has an RRP of $149.99, £139.99, or €149, but there will be the occasional Amazon offer for less if you keep an eye out for it.
Verdict
It's a great mouse, it really is, even with those little quirks that I mentioned. It's extremely light but still well-built, and it's super consistent.
I also think Logitech has managed to hit a sweet spot in terms of the shape adopted here. It looks to be a great fit for a wide range of grip types which is always nice.
In-game performance is fantastic, and you may genuinely feel yourself playing better solely based on the fact that you're using this mouse. Whilst it might not retain its place, I put this at the very top of my list of the best mice.
The price is a bit on the high side, but it's a classic case of getting what you pay for because the user experience is quality. You get a 2-year warranty too, so you know you're covered for a while if you experience any defects – not that I expect that you will.
On its own, I can easily recommend the Logitech G Pro X Superlight to anyone that's willing to cough up the money for it. Go for it, by all means.
However, if you already have the regular G Pro, then you're probably better off sticking with that instead of dumping it for this one.
The major draw with the Superlight model is its weight, but the regular G Pro is not heavy by any means, so it's not a game-changing advantage.
Regardless, this is another great option from Logitech any day of the week.
Logitech G Pro X Superlight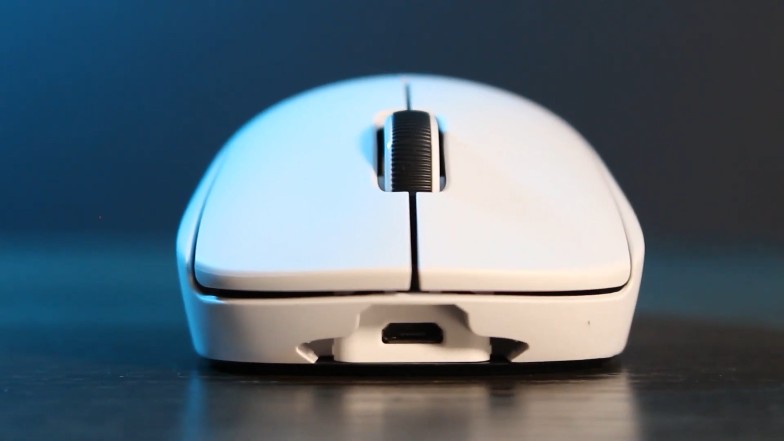 The Logitech G Pro X Superlight is a fantastic mouse. There's a reason it's used by a majority of professional FPS players.
Pros
Comfortable
Incredibly light
Good build quality
Ambidextrous design
No unnecessary features