To keep DiamondLobby free to read, this post may contain affiliate links. Learn more
Fnatic need no introduction to anyone that's familiar with the gaming industry.
They are one of the most popular esports brands and have produced a wide range of gaming gear over the years.
Products such as the Fnatic Bolt mouse and the Fnatic Dash mousepad were well received when they were released, so it's only natural that there's a certain expectation that comes with subsequent offerings from the company.
Today we're going to be reviewing the 7.1 virtual surround sound supported headset, the Fnatic React+.
I was really curious to see if this shiny new toy would provide a compelling enough experience to convince me to ditch my standalone mic and headphone setup.
As always, I put my thoughts on paper (or perhaps, screen?) in this Fnatic React+ headset review.
Full disclaimer, Fnatic did send me this review unit, but that has not influenced my opinions in any way. They remain as pure and uncorrupted as my heart was as a baby.
Design and Comfort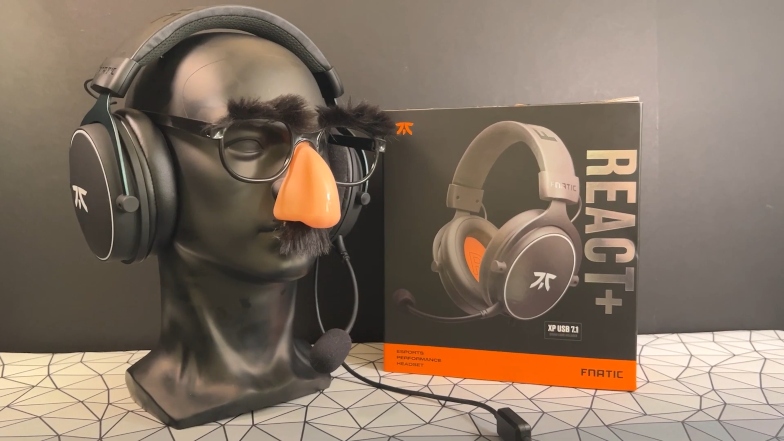 In my experience, the less fuss a manufacturer makes about aesthetics, the higher the chances that they build a solid product. The Fnatic React+ headset sports a simple design, but is more classy than boring.
One of the most important things for me when it comes to choosing a gaming headset is comfort, and I imagine the same applies to gamers that go on extended sessions at a stretch. In that aspect, I found the Fnatic React+ to be quite comfortable.
I have an average-sized head, and I wear glasses. It's not a particularly unique combo, but I was genuinely impressed with how the headset managed to accommodate my glasses with no discomfort even after several hours.
Forget the size of my head too. Even if you have a head the size of The Louvre or that of a peanut, the extension on the headband helps to ensure that you can make adjustments until you find the level that suits you perfectly.
In the images below, you'll see that there are two options for ear pads – leather or velour. I mixed and matched both to see the difference in comfortability, heat dissipation, and noise cancellation.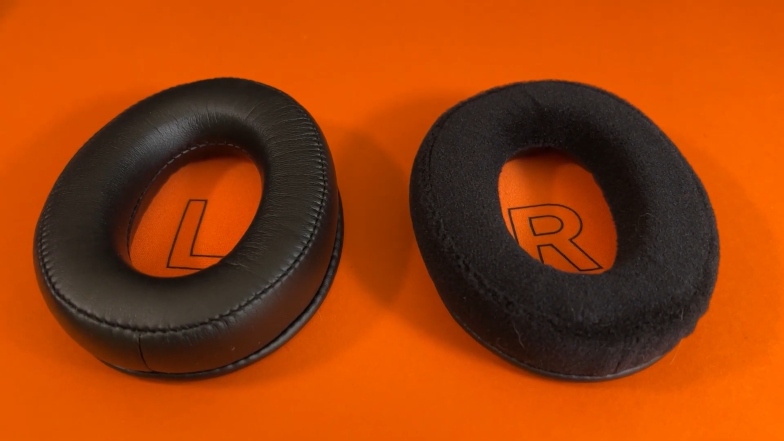 I'd say the leather ear pads do better with noise cancellation, but the velour pair are great too. Both did well with managing heat build-up, and you really can't go wrong with whichever one you choose.
Build Quality
Personally, I'm very particular about the build quality of every piece of gaming gear in my setup. This is mostly due to the fact that I can be a tad disorganized or clumsy, so I need my gear to be able to withstand a decent amount of abuse.
That said, the Fnatic React+ survived all my inadvertent attempts to turn it into a piece of plastic junk.
I dropped it multiple times, sat on it, rolled it over, bit into it (not by mistake), and did a bunch of other things that I'm not allowed to expatriate on, but the point is that the headset took it all like a champ and came out pretty much unscathed.
It was not particularly a surprise. Products such as the Streak65 LP Keyboard from the same manufacturer have shown us that this is a company that knows what it's doing when it comes to building stuff.
As you'll see from the screenshot attached above, I did a bit of a flexibility test too. Twists and turns to various sides did nothing to the integrity of the build, so the Fnatic React+ gets my seal of approval when it comes to its build quality and durability.
Features and Controls
In terms of features, there's an extra cable that gives you the option to go with the USB connection or the 3.5mm jack if you prefer. The cable is also the only way you can get the 7.1 surround sound, and it acts as a digital to analog converter.
Personally, I can't really tell the difference that this makes to sound quality, but I assume people with trained ears will welcome the idea.
On the 7.1 cable attachment, there are toggles for the virtual surround sound and the volume buttons on both audio output and input a86 (refer to the attached picture).
There is also a little switch without the attachment that changes volume and mutes the microphone.
Audio and Mic Quality
This is a headset, so obviously, it has to sound good. Now, I'm no audiophile, so my opinions on the audio quality of the Fnatic React+ are closer to that of the average consumer than someone who's very particular about the tiniest details.
That said, the sound quality of this pair sounds similar to my other audio delivery gear. I typically use my Sennheiser HD599s more than any other pair of headsets, and I'd say the React+ performed up to scratch in comparison even with the virtual surround sound turned off.
In fact, something strange happened when I turned the virtual surround sound on. The sound seemed to be worse than it was with higher pitches and a tinny, almost-screechy sound that made me feel like someone had lined my ears with tin foil.
My ears may be untrained, but this was a very irritating experience and I would fully recommend leaving the option turned off.
Using the microphone on the other hand was an overall more pleasing experience. I'm used to getting complaints about my mic every minute and a half when I'm streaming with my regular setup, but I received no complaints when using the Fnatic React+.
It's a bit subjective, so it's probably easier to get you to form an informed personal opinion by listening instead of reading about it. You can listen to the video review below.
I did have a complaint about the mic filter coming off a bit too easily. You can knock it off by mistake and having to look for it after is a pain. Otherwise, it's all sunshine and rainbows in this department.
Cost
Now, I obviously did not pay for my review unit as I already stated, but you can grab a deal for the Fnatic React+ on Amazon or other third-party retailers.
Deals are always subject to change as time passes – the current $69.29 discount price tag on their official store may not be applicable by the time you're reading this.
The headset was originally priced at $100 which is a bit steep, so you should definitely keep an eye out for deals.
Verdict
I'm a loyal man, and it's unlikely that any pair of headsets will pull me away from my current pair. However, if something was to happen to them, I would not hesitate to pick up the Fnatic React+ without feeling like I'm sacrificing quality or comfort.
It's a pretty good package overall, especially if you're getting it at a discount.
Good audio and microphone quality, simple but sturdy and comfortable design, and zero glaring faults. You can't go wrong with this one.
Even if you don't get a discount price, it might be worth checking out the standard React headset which is nearly half the price. There's no surround sound or DAC on that unit, but it's a worthy trade-off if those things are not crucial for you.
Fnatic React+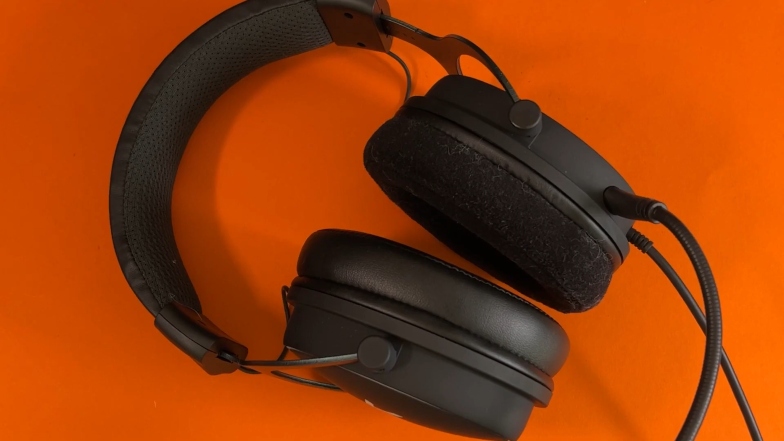 The Fnatic React+ didn't do enough to make me switch to it permanently, but I'll gladly pick it up if I ever need it in an emergency.
Pros
Reasonable audio quality
Good microphone
Comfortable
Cons
Poor quality virtual surround sound
Mic filter comes off easily
Expensive unless on sale