To keep DiamondLobby free to read, this post may contain affiliate links. Learn more
This is the second version of the Magnus desk that we've tested in-depth. For proof of our testing, check out our
Magnus Pro video review
.
We were fortunate enough to review the original Magnus when it was released — a strong, sturdy, metal desk with plenty of functionality.
It was only natural, therefore, that I jumped at the chance to get my hands on the Secretlab Magnus Pro XL.
The Magnus Pro offers one standout difference to its predecessor; electronic height adjustment for switching between a sitting and standing desk.
Combined with a host of other new extras, could the Secretlab Magnus Pro be the best desk on the market? Not just for gamers, but for streamers and even office workers?
Here is my honest Secretlab Magnus Pro desk review after around 200 hours of use.
Secretlab products are available for the lowest prices directly on their website. You can check the latest price of the Magnus Pro desk here.
Specs
Size: 1770mm x 800mm x 650mm-1250mm
Max weight: 120kg
I got the Magnus Pro XL, the larger of the two editions of the Magnus Pro by 270mm in length and 100mm in width. The regular-size Magnus Pro is still much bigger than the average desk, but I couldn't resist supersizing this delicious treat.
The Magnus Pro XL is nearly 2 meters wide (1770mm to be precise) and close to a meter deep (800mm), so it's absolutely huge.
It's big enough to have my keyboard, mouse, two monitors, PC tower, PS5, two headsets and my Arena 7 speakers on (and under) — with plenty of space left over.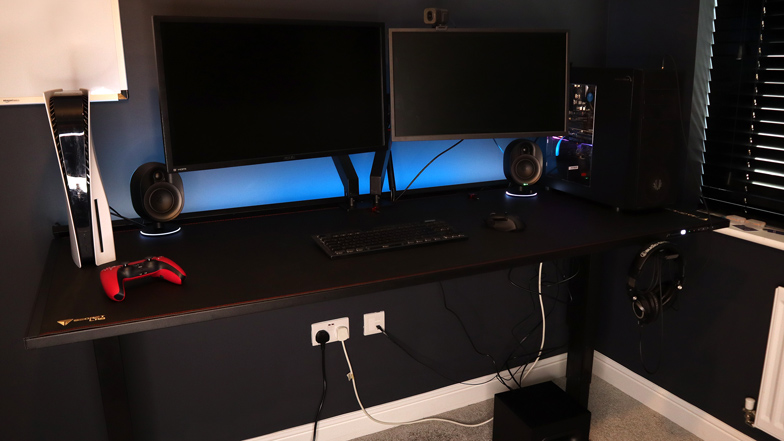 This is a sit-to-stand desk with a minimum height of 650mm and a maximum height of 1250mm. I've found that my most comfortable sitting height is 713mm — this figure will become relevant later on so remember it at all costs.
Design
The Magnus Pro is a black, metal desk with a sleek and professional appearance.
Whilst it's marketed for gamers, it wouldn't be out of place in a fancy office — avoid some of the optional extras and this thing looks pretty sophisticated. Even with the gamer-focused extras, it still looks incredibly nice.
Built from solid metal, you'll realize that this is not a cheap product as soon as you lay eyes on it.
Everything in its design, from the core functionality to its many add-ons, fits together perfectly.
Assembly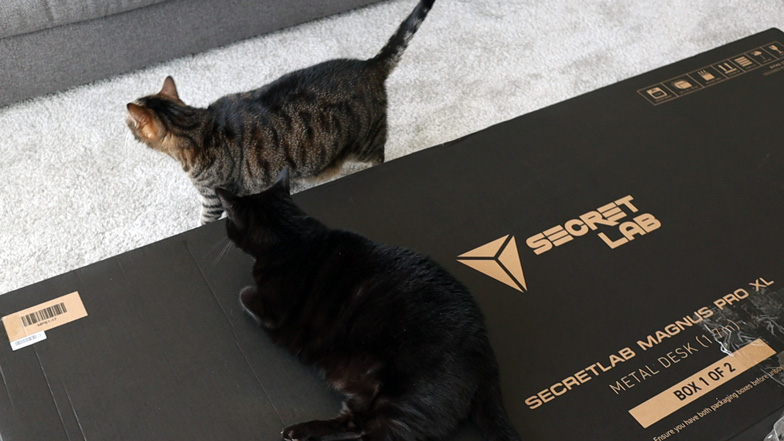 The Magnus Pro XL comes delivered in two large boxes, though one is significantly larger than the other. One package weighs 30kg and the other weighs 47.8kg. Cats for scale.
Inside, there's plenty of padding to ensure the product doesn't become damaged in transit. My box had a big knock on it but the product itself was completely unharmed, so it certainly works — though does lead to a recycling conundrum. There's a lot of packaging to clean up afterwards.
Assembly for this desk is a two-person job simply due to its weight — this is a heavy bit of kit, not just for moving the packages but for putting the desk together too.
Despite the weight, and the multiple warnings on the packaging and instructions, I did manage to put this together entirely on my own. Please only shower me with praise if you see fit.
There are no words to accurately describe how bad I am at furniture assembly and DIY, so to build the Magnus Pro by myself emphasizes just how easy this desk is to construct.
A couple of parts in the instructions aren't totally clear, but after 5 minutes of rotating and flipping parts around, it always became clear what to do.
With just a small number of included screws and a handy toolkit, you have everything to put the desk together without any need for power tools.
Features
Electronic height adjustment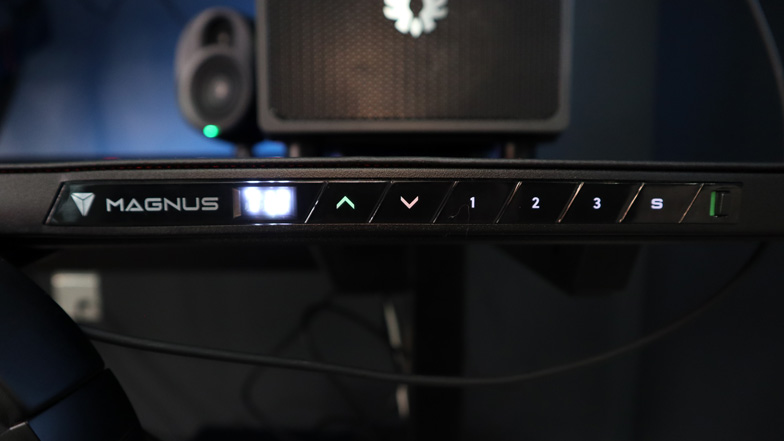 The main feature of the Magnus Pro desk is its height adjustment. The ability to switch between sitting and standing — electronically, no less — is seamless and incredibly satisfying.
After calibrating the desk, you're able to manually adjust the height millimeter-by-millimeter by using the built-in backlit touch buttons.
The first thing I did (admittedly after five minutes of playing around) was narrow down what I felt to be the ideal sitting and standing height for me. I then programmed these heights in which is as easy as setting the height, pressing the 'S' button, and then pressing 1, 2 or 3 — there are three heights you can set for the desk to memorize.
Thanks to plenty of lubrication, the legs of the desk slide up and down extremely smoothly and quietly, without a hint of scraping.
The danger of an electronic desk with pre-programmable heights is that if something gets stuck and you've pressed to lower the desk, that item could get squashed (or worse, break). Fortunately, Secretlab planned ahead for this with an object detection system — the height won't lower if it detects something in the way. I tested this and, again, it works.
Cable management tray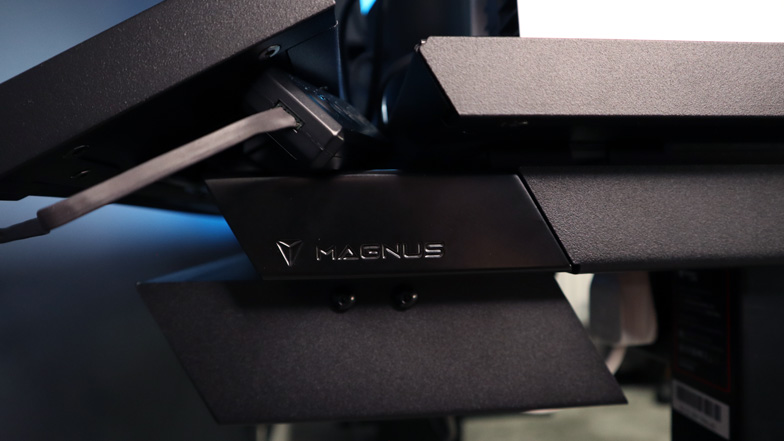 In one of the most surprising developments in my life recently (I apparently live an extremely boring life), I discovered how satisfying a cable management tray can be.
The Secretlab Magnus Pro XL has an enormous cable tray, spanning the full width of the desk and is more than deep enough to fit all of the many plugs and cables that I require to power my monitors, PC, PlayStation, speakers, stream light and more.
With the tray installed, I've gone from having wires tangled in a huge mess on the floor behind my desk to barely any visible cables whatsoever.
For those that take pleasure in a clean looking setup, this tray is a delight.
Integrated power supply column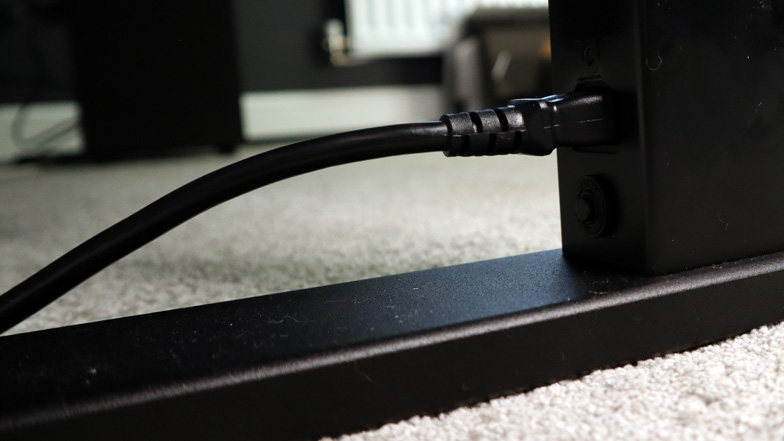 In an added bonus for the cable management tray, there's also an integrated power supply column.
As an electric desk, the Magnus Pro obviously needs plugging in.
However, thanks to the built-in power supply, it doesn't technically use up a plug socket, assuming you were using the plug socket for your PC and desk setup anyway. This is because the desk gives you a power outlet for a plug — one that you'll likely use for an extension lead.
This also helps to keep things incredibly neat within the cable management tray as you don't need to feed your extension lead from a socket to the desk; you simply plug and place the extension lead directly in the desk itself.
Extras
Whilst you get good functionality from the Magnus Pro as standard, the extras are where this thing turns from a cool metal desk into a potentially amazing one…but are they worth it?
MAGPAD
The MAGPAD desk mat is an $89 add-on for the Magnus Pro XL and is almost an essential pick-up, in my opinion. I got the Signature Stealth version, though there is a variety of options available including limited edition themed designs.
The MAGPAD has neatly stitched edges and a small bit of Secretlab branding, and spans the entire width and length of the desk. It's a slightly magnetic, desk-sized mouse mat.
I say "slightly magnetic" — it's strong enough to stick firmly to the metal desk but none of the magnetism is noticeable through the top side. It's easy to pull off and stick back down. I've had no issues whatsoever with using electronic items on the desk, and this had been a fairly obvious concern before using the product.
Applying the MAGPAD took a couple of attempts.
Lining it up correctly is difficult and the magnetic aspect makes it even trickier, but I got a great end result after just two tries and I've not adjusted it further since then. If you put this together with a friend or family member, you should find it even easier than I did.
Overall, I think the MAGPAD is a very good product but the one gripe I have is that it's not gone totally flat. The vast majority of it fits snugly to the desk but in a couple of places on the edges there is a small bump. These bumps are so small that no one else would know they're there unless I pointed them out, but I do know they're there and it irritates me.
Update: I placed a heavy item on the bumps and left it overnight. It worked!
As someone that's spent the last few years using a mouse directly on a desk surface (I know), it's really nice to have a high quality, slightly padded surface under my mouse now.
Monitor arm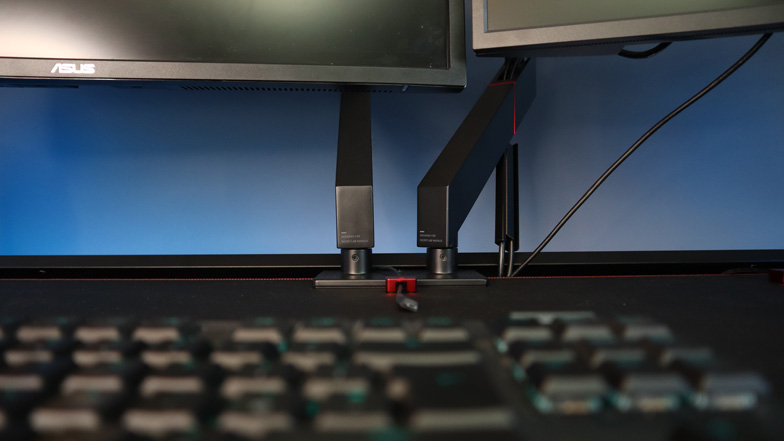 Thanks to the dual arm monitor mount, I now have so much more room for activities.
I'd been thinking of mounting my monitors to the wall for the same purpose, but the sit-to-stand function of this desk would make that highly impractical — the desk would quickly block vision of the monitors when raised.
So, with wall mounting out of the question, I could stand my monitors on the desk like most other people do — and the 800mm depth of this desk certainly makes that viable.
Instead, I got the dual monitor arm, which costs an eye watering $249, to mount the monitors directly to the desk.
I absolutely love the monitor arms. They come with magnetic strips (two per arm) to allow you to hide your monitor cables, and you can move, tilt, swivel and rotate monitors extremely easily and without much restriction.
Cable management bundle
The cable management bundle costs $49 at the time of writing (you can check the latest prices on their site here) and, whilst I think the items are pretty cool, this is probably something you can go without based on value for money.
You get cable fastening straps — some of these already come with the desk — as well as magnetic sheaths and anchors.
I've used one of the sheaths to hide some of my cables on the leg of the desk, but haven't found a use for the second one yet.
Of the anchors, I'm using two of the three that are included. Admittedly, because I like how they look and feel, I'm mostly using them because I wanted to find a reason to use them, not because I actually need to use them. I have them attached to my desk for my mouse and keyboard charging cables, which helps keep them out of the way but also prevents me from losing them.
MAGRGB (Smart Lighting Edition)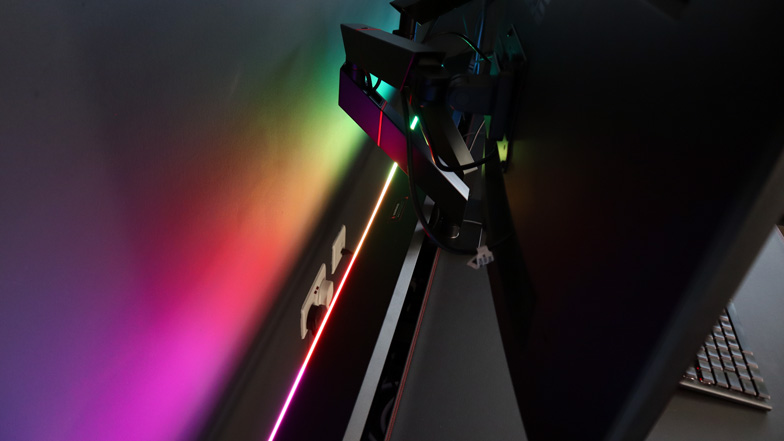 Let's be honest, most things with "gaming" in the name simply mean they come with RGB lights built into them. I'm not ashamed to say that I'm a big fan of the RGB aesthetic so I had to take this add-on for a spin.
Costing $89 for the XL version, the MAGRGB (Smart Lighting Edition) is another pricey extra. However, if you prefer paying more for something that looks better than the regular option, I think this is worth picking up.
I've only used cheaper RGB strip lights in my home office before and the MAGRGB is lightyears ahead of where those are in terms of quality and performance.
The MAGRGB strip is thick, attaches to the desk magnetically, and the lights are bright and bold. Importantly, it feels like a premium product worthy of sharing space with the Magnus Pro.
There are various lighting and color patterns you can set, and overall I'm really impressed with how well the RGB strip lights up both my desk and the wall behind it.
Because I like it lighting up the wall more than the desk, I've stuck mine on the outside of the cable management tray rather than on the inside of it.
Magnetic headphone hanger
The final extra that I have is the magnetic headphone hanger, which costs $29.
This headphone hanger is designed incredibly well, it feels like a super high quality product and has Secretlab branding molded into it, but…it's a $29, 2-inch by 2-inch clip.
I like how it looks and feels and I make use of it to hang my headphones constantly, but I personally wouldn't advise paying the $29 for this privilege. Just lie your headphones down on the desk — it's certainly big enough to accommodate them.
PC mount
Mounting your PC to this thing, in one way or another, is basically a necessity.
As the desk moves up and down, your cables are going to pull and probably become unplugged — or worse, items could fall and break — if the PC doesn't move at the same time that the desk moves.
I went without the $89 PC mount from Secretlab, a purchasable add-on to attach your PC tower to one of the desk's legs. This is a solid option in theory.
However, Secretlab recommend a minimum desk height of 800mm when using the mount in order to prevent damage to your PC.
The reason I wanted the Magnus Pro was because my old desk, sitting at 780mm, was too high. It meant my chair had to be slightly higher than I wanted, which then meant I needed a foot rest under my desk, and overall this just isn't as comfortable as having your feet flat to the floor. I'm 5′ 10″ for reference; certainly not a giant, but slightly taller than the average person nonetheless.
Remember what I said earlier about my perfect desk height with the Magnus Pro?
If you can't remember or chose to skip past that part, I have my Magnus Pro set at 713mm and it's unbelievably comfortable. My feet are flat to the floor, my back is upright, and my Secretlab TITAN chair is at a good height to have my elbows parallel to the Magnus desk.
To be at least 87mm higher off the ground — 3.43 inches — just wouldn't be comfortable for me, so the PC mount isn't viable for how I want to be positioned and I think it would hinder the comfort of many users that were primarily using the Magnus Pro to sit at (rather than stand at).
As the desk is absolutely huge, I placed my PC on the desk itself and it's well out of reach. Added bonus: it keeps it away from my cats.
Verdict
So, now we've finally arrived at my verdict, is the Secretlab Magnus Pro worth buying?
Well, I believe it's comfortably the best desk I've ever seen in person.
It's undeniable that this is an expensive product, but it's also one that has incredible quality and functionality — I was blown away by how good this desk was from the moment I first adjusted the height on it, and continue to be wowed as I write this review whilst sitting at it.
It's easy to assemble (assuming there are two of you to do the heavy lifting) and is so well packaged that you never need to worry about it showing up damaged.
It feels like it's going to last me 20 years.
The only downside is that some of the features that I really love, such as the MAGPAD and the MAGRGB, and especially the dual monitor arm, are additional expenses. I believe they're worth it but some of the other expensive add-ons are not (such as the cable management bundle and the headphone hanger). This is the only thing stopping the Magnus Pro from getting a perfect 5-star rating.
Whether you're a gamer, a streamer, or someone that's just looking for a high quality adjustable standing desk, the Magnus Pro is the best of the best.
I highly recommend this product.
If you're interested in purchasing anything from Secretlab, they offer the cheapest prices directly on their website.
Secretlab Magnus Pro XL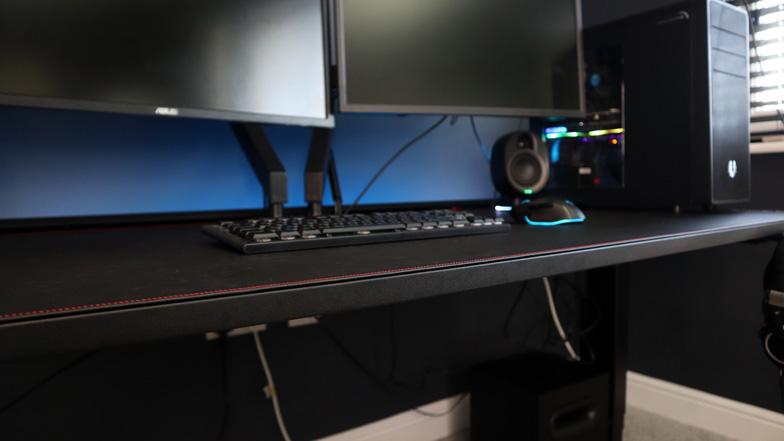 The Secretlab Magnus Pro is a premium quality, electric, height-adjustable metal gaming desk which packs a serious punch.
Product Brand: Secretlab
Pros
Large surface space
Premium build quality
Easy to build
Flawless electronic height adjustment