To keep DiamondLobby free to read, this post may contain affiliate links. Learn more
Secretlab are the brains behind an award-winning line of gaming chairs under the '2020 Series', released — as you can probably guess — for the year 2020.
Whilst they now manufacturer and retail updated product lines (such as the 2022 Series), they still sell the older collection, and we were tasked with finding out whether the Secretlab 2020 Series was still worth your hard-earned cash.
We got our hands on the OMEGA and the Secretlab TITAN 2020, and this post is our official Secretlab OMEGA 2020 review.
And not only is it a review, we wanted to come up with an answer to a very simple question: is the Secretlab OMEGA 2020 Series still worth it now that newer ranges are available?
We'll get to that at the end of this article.
Secretlab products are genuinely cheaper if you buy from their store. You can check out the latest price of the OMEGA 2020 here.
Oh, and here's the OMEGA 2020 assembled in my kitchen, if you want to see that I own and have genuinely tested this product:
Full Disclosure
This post contains affiliate links. If you were to purchase after clicking on one of our links then we may earn a commission (at no additional cost to you).
The OMEGA 2020 that we reviewed for this article was provided to us free-of-charge by Secretlab after they reached out to us. We explained to the company upfront that we were open to receiving their product and would be happy to review it, but that our opinions couldn't be bought and that we'd be 100% honest in any criticisms, regardless of their free product offering.
You can read a section of our email chain with Thomas, from Secretlab's marketing team, below.
Me: Hi Thomas, we'd love to review the chairs! I should state: we don't guarantee good reviews (though of course, if it's a good product, we will be open in saying that).
Thomas: Hey Luke, stay that way! Please don't write good reviews unless it's a truly good product. After all, readers rely on your opinions. But I have full confidence in our chairs and the reviews (so far) are really encouraging.
As you can hopefully see from our correspondence, any positive points we make about the chair are our own genuine opinions and any criticisms we have will all be revealed too.
Buying Experience
The Secretlab OMEGA 2020, at the time of review, starts at a cost of $359. The newer 2022 Series starts at $449, so there's a sizeable difference in price right off the bat, with the OMEGA 2020 available for around 80% of the cost of the newer model.
When you go to select the type of chair you want on the Secretlab website, the first thing you'll be presented with is this sizing guide: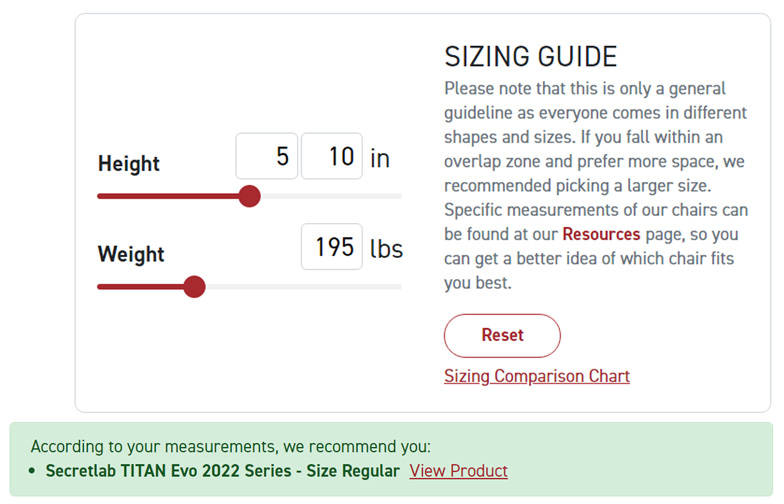 When you input your height and weight into this tool, it recommends the size of chair that you need and also recommends a specific model — probably always the newest and most expensive model, if I'm being cynical, but at least it's a chair that you should fit into nicely.
This is particularly useful if you're short or on the heavier side.
After playing around with the filters, you can see all of the types of chair that you might be interested in.
For this review, I was simply looking for the OMEGA 2020 line and filtering for this brings back a lot of potential options: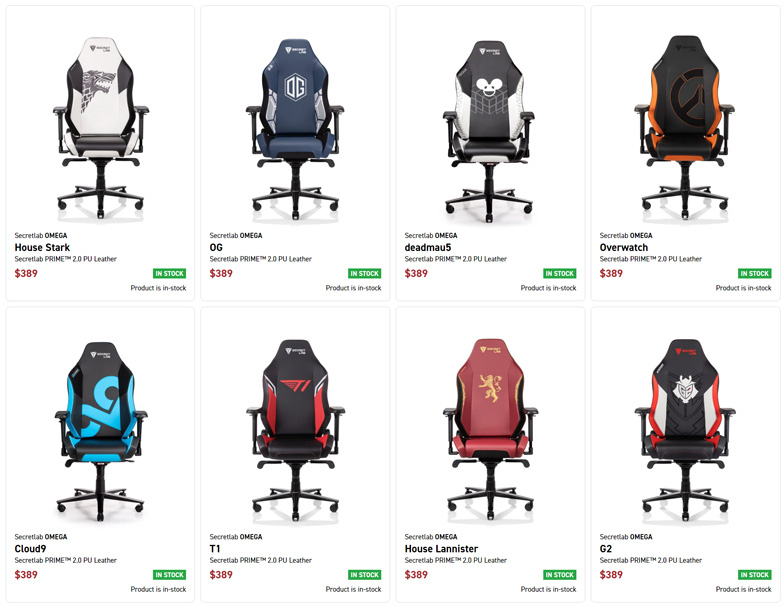 It's useful to be able to see all of the different styles of the chair that you can get on one page — the screenshot above is not all of their designs, merely a selection — but it doesn't actually matter which chair you click onto as you have full customization within it.
As long as you've selected the right collection that you're interested in, i.e. the OMEGA 2020 or the TITAN 2020, you can click onto any of the products and fully customize your design from there.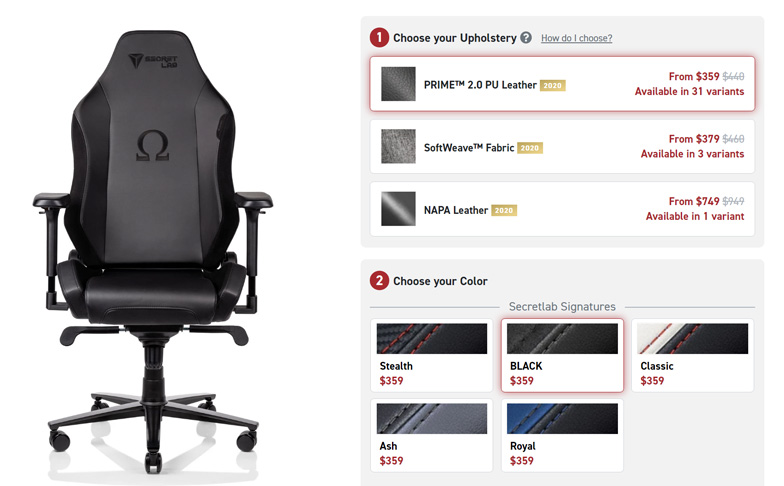 You have the option to choose your upholstery (the material your chair is made from), the color of the material and the stitching, and whether you want a certain Esports or Special Edition design.
I found the experience of navigating and customizing on the Secretlab website to be one of the better purchasing experiences I've ever had — even if, just to emphasize it again here, I didn't actually have to pay for this product.
Leather or Fabric?
A common deliberation when buying a chair to game or work in is which material you should go for. I had to decide whether to go for the Prime 2.0 PU Leather or SoftWeave Fabric OMEGA 2020 model — the NAPA Leather option wasn't available for review.
For this review, I ended up choosing the SoftWeave Fabric OMEGA 2020, and then I also reviewed the PU Leather TITAN 2020, so I have a good comparison of the quality of each material when it comes to Secretlab's products.
After opting for the fabric I had four designs to choose from, and I went for 'Cookies and Cream', which is a predominantly light gray chair with dark gray and black used for edging, accessories and the logo.
I've done plenty of research for chairs in the past and whilst some people swear by certain materials, I now have a mesh chair, a fabric chair and a leather chair, and I wouldn't say that one material is clearly better than another — they're just very different and you get used to all of them, or at least I did.
The downside with fabric, according to many, is that when it gets hot and you get sweaty, the chair can end up a little stinky. So far, I've had no issues on that front despite using it in 86 degree heat in my office (30 Celsius), though have only been using it for a couple of weeks.
Fabric can also apparently be an issue with cats, though I have two and they've not pulled at it once — though I did catch them sleeping on the chair on a couple of occasions (research for the review, I guess).
Shipping, Delivery & Unboxing
Shipping and delivery of my item took just a few days from the day of placing my 'order' and receiving the product at my door and I had a tracking code to see the status of shipping throughout.
The chair arrived in a large Secretlab-branded cardboard box and was relatively heavy. You'll likely have trouble lifting this due to both weight and awkward size even if you're fairly strong, so you might need someone with you if you plan to carry it around your house, especially if it needs to go upstairs.
When you open the box, the first thing you pull out is a sleek white envelope with 'Secretlab Access' on the front, and this immediately makes you feel like you've just bought a premium product. Inside, you'll find information on registering extended warranty for the chair — by default you get three years of warranty, but you can extend this to five (for free) by making use of the contents of this envelope.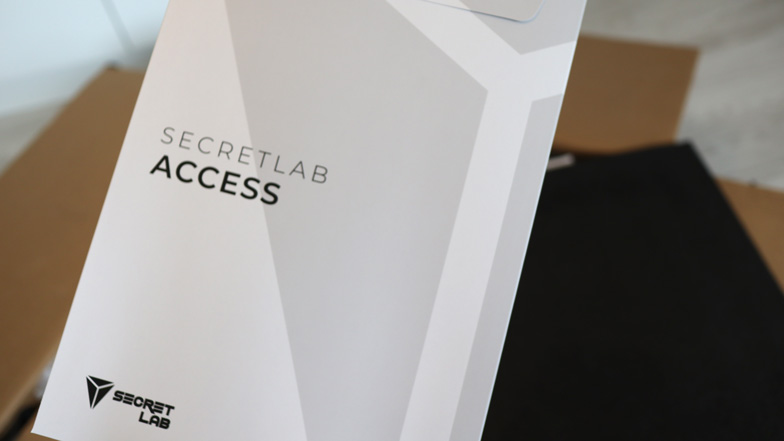 Also in the box are instructions, all of your parts including a memory foam head pillow and lumbar support, and a handy set of tools for putting everything together — you don't need a single item to put the chair together that doesn't come inside the large delivery box.
Building the Chair
One thing that's important for a guy like me is how easy it was to put the Secretlab OMEGA 2020 together. I'm not a DIY person, nor am I skilled at any form of manual work — hey, I'm just a gamer — but I did manage to put the chair together fairly easily on my own in my kitchen.
Some parts were a little heavy, but it's only the weight that would make it difficult for any person to build this on their own. If you're not very strong or have back problems, grab a friend or family member to assist.
Inside the box is a large one-page assembly guide with twelve steps to take your chair from a range of parts to the finished product.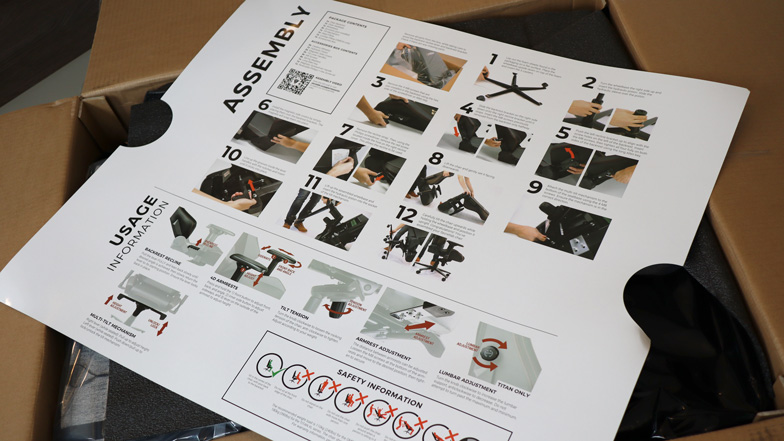 I thought the instructions were very clear for the most part and I was able to construct the chair by myself without needing to pull up YouTube videos.
There were a couple of instructions that weren't totally clear, such as in step 9 where it says "ensure the mechanism is in the correct direction" but, from what I could see, there was no way to easily identify the correct direction such as an arrow, sticker or label, but I did manage to work everything out within a couple of minutes.
Whilst there are quite a few parts to the chair, you don't need to make use of the screwdriver or Allen key on too many occasions — I believe there were just 6-8 screws to insert throughout the build — though I did really like the multi-tool that Secretlab provide with the chair and I'll be keeping it to use on my furniture when I move house.
In total, it took me around 20 minutes to put the chair together, if memory serves correct (I didn't time it).
Comfort
My first thought when sitting on the chair was that it was extremely uncomfortable.
My existing chair was a mesh chair with material that visibly sinks when you sit on it to support your weight.
With the OMEGA 2020, things were very different. There's no sinking, and none of the immediate comfort that you'd get if you were to jump onto a padded sofa.
If I was to use one word to describe the feel of the chair, I'd say "firm".
The comfort level did increase significantly once I added the memory foam pillow to the headrest and put the memory foam lumber pillow behind my lower back, but it was still very firm to sit on — and is even now, after I've been testing it for a couple of weeks.
However, this firmness is something that really grew on me. By the end of marathon working or gaming sessions, I found I was still sitting with a good posture and did not have the usual discomfort that I'd get from my mesh chair.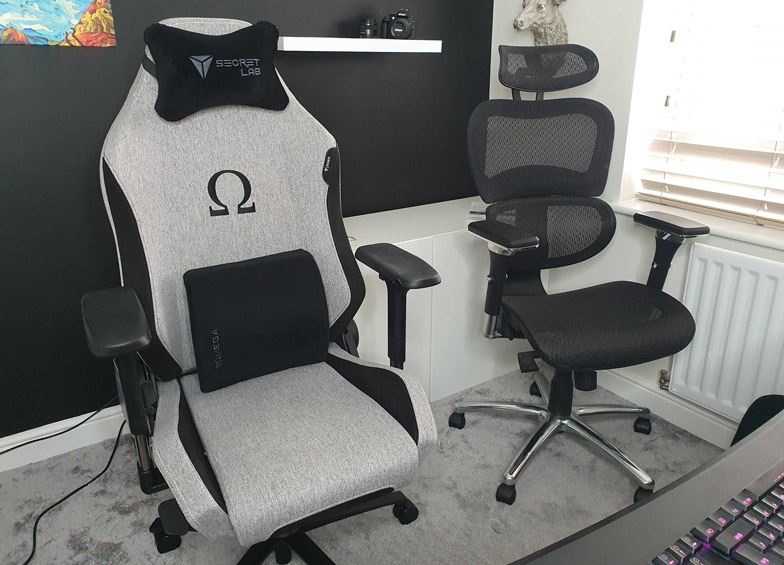 The arm rests have three different heights that they can be positioned at, they can also be moved so that they're wider or narrower — with three small adjustments possible — and they can face forwards, inwards or outwards.
I used the arm rests at their highest and widest at all times, both when using keyboard and mouse and whilst playing on controller. I found it comfortable after a couple of days of getting used to it.
I didn't find the inward or outward positioning of the arm rests to be particularly useful. If I could choose any angle for my arm rests I'd probably go for 'slightly inwards', but the inward positioning of these arm rests were far too angled, so I used them facing forwards and they were perfectly fine like this. The outward-facing angle pointed out to a degree that seemed comical and I can't see it being of use to many people, if any.
Overall, once I'd grown used to the chair and found my ideal heights and settings after a bit of trial and error, I'd say the chair is comfortable for the job it does.
For working and for playing games for hours on end, it's great for keeping comfortable whilst maintaining a good posture.
If you're expecting your rear end to be greeted with the softness and comfort of a comfy sofa, you'll be disappointed.
Design & Build Quality
One of the most important things when buying a chair at this budget level is the build quality; you expect it to be good.
I've looked closely at the stitching around the edges, the embroidered logos, the fabric material as a whole, the plastic used on the arm rests and the memory foam pillows, and I have to say I'm extremely impressed. I wasn't able to find even the smallest of design issues — not even one loose thread — and I've even tried picking at the chair myself to see what damage I could do with my admittedly-short-from-biting-fingernails, and I couldn't do any damage at all.
Whilst I was a little disappointed with the comfort of the chair initially, I never had any doubts about the quality of the chair and its materials from the moment I first took the parts out of the packaging.
Is the Secretlab OMEGA 2020 Still Worth Buying?
As we reach the end of this review, I'd like to summarize and finish up by definitively answering this question.
So, in summary:
My buying experience with Secretlab, from selecting the model and colors on the website all the way up to delivery of my chair, was really great. I was definitely impressed with the company on this side of things, especially as I'm currently based overseas.
From the minute I opened the box that the chair was delivered in I felt like I'd received a very premium product. Secretlab go the extra mile to make you feel like you're part of an exclusive club and to reward you for joining it.
Building the chair was fairly easy and it didn't take long to put everything together, though certain parts were quite heavy.
Once up, I was extremely happy with the quality of the chair and the materials that were used.
The chair was not comfortable at all when I first sat onto it, but once I'd added the pillows to the headrest and behind my lower back, and adjusted the heights, widths and angles of the various bits and bobs on the chair, it began to grow on me. When I now sit on my mesh chair that I previously thought was much more comfortable, I don't particularly like it anymore, and have grown to appreciate the firmness and how it supports me whether I'm working or gaming.
When other people sit on my chair, they have the same reaction that I did when I first sat onto it — it's too firm. But what I'd say is give it a try for a few days and you should see the benefits.
Is it still worth buying this older model? Well, chairs aren't like technology in terms of getting outdated quickly. You could sit on a chair from the 1960s and still find it comfortable.
My thoughts are that if pricing was very similar then I'd probably opt for the newer model.
However, with there being quite a price jump between the 2020 Series and the 2022 Series, I think the 2020 Series is well worth the investment.
If I was to use an arbitrary scale to give my SoftWeave Fabric Omega 2020 a rating, I'd give it a 4 out of 5. I absolutely love the chair, I just wish it had slightly softer padding for my butt.
You can check out Secretlab's entire range of chairs on their website, where they charge lower prices if you buy with them direct.
Also, why don't you give our review of the 2022 Secretlab Titan chair a read?
Secretlab OMEGA 2020
The Secretlab OMEGA is an extremely firm chair which helps maintain good posture, but might need a little more padding.
Pros
Highly adjustable
Easy to assemble
Great purchasing experience
Long-lasting warranty
Cons
Too firm
SoftWeave gets sweaty