To keep DiamondLobby free to read, this post may contain affiliate links. Learn more
Secretlab has been making moves in the gaming industry, and they are arguably the first major gaming brand to take a dip in the gaming desk pool.
It's not exactly a surprise, considering all the success that the company has had with their gaming chairs like the Secretlab Titan, and it looks like that trend is about to continue as the Magnus already won first place for "Best Gaming Accessory" in the 2021 T3 Awards.
So, is this desk really worth all the hype? And is it worth its expensive price tag? Well, let's find out in this Secretlab Magnus review.
Secretlab prices are always lowest on their website. You can check out the latest sale price of the MAGNUS desk here.
Update: we also have a Secretlab Magnus Pro review now live!
Specs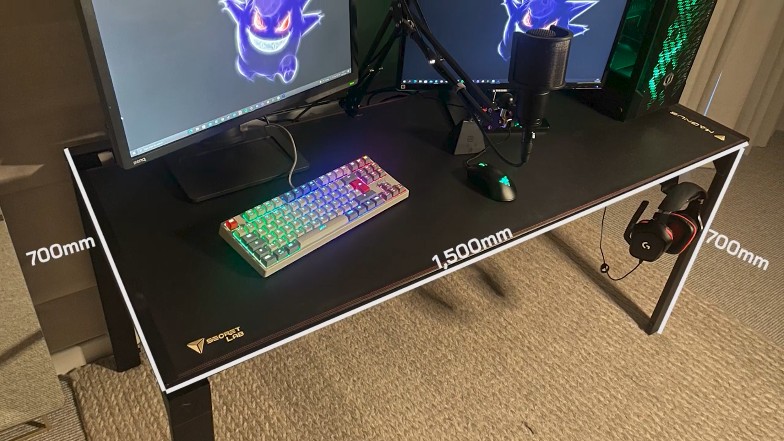 Not a lot to talk about on the specs front. The desk is 1500mm wide, 700mm tall, and 700mm deep.
That last figure drops to 590mm without the hinge cover, but it's still more than enough space to work with even if you have multiple monitors, gaming consoles, your mouse mat, and a PC on the desk.
Packaging
I'd usually talk about this in a single paragraph and move on swiftly, but allow me to break the norm and spend some more time appreciating the quality of packaging here.
My first impressions when I received the box were a bit questionable, especially because a corner of the box was in bad shape.
But, when I opened it up to see the contents, the care and attention to detail paid to making sure that every component was well-protected to avoid damage in transit sold me. Nothing had been affected by transit.
Also in the box, there was a secret compartment for a toolkit that comes with the package. Personally, this was one of my favorite bits of the unboxing experience.
Inside the toolkit, you get some alan keys, including one that's "Secretlab" branded and has a handle to make bolt tightening very easy.
Assembly
As I went on further to assemble the desk, it was nice to see that simplicity was a trend with setting up the rest of the components.
The legs slot in easy, and they're good to go once you tighten each one up with four bolts. Then, you attach the cable tray, the hinged cover, and voila! it's all done.
Now, assembling the Magnus may be relatively easy, but moving it is a completely different story – this thing weighs a ton! I mean, not literally but still.
It's understandable though, considering the fact that this is an all-metal desk. That fact is also what makes it so durable and sturdy, so it's a case of sacrificing a little comfort when moving the desk around for durability over a long period of time.
I should mention, if you're getting the Magpad with your package, you might struggle with that bit a little. Secretlab threw in a Magpad as part of my review package, so I got the chance to see how easy it would be to set up. Full disclaimer, it was not.
You need to slot the ends of the Magpad into metal casings, and then roll the mat out across the desk. Doesn't sound so bad, but when you consider the fact that it is magnetic, and you have to line it up correctly before applying, then things get a little bit trickier.
That magnetic feature makes it a lot easier to put on all the other accessories, so I'm still thankful for it. But, it would be nice if setting up the Magpad was a little easier too.
Design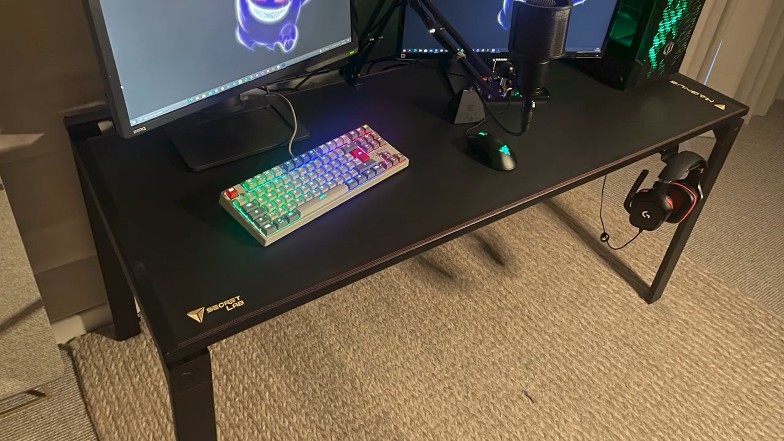 For me, there's one thing that's extremely important when it comes to the design of a gaming desk. Aesthetics are pretty nice, but comfort trumps everything else.
Safe to say, this Magnus desk excels in that department. There's a lot of space for everything you will need, and it all looks very professional and easy to maintain.
The standard dimensions are a good height, but the desk gets extra points for being adjustable. You can adjust each leg by up to 20mm using the Allen key that comes with the package.
I'd choose comfort over aesthetics most of the time, but it's nice to see that the Magnus has both nailed on. It's a sleek-looking desk, and the red highlights on the legs and lining of the Magpad add that little bit of uniqueness – not too extravagant, just the right amount of flair.
Now, if you're getting the Magpad, you should know that it takes away some of that subtle, classy design. There's a big "SceretLab" logo on one side and a Magnus logo on the other, and they're both pretty eye-catching. Depending on your style and preferences, that could be a good or bad thing.
While we're talking about "nice-to-knows", I should also mention that the magnets in the mouse mat area might cause your mouse to stick a little bit while in use. I used my G502 wireless mouse and it was a little bit annoying when it happened.
It's worthy to note that the Magpad already has high surface friction, so the stickiness makes everything feel even slower. However, you could just use your own mouse mat to cover it and everything should work smoothly.
Cable Management
The Magnus has received a lot of praise for its cable management, and rightly so. It's a really simple arrangement, but it makes the entire setup look so much cleaner.
If you're in the US or the UK, you get a free cable management tray worth $89 or £79 respectively with the package. You can mount that to the underside of the desk, and remove its little magnetic cover if you need to access your cables from the front.
The tray really gives you that extra bit of room to store loose cables or other equipment that you may not want sitting on the desk itself. It's all just a really tidy feature to have.
Additionally, there's an underside bar that you can run wires through to keep them from dangling down by your legs. It runs right through the middle of the desk and is easy to miss at first, so keep an eye out for it.
Secretlab also offer these sets of strong magnetic clips that help with holding cables down in place on the desk. You can use those for phone chargers, mouse chargers, and other stuff like that, which is another useful option.
Personally, I find that using a mounting arm for your monitor/s makes the cable management even more efficient.
With that arrangement, you can feed the wires up through each arm or attach them directly. I normally have the worst cable management habits but things have been quite different with the Magnus (touch wood!).
Finally, when you're getting a cable cover, one thing to consider is the available room for those arm mounts. My set is quite cheap, so there's not a lot of room which is frankly a little disappointing.
Add-Ons
It's mostly been positive points and pros so far, but I should mention something that I really struggle to accept with the Secretlab Magnus desk.
At a base price of $499 or £399, Secretlab is already charging in premium territory. Now that, in itself, is not a bad thing, but when you consider the fact that there are many accessories and add-ons that really complete the experience of using this desk as it should be used, then you start to wonder.
If you want those extra accessories and add-ons, you have to pay quite a lot extra for each one, on top of the base price. To be fair, it can be argued that the only extra you really "need" is the Magpad, but even that comes with a separate fee.
It's like downloading a free game with in-app purchases. It's fine if you can still enjoy the game to a very good level without the in-app purchases, but when those purchases include features that are absolutely crucial to the overall experience, then it's natural to feel a little hard done by.
The Secretlab MagRGB, the cable management fastening straps, the magnetic bumpers for the legs, and the magnetic headphone holder all cost quite a bit extra if you want them.
I got the headphone holder with my review unit and it is very handy. It's magnetic too, so you can place it wherever you like and it helps your headphones stay very securely in place. I'm sure the MagRGB lights would be a lovely addition too, but for an extra $59/£55? No chance.
My theory is that this is a deliberate move from Secretlab to give the product a more premium feel. Like when you pay a premium price for a base BMW car, but you still have to pay extra if you want all those neat features that actually bring the premium experience.
At the very least, I think the Magpad and the cable management clips could have been included in the initial price of the desk. It's not ideal, but it doesn't ruin my overall opinion of the product, and I do think the add-ons that I received with my Magnus desk were pretty good.
Pros and Cons
Summarily, these are the pros and cons of the Secretlab Magnus Gaming Desk, in my humble opinion:
Pros
Excellent design
Good, convenient size
Sturdy and sleek
Excellent cable management
Great selection of extra accessories
Cons
Extra costs for the full experience of add-ons
Insufficient space for mounting arms on the hinged cover
Cost
The RRP for the base version of the Secretlab Magnus is $499 / £399 at the time of writing, but you can check the latest sale price on their official website.
However, the final cost will depend on the addition of any of the extra accessories on offer.
Final Thoughts
Would I recommend this gaming desk for serious gamers? Absolutely. It's expensive, but if you can afford it, then you can't really do much better than the Secretlab Magnus.
The overall experience (especially if you get the add-ons) is excellent and well worth the fee. It's sturdy and also promises durability, which is really important to many.
Add all of that to the fact that you can keep upgrading the accessories to match newer alternatives and it's safe to say that you will not need to worry about buying another gaming desk for a long, long time.
Secretlab Magnus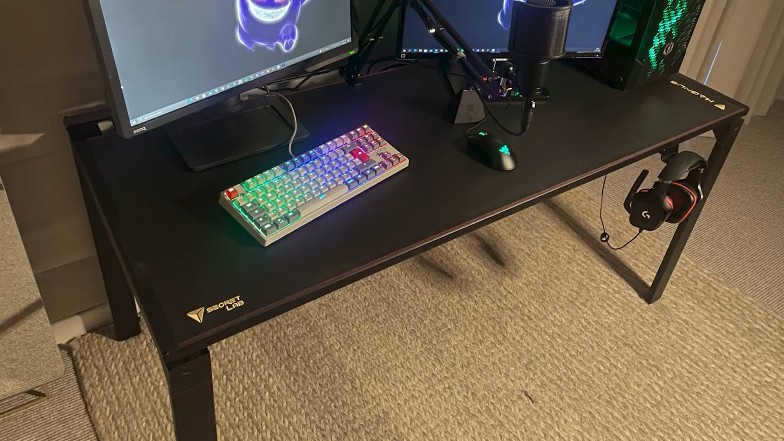 The Secretlab Magnus is a metal desk with a lot of features, and it will last for years into the future.
Pros
Sturdy
Exceptional quality
Handy cable management
Spacious