FC 24 marks the return of the football simulation franchise after the conclusion of the partnership between developers EA and the football governing body FIFA.
However, many of the features remain the same. This includes the option of different editions of the same game sold at different prices.
We've got the Standard Edition for FC 24 and the Ultimate Edition. The Ultimate Edition, as always, is more expensive, and it's natural to wonder why.
This guide discusses the difference between both editions and should hopefully make it easier for you to decide which one to spend your hard-earned money on.
Prices
The prices of both editions across all relevant platforms are listed in the table below:
| Platform | Standard Edition Price | Ultimate Edition Price |
| --- | --- | --- |
| PC | £59.99 / $69.99 / €69.99 | £89.99 / $99.99 / €99.99 |
| PlayStation | £69.99 / $69.99 / €79.99 | £99.99 / $99.99 / €109.99 |
| Xbox | £69.99 / $69.99 / €79.99 | £99.99 / $99.99 / €109.99 |
| Nintendo Switch (Legacy Edition) | £54.99 / $59.99 / €59.99 | N/A |
PC gamers in Europe pay less for the game than those in the US, despite it being the same price for PlayStation and Xbox.
EA has not made any significant gameplay changes to the Nintendo Switch Legacy version for a while now and we expect that to remain the same so there's understandably no point in having an Ultimate Edition.
Speaking of differences, we have a guide on the changes we expect in FC 24 compared to FIFA 23 if you were wondering about that.
Standard Edition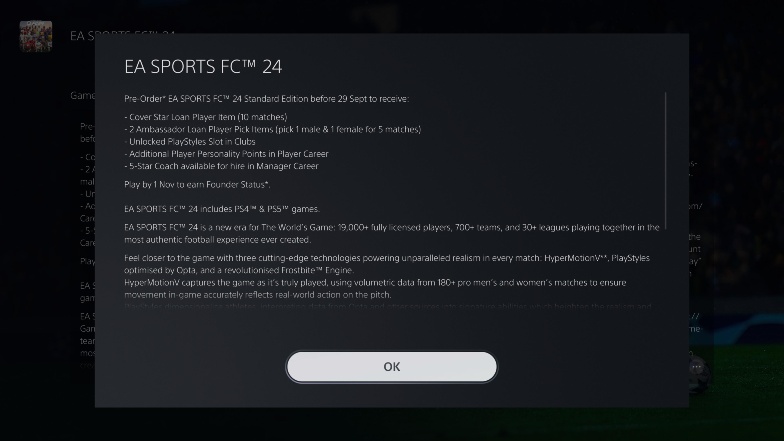 When you purchase the Standard Edition of FC 24, these are the benefits that come with it:
Dual Entitlement
EA SPORTS FC™ 24 PS4™ & PS5™ base game
Cover Star Loan Player Item (10 games)
Male Ambassador Loan Item (5 games)
Female Ambassador Loan Item (5 games)
Clubs PlayStyles Slot
Player Career Personality Points
Manager Career 5-Star Coach
The cover star in FIFA 23 was Kylian Mbappe and he was the best player in the game from the start. This year, the star is Haaland and it'll be interesting to see if the same situation applies.
"Dual Entitlement" simply means that you have access to old and new-gen versions of the game if you pre-order FC 24.
Since crossplay across both generations is not supported, this can be a useful solution. All you have to do is download the version of the game that your friends have (old or new-gen) and play against them with that.
The benefits here are pretty standard (pun intended) and nothing stands out, but that's to be expected.
Ultimate Edition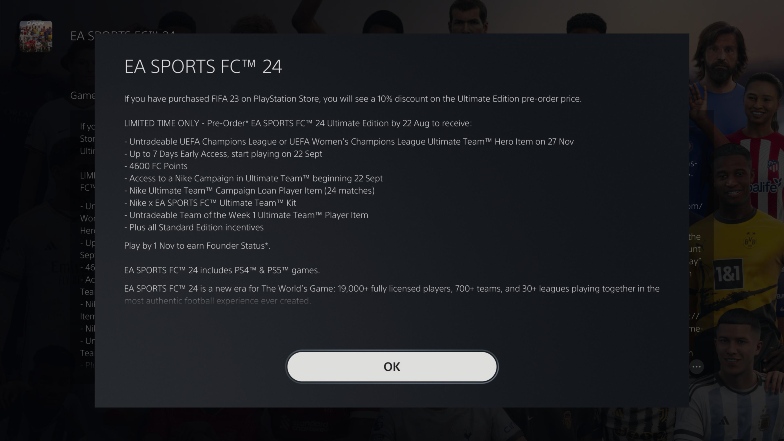 The Ultimate Edition of FC 24 includes all the same benefits as the Standard Edition, in addition to a few extra perks such as :
UCL Ultimate Team™ Hero
Up to 7 Days of Early Access
4600 FC Points
Nike Ultimate Team™ Campaign
Nike Ultimate Team™ Loan & Kit
TOTW 1 Ultimate Team™ Player
Things are a bit more interesting here. The first notable difference is that we now have 7 days of early access compared to 3 days in FIFA 23.
This means that if you pre-order the Ultimate Edition of the game, you have a 7-day headstart to get your squad into shape for a bit more competitive advantage ahead of players that start the game on full release day.
By November 27, the free UCL Ultimate Team Hero player will be sent out to players that pre-ordered the Ultimate Edition of the game. It's a good chance to get a promo card that might otherwise be hard to pack in Ultimate Team.
4600 FC points should come in handy as well. It's enough for a couple of store packs and also increases your chances of packing a good player that gives you a competitive advantage over other people that may not have access to those types of packs yet in the early stages of the game.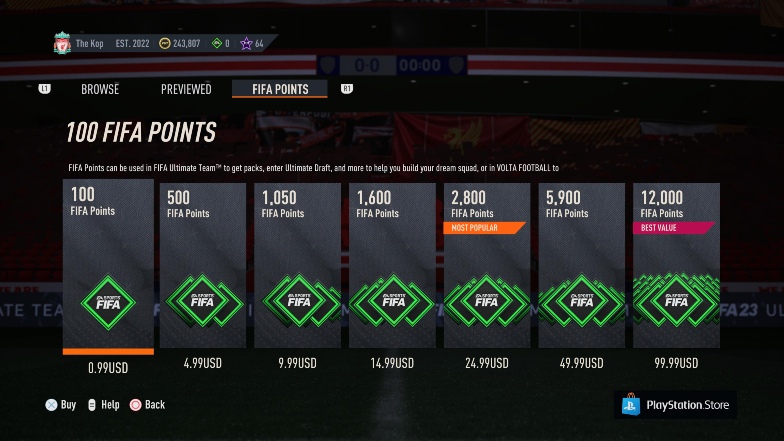 It's also about $40 in real-money value, which is already more than the difference between the prices of the Standard and Ultimate Editions of the game.
Which One Should You Go For?
Once again, the key differences between both editions of the game are mostly only relevant to the Ultimate Team game mode.
It's understandable since this is by far the most popular game mode among the fans, but it also means that there is little value in paying extra for the Ultimate Edition if you don't/barely play FUT.
Even if you do play Ultimate Team, some people prefer to play the game completely devoid of any extra advantages. These "Road to Glory" accounts generally avoid spending FIFA points (or FC Points as they are now called), and that also drastically reduces the appeal of paying extra for the Ultimate Edition.
If you belong to either category of these people, then the Standard Edition is the way to go. If you don't, and you want the advantages (albeit short-lasting) that the perks offered by the Ultimate Edition offer, then there's value in it for you.