New name, same game? The answer to that question will be revealed in due course. However, on the surface, it does look like EA is implementing quite a few significant changes to the game compared to what we had in FIFA 23.
Following the official announcement of FC24, the subsequent release of the gameplay deep dive trailer by EA Sports, and a handful of leaks from solid sources, I've compiled this guide to the new changes in football's most popular simulation game.
It's a much more robust representation of where things stand compared to the bits and pieces that we previously had, so this should make for some exciting reading for FIFA fans. Let's get into it!
Price & Early Access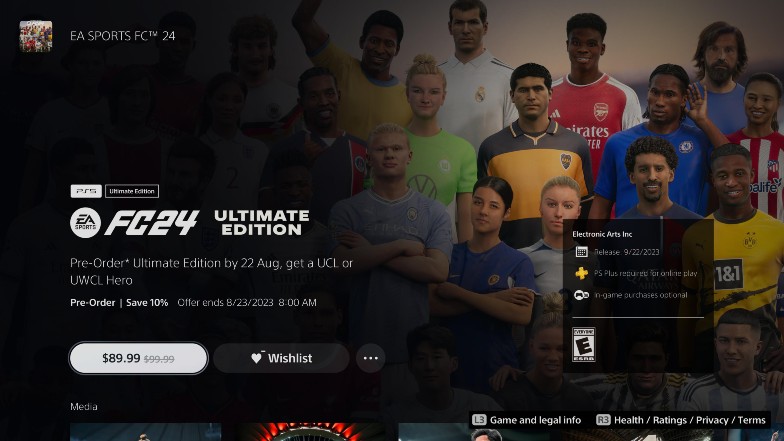 On PC, PlayStation, and Xbox, the Standard Edition of FC24 costs $69.99 while the Ultimate Edition costs $99.99. The Legacy Edition of the game, built for the Nintendo Switch, is cheaper at $59.99.
If you preorder the Ultimate Edition before August 22, you get a $10 discount along with these extra perks:
Untradeable UEFA Champions League or UEFA Women's Champions League Ultimate Team™ Hero Item on 27 Nov
Up to 7 Days Early Access, start playing on September 22
4600 FC Points (formerly FIFA points)
Access to a Nike Campaign in Ultimate Team™ beginning September 22
Nike Ultimate Team™ Campaign Loan Player Item (24 matches)
Nike x EA SPORTS FC™ Ultimate Team™ Kit
Untradeable Team of the Week 1 Ultimate Team™ Player Item
All Standard Edition incentives
7 days of early access is four days more than we got with FIFA 23, which is nice. It means that you can play the game from September 23rd before its full release on the 30th.
Career Mode
There are rumors of an online element in Career Mode this year, but the only confirmed change/addition is "Spectator Mode".
It's a new touchline cam point of view that allows you to watch the game from the sidelines and feel closer to the action, much like real managers in real life do. I'm undecided about how efficient this will be in practice, but it sounds nice in theory.
Pro Clubs
The most significant change in Pro Clubs (apart from the fact that it's just called "Clubs" now) is the introduction of cross-play.
Now, you can form teams with friends that are playing the game on another platform, surely opening up more possibilities for having a full squad of people you actually know.
There will also be an overhaul of the league system as a new competitive mode called "Playoffs" will be introduced. We'll see how that plays out.
UT Card Design
For all the mistakes that EA Sports made over the course of the game cycle of FIFA 23, one department that almost never dropped the ball was Design. The card designs were very well-received by the community throughout the year.
That trend seems to be continuing with the leaks of the new card design for FC24. It's different enough from what we had in FIFA 23 but not so much that it triggers too much unfamiliarity.
We've also been informed that dynamic card designs can now have parts of the players' bodies spilling out of the borders of their cards.
It sounds cool but also seems like it could be a potential problem when you're sorting through your club screen. I guess it depends on how EA implements it and which menus have this feature enabled.
UT Co-op Moments
The Moments game mode is a bore-fest for the most part and, in my opinion, needs a complete overhaul. But it does not sound like we're getting that.
What we're getting is the addition of the co-op lobby to this game mode within Ultimate Team. At least now, you don't have to be bored alone when completing those challenges.
UT AcceleRATE Types
FIFA 23 Hypermotion 2 technology arrived with the introduction of acceleRATE types for players on new-gen platforms. These control the way the players run on and off the ball and how quickly they get to full speed over a certain distance.
There were three acceleRATE types in FIFA 23: Lengthy, Controlled, and Explosive. Now, four more have been added to FC24. These include:
Mostly Lengthy
Mostly Explosive
Controlled Lengthy
Controlled Explosive
There was a demonstration in EA's gameplay deep dive trailer to show how these acceleRATE types work, so you can check that out for visual representation.
UT Playstyles
One of the more significant changes in comparison to FIFA 23 is the introduction of Playstyles to make the way players behave on the ball even more unique.
We had traits in FIFA 23 which was a similar concept, but, according to EA, these playstyles will make the actions of players in the game closer to real life than ever before (yes, I know we've heard that many times).
So, for instance, a player like Trent-Alexander Arnold has the "Whipped Pass" playstyle, while Vinicius Junior has the "Trickster" playstyle.
There are playstyles for various aspects of ball action, including scoring, ball control, goalkeeping, physical, passing, and defending. The new playstyles for each category are listed below:
Scoring
Finesse Shot
Power Header
Power Shot
Chip Shot
Dead Ball
Passing
Tiki Taka
Pinged Pass
Whipped Pass
Long Ball Pass
Incisive Pass
Ball Control
Rapid
Flair
Press Proven
First Touch
Technical
Trickster
Goalkeeper
Far Throw
Rush Out
Far Reach
Footwork
Cross Claimer
Quick Reflexes
Physical
Trivela
Relentless
Quick Step
Acrobatic
Long Throw
Aerial
Defending
Bruiser
Block
Anticipate
Jockey
Slide Tackle
Intercept
UT Position Modifiers
This change feels like a no-brainer, but I'm still very thankful for it.
In FIFA 23, if a player has a natural CM position and a CDM alternate position, you had to apply a position modifier to use that player on chem at CDM in your starting line-up. Then, if you wanted to switch them back to CM in the starting line-up, you'd use another position modifier.
In the earlier stages of the game cycle, these position modifiers had to be bought on the market which was inconvenient for people struggling to get coins. Later on, EA introduced a repeatable SBC that allowed you to swap a bronze player for a position modifier, and that made things way easier.
Still, it's a relief that it has been completely removed from Ultimate Team. Now, you can just stick the player in any position listed on the card without getting flagged for playing them off-chem.
UT Evolutions
Ultimate Team Evolutions is a new feature that EA lowkey tested in FIFA 23. With this feature, you can upgrade the stats and abilities of your favorite cards throughout the game cycle.
Obviously, I expect that there will be a limit to how many upgrades you can apply to a player within specific periods of time, but the possibilities are truly exciting as it brings a whole new dimension to building a squad of players that you actually like.
If you were a regular player of FIFA 23, then this should remind you of the FUT Ballers and Level Up promos where cards could be upgraded by completing objectives. I expect a similar approach for Evolutions in FC24.
UT Icons and Heroes
One major drawback of using Icons in your starting eleven on FIFA 23 was the fact that they did not add any league or club links to any other players. This made Icons a bit of a liability for squad-building – especially the ones from less popular footballing countries.
Now, the chemistry system for Icons will be overhauled in FC24. Icons will now add one league chemistry point to every player in the starting line-up. That change makes them pretty useful for links, just like their Hero counterparts.
Additionally, there will be new icons in the game. Some names that we can expect to see based on leaks include Bobby Charlton, Franck Ribery, Zico, Mia Hamm, Gento, and Di Stefano.
Speaking of Heroes, there are more new names added to FC24 here. Players such as John Arne Riise, Wesley Sneijder, Vincent Kompany, Nwankwo Kanu, Tomáš Rosický, Dimitar Berbatov, and Alex Scott are rumored to be part of the new lineup, while former Icons Rui Costa and Jari Litmanen have been downgraded to become Heroes.
In case you're unfamiliar with the names Mia Hamm and Alex Scott, they're female footballers that have been added to Ultimate Team as part of the new development that allows men and women to play together on the same team in the game. But we'll get to details on that shortly.
One last point to note about Heroes is that we're getting UEFA Champions League Heroes this year instead of the Marvel World Cup Heroes from FIFA 23.
UT Mixed Teams
The introduction of mixed teams in Ultimate Team is definitely the most controversial and significant change to the game.
EA has added female footballers to the game mode for the first time ever, and these players can be packed in the same packs as their male counterparts and play in the same teams with them as well.
This means that we'll also be getting female icons and heroes as I've already mentioned. Their stats will perform just as well as the men's in-game, and if nothing else, it will be very interesting to see how this affects the uniqueness of teams that the players build over the course of the game cycle.
It's all a lot to unpack, but I'm here for it. FIFA 23, for all its faults, was generally a good time. FC24, here we come!