Meta center-backs and strikers get the most hype in FC, but certain midfielders generate quite a bit of excitement as well.
Generally, midfield is the position where players on a budget are less willing to splash their coins, but the selection of players in this guide will make you think twice about that.
If you have some coins to spend for a new meta player in the middle of the park, then you're in the right place. These are the best meta midfielders in FC 24 Ultimate Team.
Alexia Putellas
Female footballers are in FUT now, and there are a lot of really good cards! Putellas is arguably the best of the bunch, and she's absolutely cracked playing as an attacking midfielder.
The standout stats on this card are 90 shooting, 91 passing, and 92 dribbling. She's also got the double 5-star combo for weak foot and skill moves, and the cherry on top is a catalog of playstyles that are overpowered in-game.
She has the First Touch playstyle+ which greatly increases the speed and accuracy of trapping the ball first-time and transitioning to dribbling with better control, and she also has the Finesse Shot, Incisive Pass, Pinged Pass, Tiki Taka, Technical, and Flair playstyles.
If you're playing Putellas as a central midfielder, the best chemistry style to use would be the Shadow or Anchor to make her even more well-rounded with better pace, defending, and physicality. If you're playing her as an attacking midfielder, the Hawk or Hunter would be better options instead.
Jude Bellingham
Despite the fact that the stats on this card have been the subject of a lot of controversy among FC gamers, it is still one of the best meta midfield cards in the game.
On paper, the stats are solid but not spectacular with the highlights being 85 dribbling and 82 physical. However, this is one of those cards that play better than the stats suggest.
It also helps that Bellingham has a bullish physique which suits his position, a 4-star combo for weak foot and skill moves, and a few useful playstyles.
The most notable playstyle is the Relentless playstyle+. It significantly reduces the effects of fatigue on attributes, reaction time, and defensive awareness which means this guy can run for 90 minutes, especially in combination with his 93 stamina rating. The playstyle+ also greatly reduces stamina loss and increases recovery after half-time.
Other regular playstyles include Intercept, Slide Tackle, Technical, and Flair – all useful for a box-to-box midfielder in this game. The best chemistry style to use here is Shadow.
Sandro Tonali
Newcastle's marquee signing for the 2023/24 summer window has a pretty tasty card in FC 24 Ultimate Team. It's an 86-rated overall that barely misses out on "Gullit Gang" due to 74 shooting.
Tonali does not have any playstyle+, but he has regular playstyles such as Long Ball Pass, Slide Tackle, and Relentless. This selection of playstyles in combination with his medium/high defensive/attacking work rate makes him a good option if you're looking for a deep-lying playmaker.
Slap a Shadow chemistry style on the card to boost his overall pace and defending to 92 and 89 respectively and you'll have a fantastic CDM on your hands.
Marcos Llorente
No one will be surprised to see Llorente on this list. He's one of the most popular cards in the game and he's usually meta.
He's not quite as cracked as he was in FIFA 23, but he still has that special strength – bags of pace. That is the standout attribute and what makes him a versatile option as well for people who prefer to play him at right-back.
He has a few playstyles, including Power Shot, Whipped Pass, Rapid, Quick Step, and Relentless. This selection of playstyles is great for a box-to-box midfielder and that is, in my opinion, the best role to use Llorente in.
If you want to make him stronger defensively, the Shadow or Anchor chemistry style is the way to go. If you want to make him feel a bit better on the ball when driving forward, you can try the Finisher (better shooting and dribbling) or the Engine (more pace, dribbling, and passing).
Federico Valverde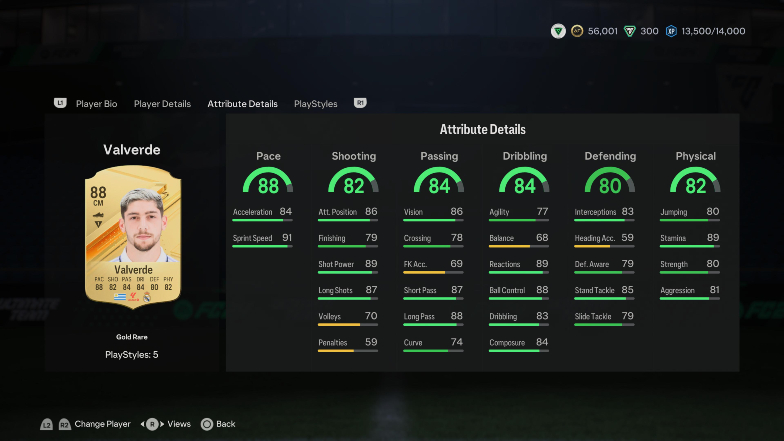 Valverde is a similar card to Llorente. Both cards are great all-rounders with bags of pace, and they even share the Power Shot, Rapid, and Relentless playstyles. However, Valverde has the Trivela and Long Ball Pass playstyles instead of the Whipped Pass and Quick Step.
One could say that Valverde is the rich man's Llorente, especially since he is Gullit Gang in FC 24. He's a fantastic option to have in a two or three-man midfield due to his high-high work rates, and applying the right chemistry style only boosts that ability further.
I recommend the Engine or Anchor for a more attacking or defensive role respectively.
Jamal Musiala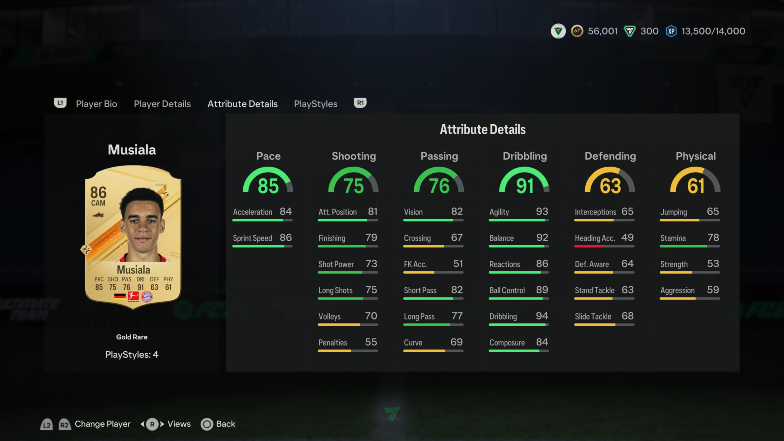 Jamal Musiala is the best male attacking midfielder in the game. Sure, Kevin de Bruyne is the highest-rated CAM, but in terms of the meta, Musiala is clear.
Let's kick things off with the 5-star skills. This card has 91 dribbling, a unique body type, and the Technical playstyle+. He feels fantastic on the ball and if you're the type of gamer who uses skill moves often, you'll enjoy using him a lot.
That's not all he's good at though. 85 pace is more than enough for the middle of the park in the early months of FC, and you can boost the relatively low finishing and passing numbers with a chemistry style.
If you're going to be using him as a player who drives into the final third often, I recommend the Marksman chemistry style. If you're using him as a traditional CAM that sits in the hole behind the attack, the Maestro or Deadeye will serve you better.
Debinha
Here we have another 5-star combo female CAM – a proper Samba player if you will.
Debinha's obvious strength is dribbling, but she's a really good passer as well. She's quick enough, and she also has decent shooting. With a Maestro chemistry style, some of those "decent" stats are boosted into a really good area.
Now, let's address the elephant in the room (or in this case, the ant). She's 5'1″ and she has 61 strength and 70 aggression. It will be very easy for strong defenders to bully her off the ball, but that only really applies if you're not skilling your way through the defense.
If you don't really use skill moves, this card will be wasted on you and you're better off with alternatives. However, if you do and you can afford the coins, then you should absolutely pick her up on the market.
Per playstyles, she has the Technical playstyle+ to go with other regular playstyles including Flair, First Touch, Trickster, Quick Step, Trivela, and Acrobatic.
Leon Goretzka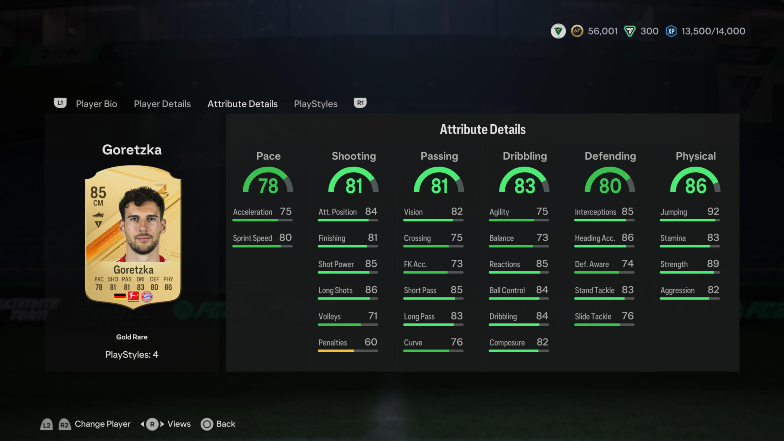 Like Tonali, Goretzka narrowly missed out on "Gullit Gang" in FC 24. He has 80+ stats in every face stat except pace, but that can be fixed with the Shadow chemistry style which also boosts his defending significantly.
It's a bit of a tricky one with Leon because he's 6'2″ and he has medium/high work rates. His body type is more suited for defending, but his work rates are more suited for attacking. The solution? Box-to-box with individual instructions.
The card has the Power Shot, Intercept, Bruiser, and Aerial playstyles. It's a nice selection for a bullish all-action midfielder that you can play alongside a more technical/smaller partner.
Aitana Bonmati
To be clear, this list was written in no particular order, so Bonmati's position is definitely not reflective of how she ranks alongside the other cards we've discussed so far.
She is Putellas' partner-in-crime with Barcelona Women in real life, and she's excellent in FC 24 as well. A 4-star 5-star skill moves and weak foot combo start things off nicely, but the best thing about this card is undoubtedly her ability on the ball.
91 dribbling is the standout stat, and she has the Technical playstyle+ to go with that. She also has other regular playstyles such as Finesse Shot, Incisive Pass, Pinged Pass, Tiki Taka, First Touch, and Relentless.
This selection of playstyles in combination with her stats makes Bonmati a fantastic playmaking midfielder. If you need her to run and beat a few people before releasing the pass, she'll do it. If you need her to play first-time long balls into space behind the opponent's defense, she'll do that just as well.
With the high/high work rates and Relentless playstyle, I wouldn't worry too much about her 80 stamina either. Slap an Anchor or Shadow chemistry style on her and call it a day.
Grace Geyoro
Considering the relatively small size of most of the female players in the game, it might seem a little strange that I'm listing a 5'6″ CDM with only 77 pace as meta. Let me explain.
If you've been lucky to play with Kante in previous installments of FIFA, then you have an idea of what to expect from this card. She's small, but she's relentless – she literally has the Relentless playstyle+ with 93 stamina to back it up!
Once you apply a Shadow chemistry style here, you're good to go with 85 overall pace and 90 defending. I wouldn't try to be too fancy with her on the ball, but one of the benefits of smaller players in this game is that they're more agile so it's easier to dribble with them.
She also has the Long Ball Pass playstyle and 86 long passing, so she can pick out a pass from deep if required. For the price, she's an absolute bargain.
Cheap Beasts
Now that we've discussed the best meta cards, let's have a quick look at some alternatives that you can pick up for cheap. They're not exactly "meta" but they're some of the best options you'll get in their respective price ranges.
Casemiro
Feels faster than the 63 pace on his face stats. He has a great body type for a CDM, the Block playstyle+ and Slide Tackle playstyle, plus 89 defending and 88 physical. Great links too!
He probably won't be catching up to the fastest strikers often, but he's still good enough to give meta CBs a run for their money. Use a Shadow chemistry style.
Nicolo Barella
High/high work rates, very good dribbling with good passing, and the Relentless playstyle+ make him a really good option for a box-to-box midfielder.
He also has the Tiki Taka and Slide Tackle playstyles and he's close enough to Gullit Gang. Use a Shadow or Anchor chemistry style.
Adrien Rabiot
That body type alone is almost enough reason to have him in your budget team.
Good at passing, dribbling, and defending. He still only has medium/medium work rates, so I would use him as a left center-mid with custom instructions to make him effective as a box-to-box player. Use a Shadow chemistry style.
Ismail Bennacer
Another good box-to-box option, but he leans more toward attacking than defending. A good dribbler and passer, and he's quick enough to get across the pitch.
Use the Anchor or Shadow chemistry style. If he's going to be an attacking CM, use the Engine or Hawk.
Crystal Dunn
A cheaper alternative to Grace Geyoro if you use the Shadow chemistry style. She's even smaller at 5'1″, but very persistent and also has a Relentless playstyle.
She's more attack-oriented than Geyoro due to much more pace and better dribbling, so you're probably better off using her as a "Get Forward" midfielder. In that scenario, a Deadeye or Maestro chemistry style would be best.
Konrad Laimer
A cheaper alternative to Tonali. Good pace and defending, and he has the Block playstyle+. He also has Incisive Pass, Slide Tackle, Bruiser, and Relentless which is an excellent selection for a defensive midfielder.
Use the Shadow chemistry style.
Joelinton
An alternative to Goretzka. He's of a similar size with good pace, dribbling, defending, and physical stats. He has the Bruiser and Press Proven playstyles which are both really good for a box-to-box midfielder.
Use the Shadow chemistry style to make him stronger defensively, or an Engine to make him a bit better going forward. I strongly recommend the former.
Eduardo Camavinga
A versatile option who can also play left-back. He has really good defensive playstyles such as Jockey, Block, and Bruiser, but he also has some nice attacking playstyles with Flair and Technical.
He's a well-rounded player bar his shooting, so you're fine with an Anchor chemistry style as long as you're not shooting often.
I recommend Anchor over the Shadow because he completely loses the Lengthy acceleRATE type with the Shadow. Controlled Lengthy can be useful in the middle of the park.
Emre Can
Can is a strong option at CB or CDM. He has a wide range of playstyles suitable for winning possession, including Intercept, Slide Tackle, Bruiser, and Aerial.
He's also decent on the ball with 79 dribbling, and he remains a Mostly Lengthy player on a Shadow chemistry style. I would use him at the base of a three-man midfield.
Amel Majri
A B-tec Debinha with better defending but a worse weak foot. She has 5-star skills but her work rates are high/medium which is not ideal for someone suited to the attacking positions.
Regardless, she plays too well in-game to pass up, so I would use her as an attacking CM with custom instructions that help her play that way. That stamina is an issue, but that's why she's cheap!
She has the Whipped Pass playstyle+ which can be handy if you give her instructions to drift out wide so she can cross the ball often. She also has Tiki Taka, Technical, Flair, Trickster, Trivela, and Acrobatic – all effective playstyles in the final third.
If you're in the market for meta players in other positions, check out our guide to the best meta strikers in FC 24 next.