Pep Guardiola is widely recognized to be a master of invention when it comes to the way he sets up his teams. He often adopts out-of-the-box styles of play, even if they're not always successful.
One of such re-inventions has taken place in his time with Manchester City. Pep has gone from a manager who likes to play with attacking full-backs to one who lines up with four centrebacks across the defense line – and that's not all that has changed.
This guide details how you can replicate Pep Guardiola's tactics at Manchester City in FC 24. We discuss everything from the squad that you need to the formation, tactics, and custom player instructions.
Squad
The most important thing for a player to have in a Pep team regardless of position is technical ability. Every player in a Pep team must be comfortable and secure on the ball, so this is something to take note of when you're choosing the best team or the best players to use for this system.
Apart from that, the new Pep system at Manchester City also focuses on defenders who have a physical presence and a "defense-first" approach. In fact, he often plays center-backs in all four defensive positions just to make this happen.
Finally, a game changer in Pep's team is a ball-striking expert. For City, it is Kevin de Bruyne. His ball-striking ability for passing, crossing, shooting, and dead balls is up there with the best in the world, so it would help to have a player of a similar mold in your squad.
Formation
As I always make sure to clarify, the starting formation in modern tactics rarely matters because they often change significantly once the game actually begins and the team is in or out of possession.
That is the case with one of Pep's students, Mikel Arteta's tactics so it is no surprise that the same is the game here.
Regardless, Manchester City generally lines up in a 4-3-3 formation with a defensive midfielder and two central midfielders, so we'll go with that.
Tactics
Defense and Offense tactics in this section impact how the players defend and attack as a unit. It is the first step of adjusting the AI to suit the tactics that we're trying to replicate before we go into deeper customization with player instructions.
Defense
For all the changes that Pep has made to his preferred style of play over the years, one thing that remains a constant is that his teams press the ball out of possession.
The first few seconds after losing possession are the most crucial, and the best way to replicate that type of press is with the "Press After Possession Loss" option.
For the team width, I've gone with 50 to make the defensive line a bit narrow. This is because FC 24 lacks the custom player instructions required to apply width to specific players in this formation. The rationale behind this will become clearer as we dive deeper into the tactics.
Depth is set at 65 to replicate City's high-line system.
Offense
In possession, City is flexible but they do have a preferred style of play. This is a patient build-up that probes and stretches the opponent's defensive blocks until an opening is found. It's not quite as tedious as tiki-taka was in the past, but it is still slow build-up possession football.
The width is set at 80 because the players fan out when in possession. Three center-backs sit across the last defensive line, while the wingers hold their position close to the touchline as well.
Players in the box is set to 6 to make sure that trigger AI runs as often as possible. It is doubly important to do this because of the possession chance creation style which reduces the default number of instances of players making forward runs.
Depending on the results that you get and prefer, you can increase or slightly decrease this number.
Player Instructions
These player instructions will further adjust the defensive and attacking AI of the players on an individual level.
Goalkeeper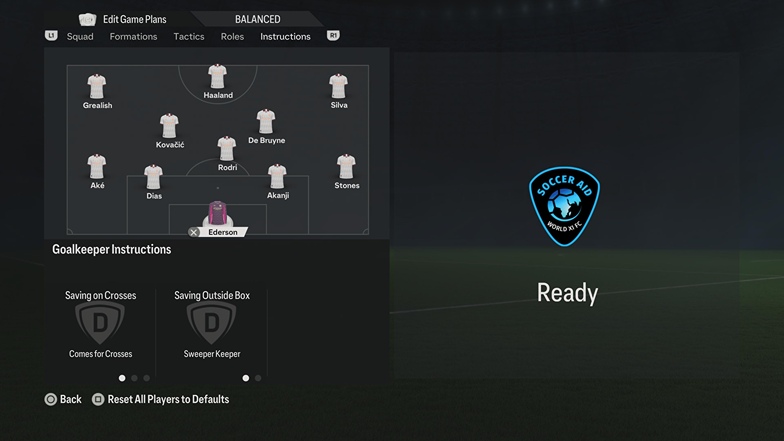 Ederson is one of the best sweeper keepers in the world, especially when his team is in possession.
The only options we have to replicate his style of play are to choose the instructions "Comes for Crosses" and "Sweeper Keeper".
Left-back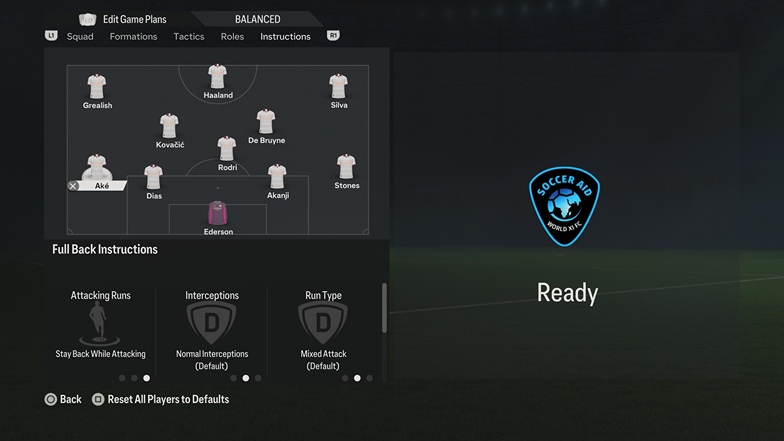 This is one of the positions where we have little control to adjust the player's behavior enough to replicate real life. The only thing we can do is make the player stay back, and hope that the team width chosen earlier helps him to function as a third center-back.
Centerbacks
Use default instructions.
Right-back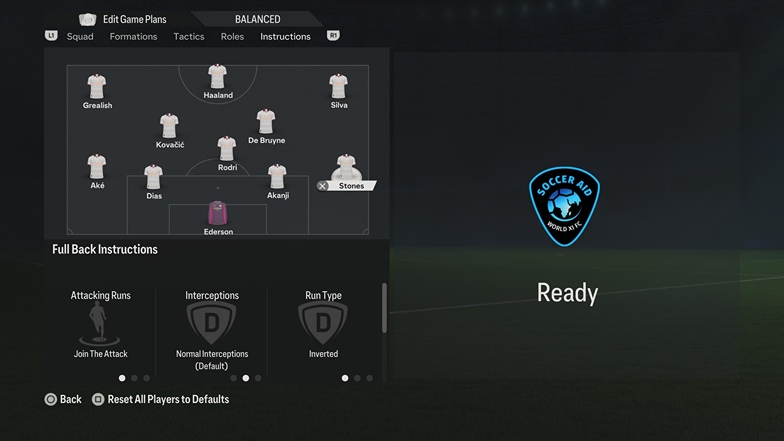 The right-back in Pep's system actually plays as a second defensive midfielder when the team is in possession. The closest possible replication in FC 24 is to adjust his run type to "Inverted" and attacking runs to "Join The Attack".
Defensive Midfielder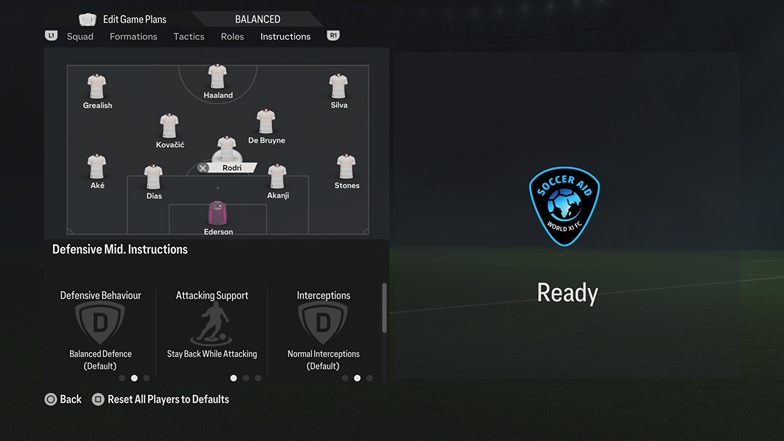 Rodri plays a bit of a traditional defensive midfield role in real life, although he gets more freedom on the ball with the right back playing next to him in a double pivot.
Adjust the defensive positioning of this player to "Cover Center" and Attacking Support to "Stay Back While Attacking".
Left Center Midfielder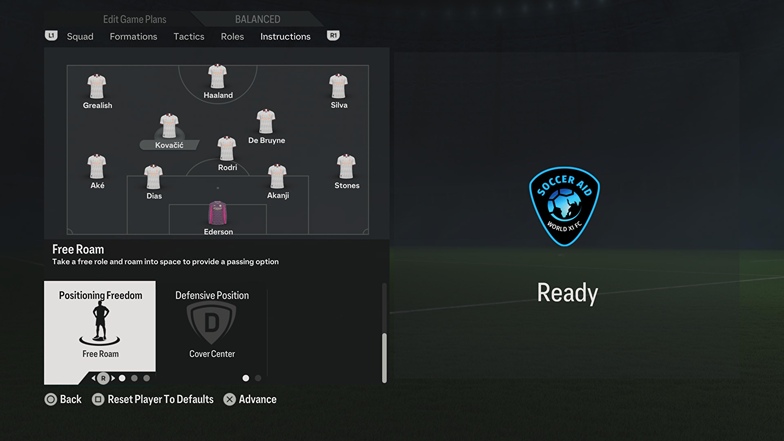 The left central midfielder probably has the most dynamic role in this system due to how much it is constantly changing.
In possession, this player looks to roam into space to serve as an option for a pass. Out of possession, the player drops into the pivot with the defensive midfielder to replace the right-back who drops back to their natural position.
For this reason, we go with the "Free Roam" and "Cover Center" instructions while leaving everything else on default.
Right Center Midfielder
The "De Bruyne role" is as close to the role of an attacking midfielder as it gets.
As KDB does in real life, we need this player to drop into the right half-space to whip crosses in, especially considering the fact that the right-winger is a left-footed player who does not cross often. This explains the "Drift Wide" positioning freedom in possession.
We also need this player to get forward and support in the attacking third often, which is why you need to set instructions for "Get Forward" and "Stay On Edge Of Box For Cross".
Out of possession, KDB occupies a more central position ahead of the two other midfielders, which explains the "Cover Center" defensive position.
Right Winger
With Bernardo Silva on the right wing, City does not play him as a true winger. He often roams into central areas and also helps out in defensive transitions.
This explains the "Come Back on Defence" instruction, while the "Get Into Box For Cross"\ option ensures that he still contributes significantly to the attacking phases of play.
This all-action style of play requires a player with a lot of stamina. If the player has the Relentless playstyle, that's even better.
Left Winger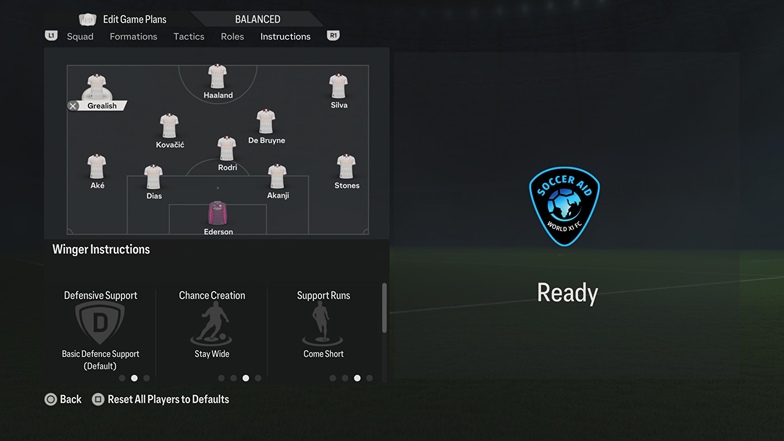 City has two options for this position, Doku or Grealish. Grealish's role in the team playing the left-wing position is more established, so I have chosen him for these instructions.
Grealish often receives the ball wide, isolating the fullback so that he can maximize his biggest strength which is dribbling. This explains the "Stay Wide" instruction.
Like Silva, he's also not the quickest winger you'll see, so he often comes short to receive the ball instead of making runs in behind the defense.
Naturally, you also want this player getting into the box for crosses, especially considering the presence of a player like KDB in that right half-space.
I would recommend prioritizing dribbling ability when choosing the player for this position. Even better, look for someone that has the Trickster playstyle or playstyle+.
Striker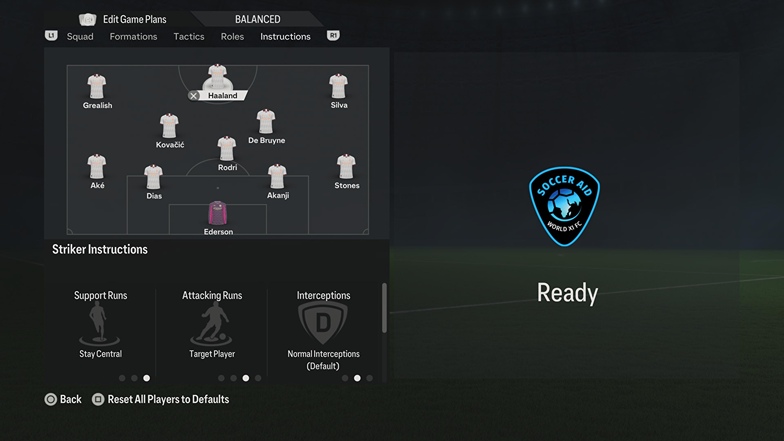 Erling Haaland's game has evolved since joining Manchester City. He has gone from being an out-and-out striker who's almost always only involved in the final play to a player that teammates can play off of and is not afraid to drop deep.
This is why I've chosen the "Target Player" instruction alongside "Stay Central". Leave the other instructions on default.
While we're on the topic of managers who are inventive with their tactics, you might also want to check out our guide to Jurgen Klopp's tactics at Liverpool.