FC is the most popular football game by some distance, and for good reason. Over the years, the franchise has continued to grow, and improve in many ways, but it's still far from perfect.
Asking for a perfect game might be too much, but you can improve the experience for yourself if you want things to feel a bit more realistic. This is where game sliders come in.
Game sliders are part of the game settings in FC. You can adjust several parameters in these settings that directly affect how the game is played and how the players behave. With the right tweaks, results can bring the game closer to what football feels like in real life compared to the default settings.
This guide details the best realistic game sliders for FC 24. Everything you need to change, from the gameplay and match settings to the rules and custom sliders is clearly listed, and all you have to do is copy and apply it to your game.
Gameplay Settings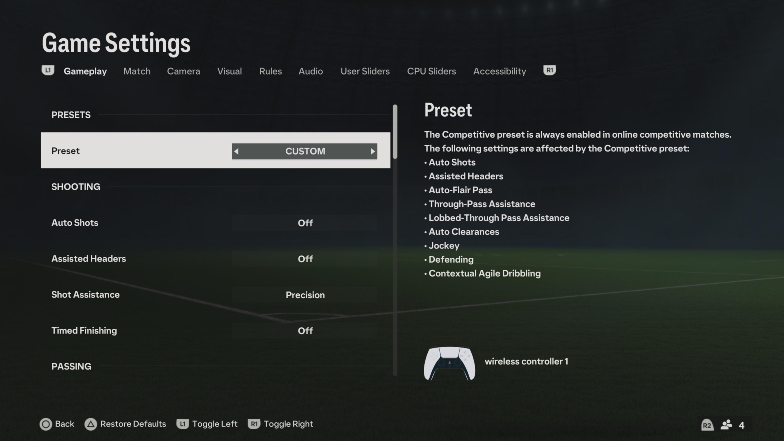 Preset: Custom
Auto Shots: Off
Assisted Headers: Off
Shot Assistance: Precision
Timed Finishing: Off
Auto Flair Pass: Off
Through Pass Assistance: Semi
Lobbed Through Pass: Semi
Ground Pass Assistance: Semi
Cross Assistance: Semi
Lob Pass Assistance: Semi
Pass Receiver Lock: Power Up/Animation Start
Precision Pass Sensitivity: High
Auto Clearances: Off
Clearance Assistance: Directional
Jockey: Manual
Defending: Advanced Defending
Pass Block Assistance: On
Auto Switching: On Air Balls and Loose Balls
Auto Switching Move Assistance: Low
Right Stick Switching: Classic
Right Stick Switching Reference: Ball Relative
Right Stick Switching Sensitivity: Default
Next Player Switching: Classic
Player Lock: On
Icon Switching: On
Contextual Dribbling: Off
Orbit Dribbling: On
Save Assistance: Assisted
Analog Sprint: Off
Trigger Effect: Off
User Vibration Feedback: Classic
Assisted settings can feel overpowered at times, but you still need a semblance of it if you don't want your players to stand around like mannequins while the opponents play through them. This explains the selection of "Semi" for most of the assisted settings here.
Two other settings in this category that stand out are Shot Assistance and Pass Receiver Lock.
Setting Shot Assistance to "Precision" puts you in more control of getting your shots on target because you need to be more accurate with direction. It makes it a tad harder to get shots on target but when you do, you're more likely to score than with the default settings.
Pass Receiver Lock is fantastic for players who like to play a quick passing game because it registers the input of your pass direction much quicker (in the Power Up or Animation Start phase, depending on which one you choose).
The effect of this will be more obvious if you play online where there can be more input delay compared to offline game modes.
There's a new type of defining called Advanced Defending. It's very similar to Tactical Defending with the only difference being that you decide when to make a tackle or a shoulder barge/seal out with the button you press ("Square" or "X" on PlayStation) instead of making the AI contextually choose automatically with the Square button.
Match Settings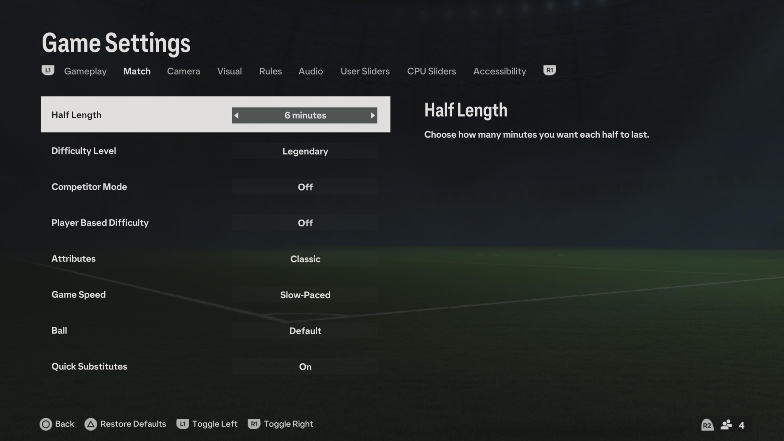 Difficulty Level: Legendary
Competitor Mode: Off
Player Based Difficulty: Off
Attributes: Classic
Game Speed: Slow-Paced
FC gameplay is faster than real-life football, so the game speed setting adjusts this with the "Slow-Paced" option.
You also want to make sure to change the attributes setting to Classic because it's unrealistic to have a player's attributes adjust to whatever position you stick them in. A top striker should not suddenly become good at defending if you stick him in center-back.
For the difficulty level, you can use World Class at the start if Legendary proves too difficult. Then, make the switch once you get used to the settings and start winning some games.
Turn Competitor Mode and Player-Based Difficulty off because it's more realistic for players to have their own unique style of play based on their attributes and in-game playstyles instead of simply trying to mirror the best players in the world.
Rules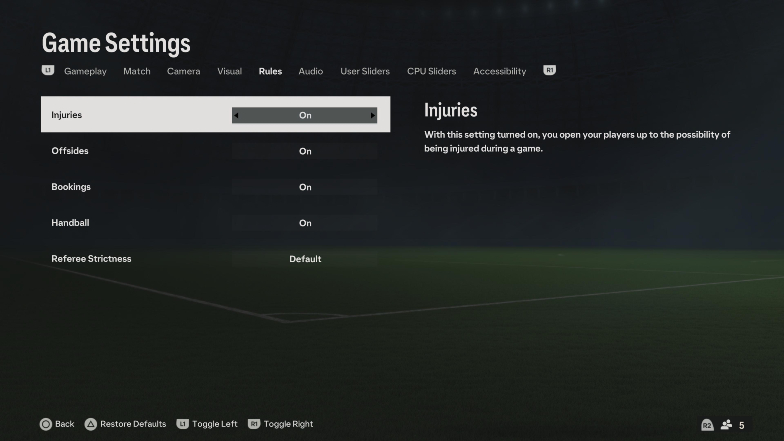 Injuries: On
Offsides: On
Bookings: On
Handball: On
If handballs become too frequent and annoying, you can turn that off.
User Sliders
Sprint Speed: 51
Acceleration: 51
Shot Error: 60
Pass Error: 55
Shot Speed: 48
Pass Speed: 50
Injury Freq: 50
Injury Severity: 50
GK Ability: 55
POS, Marking: 55
POS, Run Freq: 25
POS, Line Height: 50
POS, Line Length: 30
POS, Line Width: 48
POS, Fullback Positioning: 50
Power Bar: 50
First Touch Control Error: 60
I won't go into technical details about the reasoning behind each setting in these slider menus, but there are a few important things to note.
Firstly, pass error and shot error are increased to reduce the instances of high-scoring games. There's more reliance on your skill to score multiple goals.
Goalkeeper ability is increased because the goalkeepers just seem to be below average in every FIFA game and FC is no different.
Run Frequency is also significantly reduced because through balls are generally more effective in FC 24 compared to previous FIFAs, so the AI finds gaps between the lines too often. This, in combination with the reduced Line Length and slightly reduced width, helps to manage that.
Finally, the First Touch Control Error is increased because players trap the ball a bit too easily despite unnatural body positioning. With this change, natural body positioning translates to better first-touch control and vice versa.
CPU Sliders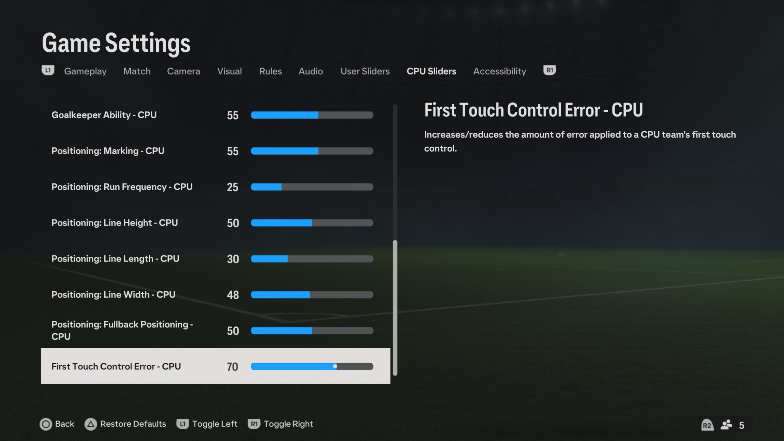 Sprint Speed: 51
Acceleration: 51
Shot Error: 65
Pass Error: 60
Shot Speed: 48
Pass Speed: 50
Injury Freq: 50
Injury Severity: 50
GK Ability: 55
POS, Marking: 55
POS, Run Freq: 25
POS, Line Height: 50
POS, Line Length: 30
POS, Line Width: 48
POS, Fullback Positioning: 50
First Touch Control Error: 70
The same rationales apply to the CPU sliders. Shot, Pass, and First Touch Control error settings are increased further because the AI is still generally better at these than the average Legendary FC player.
If you're wondering what's changed since FIFA 23, we have a guide that discusses everything new in FC 24. Check that out next!