The Final Four SBC is the first of four SBCs in the "Hybrid Nations" SBC group of FC 24. The reward for completing this SBC is an untradeable Mixed Players pack.
A Mixed Players pack in FC 24 includes 12 players – 4 Gold, 4 Silver, and 4 Bronze, with 3 Rares.
Below are two working solutions for completing this SBC and claiming your reward on your journey to building your dream team.
Requirements
Exactly 4 nationalities in the squad
Max of 4 players from the same nation
Max of 4 players from the same club
Min 4 rare players
Min team rating of 70
Min 15 total chemistry points
An effective way to get these requirements done is to look for players in leagues where there are several nationalities represented. For example, the English Premier League or the Spanish La Liga.
These two leagues have players from several nations, but you also want to make sure that you go for players from popular nations so it'll be easier to buy multiple players from that nation if you have to go on the market.
Per rating, as long as you try to include players rated 70 and above, you can build the team without worrying about meeting that requirement.
My solutions will include all 4 rare players that you need, but you can replace them with other players if you understand this breakdown completely.
Solution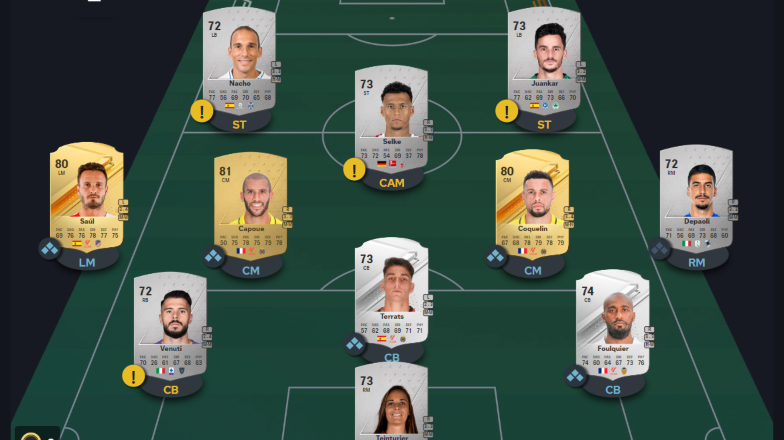 GK: any 70+ player from France
CB: any 70+ player from Italy
CB: Ramón Terrats Espacio (Villarreal)
CB: Dimitri Foulquier (Valencia)
CM: Francis Coquelin (Villarreal)
CM: Etienne Capoue (Villarreal)
RM: any 70+ player from Italy
CAM: any 70+ player from Spain
LM: Saul (Atletico Madrid)
ST: any 70+ player from Spain
ST: any 70+ player from Germany
Depending on what you have in your club, if you don't want to buy players, you can replace the suggestions for the Italian and German players with two other countries. The important thing is to have a total of exactly four countries represented in the team.
Additionally, apart from the specific players that I named, you don't have to worry about including players that fit the position you want to put them in. The 5 named players already give enough chemistry points to fulfill that requirement.
Alternative Solution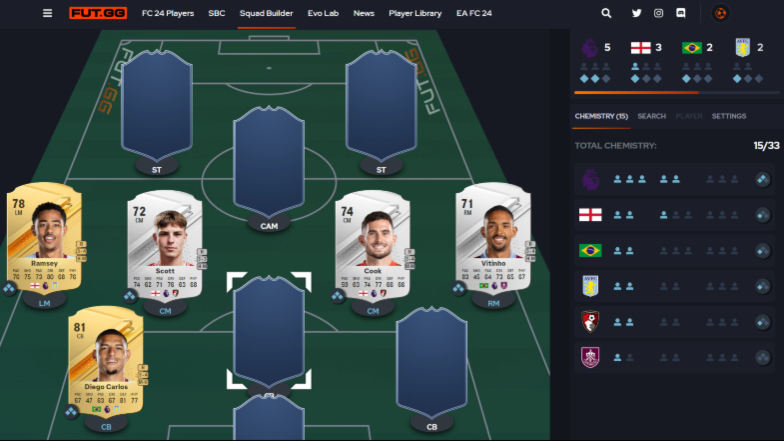 As you can see, this alternative has multiple blank slots that you can fill in if you have the required types of players in your club. I have only recommended exactly what you need for the chemistry and rare players requirements.
The players that need to be added to this team are:
three 70+ rated players from one nation
another three 70+ rated players from a second nation
If you have more Brazilian or English players in your club, you can add up to two 70+ rated Brazilians and one 70+ rated English player. The remaining empty slots can then be filled with other 70+ rated players from exactly two different nations.
Once this is done, you can submit and move on to the next SBC in the "Hybrid Nations" group – the Six of the Best SBC.