With a new season of F1 comes a new game to complement the ongoing season. Rebranded simply as "F1 22" as opposed to the usual "F1 2022", F1 22 is the first F1 game to come out from EA Sports since F1 2000 with the acquisition of veteran developers Codemasters.
With a rebrand as well as a new publisher on its wings, what exactly can we expect F1 22 to do differently from F1 2021? Is it more of an evolution or just the same old game repackaged in a new box?
In this article, we will be looking at the differences between F1 22 and F1 2021 and figure out whether or not it is worth it to dive into the new game or just hold out and wait for a substantially better game next year.
A New Era for F1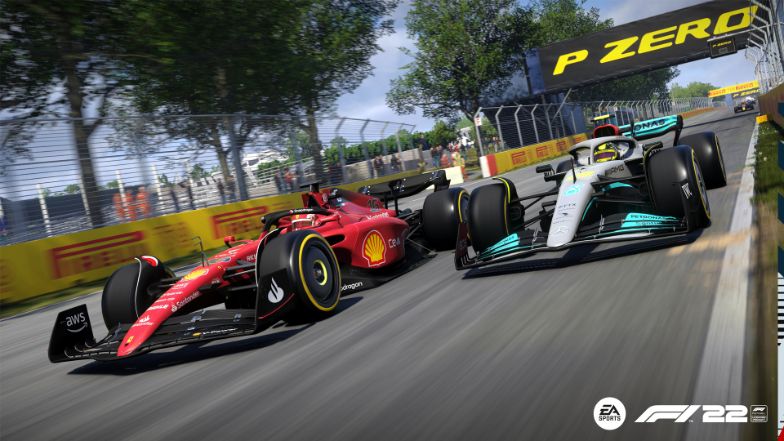 With the 2022 season, F1 introduces brand new cars, but unlike the previous season which takes precedent from the regulations set in the year 2017, these 2022 cars are completely new wherein it adheres to a new formula.
With these changes come new physics in terms of the aerodynamics of the car because of how much less these cars depend on their crazy wings and employ a dependence on ground effects which hearkens back to the 1980s era of F1.
This in turn makes the car more jittery when going over kerbs and a lot more prone to understeer when going through low-speed corners because of the simplified aerodynamics scheme.
In addition to the new aerodynamics, the 2022 cars in F1 22 now ride on 18-inch wheels, 5 inches more than the previous wheels. In turn, this brings changes to the suspension as well as how the car handles bumps due to how much less sidewall there is to the tires making the cars bumpier than their previous iterations.
All these changes lead to much closer racing in F1 22, more emphasis on mechanical grip as before, and the start of an exciting era as the cars really do look and drive incredibly different from the previous formula of cars.
Driver Roster Updates
Changes have also been made to the F1 driver roster as rookie driver Zhou Guanyu joins the competition replacing Antonio Giovinazzi over at Alfa Romeo.
Veteran driver Kevin Magnussen also returns to the grid driving for Haas, replacing former rookie Nikita Mazepin.
The final "new" driver to join the grid is former Red Bull driver Alexander Albon, now driving for Williams.
The final change to the roster has George Russell replacing Valtteri Bottas over at Mercedes, who in turn has joined Alfa Romeo to now be its lead driver after Kimi Raikkonen's retirement from the sport.
In addition to these changes, new F2 drivers such as Dennis Hauger and Jack Doohan have also joined the roster and can be recruited to your My Team to be your teammate in your My Career team.
Finally, there are also new additions to the My Team Icons lineup with Jacques Villeneuve, Mark Webber, and Nico Hulkenberg joining the fray. These drivers however are exclusive to the Champions Edition of F1 22.
Track Roster Updates and Tweaks to Some
F1 22 introduces a new track to the series in the form of the Miami International Autodrome, a street circuit that goes around the Hard Rock Stadium in Miami. This track also serves as the second venue coming from the USA.
Other updates to the track roster include Russia's Sochi Autodrom leaving the roster as it sees an exit from the 2022 racing calendar. However, tracks like China's Shanghai International Circuit as well as Portugal's Autodromo Internacional do Algarve are still available to race in despite not appearing in the official racing calendar.
There were also some tweaks done to some existing tracks to coincide with changes done to the tracks in real life. These tracks include Australia's Albert Park, Saudi Arabia's Jeddah Corniche Circuit, Abu Dhabi's Yas Marina Circuit, and Spain's Circuit de Barcelona-Catalunya.
Sprint Races
Trialed in the 2021 F1 season but not implemented in F1 2021, Sprint Races are shortened races that act as the qualifying round for the main Grand Prix race of a weekend. F1 22 now incorporates Sprint Race Weekends into the My Career mode.
Sprint Race Weekends only have one practice session, and then the qualifying session determines the position in the sprint race. Your position in the sprint race then determines your position in the main Grand Prix.
The length of a sprint race also depends on the number of laps you set for your race. This means that if you are running 25% races, the number of laps for the sprint race will also be at 25%.
Only three Grands Prix host a sprint race weekend in the real life, these are the Emilia Romagna GP, Austrian GP, and Sao Paulo GP. F1 22's My Career mode will mimic this, however, you are free to make any Grand Prix have a sprint race weekend in the Quick Race and Multiplayer modes.
Starting Points for My Career
A new addition to the My Career mode is the inclusion of starting points which gives you the option to create a team who are either Newcomers, Midfield Challengers, or Championship Contenders.
Newcomer
The Newcomer is basically the My Career mode we all know and love wherein you start from the back of the grid and build your team up to be title contenders. At this starting point, you are given Tier 0 facilities, no starting sponsors to fund your team, and no bonus money at all.
Midfield Challenger
The Midfield Challenger has you fighting in the middle of the pack, but a ways away from the front runners. Choosing this starting point has your team have Tier 1 facilities all around and a choice of one sponsor to help your team's funding. You are also given $5m to work with for additional sponsors, better teammates, and the likes.
Championship Contender
Finally, we have the Championship Contender. This starting point places you as the third-best team in the paddock and has all facilities upgraded to Tier 2. You also get to choose three different sponsors for your team's monetary needs and a bonus of $10m to spend on upgrades and such.
For the best longevity of your F1 22 My Career, it is recommended to choose Newcomer as it will have you running several seasons before you can start fighting for the overall championship, but if you want a quicker way up the championship ladder, then the two other options are great choices for you to start with.
Immersive Modes
Another new feature to come in F1 22 are the new Immersive Modes for both grid formations as well as pit stops. The Immersive Modes give you control in these moments to further enhance your racing experience and possibly give you more of an advantage during the race.
Manual Grid Formation
For grid formations, you will be the one driving around the track at the formation lap, heating your tires and brakes to hopefully get the best start. Not only that, but you will also be the one in charge to stop your car on the grid where you can position your car either defensively or offensively on the line in order to defend or attack off the line.
Be careful however as getting the grid formation wrong can lead to disastrous results. Since you are able to drive the car on the formation lap, you can also crash out during the formation lap, and if you stop past the line on the grid, your car is then reset to a position much further away from the grid, giving you a starting disadvantage.
Manual Pit Stops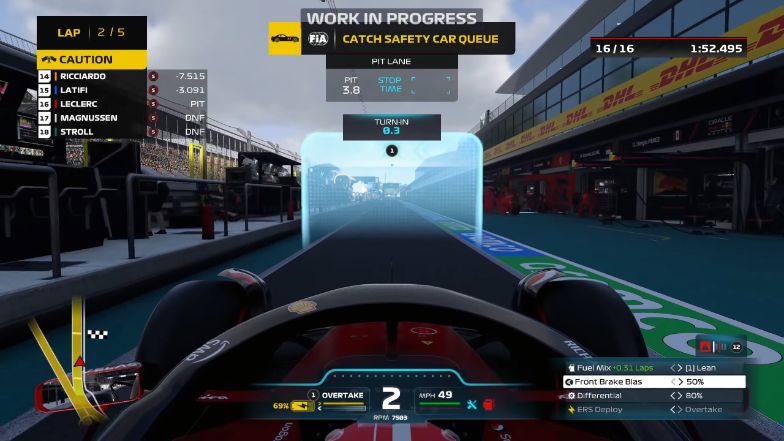 Another new feature added to F1 22, pit stops can now be done manually through the Immersive Mode, although "manual" could be taken a bit lightly here. Driving down the pit lane will still be automatic, you will only be timing the turn-in into the pit box.
This in itself is still a bit automatic as it will only be one button press for your driver to turn in instead of you doing the steering. The closer you are to the time allotted, the faster your pit stop will be which could be crucial in close races that would depend on a timely pit stop.
Broadcast System
The opposite of the Immersive Mode, setting your pit stops and grid formations to be in Broadcast will have the formation lap, as well as pit stops, be presented in a way that mimics the real-life broadcasting of F1 races, complete with brand new commentary from David Croft, one of the official F1 commentators in real-life.
The only problem here is that you cannot control how your car lines up on the grid nor can you speed up your pit stops through the Immersive Mode mini-games.
They are foolproof though in that they will not fail if put in this mode, plus the shots look pretty cool as a player as you admire the graphics while your car drives around or gets released from the pit box.
F1 Life
One of the bigger features to be added in F1 22, F1 Life is a sort of hub where your character, as well as your friends' avatars, can hang out. In F1 Life, you can customize your hangout spot with wall art, furniture that you and your friends can sit on, and of course have your Supercars displayed for everyone to see.
The flooring as well as the walls of your hangout spot can also be changed in F1 Life, and you can also display your trophies which are achievements made physical that you have earned in the game.
You can also customize your character's wardrobe, fitting them with several choices of clothing which can be used for both your casual attire as well as your race attire. Think of it as your house and all the things within it can be customized to your liking.
Supercars
Another one of the bigger additions to F1 22 is the implementation of Supercars as driveable cars during the season as well as in Time Trial mode. They can also be displayed in your F1 Life home as art pieces to be admired.
The roster is quite small, only featuring 4 manufacturers (Ferrari, McLaren, Mercedes-AMG, and Aston Martin) and their uses are quite limited as they will mostly be in the form of Pirelli Hot Laps which are timed events similar to how license tests work in Gran Turismo or how classic cars were treated in previous F1 games.
The weird thing though is that these cars cannot be raced with each other which is a major oversight and a wasted opportunity for some fun outside of the F1 cars.
Paint Finishes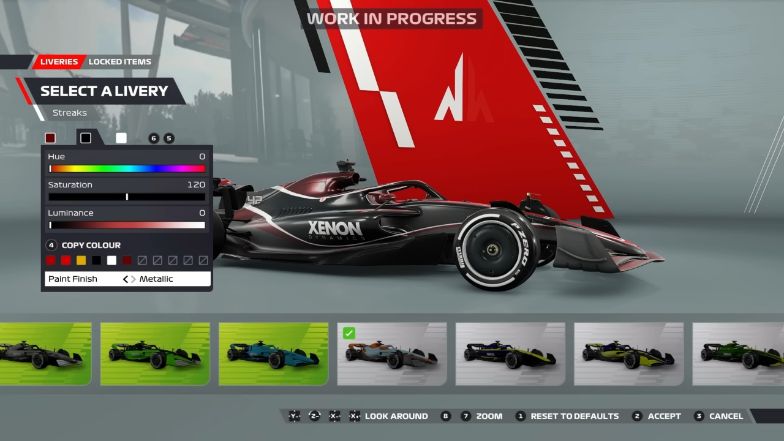 A small but rather welcome addition to the game is the option to choose your F1 car's paint finish. You can now choose from 4 choices which are Gloss, Metallic, Satin, and Matte.
While this gives a bit more variety in how your car will look against other cars online and offline, it is another rather wasted opportunity that you cannot apply these finishes to your helmet and suit.
This is especially problematic when you want to match a metallic car to your suit and helmet but they just come off as glossy or flat when it comes to their finishes making for quite a mismatch in hues.
Choices in Commentary
Another small addition to F1 22, you can now choose between different broadcasters and commentators to accompany you throughout your race in F1 22.
Lead commentator David Croft returns as usual, but you will also have the choice to choose Alex Jacques, who is the lead commentator for F1 in Channel 4, F2, W Series, and the F1 Esports branch, to be your lead commentator.
On the other side of things, Anthony Davidson also returns as co-commentator, but you will also be able to choose Natalie Pinkham, an F1 pit lane reporter and host of the In the Pink podcast, as your co-commentator if you so choose.
Brand New Race Engineer
Another change brought into F1 22 that pushes the game to even more realism, you will now be assigned a new race engineer. The perennial Jeff, who has been the race engineer in F1 games since F1 2010, has now been replaced by Marc Priestley, a former McLaren mechanic and pit crew member who has pivoted into being a TV presenter.
To add to even more of the realism, the lines that Marc Priestley recites are done using a real F1 radio, so the crackles and distortion you get from his lines are close to exactly what a driver would hear during a race.
Although we will miss Jeff's hilarious but often quite condescending tone, Marc Priestley definitely brings a certain level of authenticity to the game.
Updated UI
Although not as big a change as the other changes and features listed in this article, the UI has also seen an update to give the game a fresher look. Although it looks a bit like F1 2021 with the blue hues, there are small tweaks to the race UI for better readability across the board.
The menu UI will feel a bit familiar though as it can feel a bit copy-paste from F1 2021 with some updated images to coincide with the new aero parts that the new regulations bring. But I guess this is more of a case of "if it is not broken, do not fix it".
VR Support
Last and certainly not the least, Codemasters has brought in native VR support into F1 22, a first for the F1 series of games.
What better way to experience the new era of F1 than through virtual reality as you find yourself seated inside one of, if not the most technologically-advanced cars in the world.
Not only that but with VR, you will also have complete control of where you are looking which is incredibly important as it will give you better situational awareness of where the other drivers are on the track, and you can also seek out the apex of corners a lot better with your eyes than a static camera.
Sadly though, this feature will be completely exclusive to the PC version of the game with Codemasters saying that they will have no plans in bringing this to the PSVR which is PlayStation's version of VR.
Final Thoughts
Although not the evolution most fans will be clamoring for due to the evolution the 2022 cars are bringing to the sport itself, F1 22 further solidifies the foundation upon which the next games can build, refining already solid features in the game like the Career mode and the AI.
It is a shame though that some features have been cut or are missing from the game still. F1 2021's story mode did not see a return, and classic F1 cars have also been shunned to the side in favor of supercars, which is a downgrade.
It is clear though where Codemasters has spent most of their time in, and that is with the physics of the game. With new cars come new challenges in making them feel like the real thing, and it shows as these cars handle a lot more differently than the old ones. Even the tire models have changed due to the new wheels.
Overall, I do think F1 22 is worth it to get even if you have played F1 2021 if only to experience the new cars and how they handle. And with added immersion brought in through the Immersive modes as well as F1 Life, I feel like F1 22 brings in solid fundamentals to a game that is expected to release yearly.
Thinking of getting the more expensive Champions Edition for the added benefits and customization options? We also have an article for that to see if it is also worth the price of admission.