Every year, there is a rush for the best and fastest players in attack. In the mad scramble to collect the Messi and Ronaldo cards, people often forget that a strong backline is just as important.
The best clubs in the world build off a good defensive line and the best ingredient of a good defense is having big and tall center backs who can hold off the attacking men of the opposing team and put them at bay. They win headers for the team and break up play by being a physical nuisance.
In FIFA, this trait is often undervalued but this year, the new defense system makes it absolutely crucial. Strong forwards like Lukaku or Lewandowski can push defenders aside and hold the ball longer as they barrel towards the goal. It is also easier for strong target men to head balls in a crowded penalty box and make turns with their back to the goal.
So, it is crucial that you know who the strongest defenders in the world are to build the best FUT team. Since the physical stat can include stamina and jumping, strength is often unknown until you settle on a player. If you get any of these cards in a pack, they should be your top pick.
Kalidou Koulibaly – 94 Strength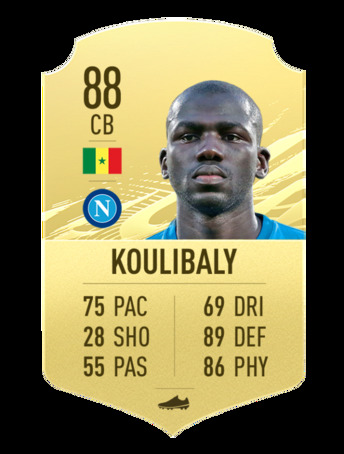 Napoli's defensive talisman, Koulibaly has earned the reputation for being almost unbeatable on his day because of his massive physique, strength, and defensive awareness. Arguably one of the best Centre Back's in the world, this Senegalese international is being scouted by the likes of Manchester City and Liverpool.
Being one of the strongest players in the world, he constantly shrugs off attackers and puts himself between the ball and the opponent making it almost impossible to retrieve. His awareness and ability to play out the back make him an impossible to ignore card on FIFA 21 FUT.
He is an 88-rated player in the game and has an 89 Defending and 86 Physical stat. He is also the number 3 ranked CB and number 28 ranked player in the world in FIFA 21.
Pape Abou Cissé – 94 Strength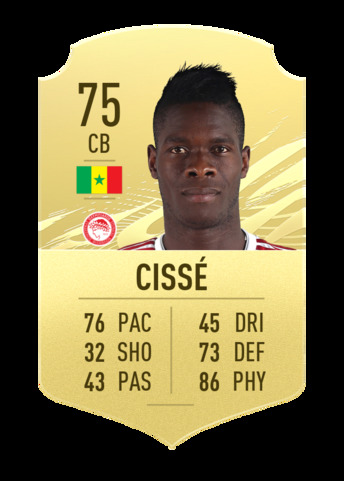 This relative unknown in world football is a 6ft 5in CB playing with Olympiacos F.C. in Greece. He is tall and strong and is known for his ability to score goals of corners or set pieces.
With a well-rounded card, he could be a great pick for teams looking for cheap builds in FUT that dominates ICON card teams and TTOW carded teams. This guy can push away most attackers. He is a great option to mark players like Cristiano Ronaldo or Lukaku who can jump and head the ball.
He has a 75-rated card on FIFA 21 is stacked and he can really shine as part of a back four. He has 73 defending and 86 physical combined with 76 pace which makes him a deadly man marker.
Sebastian Coates – 94 Strength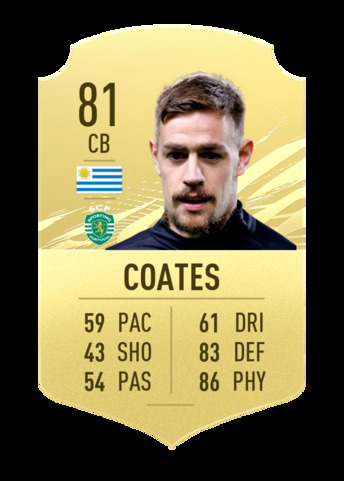 This former Liverpool player's career never took off at the Merseyside club but has made Sporting CP his football home. On the back end of one of his best professional seasons, he has been given a great FIFA 21 card.
This 6ft 5in center back scored 6 goals last season in all competitions, mostly from set-pieces where he uses his height and strength to tower over opponents. His 94 strength allows him to bully forwards and pick the ball off marauding dribblers.
His gold card is well-rounded with 83 Defending and 86 Physicality with an 81-overall. This could make him a good backup option or cheap starter CB for South American dominant FUT teams.
Willy Boly- 93 Strength
This French CB is one of the toughest defenders in the premier league. He has established himself as a regular starter in an enterprising Wolves side. He is a no-nonsense defender who does not give the opposition an inch of space to exploit.
He uses his 6ft 5in frame in the highly physical Premier League to torment quick and talented forwards who have a tough time scoring against Wolves. He is one of the main reasons Wolves finished 7th and conceded fewer goals than Premier League giants like Arsenal, Tottenham Hotspurs and Chelsea. In fact, only the top 3 clubs conceded fewer goals than Wolves.
His 93 strength is well suited to premier league based FUT teams and can deal with even the toughest, fastest forwards.
Niklas Sule – 93 Strength
Even though he missed most of last season with a knee injury, he is rated as one of the best CB's in FIFA 21. He Dominates the Bundesliga with his defensive awareness and strength. His presence in the backline has made Bayern Munich one of the hardest sides to break down in recent times. 
This 6ft 5in center back is on the top of world football. A champions league and Bundesliga winner at 25, Sule is already a mainstay in the competitive and stacked Bayern side.
With 85 Defending and 81 Physical, he will be a mainstay in a lot of top FUT teams as he has a high potential. Being a German international can link up well with a lot of top players in terms of team chemistry.
Virgil Van Dijk – 92 Strength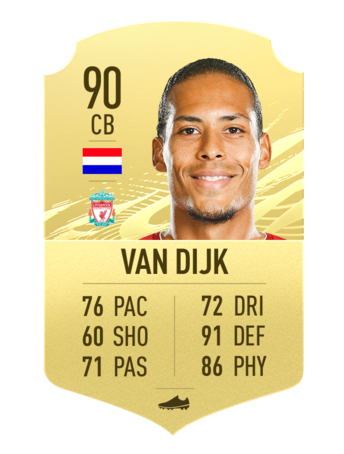 Placed third in the Ballon d'Or awards last year, this CB has been referred to as the best defender in the world for a couple of seasons now. A major part of Liverpool's dominance over world football, he is calm and assured and is rarely bullied off the ball.
At 6ft 4in, he stands tall over the opposing attack and uses his strength when required to win the ball. A great example of this was his performance against Adama Traore last season. While marking the fast and incredibly well-built winger, he shoved him aside for fun, winning the ball every time they faced each other 1 vs 1.
Given a 92 Strength rating along with 91 defending, 76 Pace and 72 Dribbling – he is the best CB in the game and is absolutely infallible at the back.
Jonathan Tah – 92 Strength
This 24-year-old giant is currently playing for Bayer Leverkusen in Germany's top-flight. Tall and strong, he has been on the radar of top European teams for a couple of seasons now.
As a consistent starter for Leverkusen, he has been rock solid for them. There are rare occasions where he is not able to muscle a player off the ball. He is a powerful tackler who uses his long legs to tackle the ball off quick dribblers who try to take the ball around him.
With 80 Defending and 92 Strength, his 79-rated card can be a great starter CB for low-cost FUT drafts and he is bound to get upgrades during the season.
Dan-Axel Zagadou – 92 Strength
This FIFA career mode legend has made the transition to the top-flight in the past couple of seasons for Borussia Dortmund. This 6ft 5in, 21-year-old has an amazing career ahead of him.
He set Europe alight with his rock-solid performances in the Champions League attracting attention from top clubs in Europe. Using his strength and defensive reading, he is a massive barrier for attackers to overcome.
He also is a threat from set-pieces and cannot be overlooked to win a header. his 92 strength and 81 defending can be a great start off point of reserve CB for most German-based FUT teams.
Dayot Upamecano – 90 Strength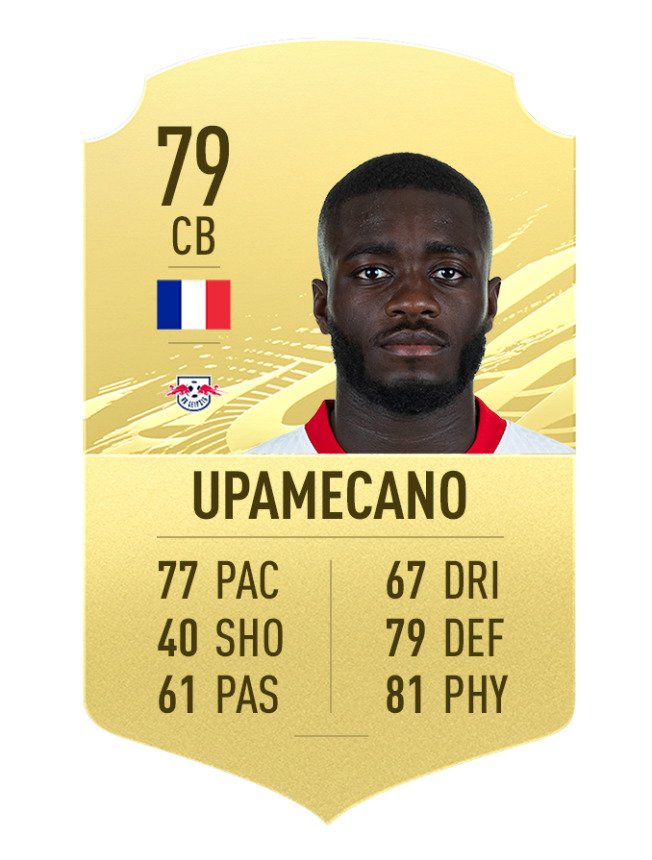 This Leipzig defensive mainstay is a 21-year-old defensive prodigy. This French international has been at the top of his game last season which is why a 79 rated FIFA card looked harsh to many. But it is one of the best inexpensive beast CB cards in the game.
With 77 Pace, 81 Physicality, 79 Defense, and 67 Dribbling – he is a cheap Virgil Van Dijk build who is the best CB in the game. He has 90 strength to go along with his great card which makes him the perfect CB option for most FIFA 21 teams. Experienced players in FUT will find him to be very easy to play with and an absolute rock in defense.
Being only a 79 overall, he is a cheap alternative to more expensive CB options from the top 5 leagues in Europe.
Harry Maguire – 90 strength
This Manchester United player has been under flak for his performances last season. But, he still remains the European giants' best defender.
Tall, strong, and great at heading – he has the potential to be one of the top defenders in the world. Also, as an England international, he has established himself as the nation's top choice CB.
He is an 82-rated CB in FIFA 21 and has a great card this year. He has 82 Defending, 85 Physical, and 71 Dribbling combined with his 90 Strength. This makes him a massive presence in defense and a tough CB to dribble past.