Career mode provides you with the opportunity to take a team from defeat to all the successes European football has to offer.
Along the way, you will encounter players that you have a special affinity towards.
These players might be youngsters who show promise or first-teamers you play well with — maybe they're both. Either way, seeing these players succeed and their ratings improve makes all career mode players happy, and ultimately you'll win more matches at the same time.
So, if you're wondering how to develop players in FIFA 21, this year around, the game offers a unique development model that allows you to take young or seasoned players and make them world-beaters. There are several ways you can do this and we'll discuss them in detail in this guide to give you a better idea of all the player development features in FIFA 21, and the best ways for you to make use of them.
Dynamic Potential
The FIFA dynamic potential feature is where several factors affect a player's performance, stats and his eventual overall ratings after a season. Dynamic potential factors in the players form in the game and recent performances to increase or decrease stats.
For example, if a player hasn't played for a while or is on the bench a lot – his ratings are bound to drop.
Even playing a player out of position and frequently subbing a player off affects their dynamic potential in FIFA 21. The best way to increase a player's output is to play them frequently, keep them at peak physical and match sharpness and play them in their preferred position.
If you want to use a player differently to what their preferred position is listed as, you should retrain them to play in that new position.
This will ensure that you get the best out of their performances and their overall ratings shoots up periodically. This also increases their transfer value in the market and their improving stats will increase in-game performance.
Player Development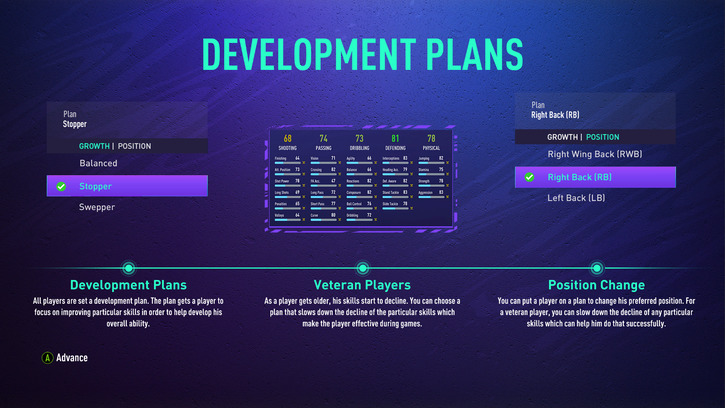 The all-new player development menu allows you to guide a player to his maximum potential in a very intricate way.
Minute details like the type of player in a particular position he can be (like a balanced midfielder or a box-to-box midfielder) to the overall position he plays in can be altered. This gives maximum leverage to managers who read a player's stats and utilize their abilities accurately.
Sometimes, you will come across players who have great stats for one position but are being played in a different area of the field.
For example, Wendel, a CM from Sporting CP, has stats that show that he would have a far greater impact on the game if played in the final third.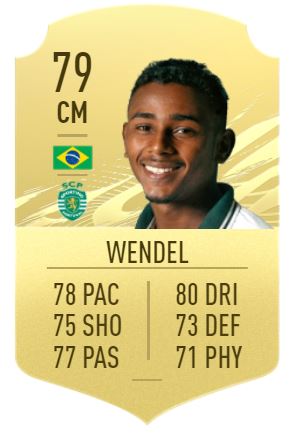 With great 78 Pace, 75 Shooting and 80 Dribbling – he would be well suited to be a CF or a false 9. Poor Physicality makes him less effective as a CM but being a CF, he could dictate play in the hole behind a target man.
Training
FIFA 21 Career Mode training schedules are much more flexible compared to previous editions of the game. Virtual managers can now assign rest and training days and also choose the type of drills a group of players go through. This makes it far easier and more accurate to determine a player's weaknesses and target to improve it. 
It also allows you to modify a player's training regime to support him in his development. If you see a player lacking match sharpness, it is bound to stall his growth. Focusing training drills on him and bringing him on from the bench in fixtures allows you to bring him to maximum match fitness which will eventually lead to better player development.
Loan Spells
In FIFA 21, loan spells away from the club do a lot more to help a player than previous editions.
In FIFA 20 career mode, a player mostly returned back with the same stats as a year before. This stalled their progress significantly and did not mimic the real-life loan spells that help player development.
With dynamic potential, a player loaned to the right club gets enough starts and with good performances, gains a lot of stat upgrades and overall points. This makes loaning out youth prospects a much more attractive option. Rather than just freeing up the wage budget, it allows you to plan for the future making it a viable method of player development.
Cup Games
Allowing youth prospects to start cup game fixtures against weaker opponents gives them a chance to gain match sharpness and experience. With a good performance or team victory, their morale is boosted. This earns them a green uptick in the squad hub which shows you that the player will be more receptive to the regular training regimens that are assigned.
This allows them to showcase their abilities to you and helps you gauge where they could slot into the team in the future.
For example, Callum Styles, a 20-year-old midfielder from Barnsley frequently scored in our cup game sims. This showed us that he is effective as a box-to-box midfielder who makes late runs into the box to score. This allowed us to retrain him as a CAM and is now an 80-rated 22-year-old top scorer in the championship in England.
Conclusion
Developing young players and spotting talent early is very rewarding in FIFA 21. For budding managers, these tips could really help in growing potential and helping players in the roster attain their full potential and shine for the club.