Whether you are brand new or a seasoned Ultimate Team player, knowing how to trade player cards in FIFA 21 Ultimate Team for profit will allow you to get ahead of the curve and make the sweetest and most rewarding deals on the market.
This will not only allow you to build your favorite team quite early on but will also give you the opportunity to play with a range of different players on a regular basis. So, if you are interested in finding out how to trade players for profit on FIFA 21, continue reading.
The Advantages of Trading Players on Fifa 21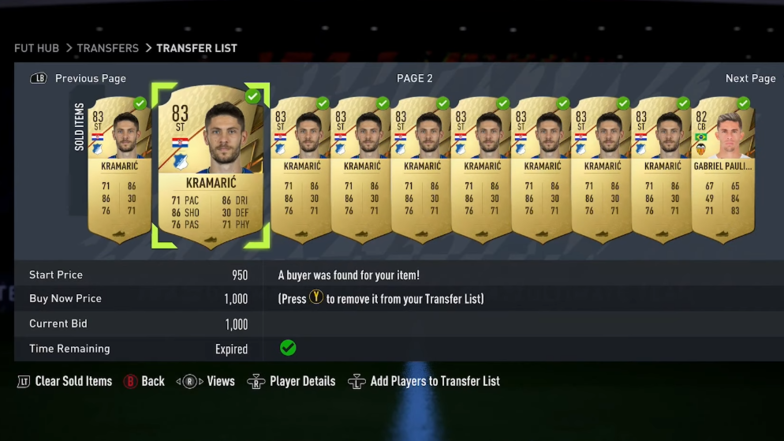 Now, before we get into how to trade players in FIFA 21, let's talk about the advantages of trading players and whether or not this practice is worth your time.
The first and most core advantage of trading players on FIFA 21 Ultimate Team is that you will quite simply have a lot more coins and will be able to afford to build bigger and better teams without having to play an endless amount of matches and wait for your coins to eventually add up.
Another advantage of trading player cards is that you will be able to play with a range of different players on a regular basis. If you manage to snatch one of the best cheap 5 star skillers for a lower price, before selling them for profit, you will want to make use of them for some time right?
How to Trade Players for Profit
Trading players is easy, trading players for profit can be quite a bit more tricky. So, knowing exactly what to do can make or break your FIFA 21 coin bank. To avoid that, ask yourself the following questions:
Do I understand the demand for the player in question?
– If the answer is no, don't buy.
Is the purchase under the current market value?
– If the answer is yes, buy.
Will the player increase or decrease in price over time?
– This one is risky so if you are not sure, don't buy if you can't afford to lose coins.
Is the player best to be sold on a buy-out or bidding basis?
– Knowing how and when to sell a player can be of great advantage in maximizing your profits.
Once you can answer the above, you can decide whether or not you should make the investment.
Note: It is particularly important to consider the tips from above if you are playing Ultimate Team in the first couple of weeks where the price of the players is highly volatile. This can essentially make you lose on a lot of coins if you make a purchase that quickly depreciates in value.
Tip: Another pretty valuable tip is bidding for players in off-peak times. This means bidding when there is the least amount of competition online. Yes, that sometimes means that if you are going to have to be up at 3 AM buying some cheaper players that you can sell during the day for more when demand increases.
Another alternative is to just wait and refresh the market for someone to sell a player for cheap. People usually do that because they want to coins right away and are willing to take a loss.
Mistakes That Fifa Player Traders Often Make
1) Purchasing players without research:
From personal experience, and that of some of my friends, one of the biggest mistakes players can make is purchase players just to get started without doing their research. What this means is that you could be buying a player at a peak time, which means that once the price corrects on the market, you will come out at a loss. The price of a player typically inflates when they have had an amazing game. This is also the worst time to buy a player as the price will likely drop right after.
2) Buying and holding players at the start of Ultimate Team:
Another big mistake is purchasing and holding players when Ultimate Team is still in its development. This phase typically lasts around one month and gets better with time. As you know, the more demand there is, and the fewer players there are, the higher the price of the players will be. This, however, can land you in a coin-losing hole because the prices of players especially during the first few weeks of FIFA are highly volatile and can easily go in both directions.
3) Buying players when there is zero demand:
While there are some gems on the trade market that can bring you in some decent coins per transaction from teams such as Barcelona, Liverpool, and Manchester City, there are some cards that are a complete waste of time in smaller teams such as West Brom and Fulham. So, spotting a card that has pretty much no demand for before you buy it will save you a lot of time and coins.
Aside from that, if the current meta isn't having strong players, then there is no point buying the strongest defenders in FIFA 21 with the hope of making some extra coins as there won't be a demand for such players.
Final Thoughts
When it comes to profiting from trading players on FIFA 21, the most important thing to do is not rush into buying anyone and do your research before you press the buy button. Always remember to seek good deals in the off-peak hours and sell your players during the day, when everyone is online looking for their new signing.